- Popular police public relations officer, Dolapo Badmus, has defended the Nigerian Inspector General of Police (IGP), amidst speech drama
- During a visit to Kano state, the Inspector General of Police had been unable to read a speech he prepared to address the audience
- The video of the incident went viral and many Nigerians blasted the IGP for struggling to read a speech
Dolapo Badmus, a popular police public relations officer, has come to the defense of Nigerian Inspector General of Police, Ibrahim Idris, after he was caught in an embarrassing situation in Kano state.
Legit.ng had reported that Inspector General of Police had struggled to read a speech in front of an audience in Kano state. It was gathered that Idris had stammered and repeated words several times during the speech.
Nigerians reacted to the viral video of Idris struggling with the speech by trolling him on social media. As a loyal comrade, Badmus came to his defence by stating that she is proud of his achievements in the force.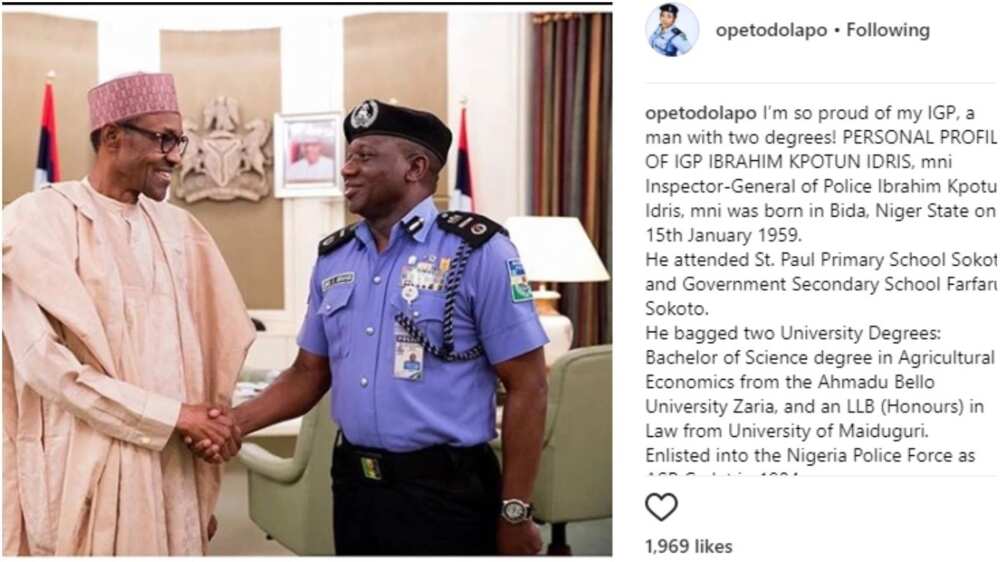 READ ALSO: Policemen struggle to disarm NSCDC official in embarrassing video
She also went ahead to write down his career achiebevements, stating that he has two degrees.
Badmus said: "I'm so proud of my IGP, a man with two degrees! PERSONAL PROFILE OF IGP IBRAHIM KPOTUN IDRIS, mni
Inspector-General of Police Ibrahim Kpotun Idris, mni was born in Bida, Niger State on 15th January 1959. He attended St. Paul Primary School Sokoto and Government Secondary School Farfaru Sokoto.
He bagged two University Degrees: Bachelor of Science degree in Agricultural Economics from the Ahmadu Bello University Zaria, and an LLB (Honours) in Law from University of Maiduguri. Enlisted into the Nigeria Police Force as ASP Cadet in 1984.
He served subsequently as - Divisional Crime Officer and Traffic Officer in Gusau Division in the present Zamfara State from January, 1986 to March, 1987,
- Police Mobile Force in April 1987. He later served in the Police Mobile Force (PMF) for Seventeen years, from April 1987 to 31st January 2004."
PAY ATTENTION: Get the Latest Nigerian News on Legit.ng News
"IGP Ibrahim K. Idris, mni led a contingent of Nigerian Police Officers to United Nation Mission in Liberia on 1st February 2004 and was later seconded by the Nigerian Government to the United Nations in March 2005, where he served as Mission Police Operation Coordinator from February 2004 to October 2008, and was later deployed from there as the Deputy Police Commissioner in-charge of Operations in United Nations Integrated Mission in Timor Leste (UNMIT), from October 2008 to March 2011.
He was the Director, International Peace Keeping Office at the Nigeria Police Force Headquarters from 11th April 2011 to 6th July 2011, and served as Commissioner of Police Kano State Command from 7th July 2011 to 16th February 2013. After his course in NIPSS, Mr. Ibrahim was posted to Nasarawa State as the Commissioner of Police from February 2014 to September 2014. From there he was posted to Nigeria Police Force Headquarters as the Commissioner of Police, Police Mobile Force in September 2014.
The UN Secretary General appointed Mr. Ibrahim as a Police Commissioner in UNAMID, in Darfur. This is the 1st time a Nigerian Police officer is clinching a B2 position for any UN mission in the world. However, the offer was declined to enable him contribute his quarter in ensuring peace and stability immediately during and after the 2015 general elections."
PAY ATTENTION: Get the hottest gist on Naija Uncensored Facebook Group
A Nigerian man who was not happy with the way Badmus defended Idris responded to her post by insulting her.
He said: "I thought you were a wise woman, i never knew you were another dummy. SMH."
Badmus was quick to respond in a comment that read: "Like your father!?"
BUSTED: Police Parade Uber Driver for Allegedly Stealing Owner's Car | Legit.ng TV