Theophilus Adepoju Aderonmu was from a royal family in the ancient town of Oyo in the southwestern part of Nigeria.
He left Nigeria for the United States to further his education during his late twenties.
Aderonmu's educational records in the US, however, remain questionable as some accounts claimed he was enrolled at the School of Medicine, University of Louisville while other sources claimed the University of Chicago. Aderonmu, according to reports, would later confess that he lied about his educational status.
The American CBS-TV quiz game show
During his time in the United States, Aderonmu enrolled for the popular CBS Television Quiz, a televised game show on the CBS television station in New York, WCBW Channel 2 (the forerunner of WCBS-TV).
The CBS-TV quiz game show was reportedly the first game show to be broadcast regularly on television, featuring Bible quiz. It was an in-house production and broadcast in black and white.
Described as a Bible ace, Aderonmu applied for the CBS-TV quiz game show and was eventually selected as a contestant.
Aderonmu had an impressive performance and had a chance to get to win the grand prize, $256,000, on the show when he surprisingly quitted.
READ ALSO: RETRO: The Life and times of Ajala, the first Nigerian to travel round the world
Why Aderonmu quitted the show
In a news report headlined " 'Embarassed' Nigerian quits $64000 TV quiz", Aderonmu was reported to have said he withdrew from the show because of the embarrassing stories about his past that had come out.
He reportedly told newsmen that stories about his past had become so "embarrassing" he could no longer "concentrate".
"I have been so embarrassed, I can't concentrate on what I'm doing," Aderonmu said, taking his entangled domestic problems out of the television limelight.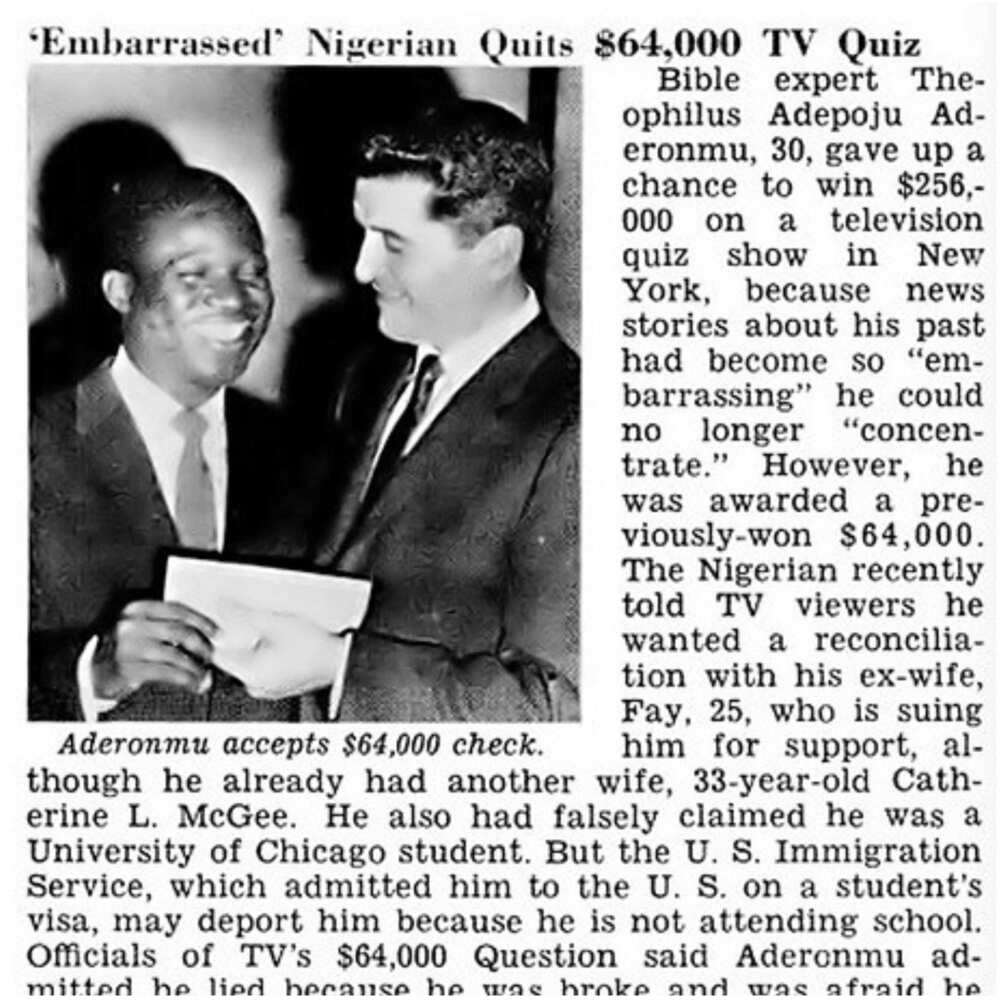 The embarrassing past of Aderonmu
Aderonmu falsely told the officials of the TV show that he was a student at the Chicago University. He later confessed that he had to lie because the US Immigration Service admitted him to the country on a student visa and might deport him if it was known that he was not attending university.
Organisers of the TV show also reportedly confirmed that Aderonmu admitted that he lied because he was broke and was afraid he would be refused as a contestant if it were known that he was not attending school.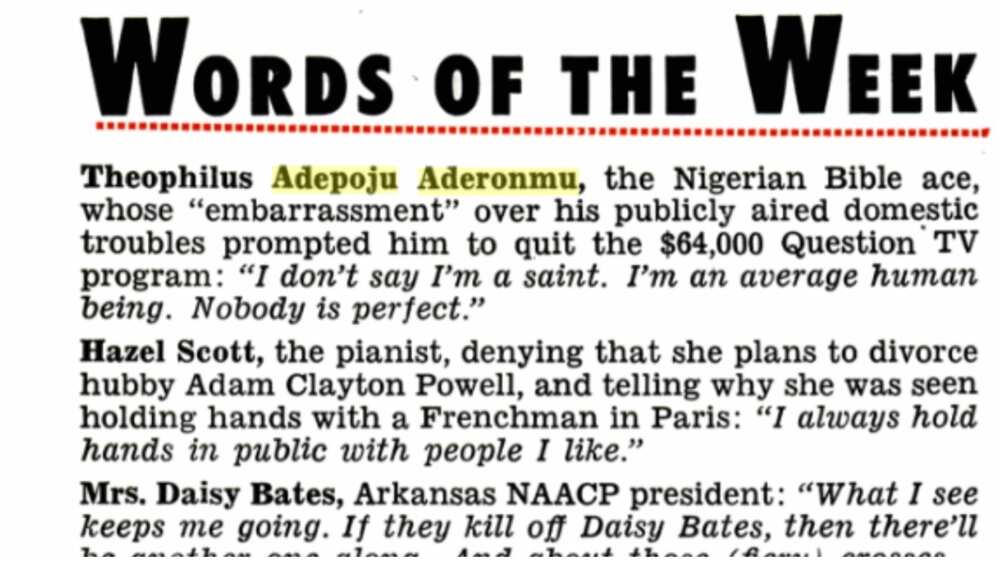 Also, Aderonmu was implicated in a marriage mess. He was divorced. Aderonmu and his first wife Faye were divorced in August 1956. He later remarried another woman identified as Catherine L. McGee on April 30. 1957.
However, after he began winning on the big money show, the ex-wife appeared in Bronx Domestic Relation Court and sued him for nonsupport of their daughter.
Aderonmu later told his television audience that he met the non-support charge by his ex-wife with an announcement that they planned to remarry. Faye, however, reinstituted the non-support charge against Aderonmu.
"I was under tension and did not mean to say I would remarry him," she said.
Her lawyer, Harry Lipsig, obtained a new summons against Aderonmu, returnable in Bronx Domestic Relations.
The court eventually ordered him to pay $30 a week for support of the child.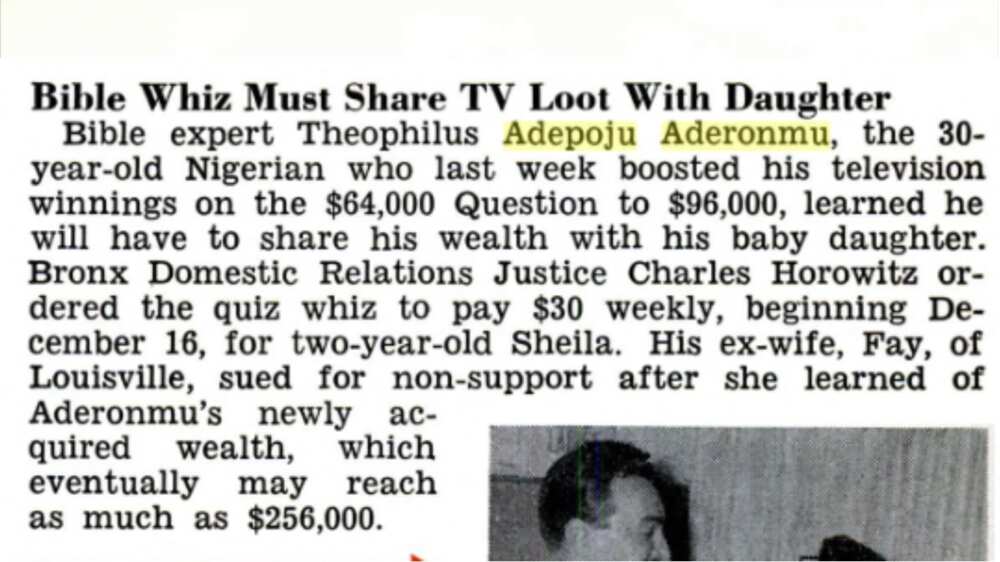 PAY ATTENTION: Get the Latest Nigerian News Anywhere 24/7. Spend less on the Internet!
The $64000 prize
Nevertheless, before withdrawing, Aderonmu whose usually beaming face is scarred from tribal marks, had answered correctly all the questions put to him about Bible subjects.
Because he had gone high in the quiz to the $96,000 question level, he was given $64,000 when he quitted.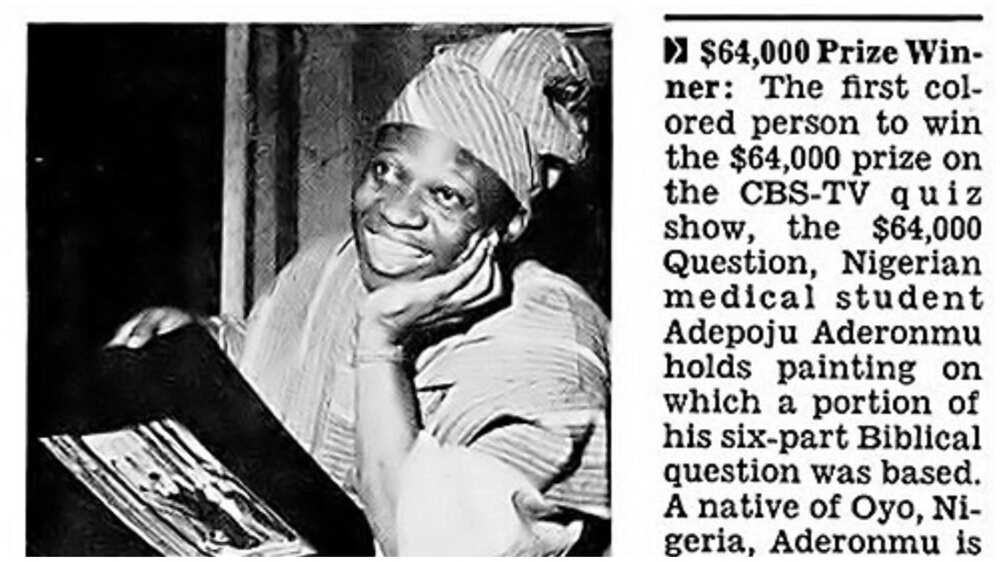 After his last appearance where he announced his withdrawal, Aderonmu reportedly told newsmen that he planned to enter Northwestern University to continue working toward a medical degree.
He said that his ultimate ambition was to establish a hospital near his home in Oyo, Oyo state, Nigeria.
An American immigration official was reported to have said that Aderonmu's television winnings might help him solve this problem by enabling him to enroll in college and stay in the United States.
Top 5 unusual facts about the Yoruba (you had no idea about!) - on Legit.ng TV