- Ifeoluwa Adegoke, a digital marketer in Lagos, has shared her bitter experience with some operatives of the SARS
- Adegoke alleged that after she and her colleagues were threatened by men of the force to part with N5,000 they had to transfer the money to one of the men
- SP Chike Oti, the spokesperson for the state police command said that the chief suspect has been arrested and investigations on the development was on going
The encounter of Ifeoluwa Adegoke, a digital marketer in Lagos, with some officials of the Special Anti-Robbery Squad (SARS) in the Ikorodu area of the state stirred the social media on Thursday, May 17.
Adegoke reported that she was forced to part with N5,000 to save her life and that of her colleagues, who were approached by the SARS men on their way to a site for photo shooting, Punch reports.
READ ALSO: NAF continues Operation Thunder Strike, destroys Boko Haram structures in Bama, Gobara
She shared a snapshot evidence of the fund transfer and the photo of one of the policemen, alleging that the operatives threatened to kill them.
Adegoke wrote to on Twitter page: "With my encounter today, it is safe to say SARS men are armed robbers. I was going for a photo shoot in Ikorodu today (Wednesday) and armed robbers SARS pulled us over and made us pay for no reason, threatening that they were gonna waste our lives. I made a transfer so they can be traced."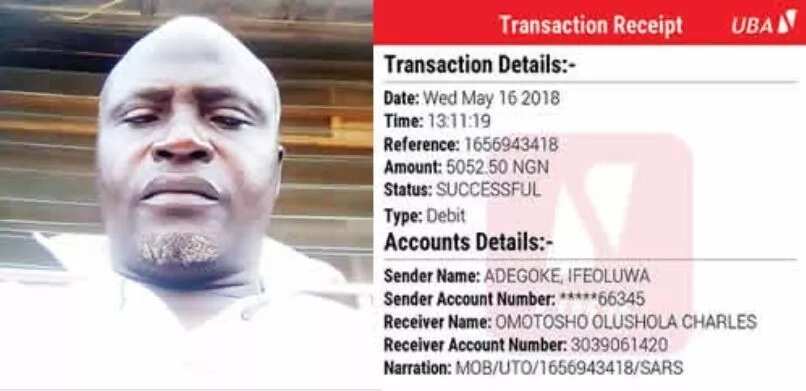 Attesting to this, some social media subscribers living in the area identified one of the policemen, Inspector Omotosho Olushola Charles, as a serial extortionist.
They alleged that at several instances Charles had forced them to give him some money when they did not commit any offence.
Saying that her ordeal has changed her perspective of SARS, Adegoke remarked: "My colleagues and I left Surulere for Ikorodu, where we were to do a photo shoot. We were four in the car and I was the only female.
"When we got to Ikorodu, the SARS operatives, who were in a vehicle, asked our driver to stop; they were five in their bus – all fully armed.
"They said we were suspected criminals and asked us to come down. They asked the driver to come down too. They checked the car, took our phones and went through them. When they did not find anything, they said we were thieves and cult members.
"When I challenged them that we did nothing wrong, one of them said he would slap me. I told my colleagues to keep calm because I knew it would be stupid for us to argue with armed policemen. I told my colleagues that they would demand money from us in the end."
She explained that after the search did not yield any fruit, the officials demanded N100,000. Adegoke said she took the operatives through her social media account to show them that they were managing to survive.
She added: "But they said they did not care. I told the inspector that since we were not the kind of people they were looking for and since they did not find anything incriminating on us, they should just release us.
"They said they were going to release us because we were not the kind of people they were looking for; but they won't release us for free. They started cocking their guns to threaten us; they said they would shoot us.
"I approached one of them and begged that we did not have the N100,000 because we were only young people searching for our daily bread. I told him that I had just N5,000 in my account and he should allow me to transfer it to them."
She reported that the men refused to yield to her request, just as she remained adamant in order to have evidence of the extortion. Nigerians on social media said after some grumbling in disapproval, the operatives conceded.
Adegoke further said: "After we did the transfer, they did not allow us to go until they got a credit alert on their mobile phone. The policeman who released his account number told the others that he was with his ATM card and he would withdraw the money for them to share.
"When we left, I traced the name and discovered that his bank account name, Omotosho Olushola Charles, is the same he uses for his Facebook account. That was how I got his picture."
Abayomi Shogunle, the head of the public complaint Rapid Response Unit (RRP) said Adegoke's complaint had been received, adding that the suspect has been nabbed.
Shogunle tweeted: "My dearest @ife_luv12, I am glad to inform you that the account owner has been identified – Inspector Charles Omotosho, FSARS Ikorodu, Lagos. He is in custody; preliminary investigation ongoing. PCRRU will inform you on the next line of action. Sorry for the experience."
PAY ATTENTION: Get the Latest Nigerian News Anywhere 24/7. Spend less on the Internet!
SP Chike Oti, the spokesperson for the state police command, confirming the arrest of the inspector, said that investigation on the development is underway by the police authorities.
Oti said: "We have arrested the policeman. His trial will commence soon. Any other person found culpable in the course of investigation will be made to face the full wrath of the law."
Meanwhile, Legit.ng reported that some policemen attached to the SARS in Rivers state had allegedly battered a man for failing to provide a receipt for a phone found on him.
According to a viral video posted on Instablog9ja, the incident took place in Port Harcourt and was recorded by an eyewitness in the area.
#ENDSARS or #REFORMSARS? Nigerians blow hot - On Legit.ng TV