Africa Prudential registrars' e-Dividend form: how to fill it
Are you curious about the Africa Prudential registrars' e-Dividend form? Well, we can tell you all about it. Find out here about what the e-Dividend form is, what it is for and how you can fill it. Do not waste any more time and check this out!

What is an e-Dividend form?
E-Dividend mandate form is an electronic form that allows shareholders to receive their dividends directly to their bank accounts. By filling this form, you are mandating your registrar to stop paying you dividends in cash and instead wire them directly to your bank account. This service is usually free of charge.
The e-Dividend form is issued by registrars for investors to complete and take to their bank for signature verification. After the verification is complete and the filled form is stamped by the bank, it is then returned to the registrar for execution.
E-Dividend is a very safe and convenient way of getting your dividends. It saves you and everyone else involved a lot of resources and time. In addition to that, you can control your dividend payments online, as well as use many other useful online services for shareholders.
How to fill the e-Dividend mandate form for Africa Prudential registrars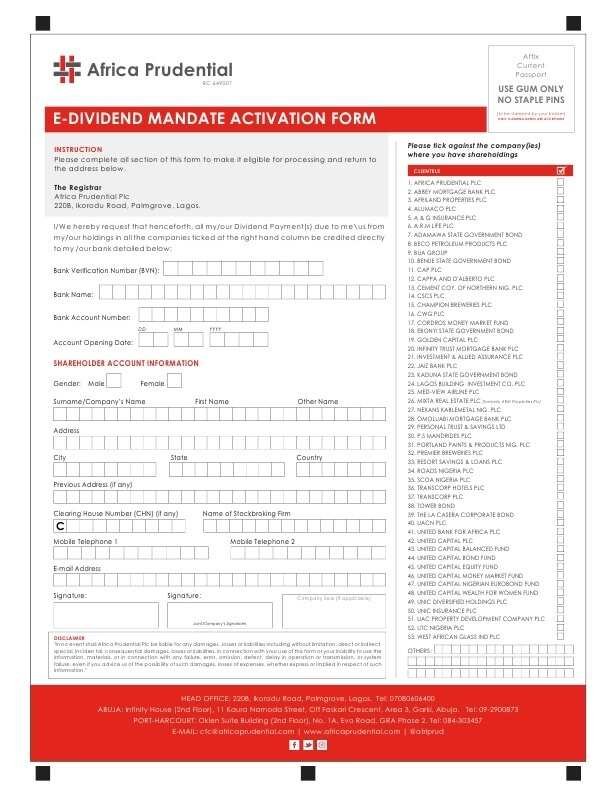 Every registrar has its own e-Dividend form, and Africa Prudential is no different. To be fair, nothing could be simpler than filling this form. It is only one page long (at least in case of Africa Prudential), and every field seems very clear and straightforward. Nevertheless, let's break it down.
If you want to fill the e-Dividend mandate activation form, you need to download it from Africa Prudential's website. Click here to do it. When you open the file, you will see the relatively simple 1-page form. We recommend you to write everything in block letters, otherwise, there is a chance that your handwriting might not be understood correctly.
On the right-hand side, you can find the space for your passport photograph, as well as the list of 53 different companies where you might have shares. Take your passport photo, write your name on the back and attach it to the form with gum. It then has to be stamped by your banker. Only clearing banks are accepted. After that, tick the boxes against the names of the companies where you have your shares. If you cannot find your company on the list, write it down in the space below the list.
Then, go down the form and fill all the sections that apply to you. In the first section, write down your Bank Verification Number, the name of your bank, your account number and the account opening date.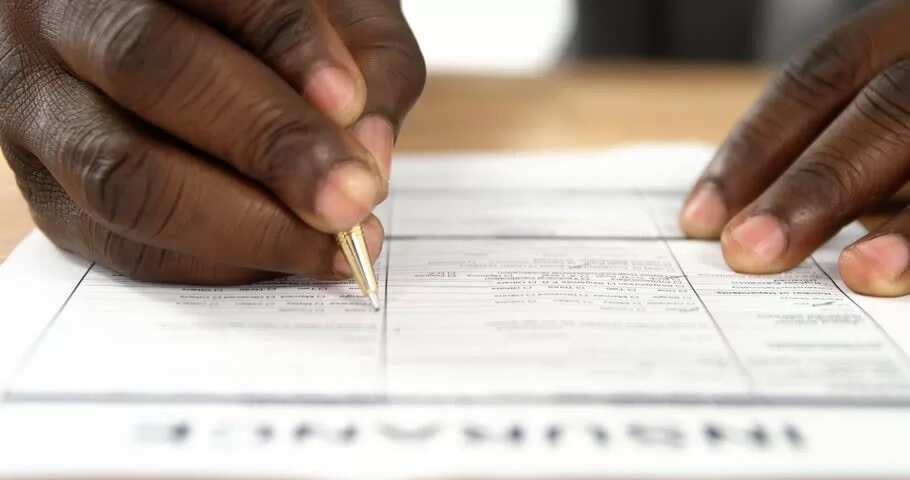 READ ALSO: How many types of shares can a company have?
In the shareholder account information, fill in the info about yourself. First, state your gender, name and address. If you are a part of a company, instead of your own name, write down the name of the company. Also, if you have a previous address, write that down as well.
Then, write the Clearing House Number if you have one and the name of stockbroking firm. Finish the form by providing your phone number and e-mail and leaving your signature. If there is someone else responsible for your company, have them sign the form. If you have a company seal, stamp it in the required box if applicable.
Once you have completed all of the sections on the form and given it a once over, you need to take the form to the bank for verification and stamping, and then to the registrar. The address of Africa Prudential Plc's registrar is 220B Ikorodu Rd., Palmgrove, Lagos, Nigeria. After that, you should be able to receive your dividends directly to your bank account and track them online.
As you can see, there is nothing complicated about it, and this form can actually make your life much easier. So go ahead, fill your e-Dividend mandate activation form, take it to the bank and the registrar and enjoy your dividends going straight to your bank account.
READ ALSO: What types of income are taxable in Nigeria?
Source: Legit.ng