- Daddy Freeze has come under fire from people who listen to his teachings
- The controversial OAP was slammed for receiving a gift from one of his followers
- He received a brand new iPhone X after his former phone packed up
Popular online evangelist and on air personality Daddy Freeze has come under fire from a section of his followers all because he received a gift from a member of his 'ministry.'
This is because in his sermons, he regularly speaks out against pastors receiving tithes, offerings and other sort of financial payments from their members.
Freeze had received a brand new iPhone X from one of his followers after he announced that his phone was going bad. He also suggested that singer Reekado Banks should also get him a laptop.
READ ALSO: Yoruba actress Aisha Abimbola aka Omoge Campus dies in Canada
See some of their comments below: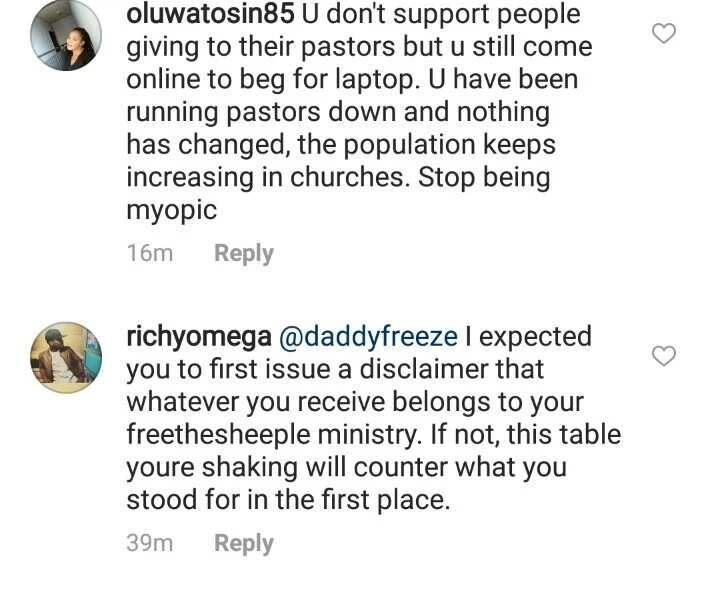 Reacting to the comments, Daddy Freeze said there is nothing wrong with receiving financial support from church members. What is wrong is the false monetary doctrines of tithing, seed sowing, etc.
Read excerpts of his post below:
"I know some people would love to delete this portion of the red and black bible (LUKE8:3) but it's there; glaring for all to see.
If Jesus had reasonable support for his ministry, there is nothing wrong with that, NOTHING! The FALSE 'MONETARY' DOCTRINES IN CHRISTIANITY ARE:
1. Tithing.
2. Offering collection.
3. Seed sowing.
4. Building Fund.
5. Financial Partnerships.
6. Sacrificial giving.
7. Thanksgiving offering.
8. First Fruit.
9. Partner 75(GO offering)
10. African mission offering (Allegedly collected by a GOs wife)
11. Pastors appreciation day offering.
Your GOs collect all the aforementioned and more!
In the #FreeNation in Christ we 'SHARE' we don't 'GIVE' and this is a perfect opportunity to ask if you stand with us, if not, at this juncture you can leave, remember the path is narrow and a crowd can't fit into it."
PAY ATTENTION: Install our latest app for Android and read the best news about Nigeria
Pastor Ashimolowo shades Daddy Freeze, insists tithing is necessary on Legit.ng TV.