Latest Aso Ebi lace styles in Nigeria 2018
What are the latest Aso Ebi lace styles in Nigeria 2018? Fnd out everything you need to know about this trend in clothes. From history to the latest dresses of costumes worn by Nigerians all around the world! Continue reading to find out the Top 10 styles of this year!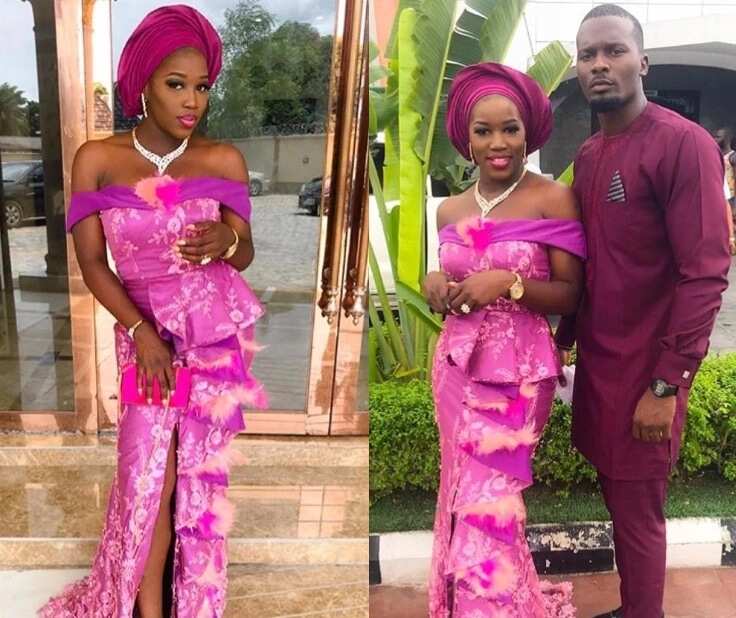 What is Aso Ebi?
Aso Ebi is called the uniform that is traditionally worn in Nigeria for parties. Still, you can also see it in some West African countries. It's usually worn on the festive events. The very purpose of wearing it is for identification friends, relatives or colleagues of the celebrant.
Therefore, you usually see Aso Ebi lace styles on events rather than in the office. Affordable Ankara fabric facilitates the popularity of these styles.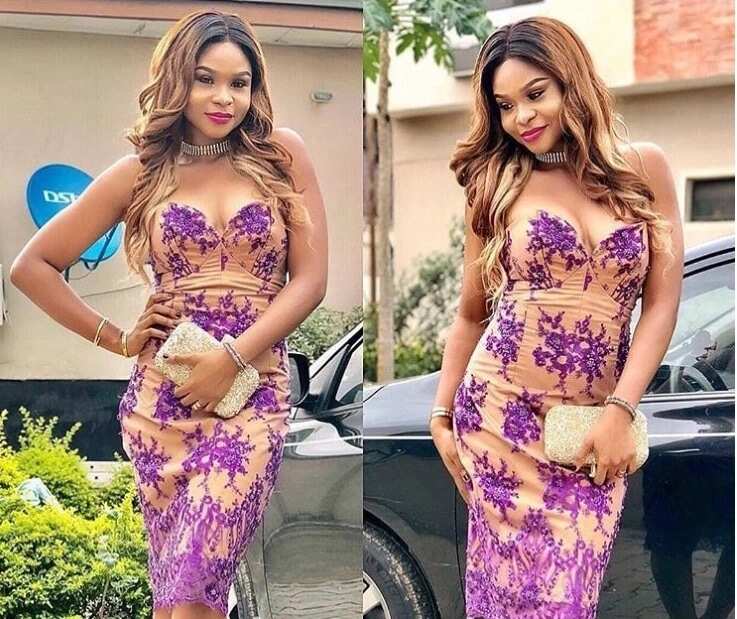 READ ALSO: Nigerian native styles for men
Aso in Yoruba means cloth and Ebi means family. Therefore, it can be translated as the family cloth that you wear during family ceremonies. Nevertheless, this practice is now beyond family events as anyone can wear the Aso Ebi.
Aso Ebi became the novelty for Nigerians in the 1920s. It was the period after the World War I, where economic situation triggered higher prices for products. In the 1950s, members of women organisations in Yoruba started to spread this novelty amongst young girls. They began to wear Aso Ebi styles on ceremonies and in the circle of friends.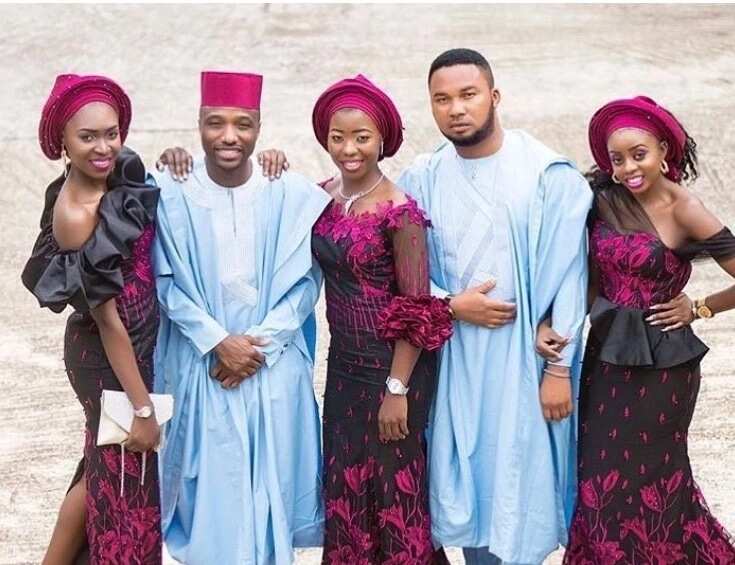 From the 1960s, Aso Ebi started to become a part of fashion weeks in Nigeria. Imported George and lace incorporated into the fabric have become a new trend in the country. Aso Egbi increased the demand for handcrafted materials and different styles. Therefore, Aso Ebi got the inspiration from magazines and various fashion patrons in Nigeria. A lot of small shops began to provide their own style of Aso Ebi which could be different from accepted trends.
In the second half of the century, Aso Ebi has become an urban phenomenon. It diffused to other West African cultures. Dealers began to import various textiles to meet the demands of the traditional African styles.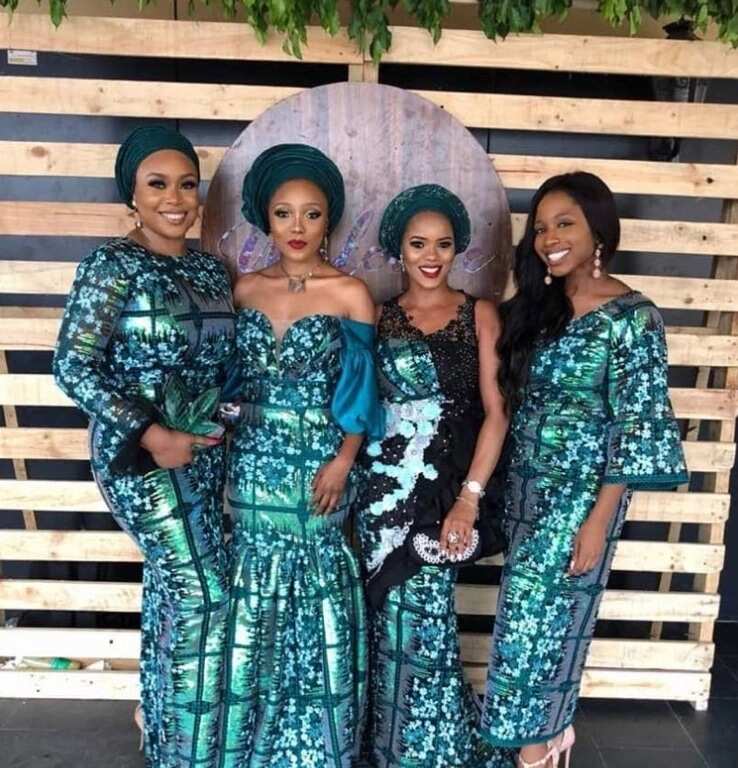 Extra layers of clothes gave the extra price to the products. Nevertheless, Nollywood stars also provided new ways and styles of Aso Ebi. Today, there is almost no woman in Nigeria who does not have or want to have a beautiful Aso Ebi gown! For this reason, Legit.ng provides Top 10 Aso Ebi lace styles in Nigeria.
Top 10 Eso Ebi styles for this year
10. Red Color Combination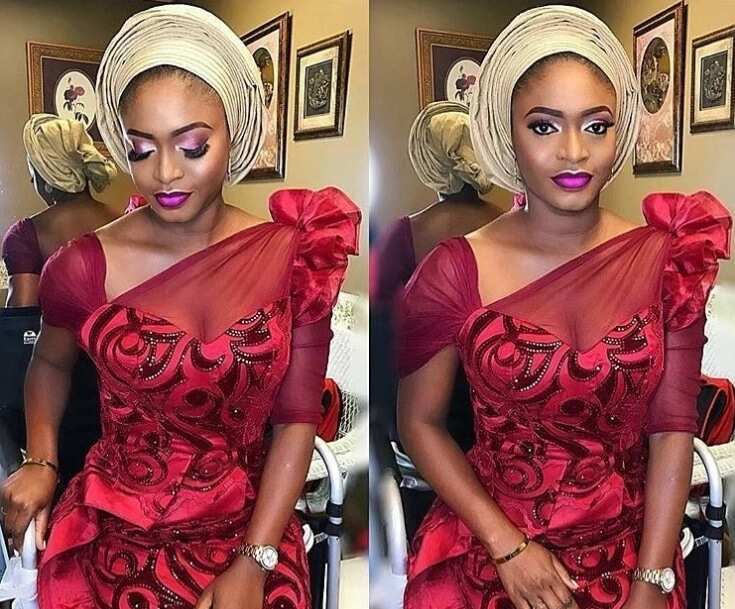 This Aso Ebi style will help you to stand out of the crowd. The red colour looks perfect on black skin, and you may add bright lipstick for this style.
9. Purple tones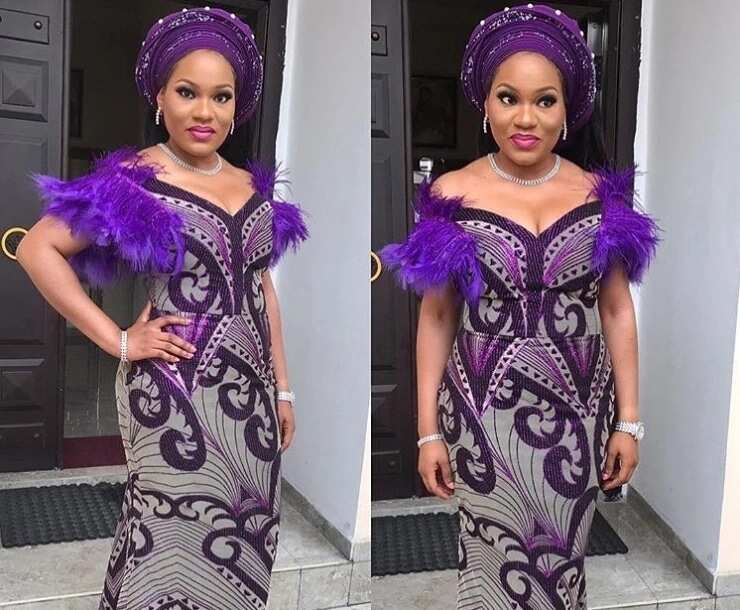 In our Aso Ebi gallery, purple shades will take a lot of space in this post. Why is that? It looks just gorgeous on women. Purple colours mean not only beauty but also richness. The combination of grey and purple tones will be an exciting choice for Nigerian women. These colours will be perfect with silver accessories.
8. Pink and White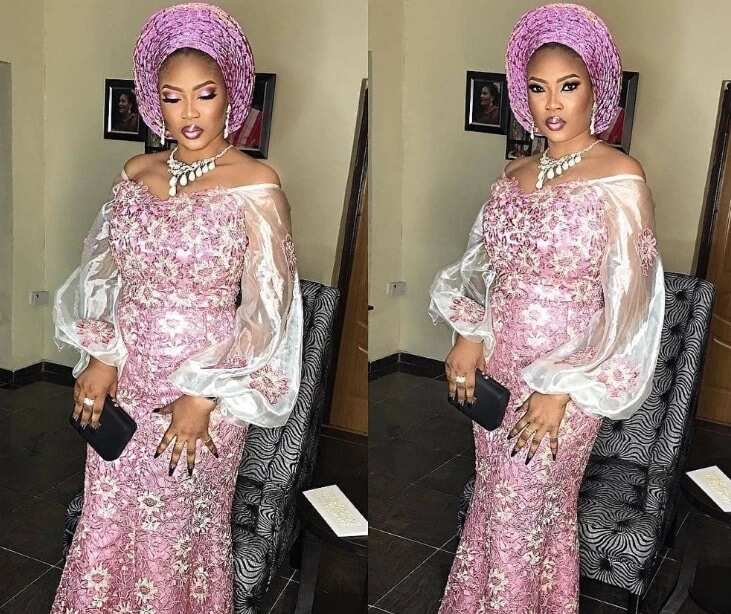 7. Green and Blue colours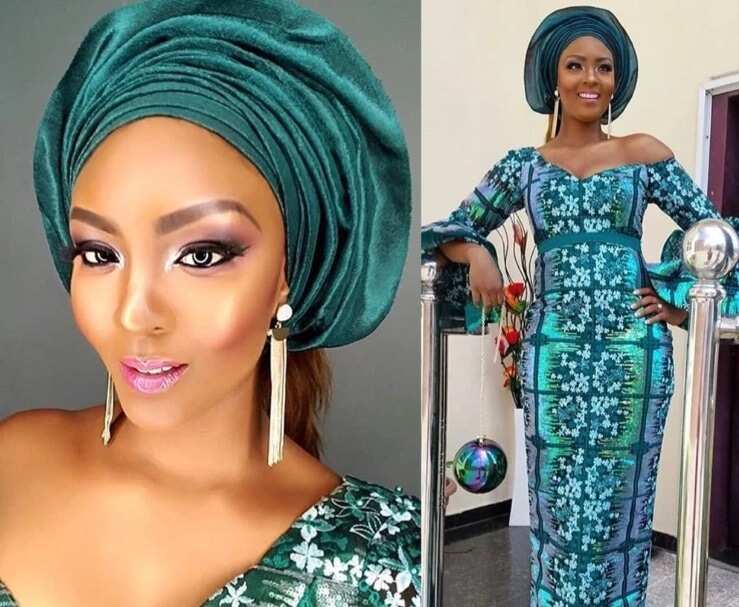 Green and blue colours are the symbols of life and prosperity. You will like to add flowers to these colours as they can change the whole substance of style for you. Do not forget to add some interesting silver accessories to this dress.
6. Short Aso Ebi with a bow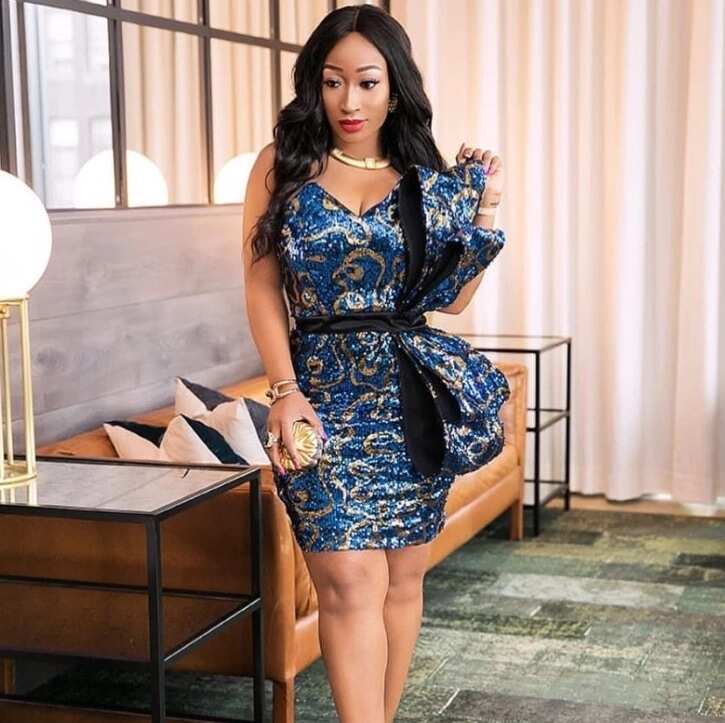 The latest Aso Ebi lace style gives you a new addition that you will like to try. This addition is a big bow. With this bow, you will look like a present for men. You can also add some gold accessories to your style.
5. Sweet Blue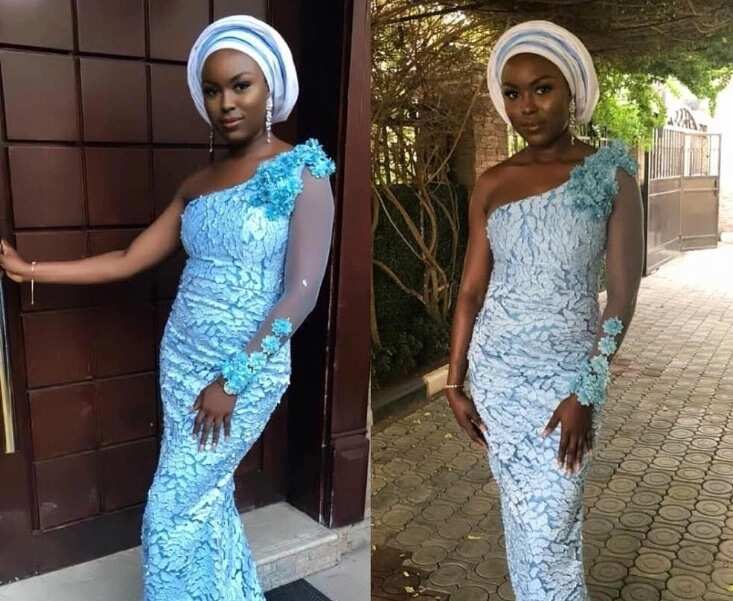 Sweet blue colour will add interesting peculiarities to your style of clothes. The most interesting part here is that you can wear silver and gold accessories with this colour. They will look just amazing together in this combination.
4. Purple and white with a bow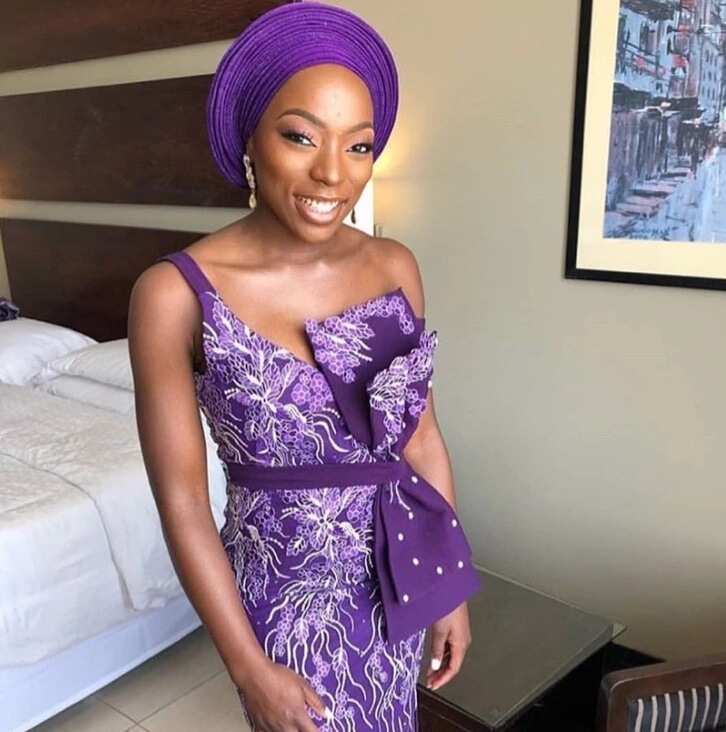 Bows are quite popular in this season. Even white and purple colours in style will look quite astonishing if you add a bow here.
3. Blue and royal blue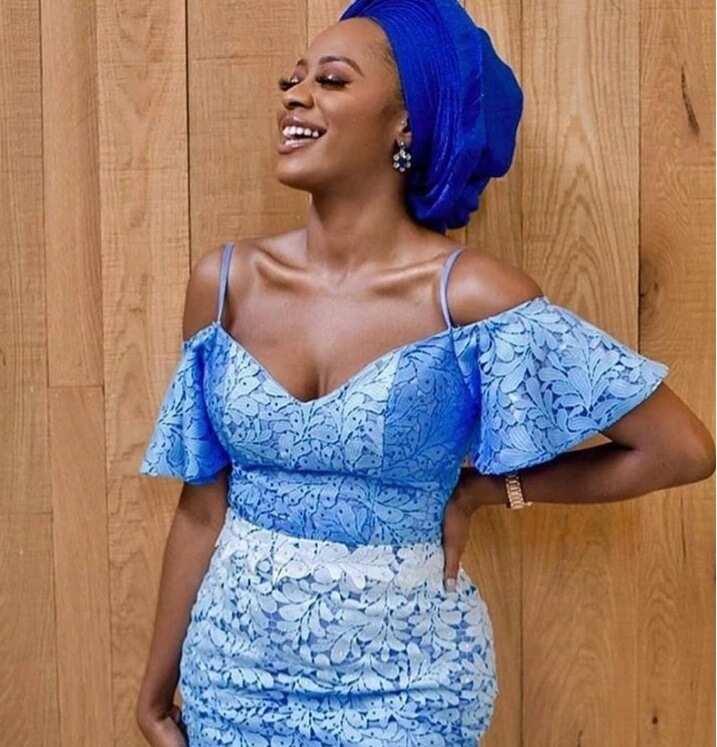 These are two shades of the same colour, but they can create an unusual style for you.
2. Champagne Gold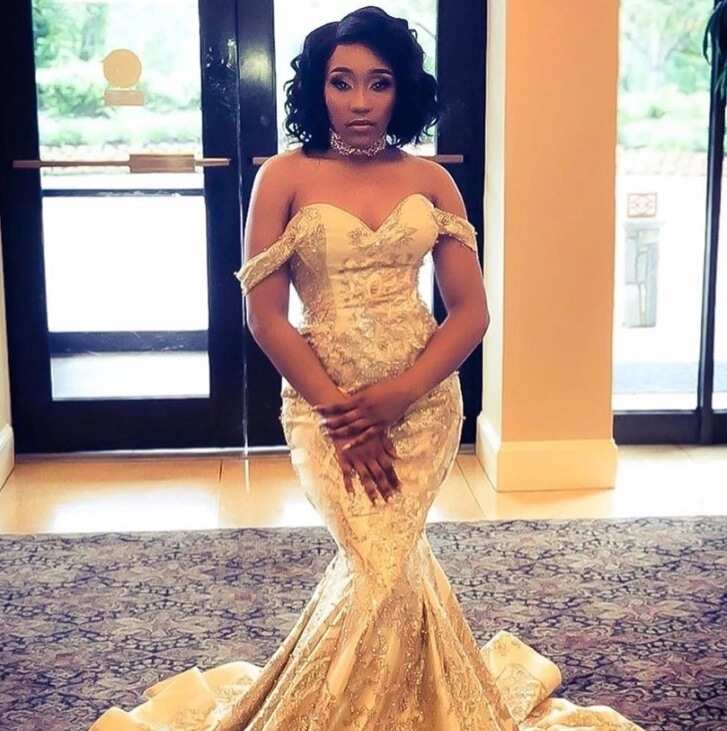 Gold colour will always be in style for every party. If you want to dress in this Aso Ebi combination, then you will need a very special occasion for this dress.
1. Black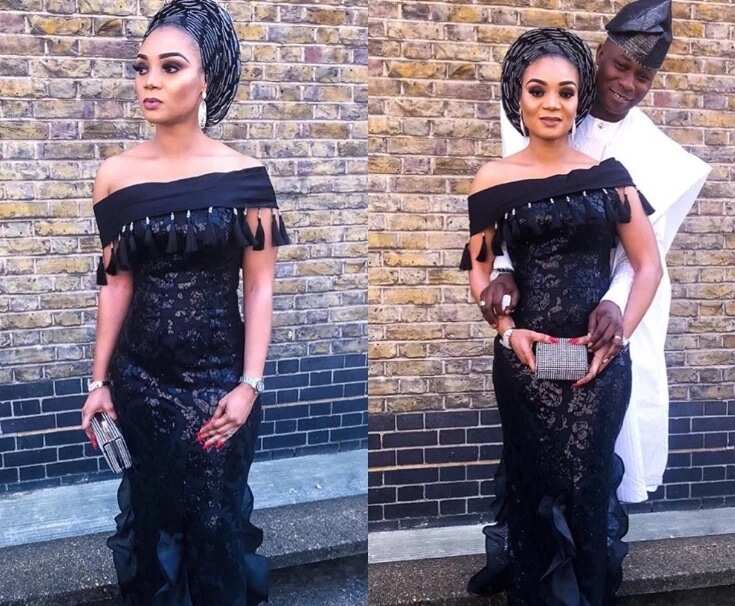 Totally black colour is a new style for Aso Ebi in this season. You can also add some silver accessories to add a contrast to your appearance
Aso Ebi style is a perfect choice to wear this season. Bright colours are not the only ones in vogue in 2018. Still, there is always some space for your creativity with colours and styles! You just need to find it!
READ ALSO: Latest Ankara styles in vogue
Source: Legit.ng