Latest Ankara and lace combination styles in 2018
To be honest, not all women believe that lace and Ankara combinations look pretty unless they have already seen such outfits. Ankara often seems to be too plain for lace decorations or lace seems to be too delicate to be attached to Ankara. However, as you will see below, there are numerous attractive variations, which are well worth a try.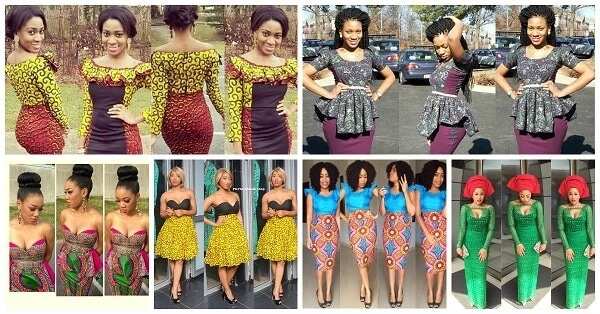 A little about Ankara and lace
Sometimes people think that lace is something very delicate, shiny, and luxurious that should be attached to satin, silk or velvet. Thinking of Ankara, rare women would consider it worth being decorated with lace. However, there are diverse types of lace and some of them can be attached to Ankara and create attractive combinations.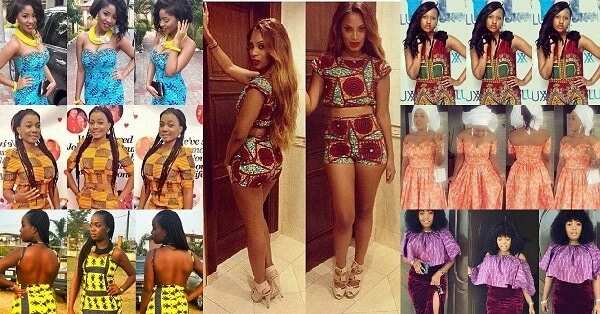 READ ALSO: How to tie head tie with ankara
For instance, there are sorts of lace that are made out of cotton threads and these sorts look pretty well on Ankara with their slightly rough texture. There are also types of lace made out of flax fibers and they also look pretty good when attached to plain cotton fabrics like Ankara.
The other side of the question is in the fact that Ankara fabrics are quite bright as they are, they seem to need no additional decorations. Still, once you see such a dress or a blouse with lovely insertions of lace, you will understand that they are definitely made for each other.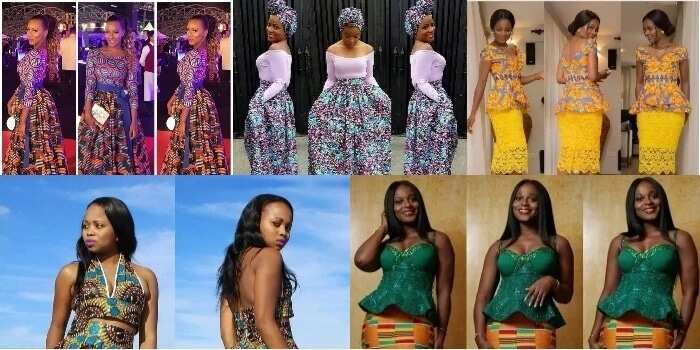 The point in mixing Ankara and lace is in choosing the types that rhythmically match each other's patterns. For instance, a sort of Ankara with a delicate print will look better when combined with a delicate lace type. The same is about the big patterns. Of course, the colors matter as well: they should match each other, your liking, your body, and your complexion.
Take a look at the following Ankara and lace combination ideas and choose something that will suit your taste and style.
Several ideas of Ankara and lace gowns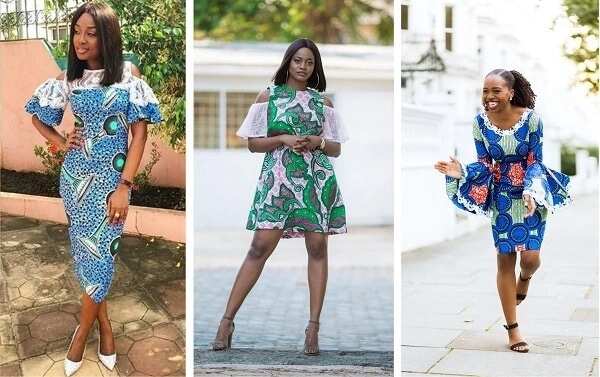 Gowns that combine Ankara and lace can be very diverse. One of the main purposes of these dresses is wearing them for special occasions like weddings or other parties. Yet, today you can encounter styles that differ greatly and suit practically any situations.
The traditional fashion that's used by Nigerian women for their events looks perfectly well as a lace & Ankara combination. The fresh white top part of the dress gives a touch of coolness to the peacock green bottom.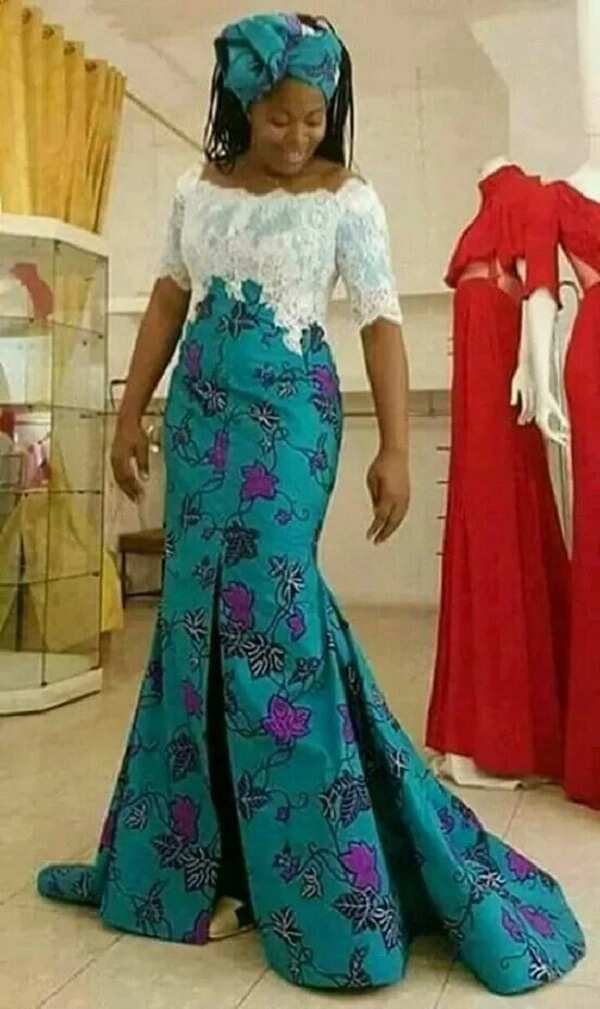 Another variation of the traditional mermaid fashion offers the following combination of elegant grey Ankara and navy-blue lace. The floral pattern of the lace repeats the print on the Ankara part of the dress and creates a lovely style that's modest, attractive, festive, and elegant at the same time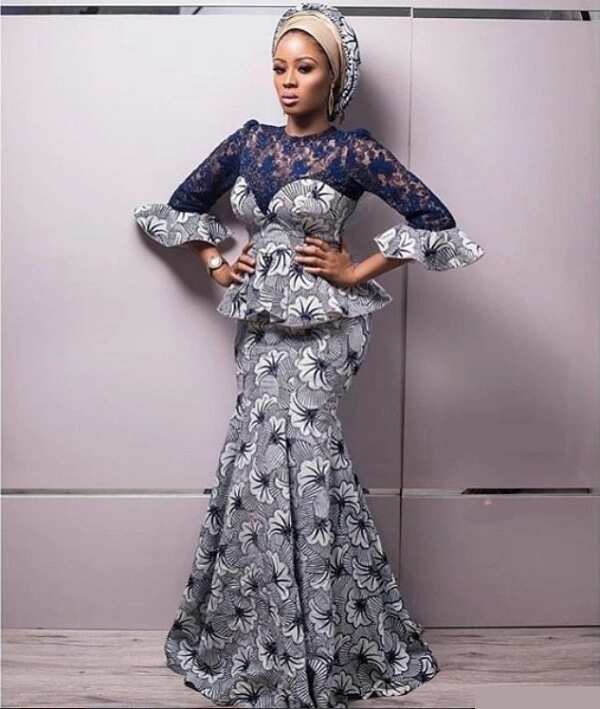 A more contemporary and less official dress that combines Ankara with lace can also look like this. A body-con silhouette combined with two types of lace looks extremely pretty and attractive. The fine print on the Ankara part of the dress looks perfect in a combination with the delicate lace of both colors. The entire outfit looks surprisingly complete in spite of many diverse textures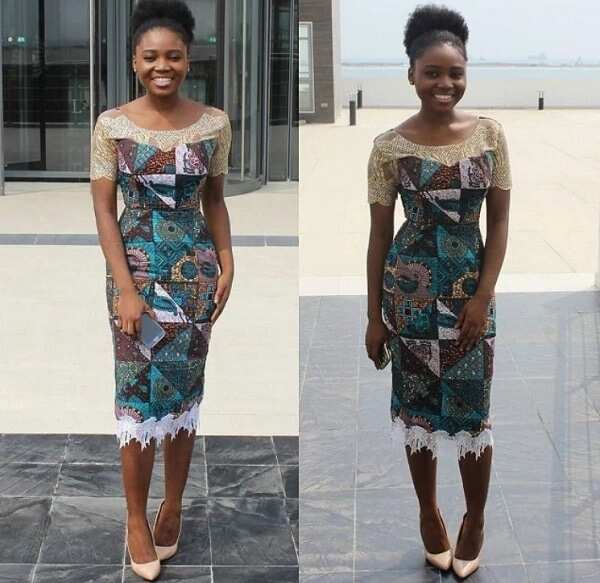 In this modern dress, lace functions as a bosom part that creates practically no contrast with the Ankara main part but looks extremely fresh and elegant. The complicated cut of the shoulders, sleeves and the bottom add something very modern and exquisite to the entire look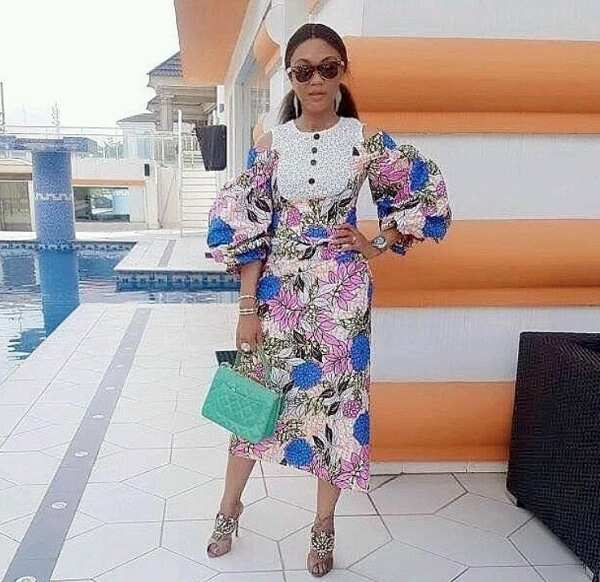 Lace sleeves are the centerpiece of this dress. The lace top looks practically plain white due to the solid white lining but the sleeves that are lined with the dark Ankara catch the eye and make you take a look again and again. The wide bell-like sleeves contrast with the tight skirt, emphasizing the slimness of the waist and the entire body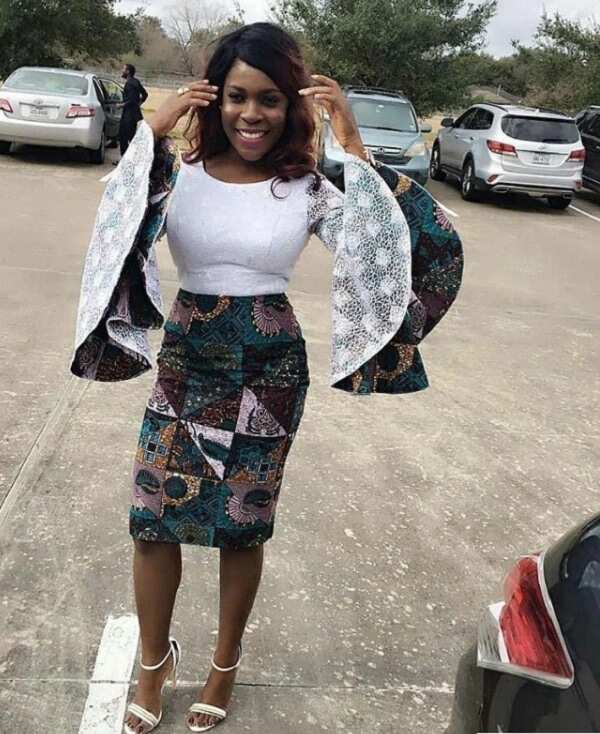 Another body-con dress with wide sleeves successfully combines black-red-white Ankara with the freshness of the white lace and looks absolutely stunning with these wide wing-like sleeves made out of pure lace. An elegant and really eye-catching combination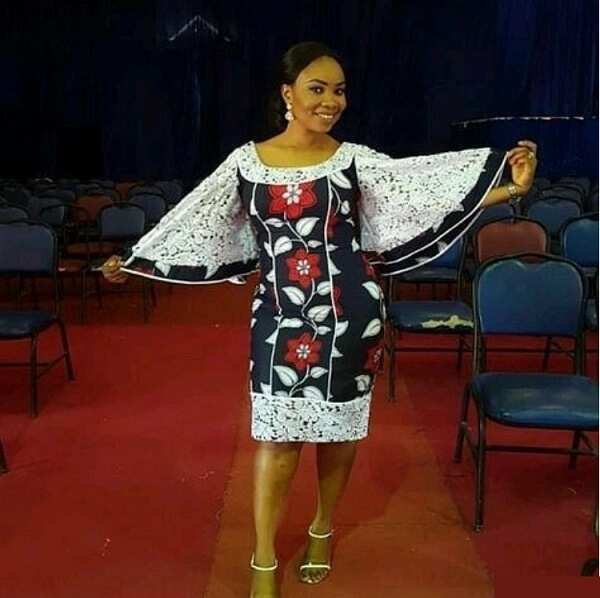 This dress with a wide skirt and a tight top part looks super fresh and exactly like sea waves due to the delicate combination of the Ankara pattern with lace. The patterns seem to repeat each other in a lovely manner, creating a stunning look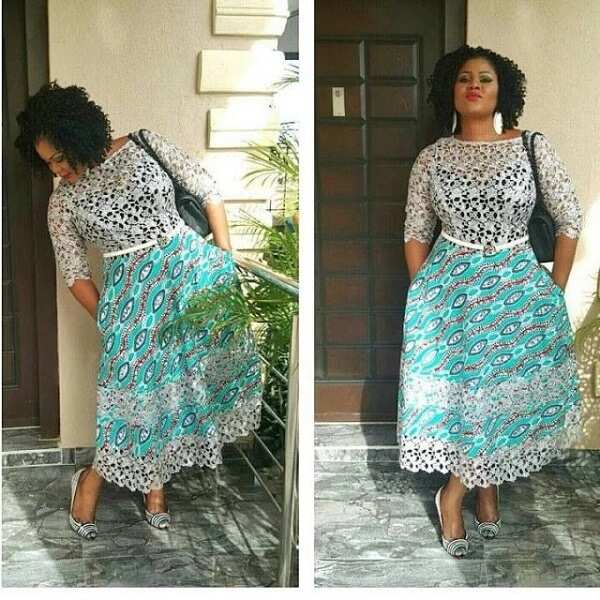 This wide dress offers plenty of comfort and style with its sunny colors and the combination of Ankara and delicate lace. It's a perfect maternity fashion and a great option for having fun at one's free time. The dress can be also worn with a wide belt that is able to give accent to the waist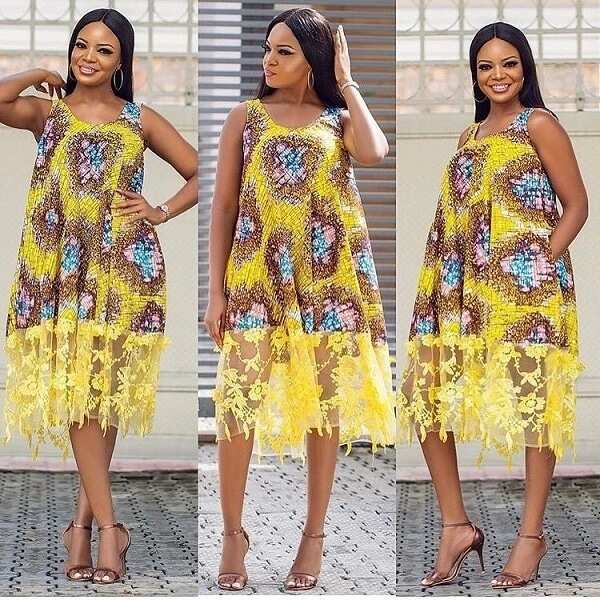 This dress shows how lovely and delicate a single piece of lace can look on an Ankara background. This is a perfect option for you if you don't want to give a lot of space on your dress to lace or in case you are not sure whether you will combine the lace and Ankara in the best way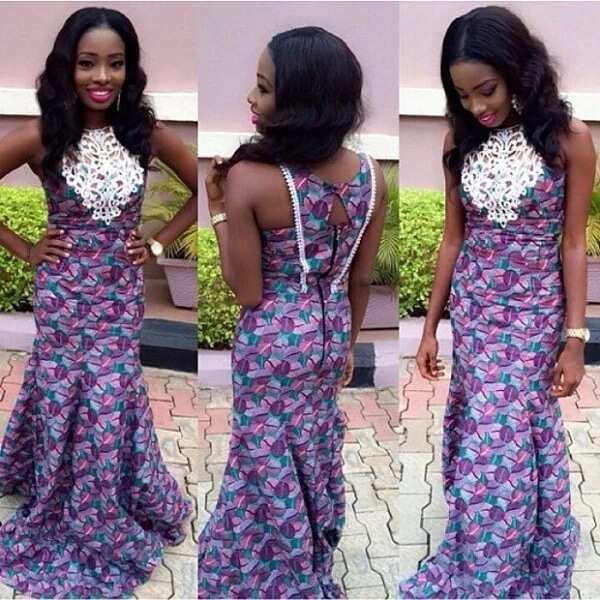 As you can see, mixed Ankara and lace gowns can be really stunning. What about other styles? Don't Nigerian women wear anything else, using the interesting mixture of the cotton textile and lace? In fact, they do. Let's take a look.
Lace blouse and Ankara skirt ideas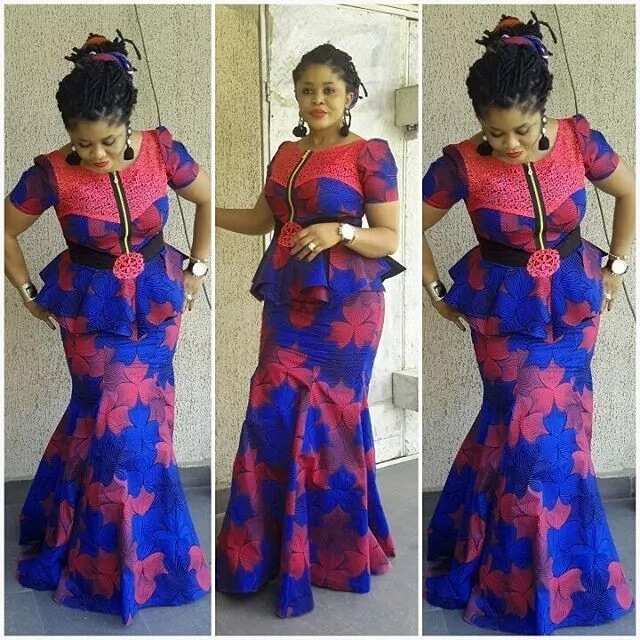 A lace blouse or a lace top is one of the most feminine things a woman can have in her wardrobe. Such a top or a blouse will really look stunning with a matching skirt made out of Ankara. You can see it with your own eyes on these examples.
This is a perfect idea for an Aso Ebi that combines lace with Ankara. The top can be longer if you wish and expose less skin, yet, the very idea seems to look absolutely perfect. If you manage to choose proper colors, your outfit will look eye-catching and elegant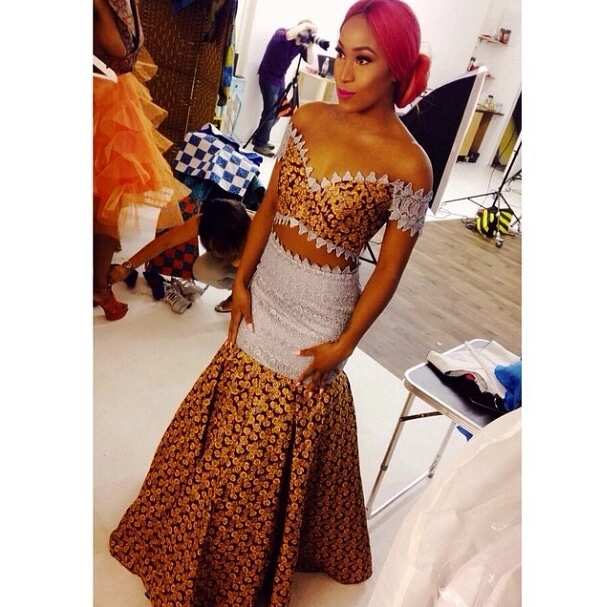 In this case, lace and Ankara exchange places. A pink lace skirt is combined with a blouse made out of dark Ankara. The combination looks elegant and rich enough for a festive occasion. A matching headpiece will finish the look and give it the final traditional touch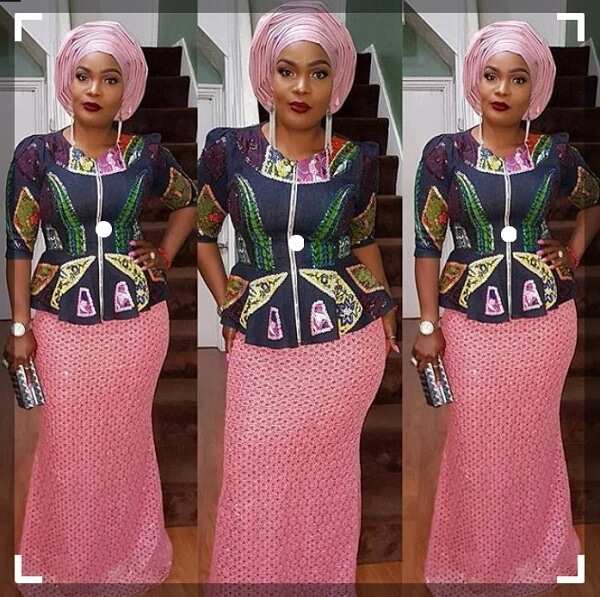 An incredible asymmetric off-shoulder top made out of bright yellow lace is combined with a floor-length wide skirt that looks absolutely stunning. This adorable combination, even without a headpiece, is something that would match any occasion: a wedding, any party, spending free time with friends or just walking around shopping. All eyes will be on you and your amazing outfit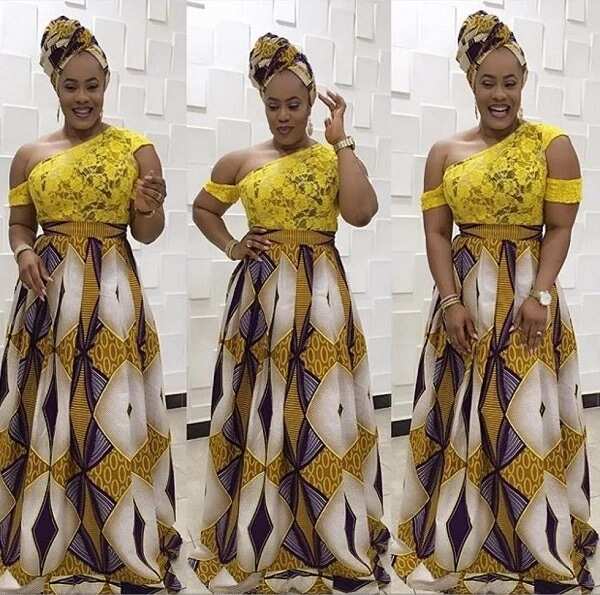 Another yellow top is attached to the green-blue skirt but the entire combination looks like a skirt and blouse. The off-shoulder cut is compensated with the length of the skirt that makes the look quite modest and eye-catching at the same time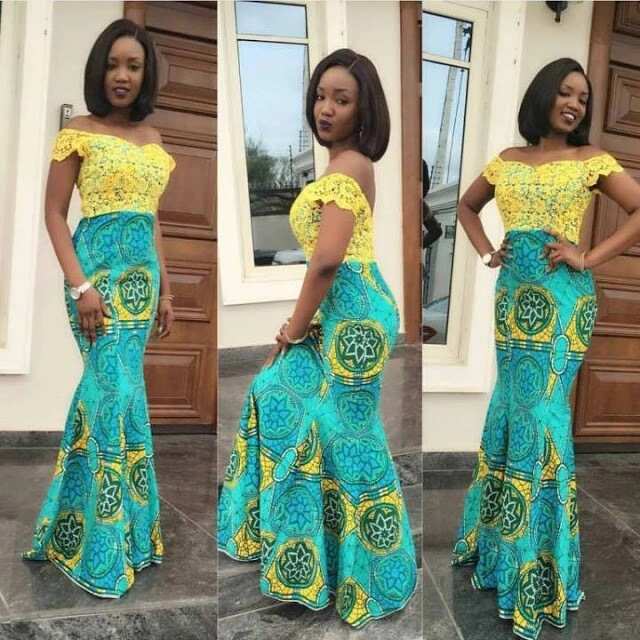 Of course, lace tops look incredible with short Ankara skirts. However, it's important to remember that the shorter the skirt, the more should be covered at the top of your body. Long sleeves, modest neck opening, dense lace, all this stuff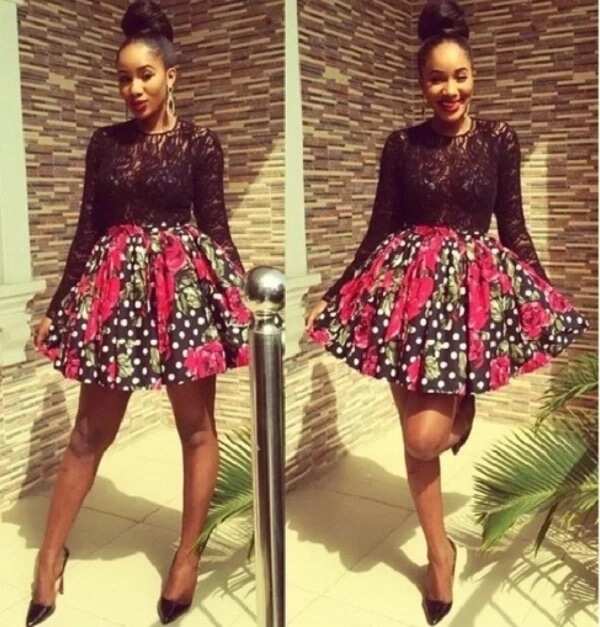 As you can see, latest lace and Ankara trends 2018 embrace all possible styles. Dresses, blouses, skirts, everything you want you can have in Ankara and lace combinations. They are perfect for festivities and everyday situations, for all ages and all bodies. The main thing is to choose a thing that will match your style, liking and personal peculiarities.
That's all! You will have the attention, comfort and self-confidence your beauty deserves. You will never want to part with your new Ankara and lace outfit because it's something every lady should have in her wardrobe.
READ ALSO: Beautiful and simple Ankara styles to rock in 2018
Source: Legit.ng