The latest Aso ebi styles for wedding in 2018 will impress you. We will show you the most charming outfits for a bridal party and any other celebratory occasion. This is one of the favorite styles of all Nigerian women. Well, let's start.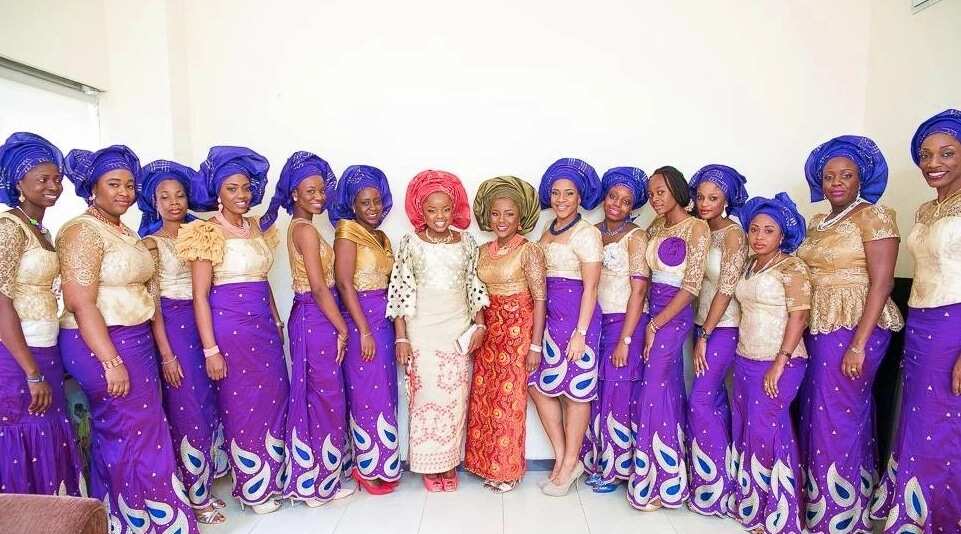 As we know Aso ebi style is the Nigerian tradition to wear a common family print. It's worn to weddings, birthdays and even funerals and so on. Sometimes it's also spelled aso-ebi. In Yoruba a part "aso" is a cloth and "ebi" is a family. It's predominantly used in Nigeria and some other West African countries. Nigerians can wear Aso ebi styles to show their belonging to some group during social occasions: age or gender group, relatives or friends. It helps to demonstrate a solidarity with a larger group.
Ankara style ideas
Popularity of such fabrics as Ankara led to this tradition. There is one main rule of wearing Aso ebi style. Although, a fabric should be the same, a style of dress can be different. This also applies to wedding gowns in Nigeria. For example, if a bride is in lace dress, the bridesmaids can wear lace gowns of some another styles.
In 2018 Aso ebi dresses mainly worn with stylish head wraps, accessories and high heels. Probably, this is one of the most popular styles at Nigerian wedding.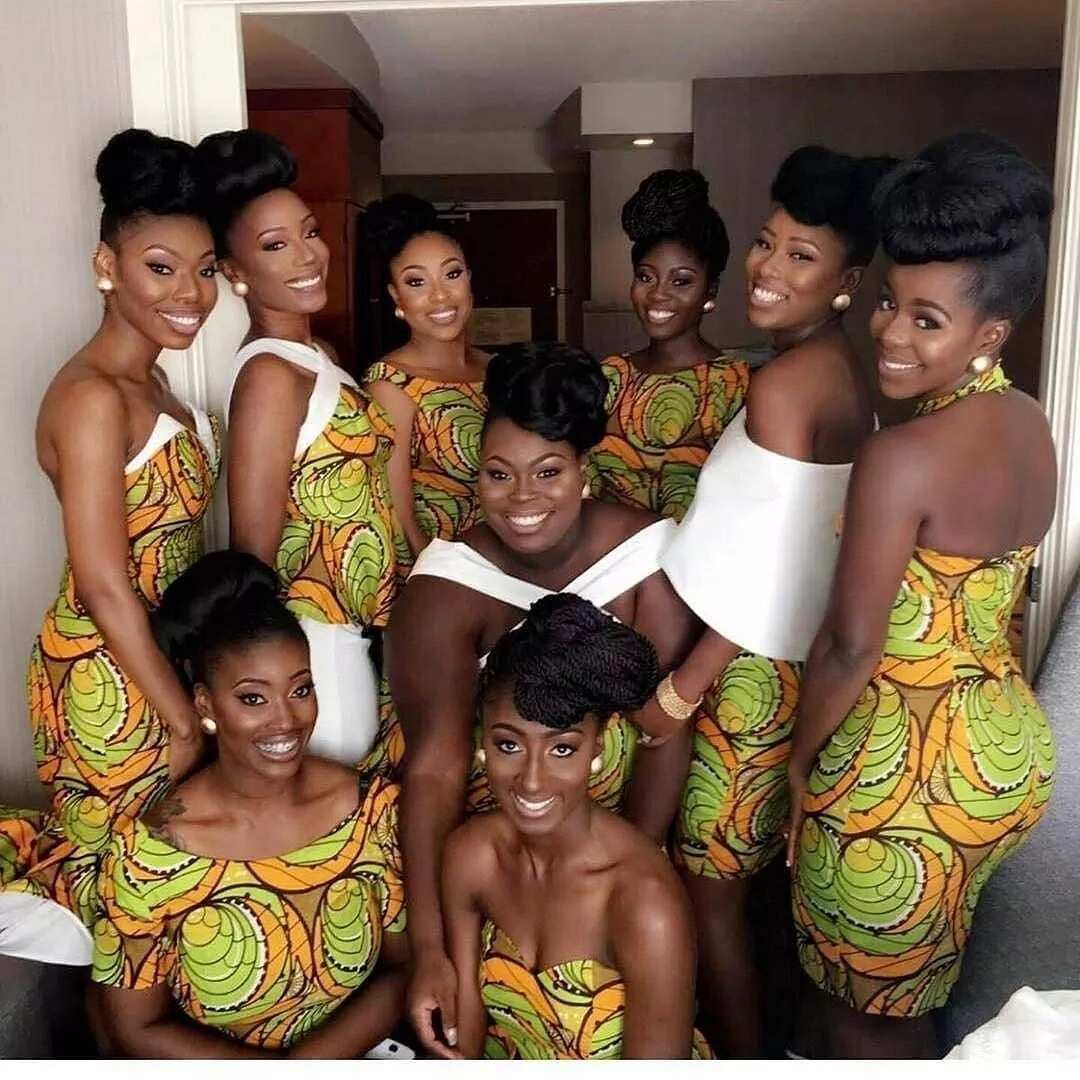 For Nigerian-American match, an Aso ebi is sometimes the de facto bridal party, with the bridesmaids wearing Western dresses at the "white," or Americanized ceremony. And then they switch to Aso ebi style for the traditional ceremony. In other cases, the Aso ebi differs from the bridal party and still other times both the bridal party and a wider circle of friends and family will wear different cloth patterns.
If you are going to wear Aso ebi at friend's wedding or looking for latest Aso ebi styles for your own wedding, look through these charming outfits.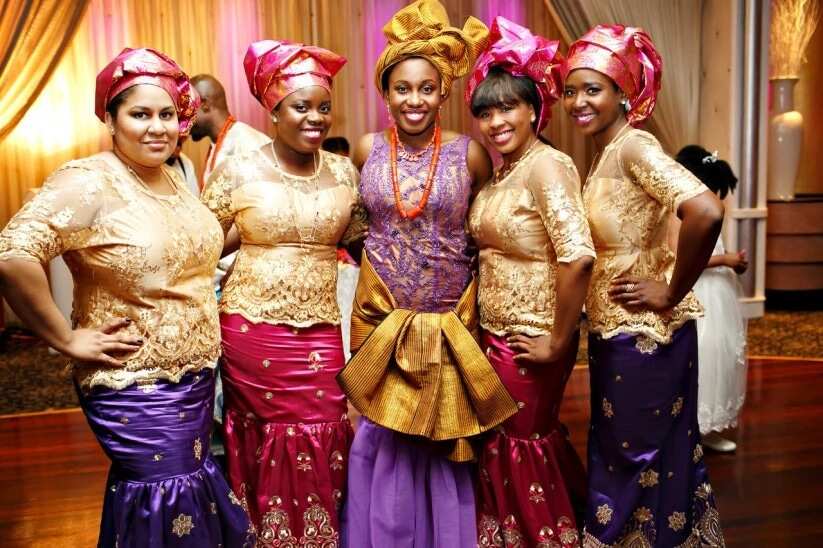 Wonderful purple and pink colors skirts made bridesmaids look festive and bright. These outfits are different and also similar at the same time. The combination of gold lace blouses and charming brilliant gold and pink geles formed a complete look of bride's tribe.
Actually, one kind of fabric can create a lot of different styles. These six Nigerian girls demonstrate their creativity with six amazing dresses of different Aso ebi styles. Here are several long dresses, short dress with peplum top, strapless gowns, belted and others. Brilliant pink and purple geles make this look perfect.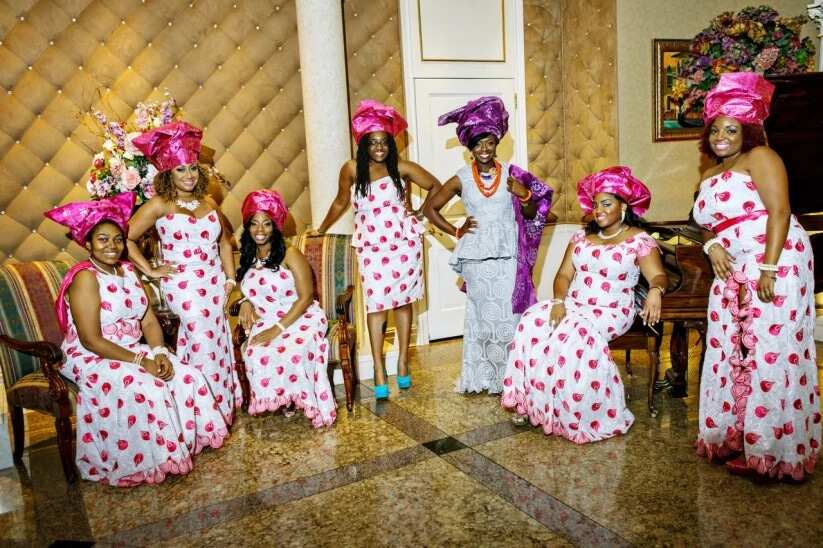 READ ALSO: Bella Naija cord lace styles 2018
This is not only a family cloth that demonstrate your closeness to a bride. There is also a special dance during a bridal party when Aso ebi bridesmaids lead the bride and fiance onto the dance floor. This looks like on this picture below. These maids of honor completed their printed Ankara look with bright blue head wraps. This is what made them ready for a wedding reception.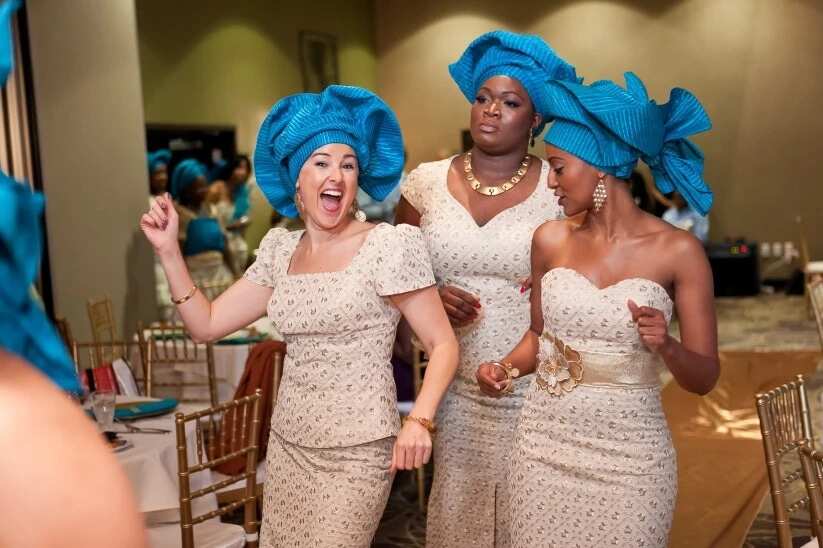 Many Nigerian women prefer trousers instead of dresses. As you can see on the picture below, this maid chose beautiful Ankara tops and white trousers. Certainly, trousers didn't spoil the look of the bridesmaids but highlighted their femininity. Such a decision helped to maintain the tradition of Aso ebi style wearing and differ from anothe wedding outfits.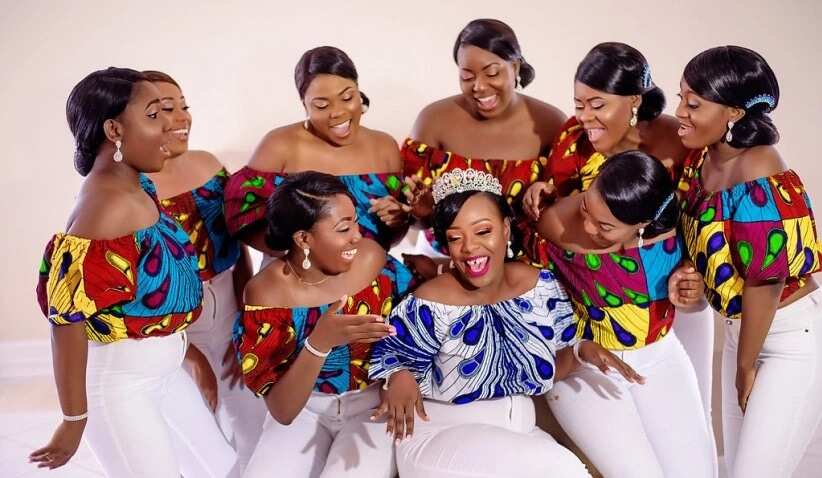 However, we think these outfits are more suited for a bridal shower. You can wear Ankara blouses and jeans for this party and then wear fancy dresses to a traditional ceremony.
Aso ebi styles lace
Although Ankara style is most popular among Nigerians, Aso ebi styles lace also remains valid. Look at the picture below. These are maids of honor who've created several different Aso ebi looks. They have dresses with gold and pink metallic print and lace fabric.
Actually, lace may be diverse. You can choose both long and short length. Nigerian lace styles dress is good due to its lightness and festive look. Many African women prefer to wear it to many social occasions. Charming lace gown can be completed with some bright gele head wraps. There is a big choice: mermaid and A-line, strapless, belted and more.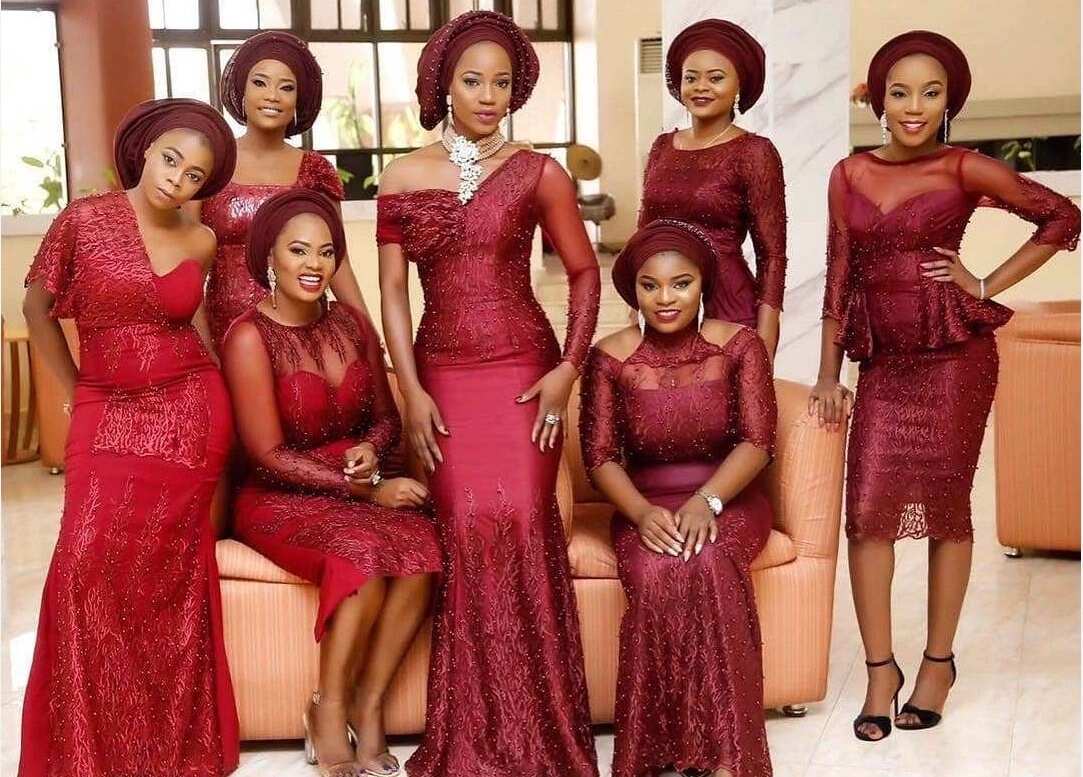 This Aso ebi style has two-colored gowns: with gold and purple print. Bride worn a gold dress to highlight her status. However, she also has a purple and gold gele head wrap to have unity with her tribe. Maids can also experiment in 2018 and wear blouses with skirts instead of dress.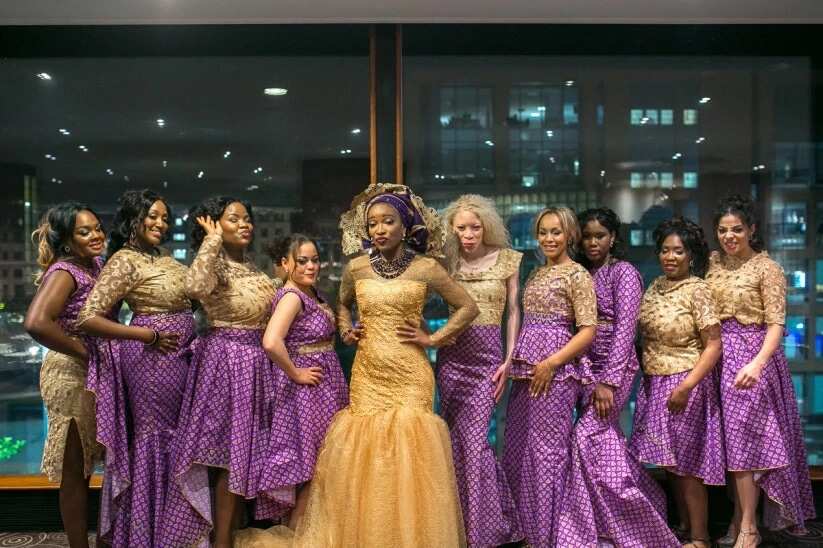 The bright patterns are in fashion this season, that's why don't worry to choose bold colours. You can see on the picture below how bright gowns can be in 2018. Bride has the same style but different color. We are sure these women were the brightest at the party.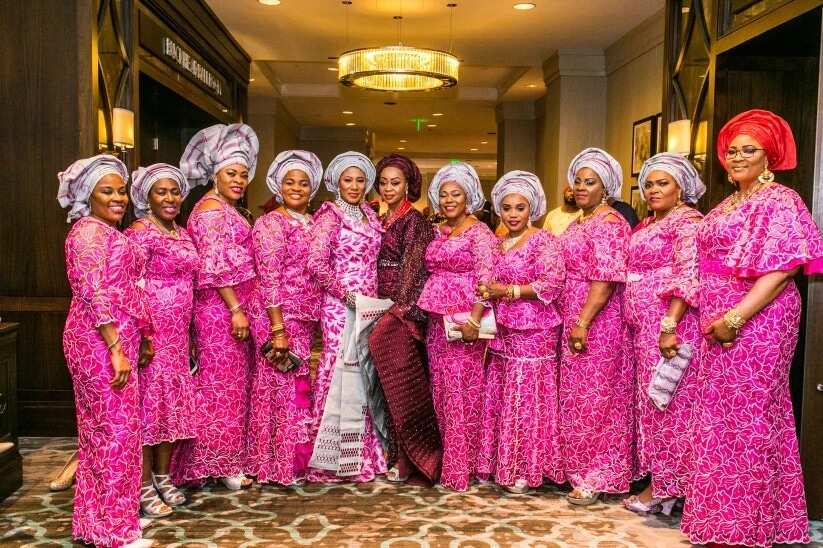 This tradition took root in 20th century. Nowadays, it's still quite popular and loved by many Nigerians. Moreover, not only bride's friends and family can wear it. The family of groom can also use this style to highlight their relationship to him.
Please note, if you want to create some wedding style for bride and her friends, you should take into account one important rule. If a bride is in a short dress, bridesmaids should also wear short dresses. However, a bride can wear long dress if bridesmaids have short dresses. Otherwise, bridesmaids will look fancier than a bride. Frankly speaking, you have a freedom in choosing Aso ebi styles. The main rule is to wear outfits that suit your figure, age, event and of course bride's look.
READ ALSO: Trendy Ankara styles for girls
Source: Legit.ng