- Comrade Timi Frank has said there is no crack in the nPDP led by Alhaji Kawu Baraje
- The recently wrote a letter of complaint to the national chairman of the party, claiming they were being marginalsed
- However, a breakaway section of their group led by Senator Abdullahi said the claims were false
- Frank described Abdullahi's group as a group of irrelevant party chieftains
Spokesman of the nPDP, Comrade Timi Frank, has debunked certain claims made by a breakaway section of their group led by Senator Abdullahi Adamu (APC, Nasarawa).
Abdullahi had led another group of ex-PDP members in the APC on Monday, May 14, to the party secretariat, where he challenged the Baraje group to state where a meeting was held that mandated them to write the letter to the party leadership.
Accompanied by Chief Theodore Georgewill and House of Representatives member; Abdulmumin Jibrin, Senator Adamu said Baraje had no mandate or moral right to write and be making requests on behalf of the group.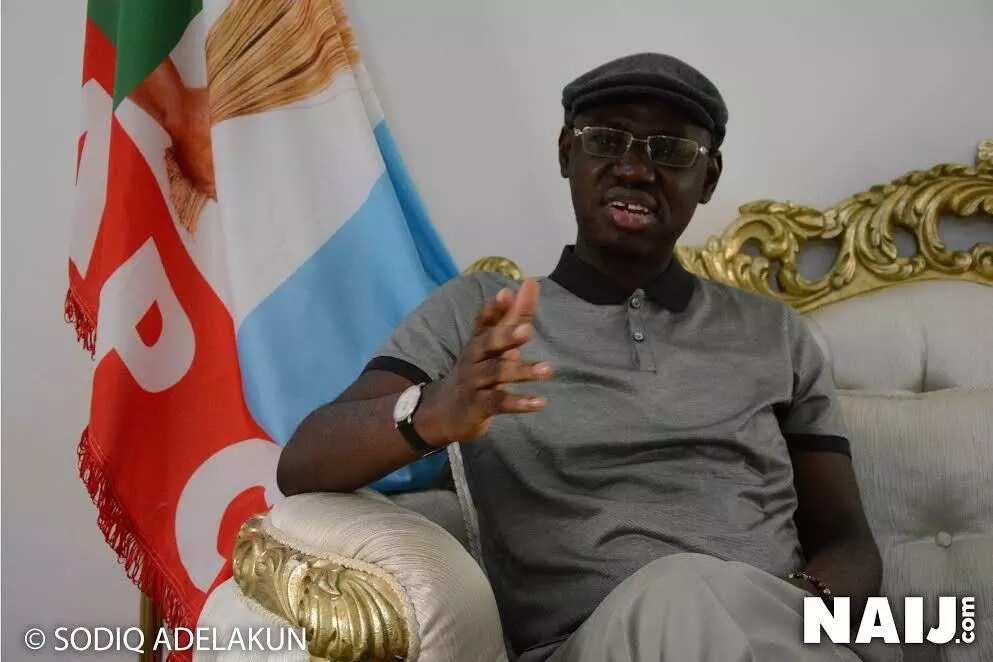 READ ALSO: 2019: Governor Ortom has no plan to dump APC - Aide
According him, members of the nPDP had been taken care of in appointments by the APC-led federal government.
Addressing journalists in Abuja today, Tuesday, May 15, on the claims by the Abdullahi group, Comrade Frank said there was no faction in the nPDP. He described the Abdullahi group as a group of irrelevant party chieftains who had no hand in the formation of the group in the first place.
His words: "I want to make it very clear, that we have no faction in our group. There is no crack as far as we are concerned. We have only one group, we have only one leader and that leader remains Alhaji Kau Baraje. And I want to make it known to all of you that Baraje is not alone.
"He has the mandate of over 95% of the nPDP. It was because of our participation to join the APC that practically brought the victory that we are all enjoying today.
"When people like Senator Adamu, who used to be one of us, came up with those positions yesterday, I want to make it clearly to Nigerians that they must have forgotten history. I want to make it clear that whatever they have said to counter our moves are lies. Nigerians are there to testify."
He also rejected Adamu's claims that the nPDP have benefitted from the APC government.
Frank said: "If we have benefited the way they have said, our leader Kawu Baraje would have not written any letter to the party. We are not here to respond to individuals. We are here to make it known that our proposal, our letter, is to the party. So it is left for the party to either take it serious or not. I believe any serious party, will take whatever position that we brought before them.
"Today makes it 7 days that we wrote the letter to the party, as it stands, we have not gotten any response yet from them. What is in the letter, is not an empty threat, if they fail to respond, so be it, but at the appropriate time, we are going to respond. It is not just a mere ultimatum; our leaders are meeting and we would come up with clear positions to brief Nigerians on our next step if we are not attended to."
READ ALSO: El-Rufai sends message to nPDP members threatening to leave APC
On the claims that members of the group have benefited from the APC government, Comrade Frank said: "The positions we got are elected positions. Nigerians are aware how we got the Senate presidency and speaker House of Representatives, but it was not supported by our party. It was not also supported by the executive arm of government.
"We managed to get these positions by the grace of God and be the support of the Nigerian people and also the support of senators and members of the National Assembly who believe in the leadership of Senator Bukola Saraki and Honourable Yakubu Dogara.
"They chose to stand by these two people because they believe they will take the party and Nigerians to the promised land and so far, so good, we are very happy with them. They have done very very well despite the challenges and hurdles they have been passing and still passing through till today. Nobody should give credit to the party because we fought to get these positions.
"The only two beneficiaries in our group are Rotimi Amaechi and Senator Hajia Aisha Alhassan. We are not going to be intimidated by any group or anybody. As long as the Nigerian people are happy with us."
Comrade Frank warned the APC that they are towing the same line of the PDP before the 2015 elections, saying, this is the same way we were trying to correct the wrongs during the PDP administration, they ignored us and we left for the APC.
He continued: "If today, 95% of us are aggrieved and they feel they can undermine us, so be it, but at then end of the day, we believe we are going to take a decision that will benefit the Nigerian people because we believe democracy should be all inclusive.
"Today, every one person that is being harassed within the APC, are those of us that came from the nPDP. We have not seen anyone from the ACN, CPC, ANPP or APGA that is being intimidated or being harassed. But we are not going to be intimidated.
"We believe we are doing the right thing and we are going to do everything possible to rescue Nigeria, the same way we rescued Nigeria in the hands of PDP. If we have laid our complaints to the party, and they feel it is important to address our issues, we leave them to God."
PAY ATTENTION: Install our latest app for Android, read best news on Nigeria's #1 news app
He further debunked Senator Adamu's claims that the Senate president was sponsoring the nPDP., adding that, Baraje is our leader and it is our collective decision. He accused Adamu of aligning with any government in power, stressing that he supported Late military dictator, Sani Abacha and former president Olusegun Obasanjo's third term bid.
Frank also described Honourable Jubrin as an aggrieved party member who is not happy with Speaker Dogara over his recent suspension from the lower house.
Comrade Frank earlier mocked APC chieftains who have expressed dissatisfaction at the outcome of ward congresses of the party nationwide and the botched governorship primary in Ekiti, asking them to accept the result of their silence in the face of impunity.
According to him, they are paying the price for keeping quiet when the party leadership was displaying impunity.
In a statement sent to Legit.ng on Tuesday, May 8, the Bayelsa-born politician expressed regret that ward congresses could record 80 percent crisis across the country.
Nigeria is practicing Oligarchy (Nigerian Street Interview) on Legit.ng TV