- Mufutau Egberongbe says the All Progressives Congress (APC) has the mechanisms to resolve all its crises
- Egberongbe also argues that the recent congresses of the APC have invigorated the party
- He believes former governor, Adams Oshiomhole, has the capacity to move the party to its next level
Mufutau Egberongbe, the special adviser to Speaker Mudashiru Obasa on legislative and political matters, says the coast remains clear for President Muhammadu Buhari ahead of 2019 and that even Olusegun Obasanjo's preparedness cannot stop the victory of the All Progressives Congress (APC) during the forthcoming election. He speaks more with Legit.ng
There have been crises within the APC in recent times flowing into the congresses just held. How dangerous do you think these are?
Crises are parts of the indices of a dynamic party. When you have chains of opinions, diverse views, different perception on issues and different interests in terms of what comes to me as against what comes to you, such would definitely lead to agitations. Such agitations are allowed in every dynamic party which is also good for democracy. But what is most important is the extent to which those issues lead to consensus, the extent to which we are able to manage the crises.
Thank God the APC has in place a mechanism for resolving such agitations when they arise. You will recall that recently, our leader, Asiwaju Bola Ahmed Tinubu, headed a reconciliation committee to look into some of these issues. This shows you that the party itself is proactive in nature.
READ ALSO: APC clears 13 seats, PDP wins 3 as local government election results are collated
Recently, Asiwaju Tinubu was quoted as saying those who do not want the best for the party are the ones creating the crises. Don't you think it is just time to weed out perceived moles especially now that the likes of Obasanjo are trying to battle the APC?
Like I would always say, you can't wish away moles from any gathering and a political party is not an exemption. What is most important is to have a leadership that is focused and which ensures that the party is strong, healthy and reliable. Do we have these attributes? You know the answer is yes. Are we meeting our objective? Again, I will say yes.
You can see that thus far, the various congresses held so far have invigorated the party. The party had been hitherto docile. Through the congresses, it has woken up from its slumber especially at the ward and local government levels. This is very important and it has been achieved. There is no time you would not find black sheep in such a party that is as big as the APC.
READ ALSO: Your track record will stand you out - Buhari congratulates Kayode Fayemi
And concerning the letter writer, Obasanjo, the major difference is credibility. Nobody is in doubt concerning the credibility of President Muhammadu Buhari and when you juxtapose him with Obasanjo, you too can draw your conclusion. World leaders have acknowledged Buhari as a very corrupt-free leader. And if corruption has been the bane of our society and you now have a leader that has been hailed as corrupt-free, I think we are already on the right path and we will not allow anyone to derail the progress. We always know that if we don't kill corruption, corruption will kill us.
With the way things are now, do you see Adams Oshiomhole as capable to unify the party ahead of 2019?
Oshiomhole was a governor of Edo state and we all saw all that came to bear in terms of infrastructure and human capital development as well as even distribution of wealth in the state. You will recall too that Oshiomhole was the only governor that had the guts to sign and ensure that armed robbers and black sheep in the state were executed. It takes a man with a lot of guts to have attained that. These guts are what he is bringing to bear as the national chairman of the party. He will bring a leadership that is focused, decisive and proactive. Essentially, that is what the party needs at this time.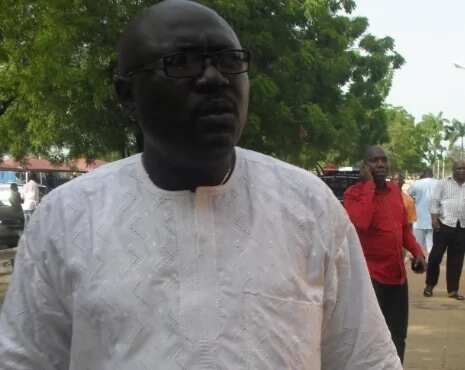 The last time, during an interview, you said there was no vacancy at the government house in Lagos. Do you still stand by that declaration?
Electioneering is not much of house-to-house campaign but majorly it is of what you have made of the mandate given to you during a period under review. So for a sitting governor in many instances, what you have done is a prerequisite for what to expect. You can draw your line from that.
And the speaker?
Concerning Rt Hon Mudashiru Obasa, I have said severally that there is no way the executive can move without effective and proper legislations. And you will agree that apart from being amiable, Obasa is a listening person. It takes courage for a leader to handle dicey issues. Look at the issues that happened with the land use charge recently. Despite that fact that all due process of arriving at a law was followed, when there were hues and cries, the House, led by Obasa, did not hesitate to look at the issues again by calling on the stakeholders another time, to look at the law again. It takes a leader with the people at heart to take such decisions.
PAY ATTENTION: Read the news on Nigeria's #1 news app
He is always particular about Lagosians. We can only continue to pray for the speaker and members of the House for their sacrifice at ensuring an egalitarian society. I want to appeal that the speaker should be made to speak again. There is nothing like experience and this has really helped. You can begin to count instances. The Yoruba language law has earned him popularity from both within and outside the country.
We were both in Finland and he was commended. Finland has the best education system the world over and we were made to understand that in the early childhood, from eight to nine, children are taught in school using mother tongue. Their parliament even promised to visit Lagos soon. I am using this medium to call on other state assemblies to emulate the Lagos Assembly.
Legit.ng earlier reported that Mufutau Egberongbe gave reasons why the challenges facing the government of President Muhammadu Buhari will not stop him from winning the 2019 election
Laolu Akande speaks on how presidency is tackling economy. Legit.ng TV