Latest Ghana weaving hairstyles in Nigeria
Ghana braids will instantly make everyone fall in love with them. They are versatile, neat, and fashionable, while also preserving the original African spirit. There always were lots of different Ghana weaving types, and every person can choose the hairstyle that suits her personality. See the latest Ghana weaving hairstyles in Nigeria!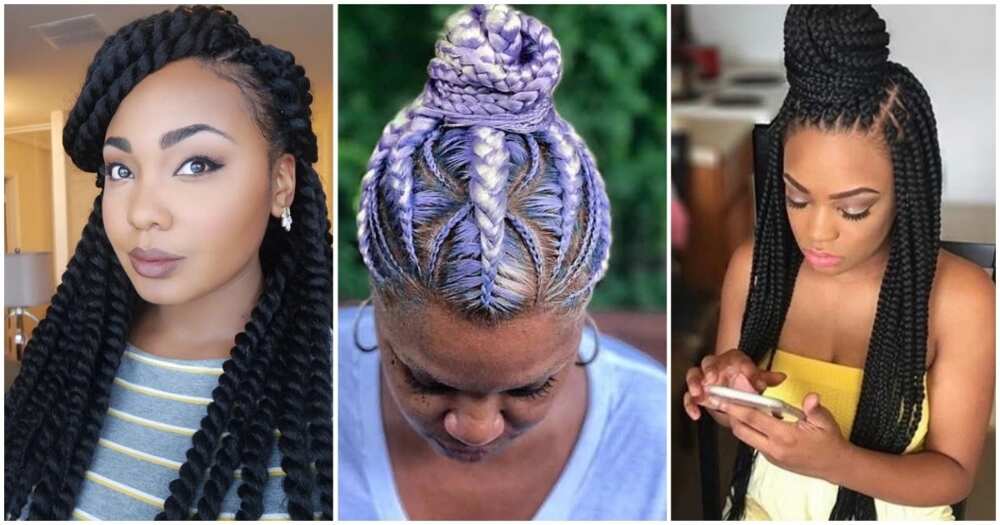 Latest Ghana weaving for Nigerian ladies
There is such a huge variety of Ghana weaving hairstyles that you could always wear in everyday life. If you thought there was only one way to braid your hair, you were completely mistaken. Ghana cornrows are one of the most popular Nigerian hairstyles, and they definitely drive people's attention to whoever is wearing them. Besides, they are not only pretty but also extremely protective against different environmental factors. All in all, if you have long hair that could easily be braided, Ghana weaving should be your solid number one choice.
Some hairstyles suit the ladies with round face, while some are good for women with oval face shape. In this article, we will see which hairstyles could suit which face shape, and if there are any styles that could be good for both.
Ghana weaving hairstyles for round face
In this section, we will have a look at the best hairstyle choices for women with round face. Check them out if you have a round face and are struggling to choose the appropriate hairstyle that would look good on you.
1. All back Ghana weaving
The all-back weaving is one of the most simplistic Ghana weaving hairstyles, which can also be made extremely interesting with the help of accessories like beads, and showcase the beautiful shape of your face. The braids can be made zigzagged or straight – the choice is up to you. This hairstyle would look the best if you have long and thick hair, so in case your hair is short and thin, you might use some hair extensions of your preference. If you love vibrant colours, you could weave some multicoloured artificial hairs in your braids to look even more youthful and trendy. Either way, it would be an excellent pick for ladies who love simplicity and style.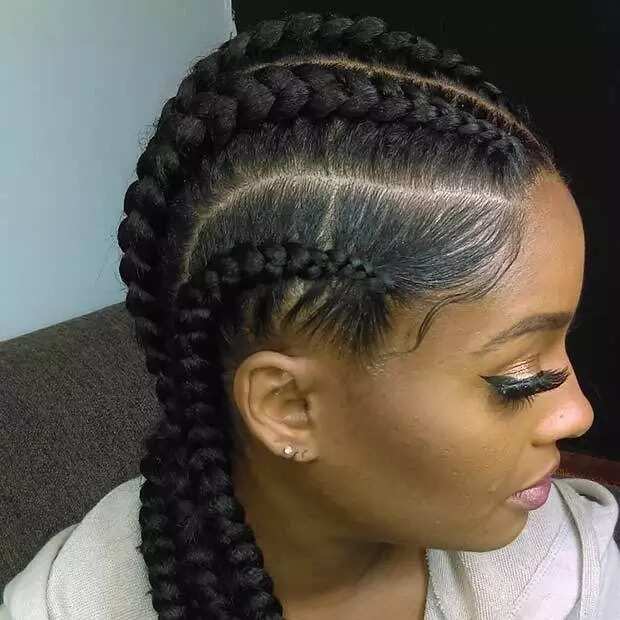 2. Zigzag braids
More and more Nigerian women are spotted with the zigzag hairstyle. This is a simple, yet really original and imaginative style. Basically, you weave braids in the way that zigzagged patterns are made between them. You might want to use some help from the professional hair stylist if you would like to wear this style and want it to be flawless. Once you have it, you will fall in love with it. This hair choice gives really interesting modern vibes.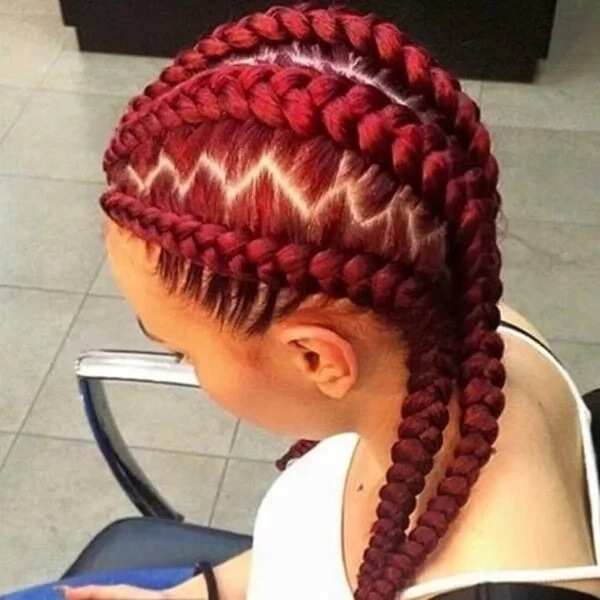 3. High bun
Maybe you have the cornrow braids, but are not a big fan of them messing around and covering your face at the least appropriate moments? Perhaps you would like to look smart for some occasion? Then you should try a quick solution – grab your braids into a bun. You can go everywhere with a bun – it is a perfect hairstyle for a workout at a gym, a workday in the office, or it can also work well as a party hair because it will not distract you from having fun and still look cute, especially if you add some accessories. The bun is one of the most simple and universal hairstyles, and it looks nice if you have a round face shape.
4. Bulky braids with a low bun
The bun can not only be wrapped on top of your head, but you also can make a cute low one. It will work especially brilliant if you have thick bulky braids. The volume of your hairstyle will be seen from afar. Besides, this bun does not take a lot of time to style – you can grab your braids into it pretty quickly. So, it is a perfect hairdo for those people who are often in a hurry and do not have much time to create imaginative hairstyles.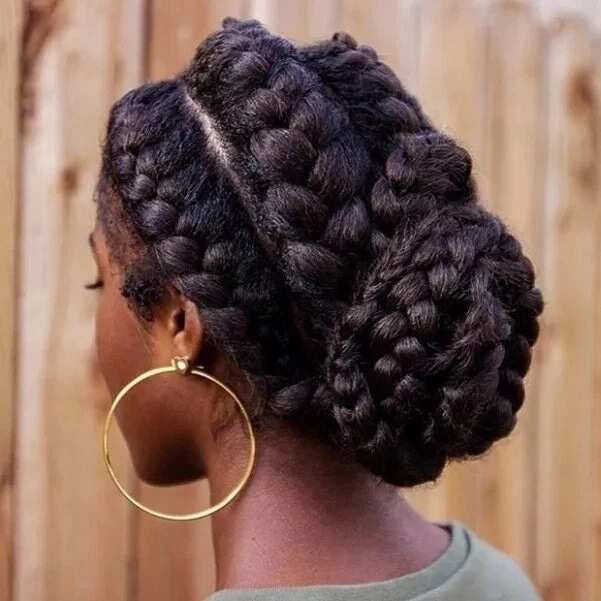 5. Spiral braids
The creative spiral braids mean that you choose to be different from the crowd and capture everyone's eye. This style creates a really creative visual effect since the braids are woven spirally. The interesting pattern on your head will definitely be noticed. If you like interesting and unusual braided hairstyles, this is the right choice for you. It will also go incredibly well together with your round face shape.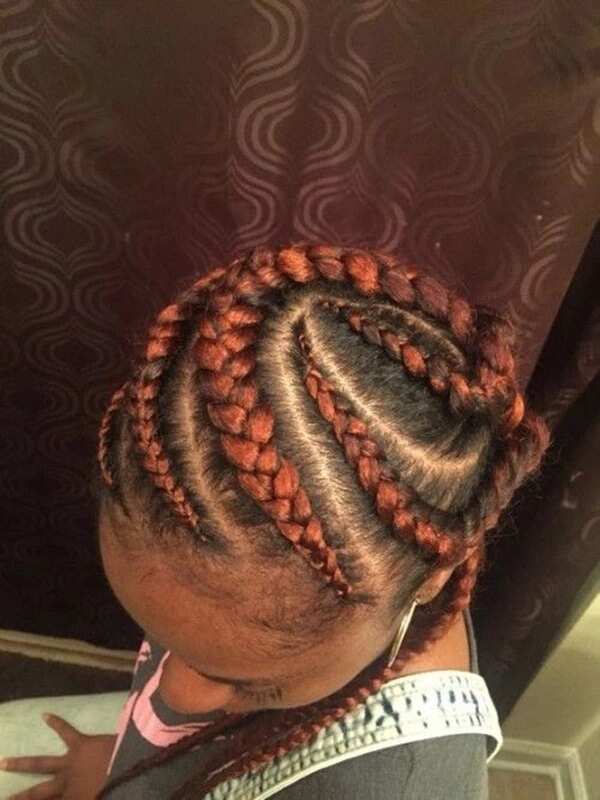 6. 3D braids
Making stylish 2D braids is good, but why not go for the additional volume and texture? With these braids, your hair will look extremely thick and healthy. People who went for 3D braids said that everyone turned their heads whenever they walked down the street. This hairstyle will work if you have strong natural hair. Otherwise, you will probably need to use extensions.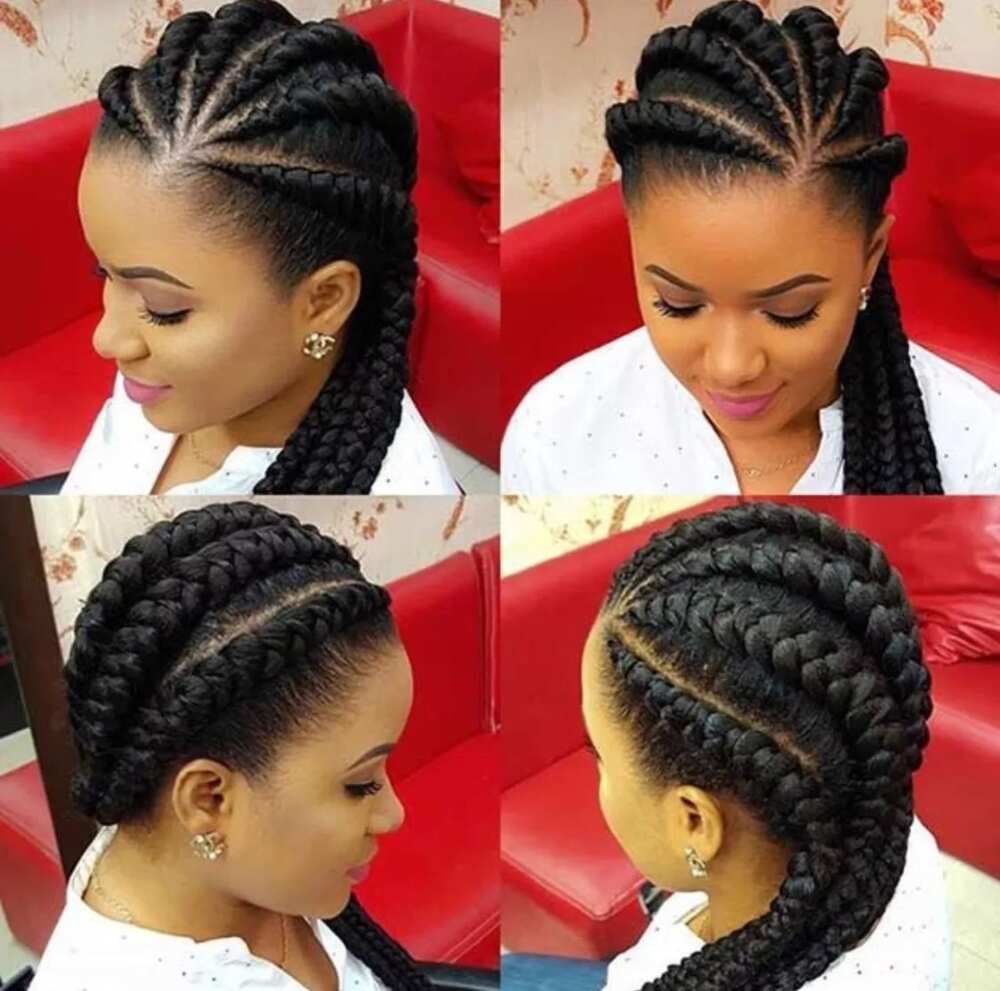 7. Ghana braids with dual effect
If the simple Ghana braids are not enough for you, you can try to create a masterpiece on your head. The braids with dual spiral effect, which is the interchange of big and small braids, can be an extremely fashionable and modern hairstyle.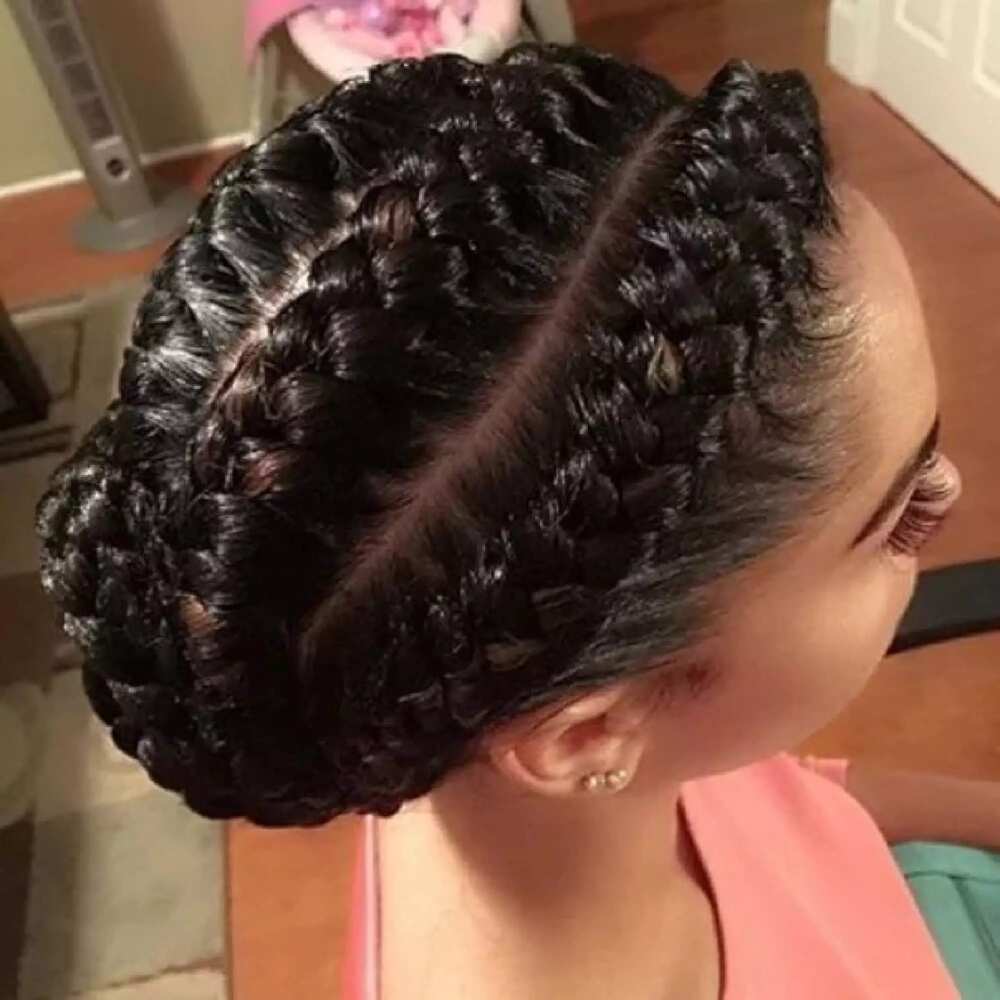 8. Elevated braids
What about Ghana braids in some interesting shape? They will make every girl look younger and more cheerful. By the way, this is a simple hairstyle that does not require doing anything extra. They give this playful and youthful vibe that everyone craves. If you show up with the elevated braids, everyone will know that you are a friendly and fun-loving person, so you should consider this choice.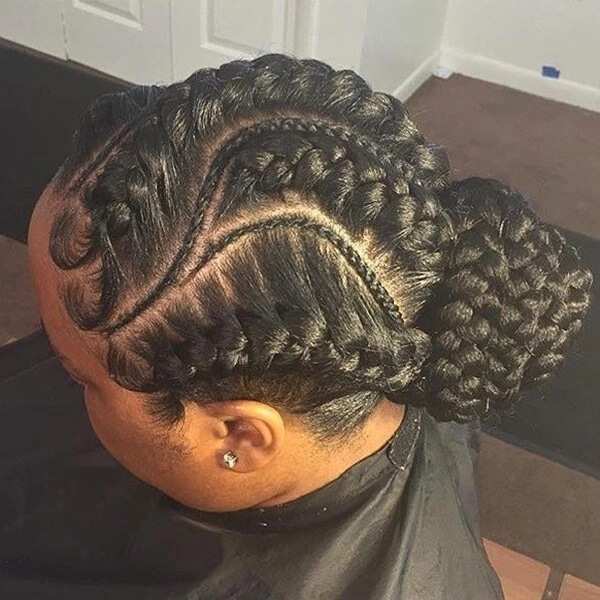 9. Blonde braids
If you want to play with colours, then blonde would probably be your first choice. The blonde braids became popular after such celebrities as Beyonce and Tiwa Savage showed us how to rock them. Nowadays, many Nigerian women experiment with blonde braids. They perfectly contrast the dark skin and give some kind of nostalgic feeling. It will be a huge bonus if you choose some accessories to go along with it, like the piercings, earrings, beads.
10. Micro-braids
If you have a round face, then micro-braids would also be excellent for you, as they will emphasize on your face structure and features. By the way, small and thin braids are not worse than huge and thick ones, and their advantage is that you can experiment with them however you like. You can wrap them in a bun or ponytail, you can create bigger braids out of the small ones, and so on. They are really practical, while also being cute and feminine.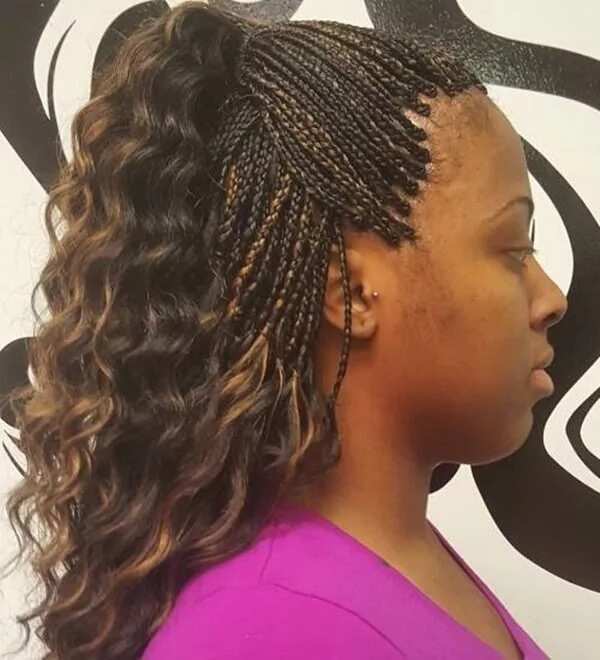 11. Side braids
The side braids are also one of the classic hairstyles for women who have round face. Even though they are simple and give a childish vibe, they are also chic and elegant. You can wear them during the everyday events, like meeting up with friends, going to college or work. They will be a perfect hairstyle for every occasion.
As you can see, there are plenty of various hairstyles for round face that you can choose from. Now, we can move on to the best hairstyles for oval face.
READ ALSO: Braid hairstyles for long hair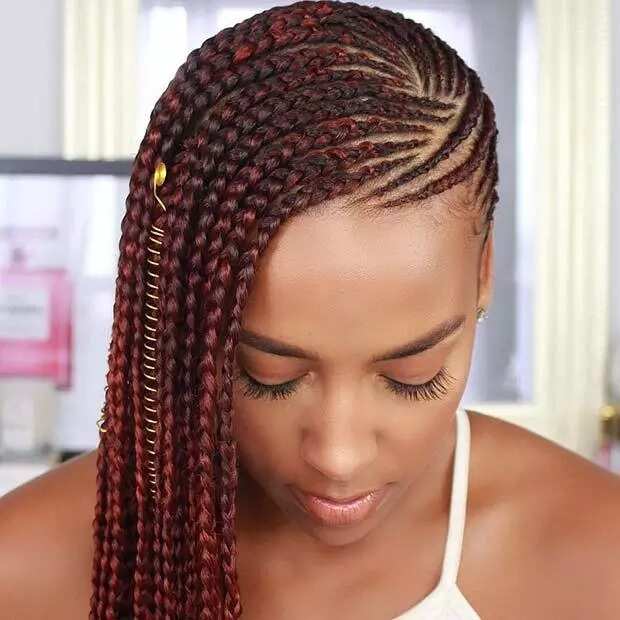 Ghana weaving styles for oval face
If you have an oval face, your choice is wider than you think. There are many different hairstyles that can emphasize your beautiful face shape.
1. High braided ponytail
The braided ponytail will be the best choice if you are not willing to hide your oval face shape behind a lot of hair. Ponytails can be different. If you have a thick long hair, you can make it out of your braids. In opposite case, you will need to use the ponytail hair extension, which will be easy to attach to your hair, and it will add you some extra volume and charm. Even though ponytails are classic, they are still popular among the ladies.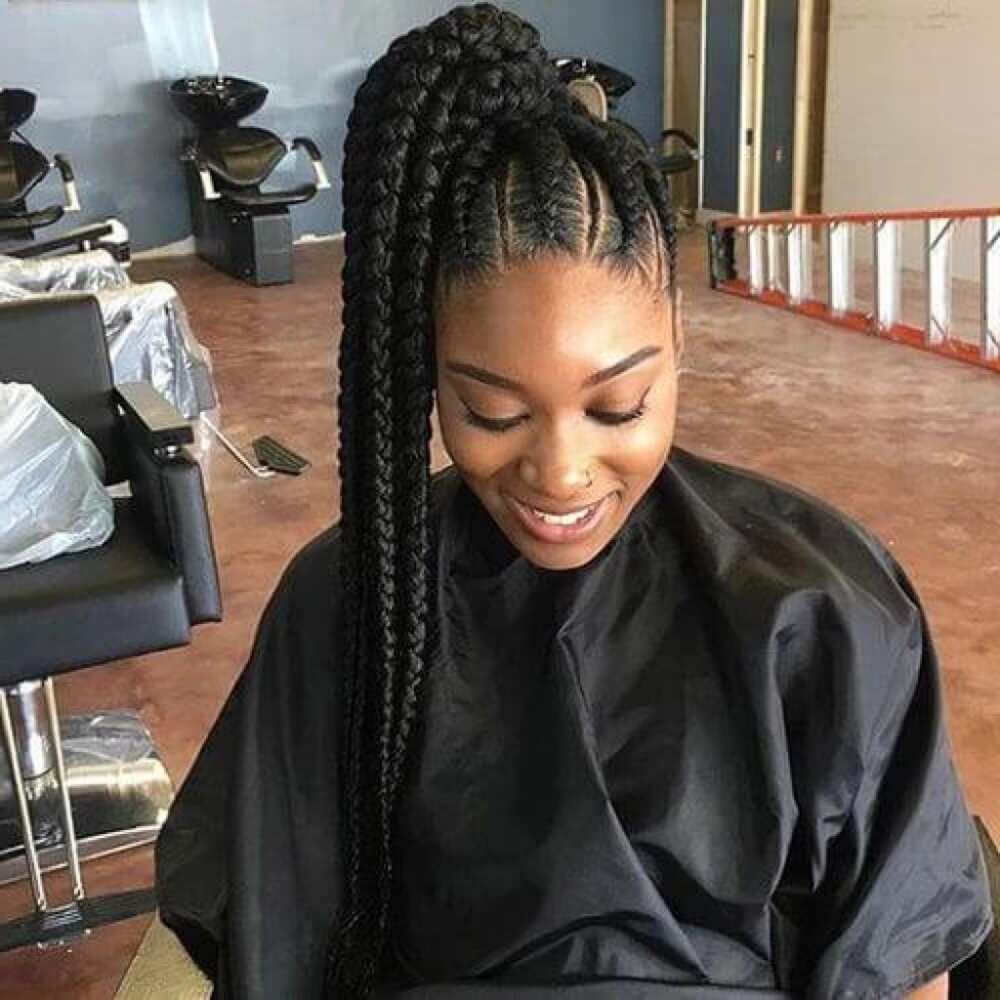 2. Thick twisted braids
The large braids will give you a feeling of fierceness and strength. The advantage of this hairstyle is that you can always wear any makeup you want with it, and it does not matter if your preferred makeup choice is bright or modest.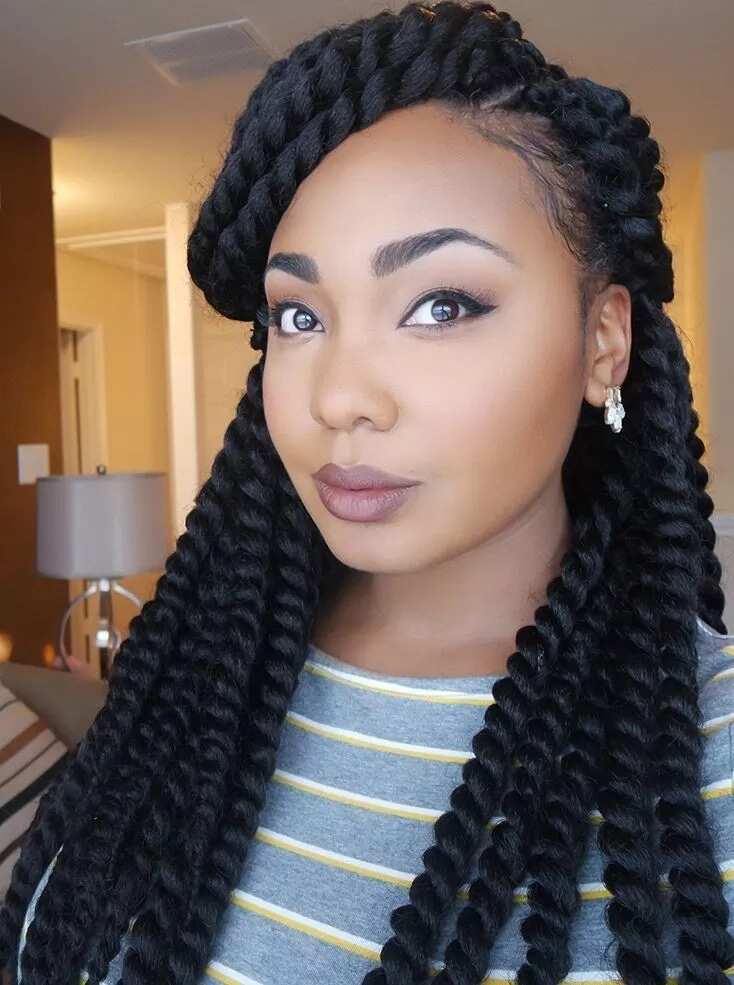 3. Senegalese twists
This is another hairstyle that would be absolutely perfect for those women who have oval face shape. The Senegalese braids are really special because they add plenty of personality and volume to your look. Basically, this hairstyle is made for showing your lovely facial features. It will be a huge bonus if you add some bright makeup to stand out even more. Senegalese braids are your primary choice if you are going out and would like to make an impression on everyone.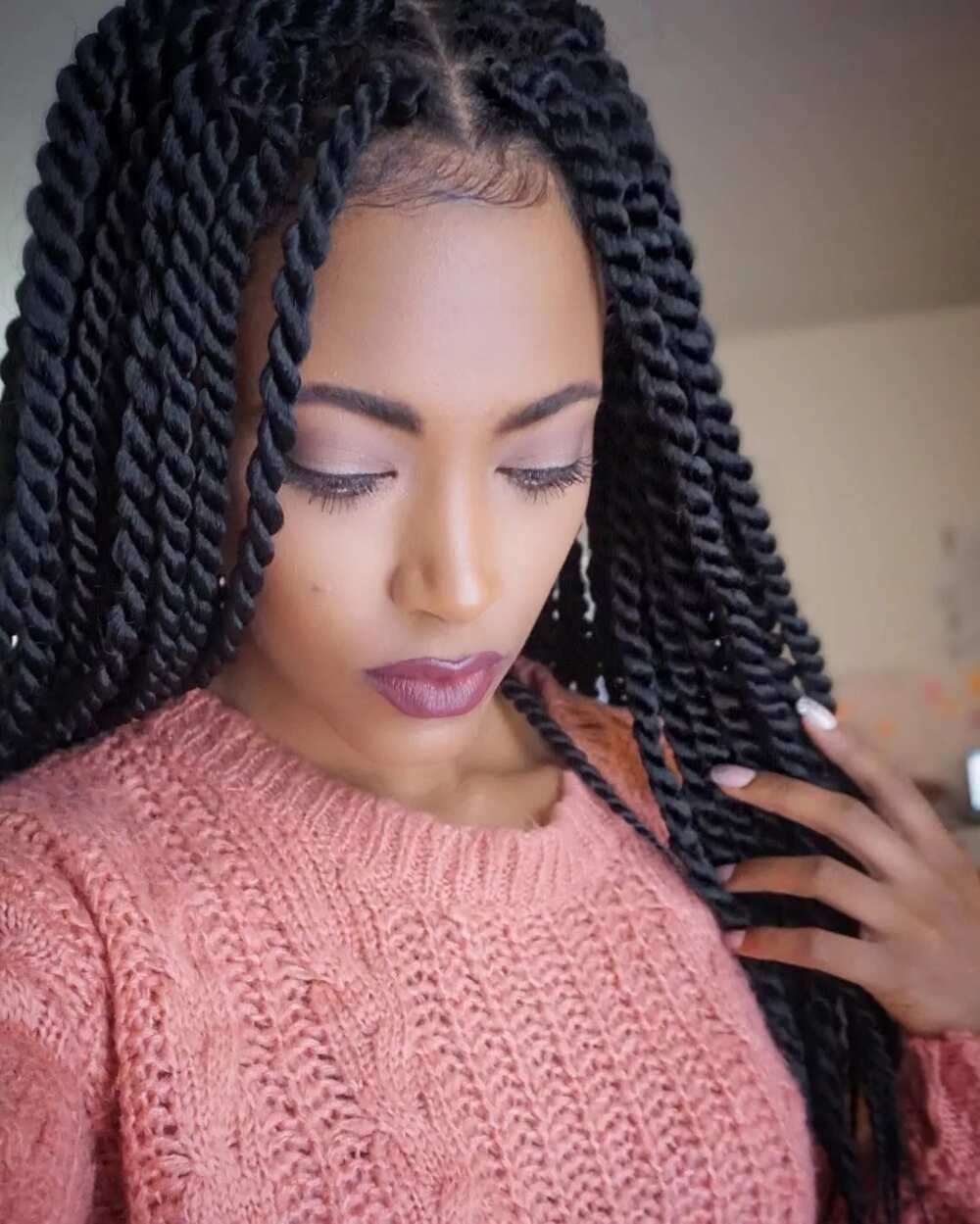 4. Chunky braids
Some colourful chunky braids will make you look unique and outstanding. You can choose from the variety of colours, or just leave them black or brown if you like them this way. Usually, people who wear chunky braids use hair extensions, but they are quite easy and relaxing to wear with proper care. By the way, if you combine chunky braids with good makeup and eye-catching accessories, you will totally look like a queen.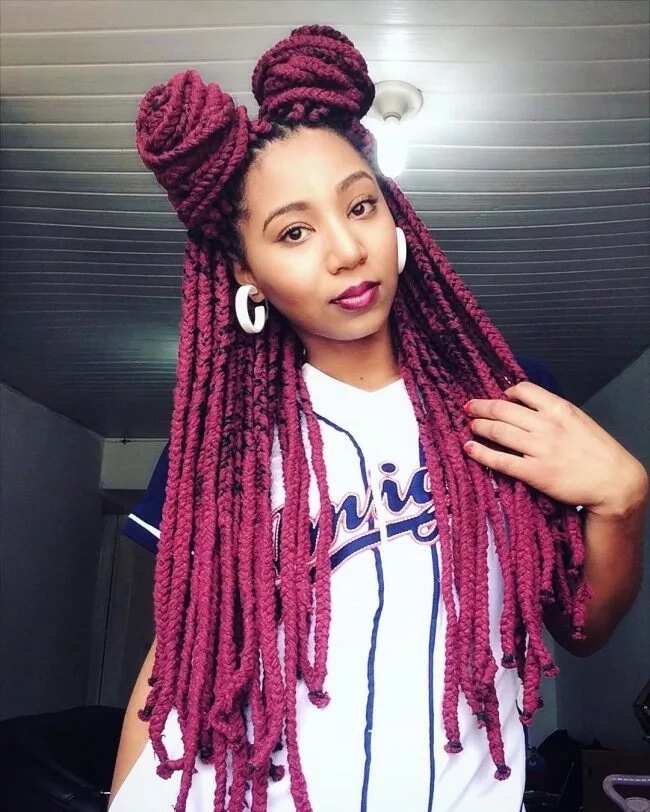 5. Cornrow Mohawk
This hairstyle is for the ladies who are bold, confident, and not afraid of difficulties. It will be quite difficult to create, so you will probably need some help from a professional hairdresser, but it will be worth the entire wait. Not everyone can rock a Mohawk like a superstar, but you will have a chance to. With this style, you will stand out from the crowd and always feel confident and strong.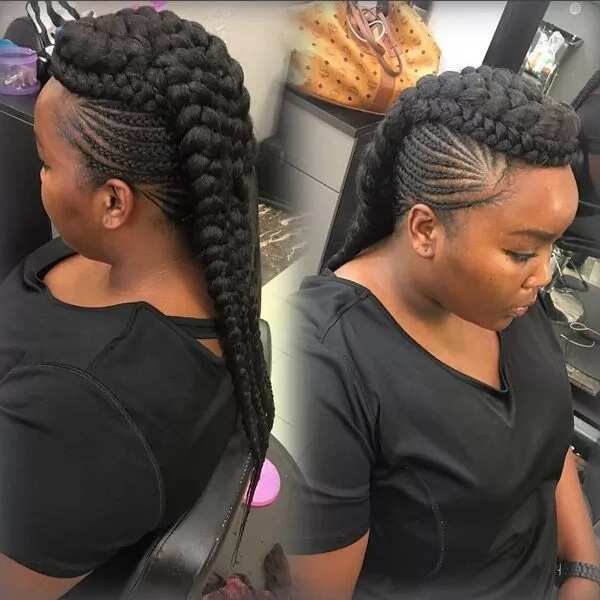 6. Marley twists
Here is one more original and creative hairstyle for you. Marley braids are quite popular among the Nigerian ladies nowadays, and you can wear it both with the athletic and formal wear. With Marley twists, you will never stay unnoticed in the shadows. If you have short or thin hair, you will need to use the extensions, but they are not so difficult to wear.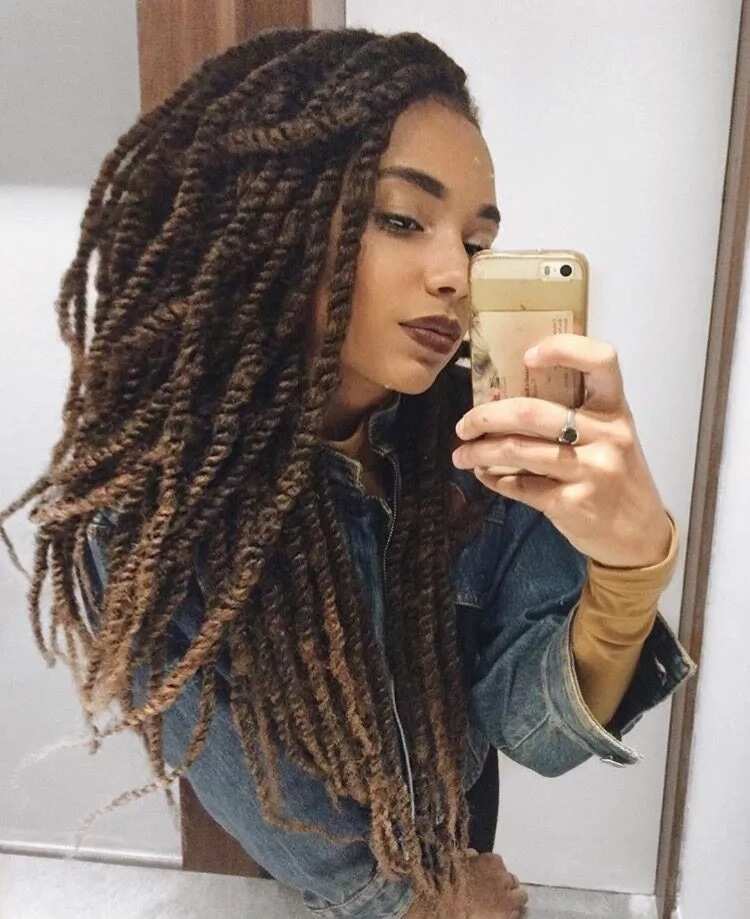 This was the complete list of Ghana weaving hairstyles for every type of face, no matter if it is round or oval. We truly hope that you enjoyed seeing all these options, and are considering trying one of them.
READ ALSO: Nigerian attachment hairstyles for ladies
Source: Legit.ng