Another controversial video of the founder and leader of International Godsway Church (IGWC), Bishop Daniel Obinim, has gone viral on social media.
In the video, Obinim who refers to himself as an 'Angel' is heard declaring he will soon be promoted to the status of God.
According to him, after initially being ordained as an angel and given angelic powers to wine and dine with archangels like Gabriel, his next level is to become God.
He said: "The angelic gift I have received, if I am faithful to my father Jesus he will give me Exodus Chapter 7. God told Moses you are God. What he says is final. The next gift will be Jesus declaring me as a God and that is final. I can command money and other things."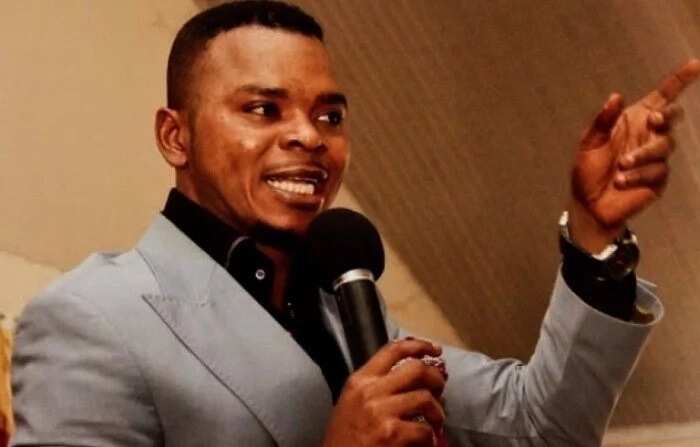 He disclosed that he got those powers through a dream where God handed them to him and revealed that if he conducts he will become God and will possess powers to do more extraordinary things.
Obinim's claim of becoming God was made in an interview with Joy News TV.
READ ALSO: Pastor asks members to take off their underwear as he prays for their 'down-below'
It is not yet clear when he granted that interview but it is something very consistent with his character.
Known for his unconventional methods of conducting church services and performing miracles, Obinim often in the news for controversial reasons. He has recently been in the news for claiming to have ascended to 'heaven' to rebuke 'Angel Gabriel'.
PAY ATTENTION: Get the Latest Nigerian News on Legit.ng News
In the video, 'Angel' Obinim, as he also known, claims to be communicating directly with his master in heaven.
Obinim was seen angrily exchanging words with the invisible creature in a strange language in the presence of his church members.
PAY ATTENTION: Get the hottest gist on Naija Uncensored Facebook Group
According to him, he was being interrogated and accused by the master for not ensuring that he and his partner, Angel Gabriel, did not properly execute their heavenly duties.
Image of Jesus Christ appears in Ikorodu Church - on Legit.ng TV