- Australia's oldest scientist, David Goodall, ended his own life at age 104
- He travelled to Switzerland where ending one's life is legally permitted
Australia's oldest scientist, David Goodall, has willingly ended his own life at a clinic in Switzerland, surrounded by family and while listening to Beethoven's Ode to Joy.
According to Guardian UK, the British-born 104-year-old professor travelled from his home in Western Australia to Switzerland where it is legally permitted to end one's life, in contrast to Australia where it remains forbidden.
Legit.ng gathered that in his final hours, Goodall enjoyed his favourite dinner: fish and chips and cheesecake. He also listened to Beethoven's Ninth Symphony, best known for its last movement Ode to Joy, reportedly passing away shortly after the piece of music finished.
READ ALSO: Video of Nigerian man commanding his boss to sign a document in the name of Jesus goes viral online
Family members were with Goodall until his death, which was preceded by formal paperwork that allegedly frustrated the scientist.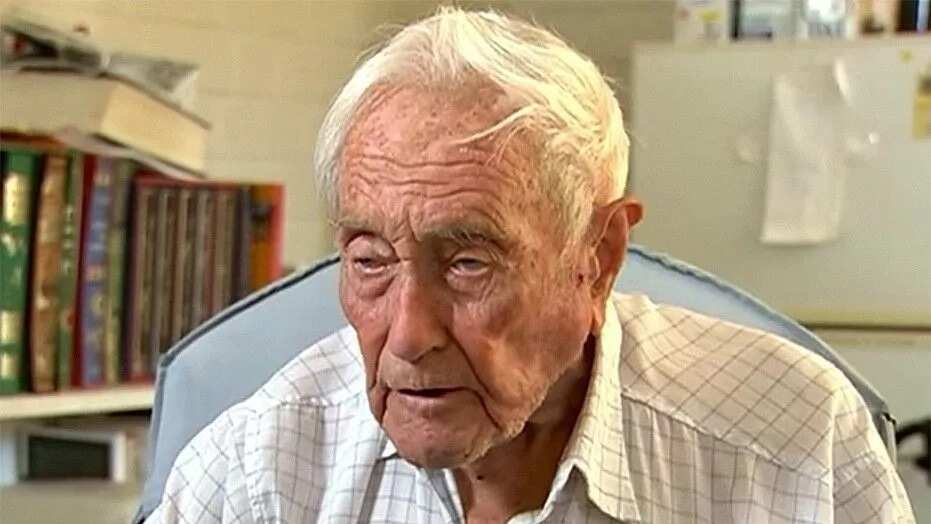 He was accompanied to the clinic of the Swiss assisted dying organisation Life Circle by Dr Philip Nitschke, the founder of the Australian right-to-die group Exit International.
To end his own life, Goodall had to turn a wheel that allowed a lethal infusion to flow into his bloodstream through a cannula on his arm.
Nitschke said the professor did this "after answering questions which said he knew who he was, where he was and what he was about to do, and he answered these questions with great clarity.
"In fact his last words were: 'This is taking an awfully long time!'," Nitschke said.
Assisted dying, where patients take the final action to end their lives, is legal in Canada, the Netherlands, Luxembourg, Switzerland and parts of the US.
Goodall, a botanist and ecologist, had reportedly been campaigning for his home country Australia, where the state of Victoria is planning to legalise assisted dying for the terminally ill from 2019, to follow suit.
Goodall was quoted to have said: "What I would like is for other countries to follow Switzerland's lead and make these facilities available to all clients, if they meet the requirements, and the requirements not just of age, but of mental capacity."
Though Goodall was not terminally ill, he had reportedly seen his eyesight and mobility deteriorate considerably in recent years and said that his life stopped being enjoyable "five or 10 years ago".
The scientist requested that his body be donated to medicine or, if that were not possible, that his ashes be scattered locally in Switzerland. He wished to have no funeral, remembrance service or ceremony, since he had "no belief in the afterlife".
At his last press conference on Wednesday, May 9, Goodall was reported to be in good spirits and sang a few bars of Ode to Joy while wearing a jumper printed with the words "ageing disgracefully".
He said he would have preferred to die in Australia and previously voiced his resentment over the country's laws.
"Luckily my family who are in various parts of Europe and America have rallied round and come to see me, and I welcome the opportunity to see them, which I probably wouldn't have had if I hadn't pursued this Swiss option," he told journalists.
"At my age, or less than my age, one wants to be free to choose the death when the death is at an appropriate time," Goodall said.
PAY ATTENTION: Read the news on Nigeria's #1 news app
Exit International, which helped Goodall make the trip, said it was unjust that one of Australia's "oldest and most prominent citizens should be forced to travel to the other side of the world to die with dignity".
"A peaceful, dignified death is the entitlement of all who want it," it said on its website on Monday, May 7. "And a person should not be forced to leave home to achieve it."
Legit.ng previously reported that Francisco Nunez Olivera, a one-time world's oldest man, died at his home in Spain, a month after celebrating his 113th birthday.
Francisco passed away around 10.30pm on the night of Monday, January 29.
Commenting on the death of Francisco, the mayor of Bienvenida, a village in south-west Spain where he lived his entire life, said: "It is a pity for the entire village and the whole world.
"In recent years he has meant a lot to us, he has represented our village and he has helped make us known and loved."
Woman with a heart of gold helps oldies enjoy their last days | Faces of Nigeria - On Legit.ng TV