If you are a Nigerian woman, chances are, you know what gele is. But do you know how to tie fan gele? If not, then let us teach you. We have a very simple tutorial in store for you, as well as some cool fan gele styles to serve as an inspiration for you. Check it out!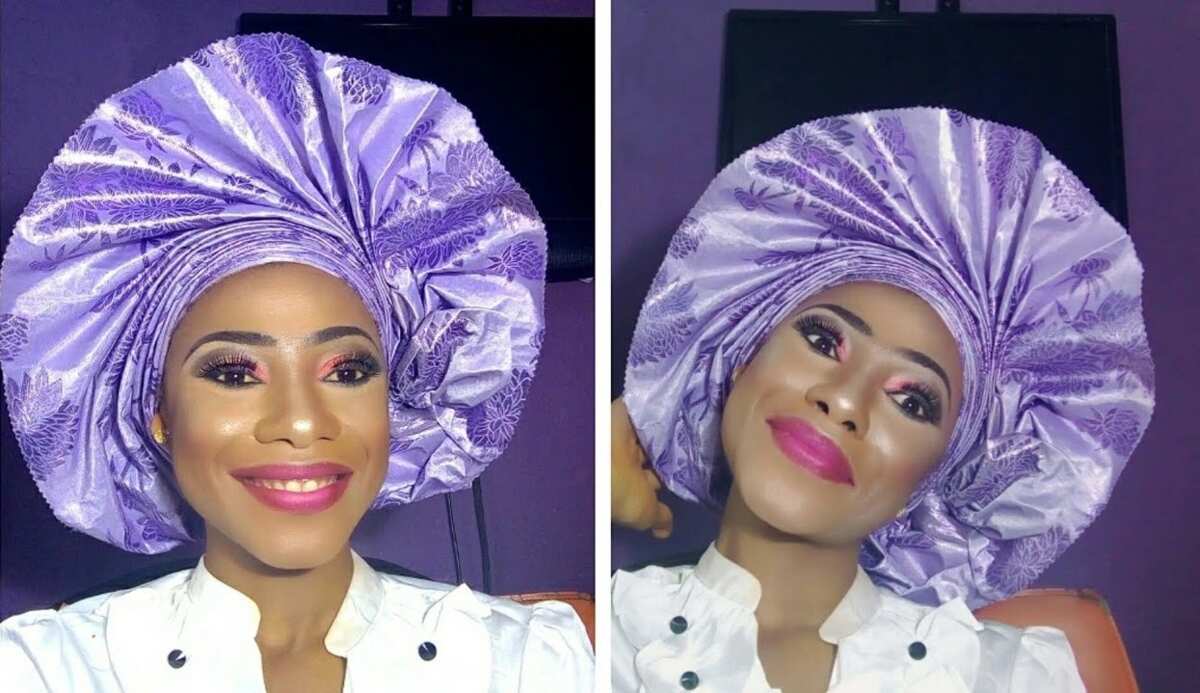 Fan gele head tie tutorial
If you do not know how to tie Nigerian head tie, do not worry, as we have the easiest tutorial just for you. It is suitable even for beginners. Follow these steps, and you will be able to tie a fan gele in no time. Let's go!
Start off by laying the gele fabric flat on your head. Make sure one of the ends is slightly longer than the other.
Cross the ends at the back and bring them back to the front.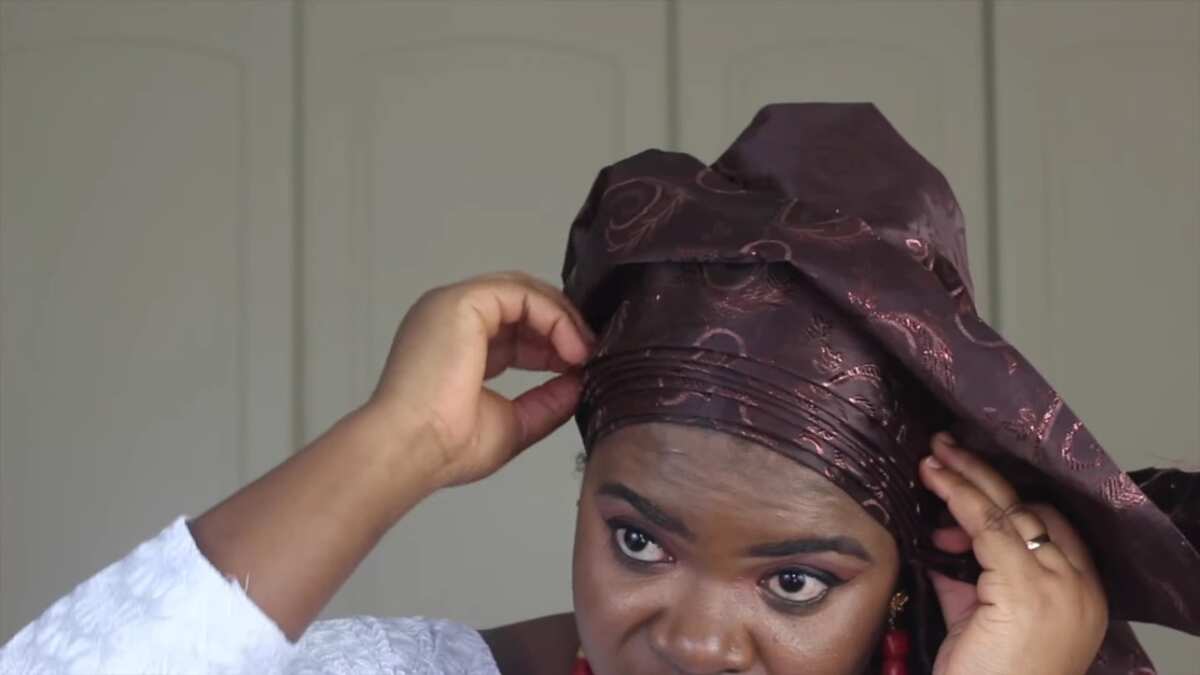 Take the shorter end, lay it across your forehead and fully pleat it. You can hold the other end under your arm so that it does not get in the way.
Once you have finished making pleats, take your short end to the back and secure what is left of it under the end that is going to be coming forward.
Take the longer end and lay it on top of your forehead. Start making pleats right after the ones you have made previously. Make as many pleats as you like until you are satisfied with the look.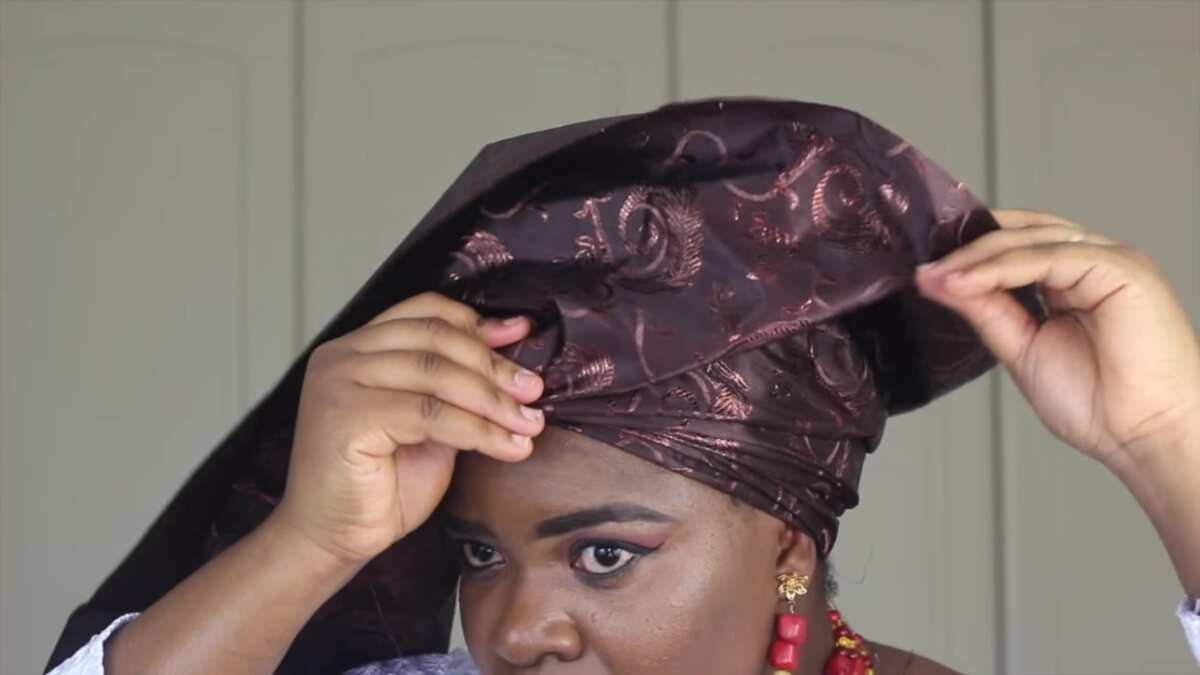 Now to the fan part. After you have made all your pleats, begin creating your fan shape by making a pleat and, instead of taking it all the way to the other ear, secure it somewhere around the middle of your forehead with a bobby pin. It should create a diagonal line across your pleats. See the picture if you do not understand what we mean.
Keep making the diagonal pleats and securing them properly in place with bobby pins until you get to the end of the gele. It might be hard if you are doing this on yourself, so make sure you have someone around to ask for help. Or simply have some patience.
When you are all done with the fan pleats, tie your gele at the back, like you usually do, and secure it with pins if necessary.
Once you are done with all of that, take a good look in the mirror and correct any possible mistakes. You can also push the gele back if it is too low on your forehead. And you should be done!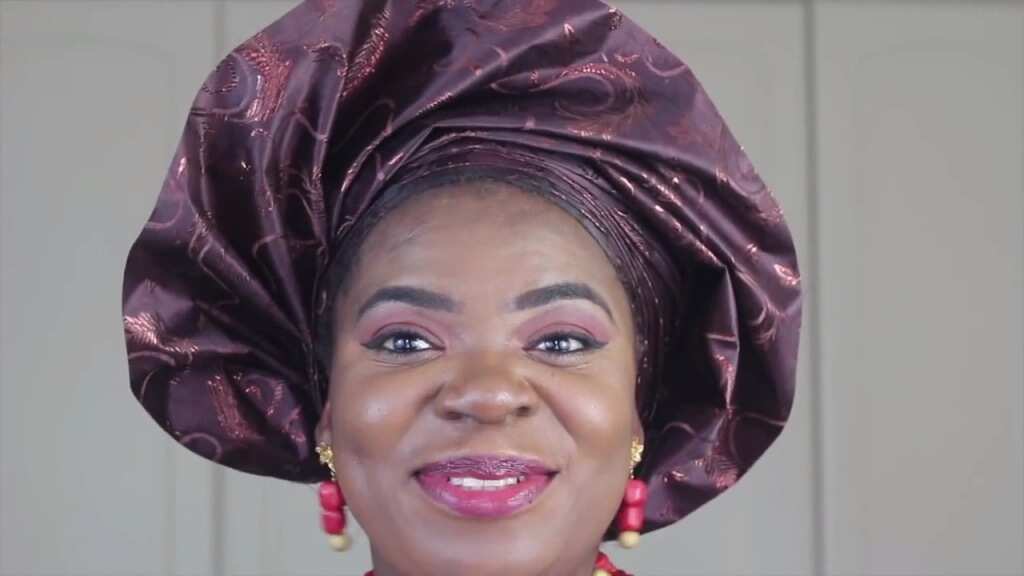 READ ALSO: 10 top latest ways to tie gele
If following written instructions on how to tie head tie is too confusing for you, you can try following the video tutorial at the end of this article. It helped us figure out how to do this, so we are quite certain it will help you too.
Fan gele head tie styles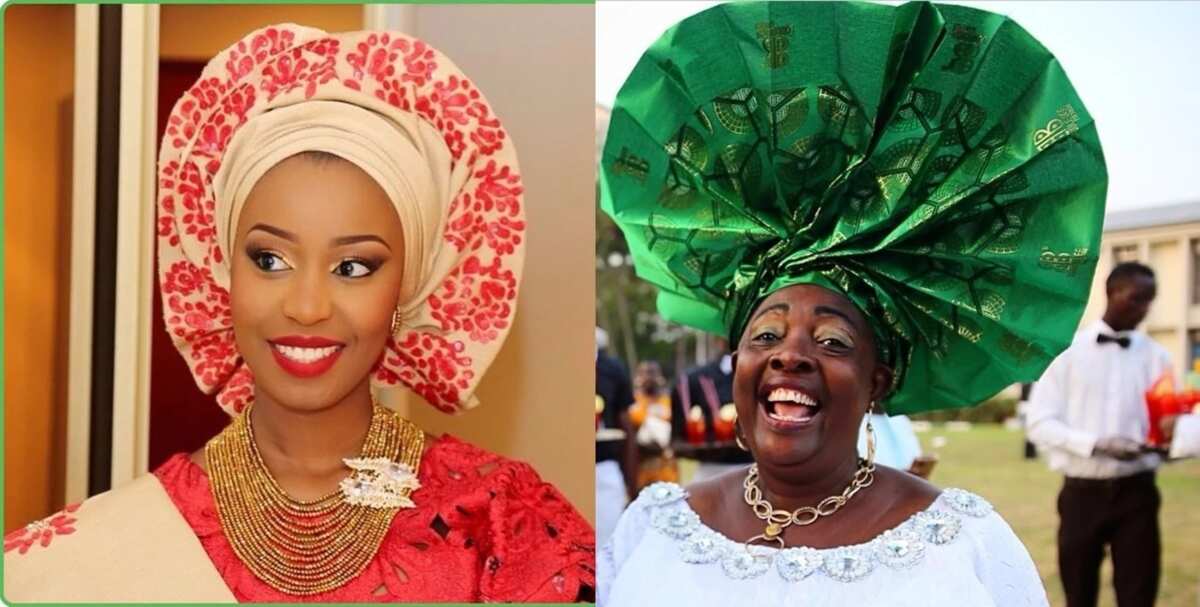 Now that you know how to tie a headwrap fan gele style, it is time for you to check some great styles of this traditional Nigerian headdress. Check out our top 7 picks!
If you want to stand out, consider having a very vibrant fan gele. Red looks absolutely perfect with this style, so if you do it properly, you will look stunning.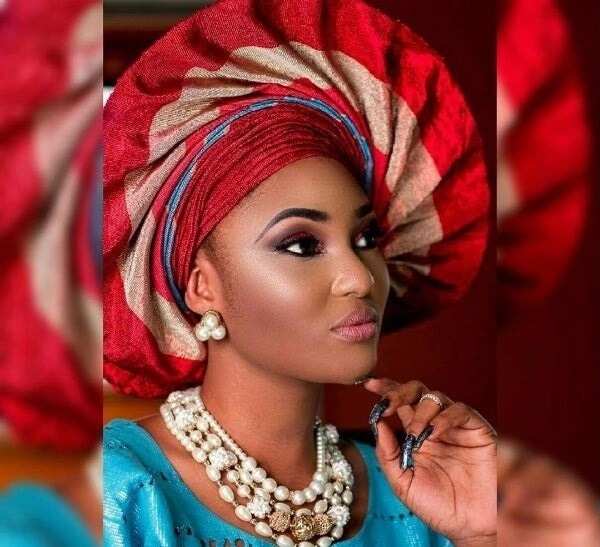 For those who think that a monochrome gele is boring, you can try using striped fabric. The wavy lines created with the fan shape will add more dimension to your look.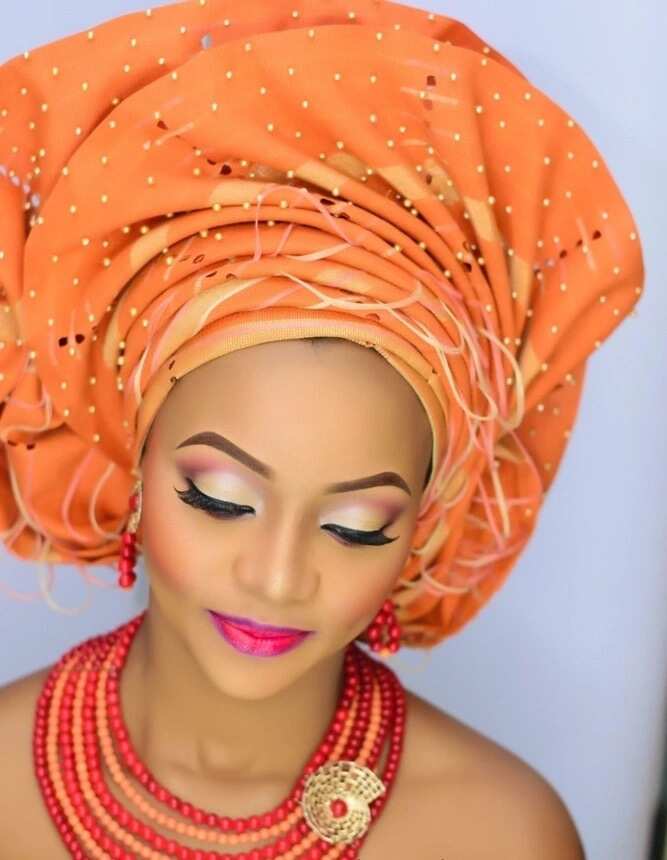 Bedazzling a gele is never a bad idea, so throw some rhinestones or pearls on it. It seems like the model in the picture has used some especially fascinating fabric, as it has holes and ribbons all over, as well as some golden beads. This is an example of how to be extra at your own wedding.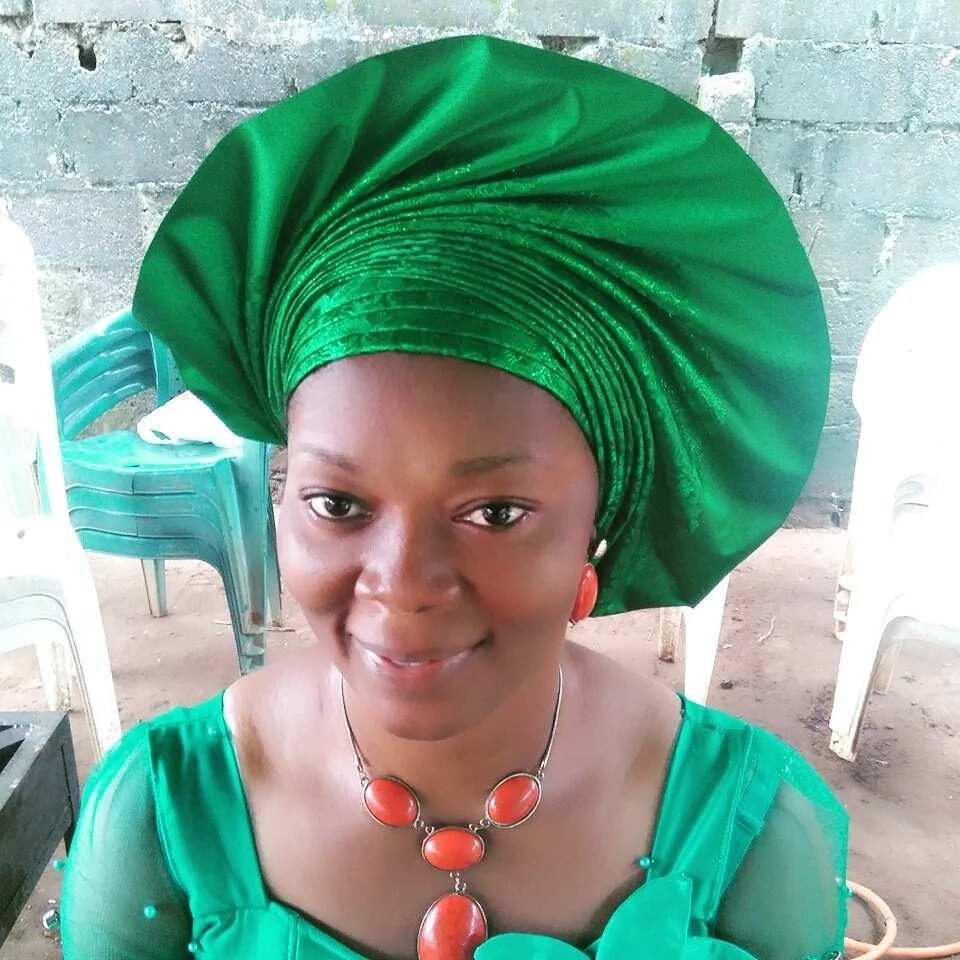 If being extra is not your thing, then just stick to regular monochrome fabrics with a subdued pattern. As long as you are very precise with your pleats, even the simplest fabric can look incredible as a gele.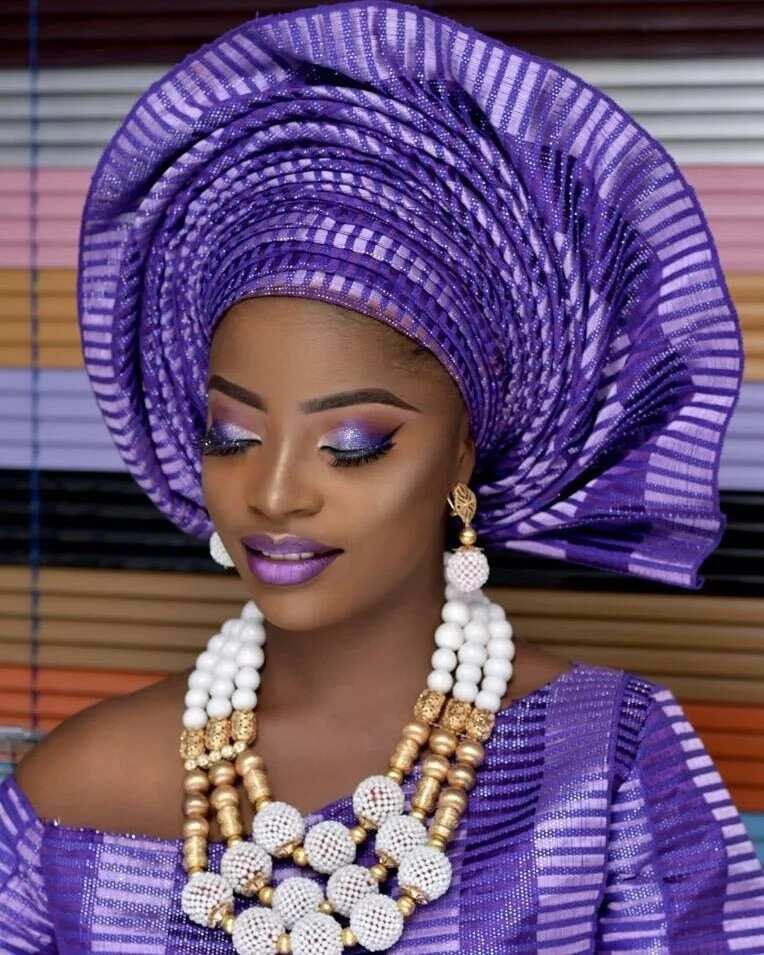 Fan gele is a perfect style for creating more dimension. If you want to look particularly fascinating, go for stripes that are going to be perpendicular to your head instead of parallel. Even in pictures, you will look three-dimensional.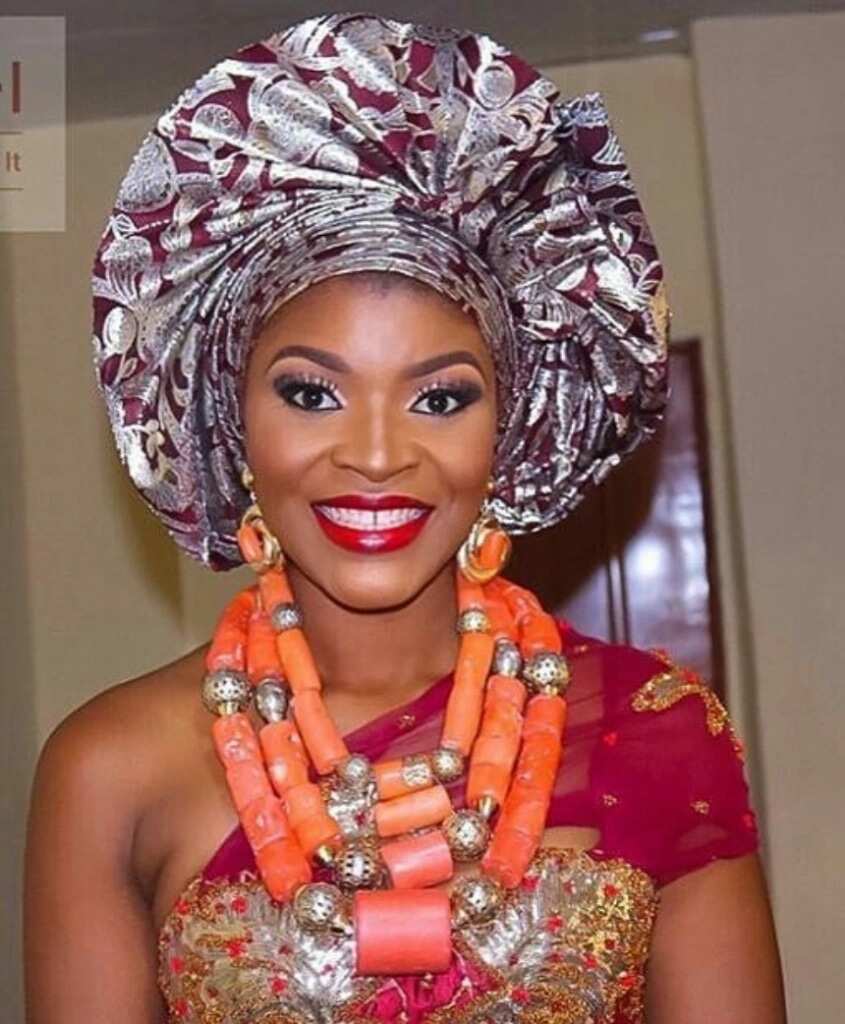 When it comes to choosing the fabric for your gele, the only limit is your imagination (and sometimes your skill). Therefore, choose whatever you like, such as, for instance, this lovely burgundy fabric with silver patterns. You will look like you are positively glowing!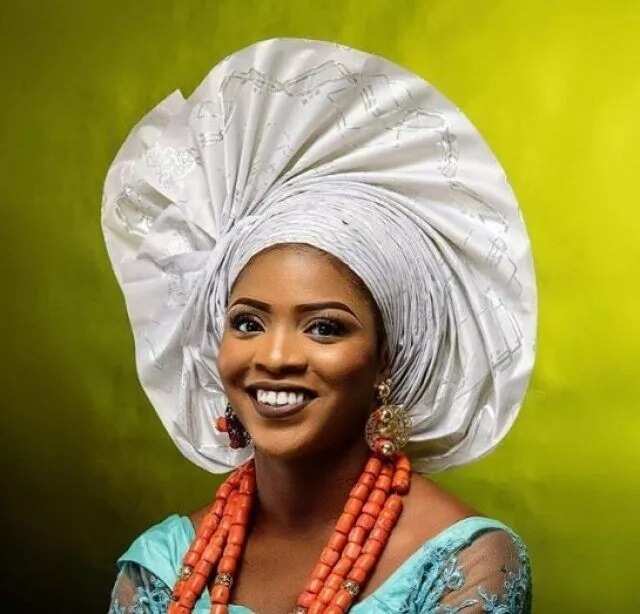 Last, but not least, why not go for a simple white gele with a silvery pattern? It will create a halo around your head, which will make you look almost saintlike.
Now you know how to tie fan gele and have some examples to take inspiration from. We hope that whatever the occasion, you will look more beautiful than anyone else in the room. Except for maybe at your best friend's wedding, as you cannot look prettier than the bride :) So good luck in your gele tying!
READ ALSO: How to tie gele with ankara: Step-by-step
Source: Legit.ng