- A survey has stated that Marijuana, codeine and alcohol are the most abused substances in Nigeria
- The survey also revealed that the abuse is prevalent among youths aged between 15 – 29 years
- Closely following marijuana and codeine, according to the poll, is alcohol
A survey by NOIPolls has found that marijuana, codeine and alcohol are the top three drugs and substances mostly abused in Nigeria, particularly amongst the teenagers and young adults aged between 15 – 29 years.
NOIPolls is a public opinion polling institution which conducts extensive polls reflecting the opinions and attitudes of Nigerians on various sectors, topics and social, economic and political issues.
Following the recent documentary by the BBC on widespread abuse of cough syrup with codeine, titled "Sweet Sweet Codeine"; and the subsequent ban on the importation and sale of codeine as an active pharmaceutical ingredient in Nigeria, NOIPolls presents results and findings from its previous public opinion poll on the prevalence of drug and substance abuse in Nigeria.
READ ALSO: Pharmacists council to step up monitoring team over ban on codeine
Legit.ng gathered from the poll that 91% of Nigerians believe that there is a high level of drug and substance abuse in the country.
The survey further revealed that drug and substance is prevalent in the country and cuts across gender and geopolitical zones.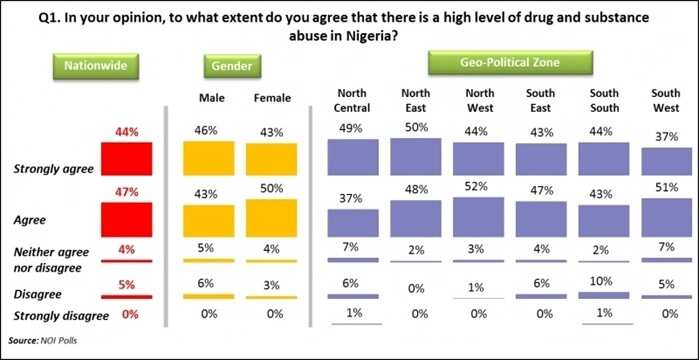 According to the poll, the opinions of Nigerians on drugs or substances that are most abused in Nigerians revealed that Marijuana (34%), codeine [Cough syrup (22%)] are the most abused drug and substance.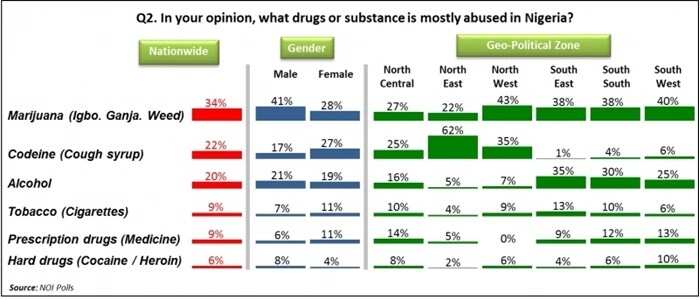 Residents from the northeast accounted for the largest proportion of Nigerians who mentioned codeine.
Codeine is an addictive opioid that is often prescribed to treat pain and is mixed in with some cough syrups.
Although legal in certain circumstances, consuming large amounts of it can cause addiction and organ failure.
According to reports, though the codeine is imported, the syrup is made in Nigeria by more than 20 pharmaceutical companies and codeine syrup is commonly mixed with soft drinks and often consumed by students.
Perception on age-group further showed that those aged between 15 – 29 years accounted for the largest proportion (90%; (15 – 18 years) 33% + (19 – 29 years) 57%) of Nigerians associated with the abuse of various drugs and substances in the country.
The thousands of young Nigerians already addicted are at risk of suffering from effects of sustained opioid abuse ranging from schizophrenia to organ failure and the issue is slightly higher in the Northern region where millions of young adults are unemployed, the survey states.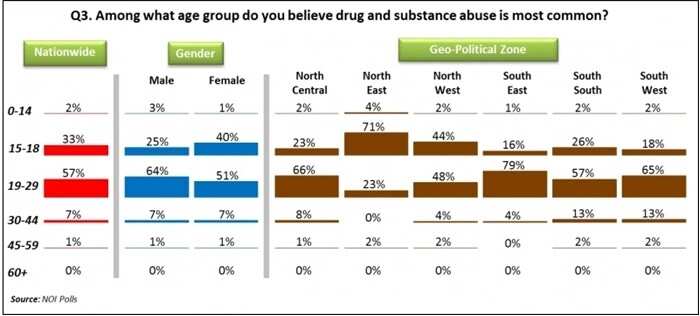 The poll's report, in its conclusion, revealed that 90% of Nigerians acknowledged that there is a high level of drugs and substance abuse in Nigeria particularly amongst teenagers and young adults aged between 15 and 29 years.
PAY ATTENTION: Install our latest app for Android, read best news on Nigeria's #1 news app
The top three drugs or substances commonly abused by this age demographics are Marijuana, Codeine (cough syrup) and alcohol.
Legit.ng previously reported that few days after the federal government placed a ban on the use of codeine in the country, a research study revealed that about 30,000 bottles of codeine made of cough syrup are consumed daily in Niger state.
The research carried out by the Development Initiative of West Africa (DIWA) also revealed that about three million in Nigeria consume this product in order to make themselves high.
This revelation was made during DIWA quarterly awareness program tagged #Ban Codeine in Naija in Minna, Niger state.
Suspected cannabis traffickers reject Police accusations | on Legit.ng TV
Source: Legit.ng