When the name Ronaldo is mentioned the one person that comes to mind is the five time Ballon winner who currently plays for Real Madrid - Cristiano Ronaldo.
But football lovers that followed the beautiful game in the 90s and early 2000s definitely will have some soft spot for the Brazilian striker Ronaldo de Lima.
In the 1996-97 season Ronaldo Luis Nazario de Lima scored 47 goals in 51 games for Barcelona, many of them unbelievable solo efforts, long before Messi and Ronaldo dominated the center stage where one goal every two games was considered the height of what a striker could achieve. Aged 20, he led Barcelona to the Copa del Rey and European Cup Winners' Cup.
Ronaldo and Barcelona appeared to be the perfect union but Inter Milan president Massimo Moratti dreamed of seeing that toothy smile beaming in blue and black stripes. For one glorious season his dreams came true.
Moratti who had been following Ronaldo since he was terrorising Dutch league defences with PSV Eindhoven plotted bringing in a big named striker as the 1997-98 season commenced.
His advisors suggested Gabriel Batistuta, but Moratti wanted 'Ronie'. It seemed like a madman's fantasy. Barcelona intended to build their team around their new superstar.
Ronaldo who felt betrayed during his contract renewal negotiations with Barcelona decided to leave but the Catalans placed a big buy-out clause on their No 9, equivalent to around £21m, and did not expect anyone to pay it. The world-record transfer fee at that time was the £15m Newcastle paid Blackburn for Alan Shearer after Euro 96, which overtook the £13.2m Barca handed PSV for Ronaldo himself in the same year.
But Moratti swooped. It was a sad and avoidable end to the striker's first spell in Spain.
All of Italy was excited to welcome the man fondly known as O Fenomeno - the Phenomenon. He had shone with every team he had represented, and dominated the 1997 Copa America with Brazil. It was a coup for Serie A, although there was curiosity to see if he could mesmerise Italian defences the way he did in La Liga.
He more than lived up to the hype. Wearing the No 10 shirt, he displayed his remarkable blend of pace, power and skill. When he was not scoring, he also had the vision to create goals for team-mates, and the fact he was often double or triple-marked opened space for his companions, particularly Youri Djorkaeff.
READ ALSO: Alex Ferguson 'awake and talking' in hospital after suffering brain haemorrhage
Serie A defenders could not handle him. Not even Inter players escaped. Enzo Palladini, former Corriere dello Sport reporter and author of acclaimed Ronaldo biography 'Paura Del Buio' (Fear of the Dark) reveals 'occasionally in training Inter coach Luigi Simoni pitted three or four defenders against Ronaldo.
They couldn't get the ball from him. Sometimes he was only allowed to move backwards, yet they still couldn't take the ball off him.'
During matches, it is mostly business as usual for the Brazilian, but the rest of the time he just wanted to enjoy himself. His care-free demeanour was almost as much of a trademark as his step-overs.
His love for a good party led to an amusing incident with the Ballon d'Or in January 1998. Ronaldo was presented with the prize on the pitch before the home match with Juventus. Inter won the game 1-0 thanks to a Djorkaeff goal from a perfect Ronaldo pass.
The Brazilian rushed off straight afterwards, without giving any interviews, because he had an event with Brazilian friends. In his haste he left the 12kg Golden Ball (worth an estimated £11,000) in the dressing room.
Ex-Inter press chief Sandro Sabatini recalls: "I received a call from Ronie saying he'd forgotten his Ballon d'Or. I went to the changing room to collect it. The kit staff had put it into the big bag with all the dirty shirts, shorts and socks. We fished it out.
'The next day I took it to Inter HQ so the staff could have their photos taken with it. Then I drove it to our training centre, where Ronaldo picked it up. It went into his lounge at home. He was so proud, it was his first Ballon d'Or. To him it was as beautiful as the Mona Lisa."
Ronaldo scored 25 goals in 32 league matches, but they weren't enough to win the Scudetto. Despite Inter's cosmopolitan, all-star squad (including the likes of Javier Zanetti, Diego Simeone, Ivan Zamorano, Taribo West and Aron Winter), Juventus only lost twice and won the Scudetto by five points. The second clash between the sides, four matches before the end of the season, was controversial and the Brazilian was at the centre of the acrimony.
The Nerazzurri went into the game in Turin one point behind Juve. With the score 0-0 after 70 minutes, rugged Juventus defender Mark Iuliano barged Ronaldo over in the box but referee Piero Ceccarini waved play on. Juve eventually won the match 1-0. The Iuliano-Ronaldo incident lived on, sparking an argument in parliament days later. That no-penalty decision is still debated now.
Domestic disappointment did not ruin the 1997-98 season for Inter, however. In Europe, their Brazilian hitman was unstoppable and delivered two masterpieces in the UEFA Cup.
French midfielder Benoit Cauet who joined Inter at the same time as Ronaldo while speaking about his talented teammate said: "It was fantastic to play with him because he was the best in the world,"
"But he was also humble. He loved being with his team-mates, loved joking around.
"He had grown up with pressure - don't forget he was in the 1994 World Cup squad as a teenager. Perhaps you could say he didn't live the life of a perfect athlete, but you have to put yourself in his situation, being so young and living in a city like Milan. We never begrudged his approach or lifestyle because he was such a nice guy. It's impossible not to love Ronaldo."
As for that night in Moscow in the 1998 UEFA Cup semi-final, Cauet says: "The match should have been called off after three minutes. The pitch was appalling. We were all sinking in the mud. Not Ronie though, he was from another world."
The next campaign he switched to the No 9 shirt at Inter and the marketing machine went into overdrive. The extraordinary was expected every match and the pressure increased. There were still moments of outrageous skill, but there were also serious injuries.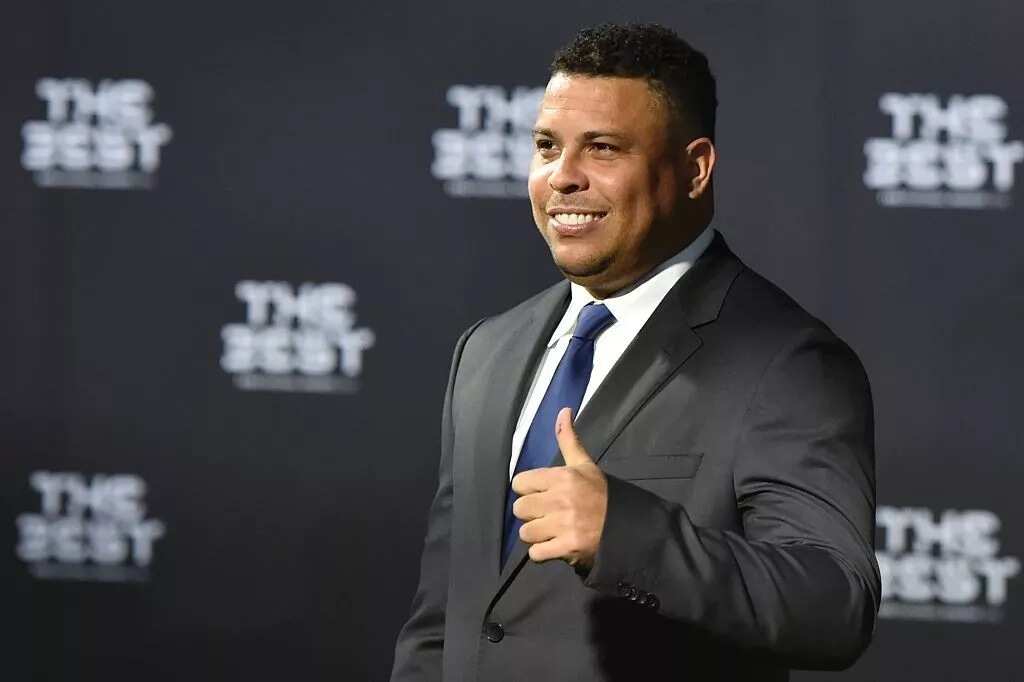 Between August 1999 and May 2002 the Brazilian only played 24 matches due to chronic knee problems. The 2000-01 campaign was a complete write-off. He never hit the heights of his debut season again.
PAY ATTENTION: Become a member of the leading sports Facebook group 'Naija Football Fan Zone'
Ronaldo's time at Inter ended in recrimination in the summer of 2002. He was in constant loggerheads with disciplinarian coach Hector Cuper. A stand-off developed and president Moratti backed the tough Argentine trainer over their record signing.
He joined Real Madrid after leading Brazil to World Cup glory, and anti-Ronaldo feeling was fervent across Italy. Accusations ingratitude were rife.
Legit.ng previously reported that Brazilian football legend Ronaldo de Lima has named five countries that could win the 2018 FIFA World Cup which will be held in Russia.
Surprisingly, the two-time World Cup winner failed to mention his own nation in the running and that's because of doubts over Neymar.
Neymar is currently recuperating from injury at his French club Paris-Saint-Germain.
Russia 2018: Nigeria can get to the quarterfinal of World Cup - Ex-Super Eagles - on Legit.ng TV
Source: Legit.ng