- Wellbeing Foundation Africa is to embark upon a major global water, sanitation and hygiene (WASH) campaign
- The campaign launched by Toyin Saraki coincides with the WHO's 'Save Lives: Clean your Hands' campaign day, which takes place May 5 each year
- According to her, the campaign will also champion the improvement of WASH facilities in schools
Wife of Nigeria's Senate president, Toyin Saraki, has announced that the Wellbeing Foundation Africa (WBFA) is to embark upon a major global water, sanitation and hygiene (WASH) campaign.
Mrs Saraki launched the campaign in Abuja on Friday, May 4, following a meeting with Dr. Wondi Alemu, WHO Representative and Head of Mission in Nigeria.
According to her, the WBFA will work with partners including Global Water 2020, an initiative based in Washington D.C. which is designed to accelerate progress toward water access and security for all people in developing countries, with a particular focus on increasing the availability of WASH in healthcare centres.
The launch of WBFA's campaign follows the UN Secretary General's call to action on WASH in healthcare facilities in March and coincides with the WHO's 'Save Lives: Clean your Hands' campaign day, which takes place May 5 each year.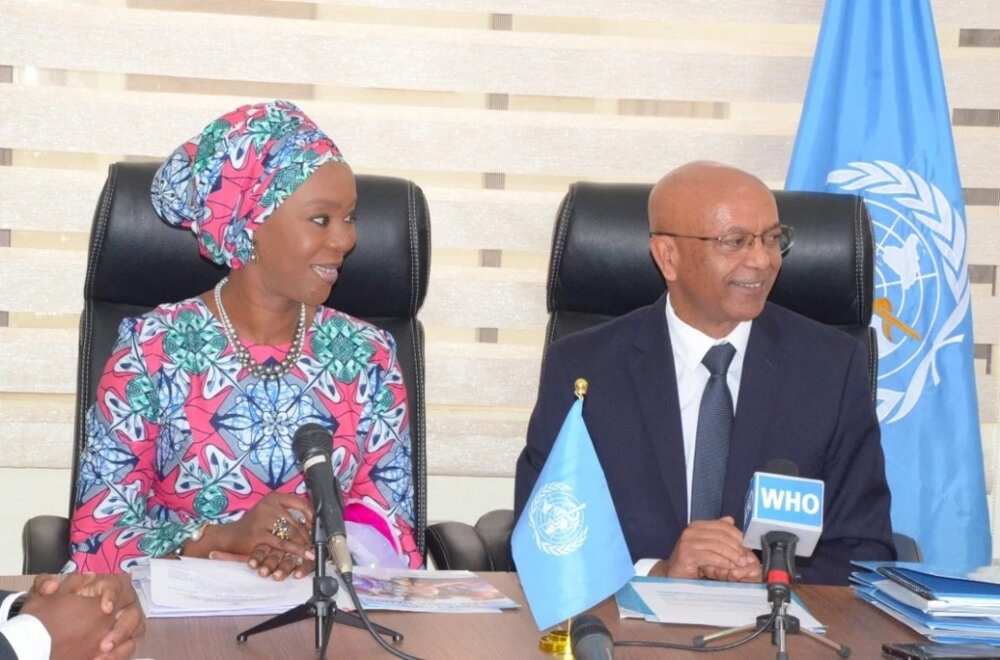 READ ALSO: Wellbeing Foundation Africa tackles cancer; releases rapid assessment report
May 5 is also 'International Day of the Midwife,' with the theme this year being 'Midwives leading the way with quality care.'
Mrs Saraki said: "I am delighted that the WBFA is partnering with Global Water 2020 and others to improve WASH facilities at healthcare centres and schools around the world.
"In an analysis of 129,000 healthcare facilities in the developing world, researchers found more than 65 percent of facilities lack both running water and soap for hand-washing. This endangers not only patients and staff but presents a danger to all of society, as health facilities become unable to contain diseases.
"Here in Nigeria, the WHO found that 29% of healthcare facilities do not have access to safe water and toilets, whilst a WaterAid survey revealed that half of primary health facilities do not have hand-washing facilities in delivery rooms.
"Pregnant women and newborns are thereby placed in huge danger and at risk of sepsis, which is a leading cause of death in hospitals. As the Founder-President of the WBFA, I work with our midwives to ensure that mother and baby are safe from birth through to age.
"Without adequate WASH facilities, however, midwives all over the world are unable to safely carry out their crucial work – and to lead the way with quality care."
She added that the campaign will also champion the improvement of WASH facilities in schools, adding that the physical environment and cleanliness of schools significantly affects the health and well-being of children.
READ ALSO: It is time to implement the federal system as it was supposed to be - Ambode calls for true federalism
Her words: "Too often, they are spaces where disease spreads quickly, without hand-washing facilities, soap or suitable toilets. Together, we will create a world where all children go to school and all schools provide a safe, healthy and comfortable environment where children grow, learn and thrive.
"As we join the international community on May 5th in observing World Hand Hygiene Day and International Day of the Midwife, it is clear that the themes of both days are deeply interconnected.
"We in the global health and development communities can no longer stand by in silence while mothers and newborns die from preventable and unnecessary complications, simply because the most basic of WASH services are not available."
Responding, Dr. Wondi Alemu, WHO representative and head of mission in Nigeria, said: "We know that health facilities must be a focus for us to concentrate on patient safety - hand-washing is key for all facilities, including in primary healthcare. Implementing hygiene standards in health centres will bring down disease transmission.
"I would like to assure you that the whole of WHO supports the foundation in this campaign and I commit myself as the WHO representative to support you. We must prioritise hygiene and I thank Mrs Saraki for her visit today."
PAY ATTENTION: Read the best news on Nigeria's #1 news app
John Oldfield, a principal at Global Water 2020, commented: "My colleagues and I are inspired and motivated by the Secretary General's Call to Action for WASH in healthcare facilities, and by the initiative of the Wellbeing Foundation Africa. We have high hopes that Mrs. Saraki and her team at WBFA will be able to significantly accelerate progress in Nigeria and elsewhere, and midwives are perhaps the key to success."
Mrs Saraki is also a special advisor to the Independent Advisory Group (IAG) of the World Health Organization's (WHO) Regional Office for Africa.
As wife of Nigeria's Senate president, and in recognition of her longstanding high-level global health advocacy, Saraki is also chair of Nigeria's Primary Health Care Revitalisation Support Group, which is co-chaired by House of Representatives members Honourable Chike Okafor and Honourable Mohammed Usman.
N1,500 for health of Nigerians on Legit.ng TV