- Ooni of Ife, Oba Adeyeye Enitan Ogunwusi, Ojaja II, is set to pick a new Olori
- Six ladies are said to be contending for the vacant position, two are said to be pregnant
- The monarch's estranged queen, Olori Wuraola shares on social media the collapse of their marriage in August 2017
In Yoruba land, a king without a wife loses honour and respect and that means the Ooni of Ife, Oba Adeyeye Enitan Ogunwusi, Ojaja II, cannot stay too long without a queen to be by his side in his palace.
Legit.ng exclusively gathered that the first class monarch whose queen left him in 2017 is working seriously hard in getting a befitting replacement for his estranged olori. It was also gathered that the contest to win the heart of the king is hot as ladies of means and beauty are trying to outdo themselves. They are said to come in different shapes and complexion and also from different states.
In all, Legit.ng scooped from a source close to the palace that the contestants have been screened down to six while the king is suspected to have more affection for two out of the six ladies.
PAY ATTENTION: Install our latest app for Android and read the best news about Nigeria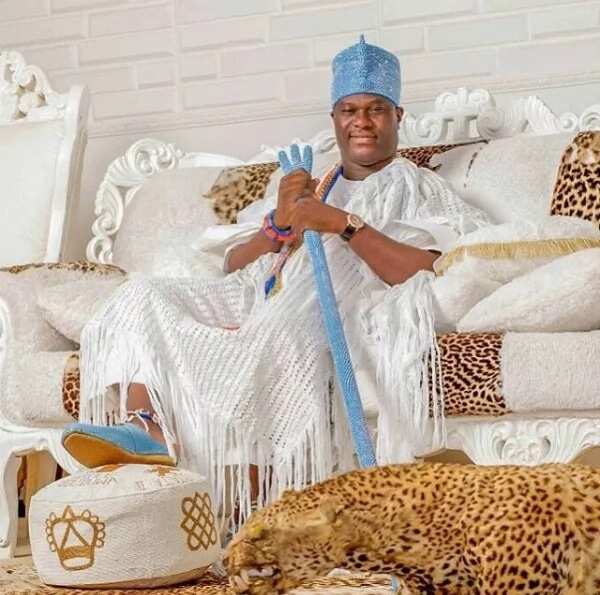 One out of the ladies is said to be based in Canada, another is said to be based in UK, another is said to be an indigene of Ondo state while another is said to have come from Ijebu in Ogun state.
Of the six ladies, the Ooni was said to have presented two of the ladies to the people of Ile-Ife at different occasions during some recent public events in the ancient town. The monarch was said to have raised their hands up while he asked his people if they would like to have them as their queen.
The lady from Ondo state had a chance at being presented to Ife people some months back while the lady from Ijebu was presented to the people during the recently concluded Olokun festival that was held on Sunday, April 29. She was said to have come to the event with her father. They both arrived together at the palace in a Rolls Royce with a customised plate number.
Another source close to the palace disclosed to Legit.ng that one of the criteria given to become an olori is pregnancy as the king is not ready to marry a woman who will not be able to bear him children. So pregnancy comes first before wedding.
From our investigation, two of the ladies are rumoured to be in the family way already so the king might be having a double wedding soon and it might be more because as a king, he is entitled to marry as many women as he desires.
Legit.ng gather from yet another source that a woman of 45 years who has kids was initially among the contenders for the king's heart. She was said to always come with different gifts for palace staffs while coming to see the king.
READ ALSO: Nigerian man falls in love with beautiful lady in 3 weeks, shares introduction photos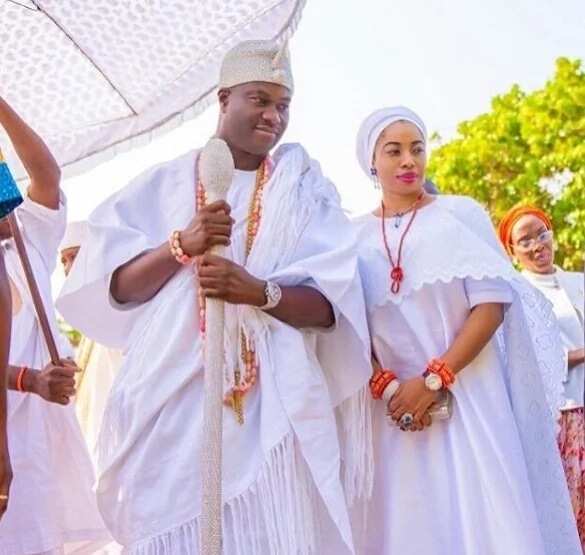 The Ooni of Ife became single again after his estranged queen, Olori Wuraola, took to social media, Instagram, to announce the dissolution of their traditionally contracted marriage in August 2017. Their union lasted 17 months and it produced no child. Shortly after announce the break up of their marriage, Olori Wuraola reverted back to her maiden name, Zaynab Otiti Obanor. She dropped the Yoruba name WUraola given to her by the king but still parades and addresses herself as a queen using the title Her Highness Queen Zaynab.
Immediately the marriage breakup was announced, arrangement was made by both the king's family and his estranged Olori's family where the bride price paid by the king during their traditional wedding was returned to his family.
There is light at the end of the tunnel - Ooni of Ife on Legit.ng TV:
Source: Legit.ng