A massive stir has been caused on the internet after a two-page letter written by Thomas Markle to Prince Harry surfaced online. The estranged half-brother of the royal bride-to-be wrote an open letter telling the prince his big day will be the "biggest mistake in royal wedding history"
Everyone has been abuzz with joy ever since the announcement of a future royal wedding between Prince Harry and Hollywood actress, Meghan Markle. Well, everyone except her apparent dejected family as reflected in a recent letter written by her step brother, Thomas Markle.
Thomas had intended to warn 33-year-old Prince harry of Wales of making a terrible mistake by marrying his own sister when he sent an explosive letter. According to him, Meghan has abandoned her people and left them out of the grand wedding preparations set to change the course of history in British Royal family.
In his letter, Markle's brother described her as a "jaded, shallow, and conceited woman that will make a joke of the prince and the royal family heritage." The letter was published in an international magazine and shows the position of Meghan's family as she takes on the step to becoming a duchess.
READ ALSO: 7 throwback photos of Genevieve Nnaji to celebrate her 39th birthday
51-year-old Thomas appeared sore over being related to such powerful family yet distant from its affairs. His letter read: "Dear Prince Harry , It's not too late. Meghan Markle is obviously not the right woman for you.
As more time passes to your royal wedding, it became very clear that this is the biggest mistake in royal wedding history.
I'm confused why you don;t see the real Meghan that the whole world now sees, Meghan's attempt to act the party of a princess like a below C average Hollywood actress is getting old.
What kind of person starts out by using her own father until he's bankrupt, then forgets about him in Mexico leaving him broke, over mostly all her debts, and when it's time to pay him back she forgets her own father like she never knew him. My father will never recover financially from paying Meghan's way, nor recover emotionally from disowning him. Meg is showing her true colors.
It's very apparent that her tiny bit of Hollywood fame has gone to her head, changing her into a jaded, shallow, conceited woman that will make a joke of you and the royal family heritage."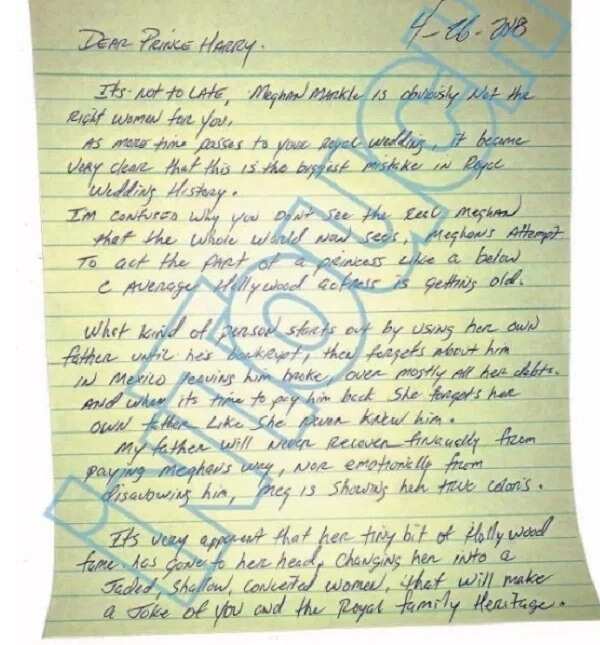 "Not to mention, to top it all off, she doesn't invite her own family and instead invites complete strangers for the wedding, "who does that." You and the royal family should put an end to this fake fairytale wedding before it's too late. Her own father didn't get an invite, whom should be walking her down the aisle. She easily forgets if it wasn't for my father, she would be busing tables and baby sitting to pay her old debt off.
The whole world is watching meg make bad decision and choices. It's not too late Harry.
Meghan is still mys sister , she is family. So whatever happens is up to her, whether she want to forget knowing me or the rest of her family, family comes first.
Also you would think that a royal wedding would bring a torn family closer together, but I guess we're all the DISTANT family to Meg."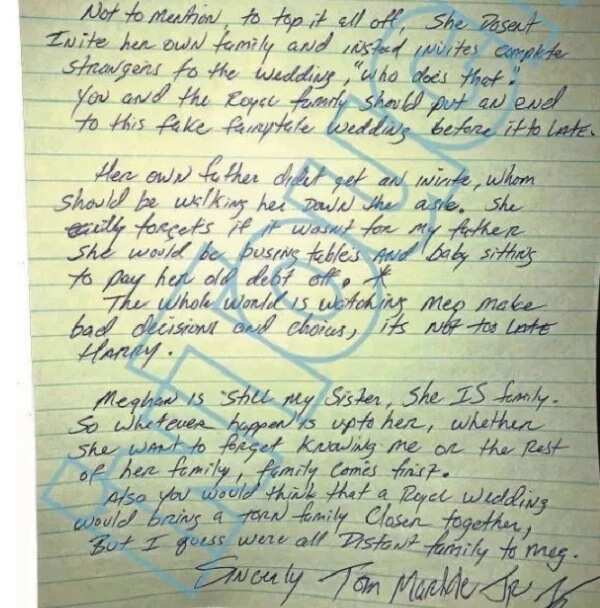 Meanwhile, Kensington Palace declined to comment and the Prince is yet to response to the letter or address the issue.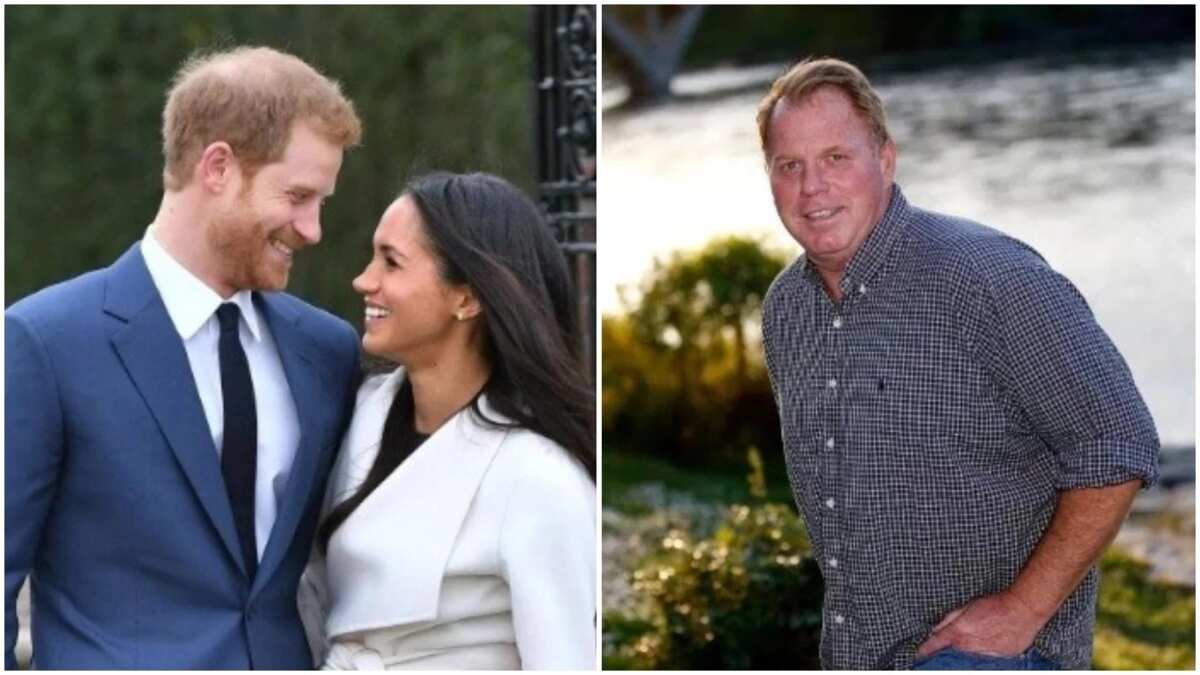 PAY ATTENTION: Read best news on Nigeria's #1 news app
What do you think will happen if women rule the world? (Nigerian Street Interview) on Legit.ng TV:
Source: Legit.ng