- The Nigerian military has been commended by a civil society organisation for arresting the alleged mastermind of Benue killings
- The organisation said it understands that Yaminu's gang were focused on diverting attention from the true situation in Benue state
- According to the executive director of the group, the federal government must do all it takes to ensure that those culpable face the law
A group has hailed the Nigeria military for the effort and success in arresting the alleged mastermind of Benue killings.
The Good Governance and Transparency Imitative on Wednesday, May 2, said the arrest of Aminu Yaminu is an evidence that the Nigerian military has swung into full action to restore peace in Benue and its environs.
Speaking during a rally in Abuja, the executive director of GGTI, Jaiyeola Mohammed, said the group understands that Yaminu's gang were focused on diverting attention from the true situation in Benue state.
READ ALSO: Just in: Nigerian troops capture another killer herdsman in Benue
"The Coalition for Good Governance had earlier hinted that the killings and destruction in Benue State that were credited to herdsmen have political undertones as they are nothing compared to the friction between herdsmen and farmers like we used to know.
"The gruesome killings have the trappings of killers that have instruction to dispense as much terror as they can," Mohammed said.
He further added that the arrest of Yaminu and other gunmen in Guma local government area of the state shows that they were recruited to act out well-crafted scripts.
READ ALSO: Viral video of how London police allegedly find $8.5million in a Nigerian student's house
"Now that key suspects are in custody, we charge the military to squeeze them for all the information they have so that security and law enforcement agents can go after all the sponsors without fear or favour. This will ensure that the efforts of the military to make Nigeria safe is not wasted because of a few individuals.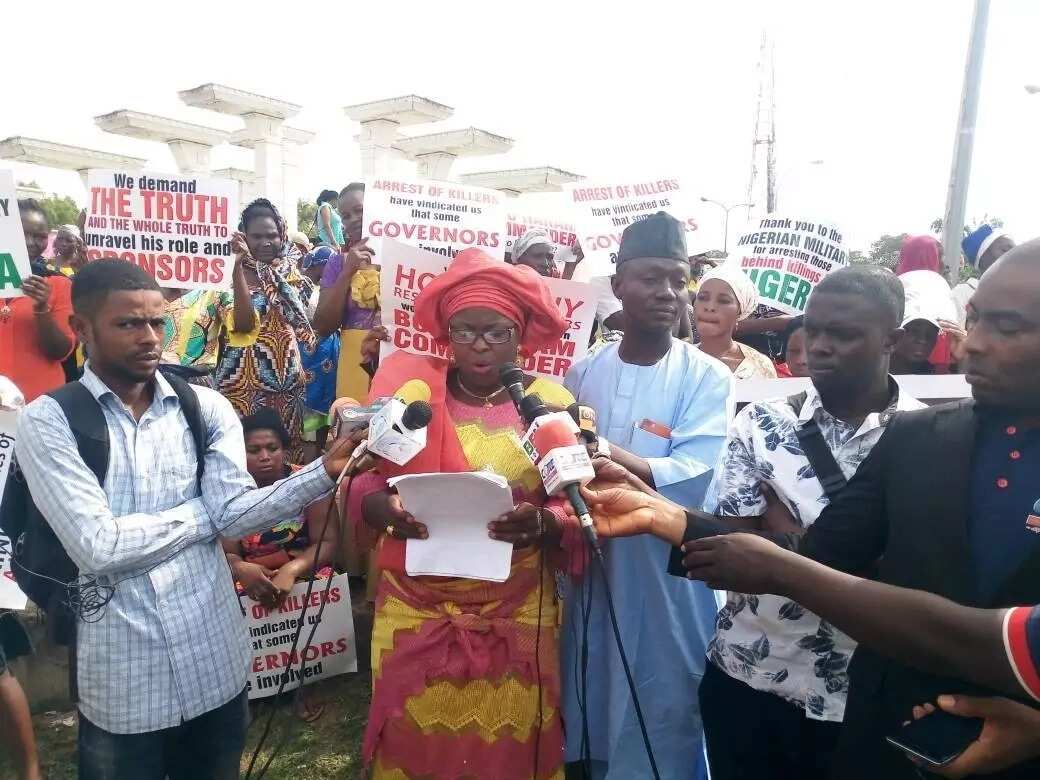 "We warn that a failure to go after the sponsors of the violence in Benue and neighboring states would be similar to attempt killing a snake without cutting the head off - cutting off the head of the monster in Benue state will be faster and more effective in providing a final solution.
"We understand that a desperation to conceal the true identity of the persons behind the killings was responsible for the murder of a soldier in Benue state just last month. The military authorities must investigate this and also find out the level of collaboration that exist between community youths and the killers," Mohammed said.
PAY ATTENTION: Read the news on Nigeria's #1 new app
Legit.ng earlier stated that Governor Samuel Ortom of Benue state had raised alarm over an alleged invasion of suspected herdsmen in some local government areas of the state.
The governor while speaking to journalists on his return from a vacation in China said only three out of the 23 local government areas in Benue are free from herdsmen invasion and attack.
Ortom wile stating his regrets on the invasion called for vigilance among resident in the state.
Nigerian herdsmen vs Nigerian farmers - on Legit.ng TV
Source: Legit.ng