Many Nigerian youths are getting alarmingly addicted to cough syrup with codeine; a medicine that has become a street drug, a sweet strawberry taste that makes one high. The codeine addiction is more rampant among the youths in the northern part of the country.
BBC Africa, in an investigative report, captures the devastating effects of the codeine addiction in Nigeria, particularly the northern part.
"It is not hard to find Nigeria's boys getting their syrups high. It is not hard to get Nigeria's syrup girls either. Even religious women drink it.
READ ALSO: Impeachment threat: Presidency allegedly targets 15 senators over alleged corruption
"Vast quantities are seized and destroyed by the government every year, tonnes of it in northern Nigeria last year," the report states.
An Emzor sales representatives interviewed by the BBC undercover reporters said this about codeine sale: "This is a product I know that if I have 1 million cartoons. I can sell it in a week."
Emzor is one of the largest pharmaceutical companies in Nigeria.
The sales rep further said: "You know drug addicts. When an addict comes up and there is no money he wouldn't mind dropping even the key of his motor car just to satisfy that urge immediately."
Believing that the BBC undercover reporters are drug dealers, he illegally sold them 60 bottles of cough syrup straight from the Emzor factory.
"But hence what I release to you is direct from oven, it's an oven baked…freshly baked. Look at the carton. It is sealed with Emzor," he boasted.
According to BBC, the sales rep who sold the codeine syrup is being investigated by Emzor.
The pharmaceutical company said the sales rep does not have access to large amounts of syrup.
The company said it is a responsible and compliant business and is reviewing its distribution policies.
"Codeine cough syrup can be deadly if you take too much. It can cause organ failure and even schizophrenia," the report stated.
Kano rehabilitation centre
The rehabilitation centre is filled with codeine syrup addicts. One of the officials of the centre talks about the alarming rate at which young people are being taken to the centre.
His words: "As I am talking to you, it is alarming. For every week that passes …before, we could get maybe two or three within a week but now it's six, seven, eight, sometimes even ten within a week"
Many of the cough syrup addicts at the centre are seen suffering, shivering and unstable with what is described as "withdrawal symptoms".
A cough syrup addict, who was found out of control in the city, arrested and brought into the centre a few days before, was noticed shouting.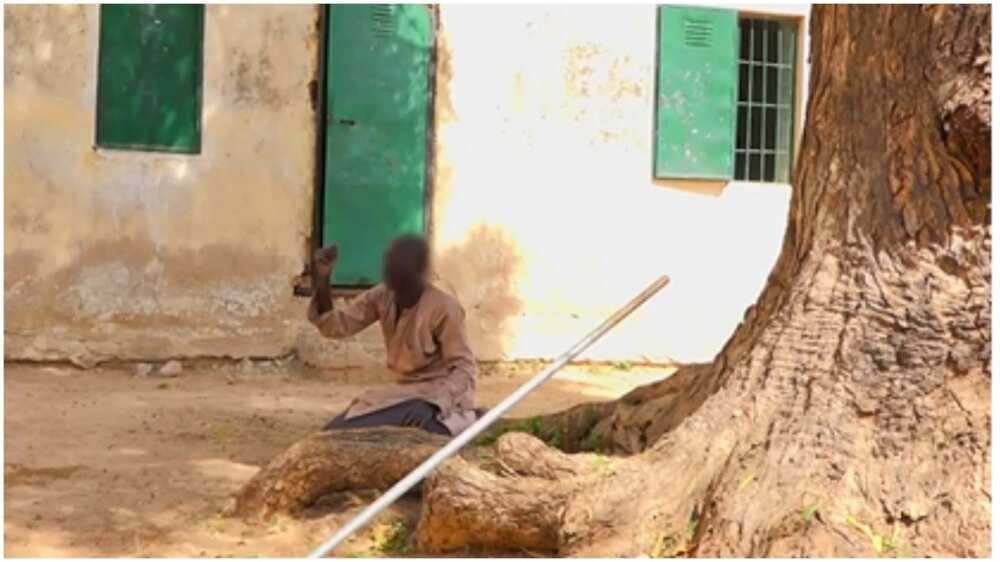 Exhibiting withdrawal symptoms, he is chained to a tree. He is too violent to be close to others.
According to the centre official, the addicts stay like this for weeks, swarming with flies.
There also a girl of just 16 years noticed during the investigation. She has reportedly been in the centre for two months feeling weak and still shaking as the syrup fills her system.
Her message to others: "Honestly I will advise them not to go into it if they haven't already. If they do, it will ruin their lives."
The centre official concludes: "It really breaks my heart to see children like this, and see young men like this. Honestly, it's really really bad. And everybody knows the situation of this codeine now. It's not a hidden thing. We can't lie to ourselves.
PAY ATTENTION: Read the news on Nigeria's #1 news app
"And we can't deceive anybody. The truth should be told. And we are saying it out that this thing is a serious issue. It is biting everybody. It is going from one home to another. If you think safe, you are not safe."
Legit.ng previously reported that the Nigerian Senate developed two draft bills for legislation to tackle the menace of drug abuse in the country.
The proposed bills are: National Drug Control Bill and National Mental Health Bill.
The move is the outcome of the round-table convened by the Senate President, Bukola Saraki, in December last year in Kano state.
Ex-prisoner turns advocate for release of former inmates on Legit.ng TV