There has been a deluge of reactions and counter-reactions after President Muhammadu Buhari said that many Nigerian youths laze about and want to get everything free, going about with the notion that the country is oil-rich.
Speaking on a panel during the Commonwealth Business Forum in London, President Buhari said that "a lot of" Nigerian youths claim "they should sit and do nothing" but expect to get "housing, healthcare and education free".
As the president of a democratic country, suggesting the bulk of your youth population is lazy is not usually a good idea and doing so at an international business forum, even less so, BBC asserts.
Nigeria's social media space erupted with a torrent of reactions, bringing up the hashtag #LazyNigerianYouths.
READ ALSO: Impeachment threat: Presidency allegedly targets 15 senators over alleged corruption
However, in a statement signed by his special adviser on media and publicity, Femi Adesina, the president said he didn't deride Nigerian youths by his statement in London.
Are Nigerian youths truly lazy? Or put in another way, how hardworking are Nigerians youths? To get to the bottom of this heated debate, BBC reviews relevant statistics to find out how much young Nigerians are contributing to the economy.
As President Buhari said in his speech, 60% of Nigeria's population is under 30 which is roughly 107 million people.
A lot of them are still children but a huge chunk are of working age and yet cannot get a job.
Unemployment in Nigeria almost tripled from 2014 to 2017 from 6.4% to 18%, according to the Nigerian National Bureau of Statistics. It increased at roughly the same rate for 15 to 34-year-olds as it did for older workers, BBC reports.
But the crucial difference is that from 2014 to 2017 Nigeria's older labour force increased by 3.9m while its younger workforce increased by 8.2m.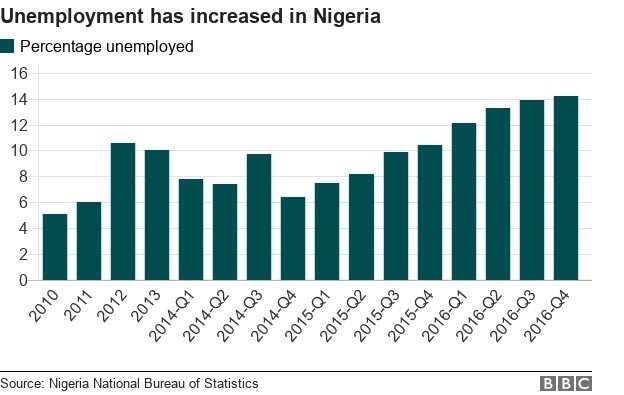 Meanwhile, Nigeria's economy, which relies on exports of oil, nosedived because of the fall in the global price of oil. It would make sense that most of these young people would struggle to find jobs and they did.
Even though there was a recession, in both age groups the number of people who found work increased by about one million. (Nigeria came out of recession in September 2017).
So despite their lack of experience in an increasingly competitive market, just as many young people as older people were able to hold on to their jobs or even to find jobs.
Cue cheers from Nigerian youth everywhere. But it may not all be good news.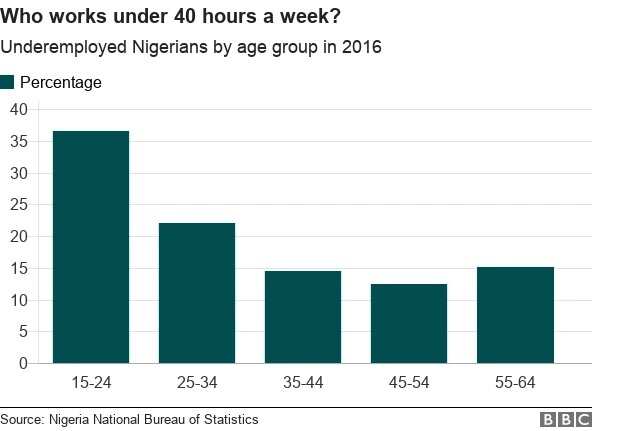 It is important here to look at underemployment - those who work fewer than 40 hours a week or are working in jobs where their pay doesn't match their qualifications.
A total of 40% of Nigeria's 80 million-strong workforce is "unemployed or underemployed".
In the 15 to 34 age bracket this is much higher, more than half (52%) work less than a 40-hour week. That means 22.6 million young people are struggling to get by.
An interesting stat from 2004, in a report by National Transfer Accounts, which studies populations and economic change and is based at Berkley University in California, said that Nigerians spent more than they earned until they were 32.
That means, despite working, they did not earn enough to get by.
That was 14 years ago, it has not been established whether the same or worse is true in today's economy. But inflation has rocketed over the past three years, only recently slowing down, while wages have not risen, so it is likely young people are facing a similar challenge and relying on older relatives for support.
It is also likely that a lot of young people are working in the informal economy, which is huge. According to the IMF, the informal economy makes up more than 60% of the country's GDP - the highest in Sub-Saharan Africa. But it is also mostly low-skilled, low-paid work, with inferior working conditions and zero benefits.
Lagos could be the hustle capital of the world, epitomised by the street hawkers in every traffic jam, where hundreds of young people carry boxes of plantain chips, biscuits, water, even kitchen appliances or enormous cuddly toys.
They weave in and out of traffic jams, breaking suddenly into a fierce run to secure a sale, abandoning sandals in their wake as they try to keep up with drivers who refuse to lose their place in the queue.
Sadly, despite their doggedness, these young people are not earning as much, or contributing as much to the economy as those working in say, banks or phone shops. And they definitely are not paying tax.
But then, the argument goes, why should they? There is something even deeper that this debate has brought to the surface - Nigeria's struggling public education system.
Unicef puts the number of Nigerian children out of school at 10.5 million, the highest in the world - by size, not proportionally. And the quality of public education has slipped so low that it has become a last resort for many families.
Three-quarters of schools in Lagos are private, according to the World Bank. On top of that, anyone who can afford it, including the president himself, sends their children to school abroad. And that is why #LazyNigerianYouths is being used to celebrate individual achievement despite the odds set against it.
According to BBC, Nigeria is one of the fastest growing countries on the planet, set to surpass India and the US by 2050, so the electorate is only getting younger.
Thus, it would be politically wise for President Buhari who has already announced his 2019 re-election bid to start thinking about how he addresses the nation's youths.
Legit.ng previously reported that the Peoples Democratic Party (PDP) said that Nigerian youths, by their demonstrated industry, cannot in any way be described as lazy.
The party stated this in a statement on Thursday, April 19, in Abuja by its national publicity secretary, Kola Ologbondiyan.
It said that it was uncertain how President Muhammadu Buhari could have made such comment against Nigerian youths as reported when the nation looked up to him to properly present its potential to the global business community.
The PDP noted that if true, such remark amounted to de-marketing the nation and her citizens at an international event.
It stated that such action should be discouraged to avoid verbal assault against the country, particularly at international fora.
Nigerian youths reply to President Buhari over 'lazy' comment | Legit.ng TV