- Lauretta Onochie has said that Nigeria cannot afford to have a president who would not go to America
- Onochie said President Buhari's achievements since assuming officer was also recognised by former US president Barack Obama
- According to Onochie, there are more Nigerians in America than in many cities in Nigeria
The media aide to President Muhammadu Buhari on social media, Lauretta Onochie has said that Nigeria cannot have a president who would not visit America.
Shortly after the president arrived Washington DC on a working visit to the country, Onochie took to Facebook to say there are more Nigerians in the United States of America than any other country and many cities in Nigeria. She said Nigerians in US need a president who they can always meet at least whenever he visits.
READ ALSO: Buhari's government makes another appointment
She wrote: "President Barack Obama, an African American was pained as the President of America. He could not embrace the rotten, morbidly corrupt government in place in Nigeria at the time. He was excited when Nigerians kicked out Fortunato Looter King.
"President Obama publicly announced President Buhari as doing a great job in Nigeria. Now, President Buhari is in America on a state visit to discuss issues of mutual benefits with America's President Donald Trump.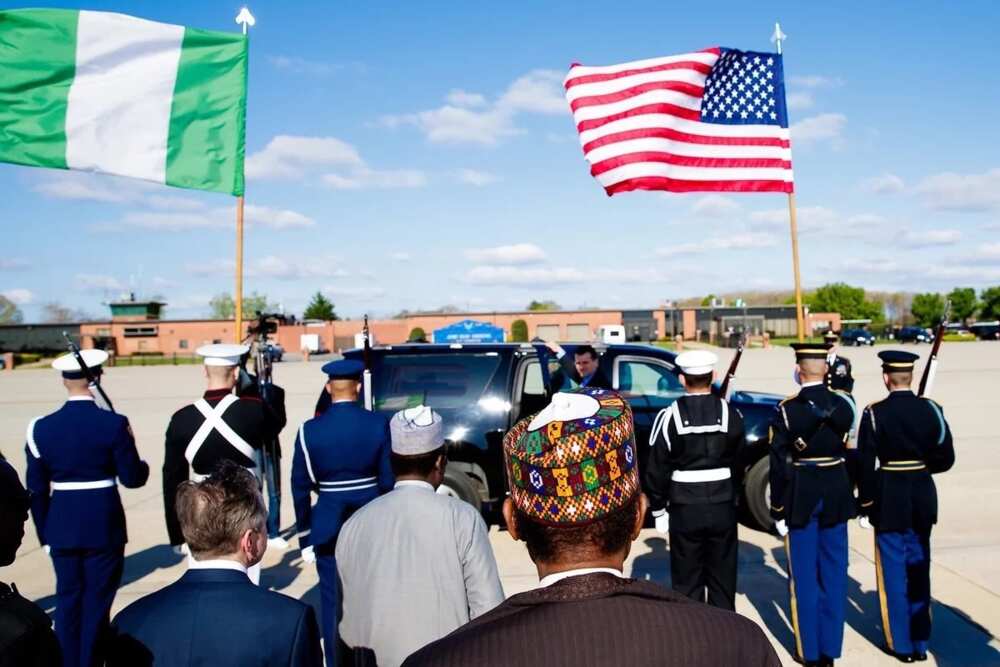 READ ALSO: National Assembly lacks constitutional powers to summon President Buhari - Senior lawyers
"Here he arrives and is received by Nigerians who are obviously happy to see their hard-working leader. Nigerians will not have a President who cannot go to America, the home of the United Nations. There are more Nigerians in America than in many cities in Nigeria. We can't afford to have a President they can't meet. God forbid. God bless Nigeria."
Onochie's statement obviously followed a remark credited to the former vice president of Nigeria, Atiku Abubakar.
It was reported that Abubakar in a recent interview had said he does not need to travel to America as a president of Nigeria. The former vice president was also said to have admitted that he was denied visa into the US.
PAY ATTENTION: Read the news on Nigeria's #1 news app
Legit.ng earlier reported that President Buhari left Nigeria on Saturday, April 28, for a working visit to the United States of America.
The president traveled on an invitation from the United States of America's president Donald Trump.
President Buhari is also expected to hold bilateral meeting with President Trump and a working lunch which would be aimed at discussing ways to enhance the strategic partnership between the two countries.
Buhari to Contest for Presidency in 2019! Legit.ng TV