- A Nigerian mother of five reportedly lost her life in building collapse in Aba
- The deceased identified as Chizoba Precious Okeke was a homemade juice seller who resided in Aba, Abia state
- Chizoba was the bread winner of her family after her husband lost his job but met her untimely death on April 6
A Nigerian mother of five, aged 38, identified as Chizoba Precious Okeke embraced the cold hands of death on April 6. The deceased who is a homemade juice seller was said to have been going on business as usual when she got stock in a razed building that led to her death.
Late Chizobar, a mother of five kids aged from one to 11, was the breadwinner of the family as adequately described as her younger brother, Chinonso Maraizu Samuel. According to Samuel, his sister had been about her business of selling soya milk and zobo on Port Harcourt road in Aba, Abia state, when tragedy struck.
For a while, several demolitions have been on-going in that area and every other day, a building is being razed and pulled to the ground. On that day, Chizoba made the wrong call when a building she was going passed, was being brought down. While everyone ran to safety, it was too late for her and she lost a leg with the collision of a heavy equipment.
READ ALSO: Photos from homecoming party for the top 5 BBNaija housemates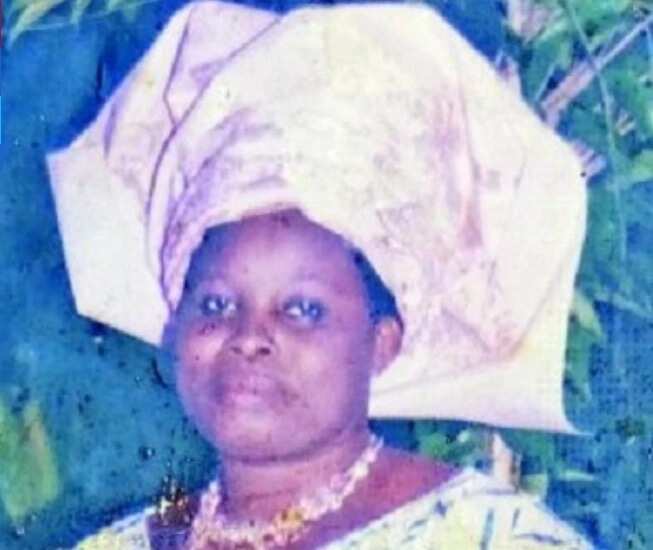 Mourning his sister, the deceased younger brother, Chinonso described how it all happened, he said: "My sister had as usual prepared her local drinks and went to the half pulled down house to sell her products to some people under the building. But as the Caterpillar was pulling down the next house, the vibration caused the building under which my sister went to sell the drinks to start giving in. As this was happening, some people who stood afar beckoned on those under the building to run for dear life."
"When the building was giving in, other people under it ran in side ways direction, but my sister ran straight to cross the road towards where he kept her pushcart, with which she carried her goods around; and part of the building fell on her and she died instantly."
"When I came to the scene, I did not see one of her legs and I insisted that the two legs must be complete before I carry her to the mortuary. People helped me to find the leg that was chopped off."
May the soul of the departed rest in peace.
PAY ATTENTION: Read best news on Nigeria's #1 news app
Nigerian youths reply to President Buhari over 'lazy' comment trailer on Legit.ng TV: