- President Maada Bio stopped payment for fuel, food and other expenses of top workers in the MDAs
- He also banned buying of vehicles for government officials until further notice until a fleet management policy is created
- The president announced the new measures in an executive order on Wednesday
President of Sierra Leone Julius Maada Bio has sacked top government officials in the African country in his efforts at reducing financial waste.
According to reports, Bio sacked all political appointees at Sierra Leone's foreign missions. These included ambassadors and information attachés.
The president also retired all workers in the public service that 60 years old and above but left those who were under special employment approved by the country's parliament.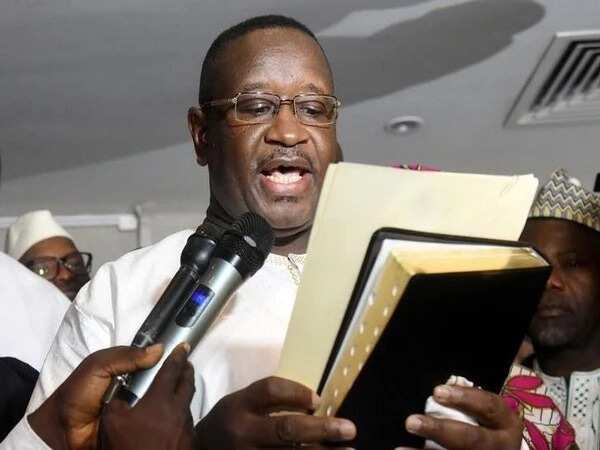 President Maada Bio carried out the sackings through an executive order issued on Wednesday, April 25.
READ ALSO: Nigerian Army arrests key Boko Haram suspect allegedly behind Benue killings
The leader also placed a ban on recruitment into the public service.
Here are some of the content of the executive order by President Bio.
1. With immediate effect, purchase of vehicles by all Ministries, Departments and Agencies (MDAs) and public corporations has been banned until a new Fleet Management Policy is put in place.
2. Payment for fuel, telephone and internet services to public servants in Ministries, Departments and Agencies for their residences are suspended with immediate effect pending a new benefit policy.
3. All commitments by MDAs relating to overseas travel including cost of tickets should be within their approved budgets and must be cleared with the Ministry of Finance to ensure they are cost-effective and within budgetary limits.
4. In line with Section 23 of the Bank of Sierra Leone Act 2011, prices for contracts shall be quoted and payable only in the local currency (Leone). All existing contracts already quoted in foreign currency shall therefore be paid in Leones.
5. All new contracts by MDAs and public corporations should be cleared by the Ministry of Finance to ensure they do not constitute a financial risk to the national budget.
PAY ATTENTION: Install our latest app for Android and read best news on Nigeria's #1 news app
Julius Maada Bio was declared Sierra Leone's new president on April 4. But the loser is in court to challenge his election.
Legit.ng recalls that President Muhammadu Buhari on Friday, April 6, congratulated Julius Maada Bio on his victory as the new president of Sierra Leone after the presidential election run-off on March 31.
President Buhari, in a Twitter post, commended the people of Sierra Leone on the successful conduct of the presidential election run-off as well as the parliamentary and local council elections held on March 7, 2018.
He also expressed his readiness to work with President Bio for the growth, prosperity and stability of their nations, and West Africa.
Top 5 Scandalous Quotes About Africa on Legit.ng TV