- Outgoing Arsenal manager, Arsene Wenger, is begging Jose Mourinho not to goad him as the pair prepare for a meet at Old Trafford
- Wenger and Mourinho have been at each other's throats for more than ten years
- And Mourinho acknowledged that he has regrets over his fierce relationship with Wenger
Outgoing Arsenal manager, Arsene Wenger, is begging Jose Mourinho not to goad him as the pair prepare for a meet at Old Trafford.
The veteran French gaffer hopes his final game against Manchester United as Arsenal boss tomorrow will not be ruined by a bust-up.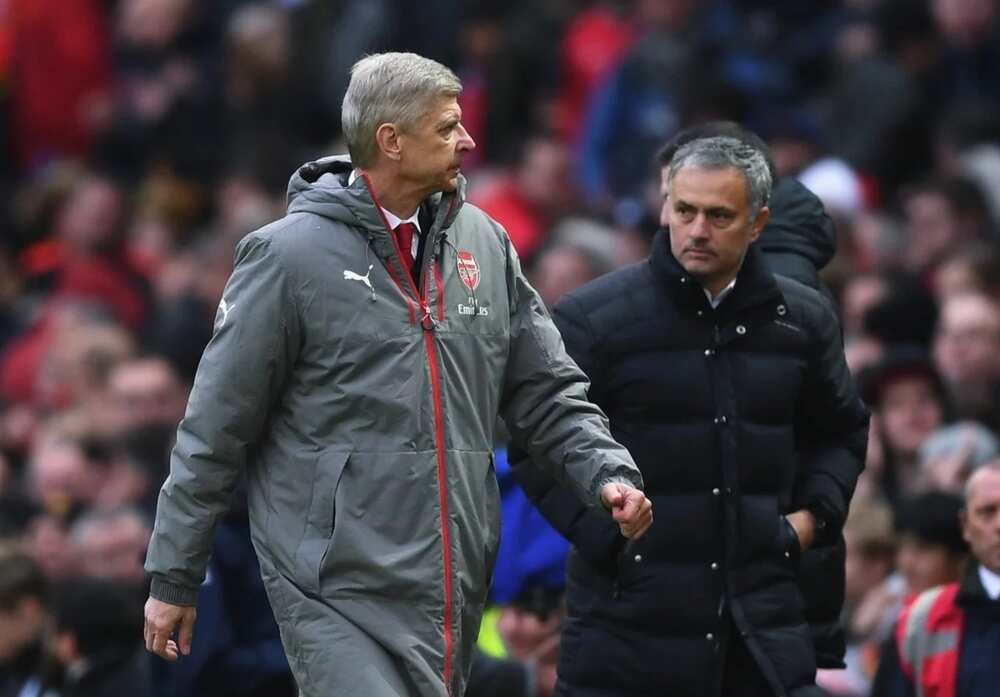 He said: "Don't push me into a final confrontation because I want to go peacefully.
"Mourinho is a great manager. I will say goodbye to Mourinho and to everybody."
READ ALSO: Fabregas insists he has no plans to leave Stamford despite doubts over future
Wenger and Mourinho have been at each other's throats for more than ten years. And the Gunners boss, who leaves the Emirates at the end of the season, hinted tomorrow might not be the last time they meet.
Wenger continued: "In France we say, 'Au revoir' — which means, 'We might see you again'!
"Will I be friends with Mourinho? I don't know. I respect him a lot.
"I don't know what kind of reception I will get from the United fans but there have been some great battles between us.
"So if I get a good reception, I will take it."
Mourinho in his reaction to his dugout relationship with Wenger said he is keen to avoid a final ruck, and admitted that he has regrets over his bust-ups with Wenger.
The United boss said: "Regrets? Little negative episodes, yes I do — and probably he also does.
"There are little things where it would be better without them — some gestures, some words."
Mourinho hopes Old Trafford fans give Wenger a good reception.
PAY ATTENTION: Become a member of the leading sports Facebook group 'Naija Football Fan Zone'
He continued: "Manchester United fans know, until 2004 for about a decade, it was between United and Arsenal, between Sir Alex Ferguson and Mr Wenger.
"Those great teams Arsenal had and the fight shoulder-to-shoulder made Manchester United better.
"I hope he is going to feel the respect we have."
Wenger may rest players ahead of Thursday's Europa League return against Atletico Madrid and Henrikh Mkhitaryan could return from a knee injury.
Arsene Wenger Leaving Arsenal: Who Will Take Over Wenger? | Legit.ng TV