Beautiful Ankara gowns for events
Hey, fashionistas, you definitely should have a look at the bright images with beautiful Ankara gowns for events! What are the latest beautiful Ankara styles for special occasions? Let's deal with it together! We are sure you will find something special for the creation of a perfect look.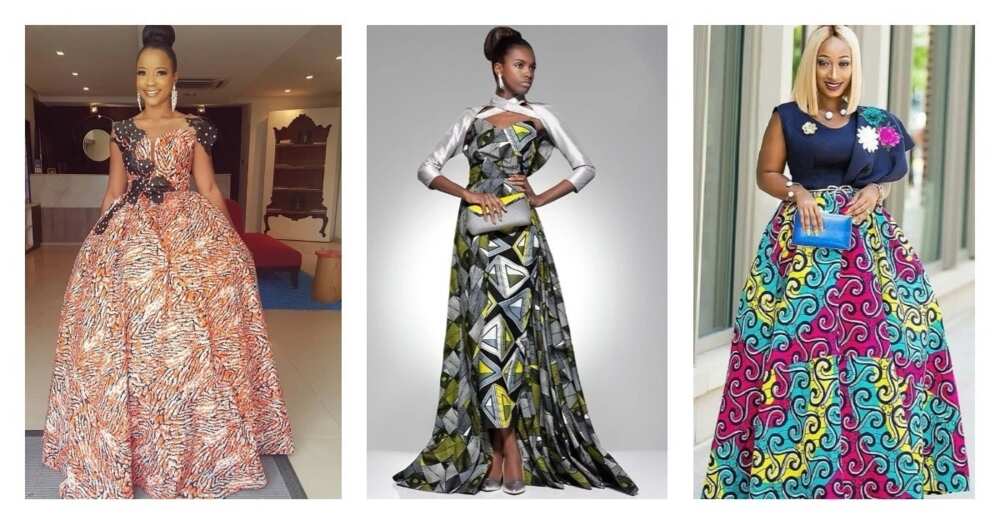 Demonstration of an excellent sense of style is always appropriate and without any circumstances. It doesn't matter if you go shopping, jogging in a park, attend a business meeting or get-together with friends, or you are going to an event. When it comes to occasions be rest assured that other women will examine you from head to foot.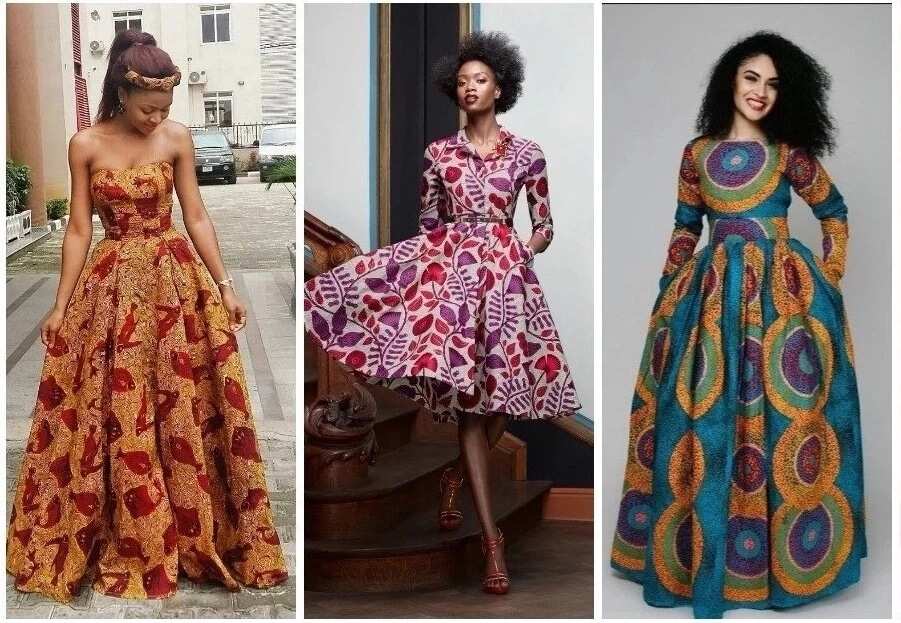 They certainly notice the relevance of your outfit and its compliance with the latest fashion trends. That's why every self-respecting lady thinks carefully about what kind of dress is worth adding to her evening wardrobe. A festive attire requires a particularly responsible choice and close attention because the evening gown gives women an opportunity to feel feminine, charming and attractive.
Let's consider in detail Ankara styles for ladies. Ankara dresses will help you to create such outfit.
Get chic in Ankara gowns
In 2018, the renowned fashion gurus offered Nigerian girls a choice from a huge range of evening dresses. In trend, there is a minimalist silhouette, embodied in elegant Ankara dresses-cases of maxi length, and Ankara mixed evening gowns, referring us to the era of baroque with accentuated luxury and plenty of
openwork embroidery;
lace motifs;
velvet inserts;
iridescent brocade;
shine satin fabrics.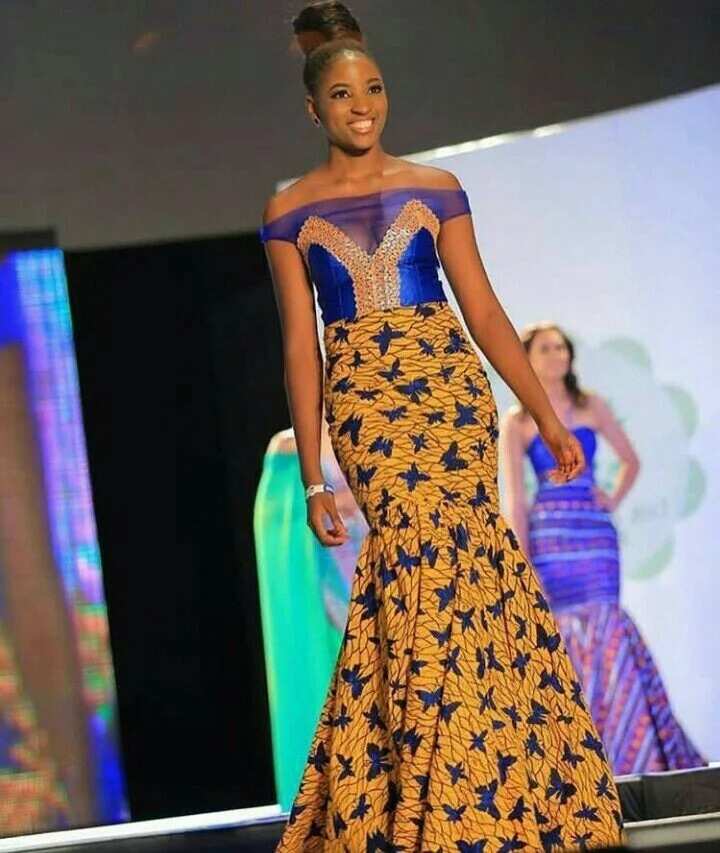 Ball dresses were pressed by strict models. Nevertheless, they have an element of certain luxury with a long train. Despite all the severity of solemn styles in 2018, designers decided that in fashion world there is a room for transparent trim for the dresses with a deep neckline or bare shoulder line.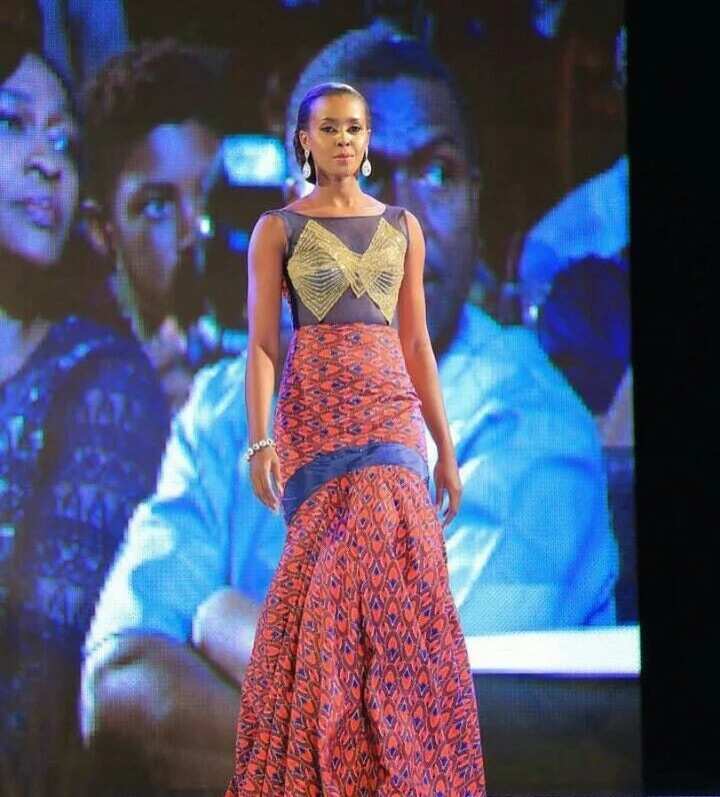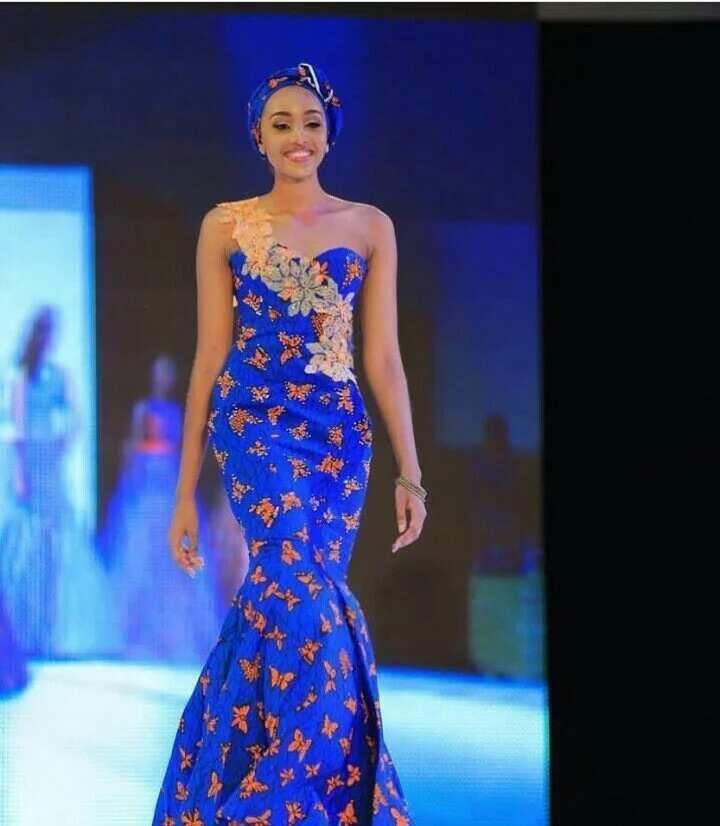 Among the win-won solemn styles, the amazingly feminine fit-and-flare and mermaid dresses should be mentioned. They are present in every fashion collection. Even if the trend of black color doesn't cause any doubt, designers propose a variety of Ankara color solutions. Many evening dresses are made in soft tones of red, deep green, and soft pastels of blue and gray.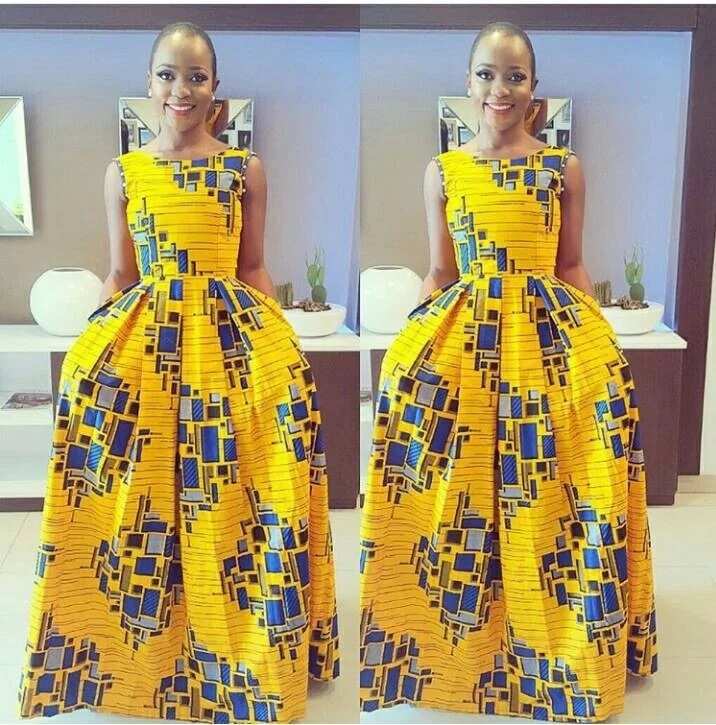 An exquisite cut of actual evening dresses designers often emphasize with Ankara geometric motifs and floral patterns. So that you don't get confused in all the presented magnificence of solemn dresses, let's talk about the most convex and actual trends in more detail.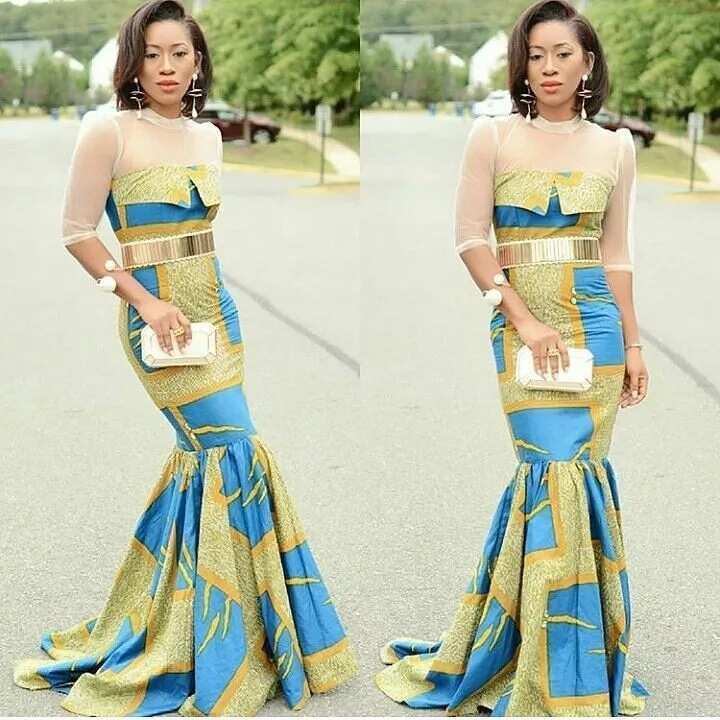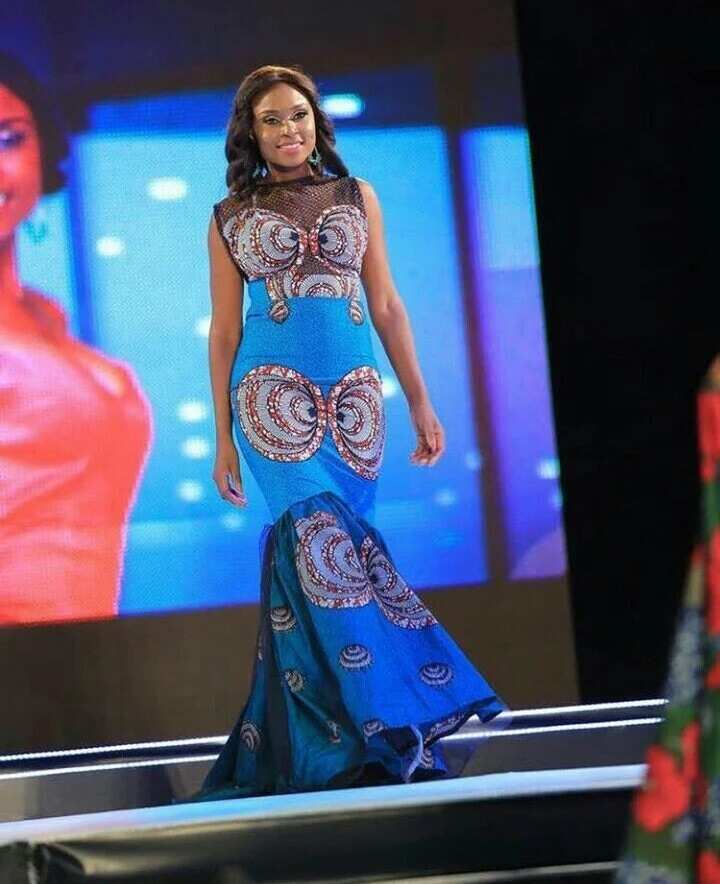 Trendy styles made with Ankara
Trend № 1: Transparency
In 2018, fashion can be called a combination of the most controversial trends. On the catwalks absolutely two diametrically opposite trends coexist together. Ankara mixed dresses with transparent inserts decorated with the lacy decor, floral motifs, and appliqué patterns are used. For such trim, black and white colors are often used.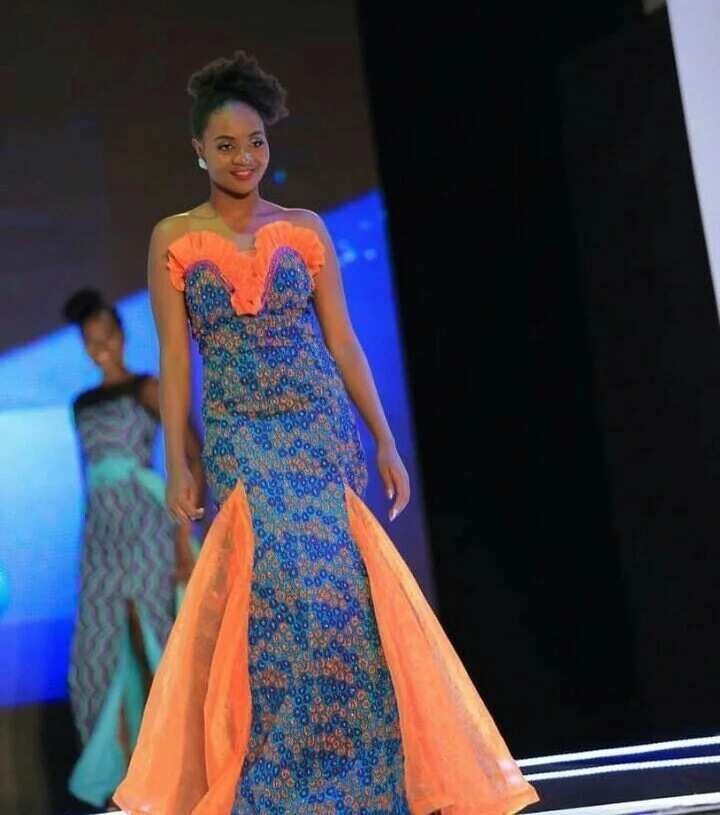 To implement their original ideas, most fashion designers have opted for chiffon. It's easily draped in flying folds, harmoniously complemented by floristry and beaded décor. Chiffon also makes it possible to embody the gentle images that can stand out from the crowd.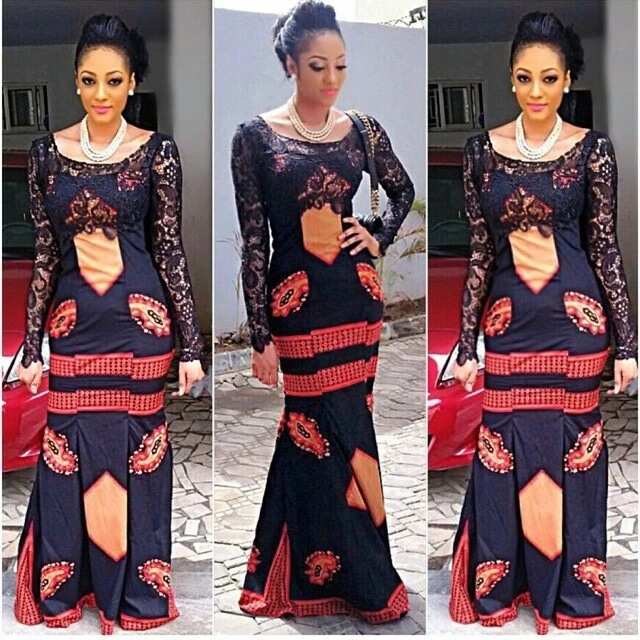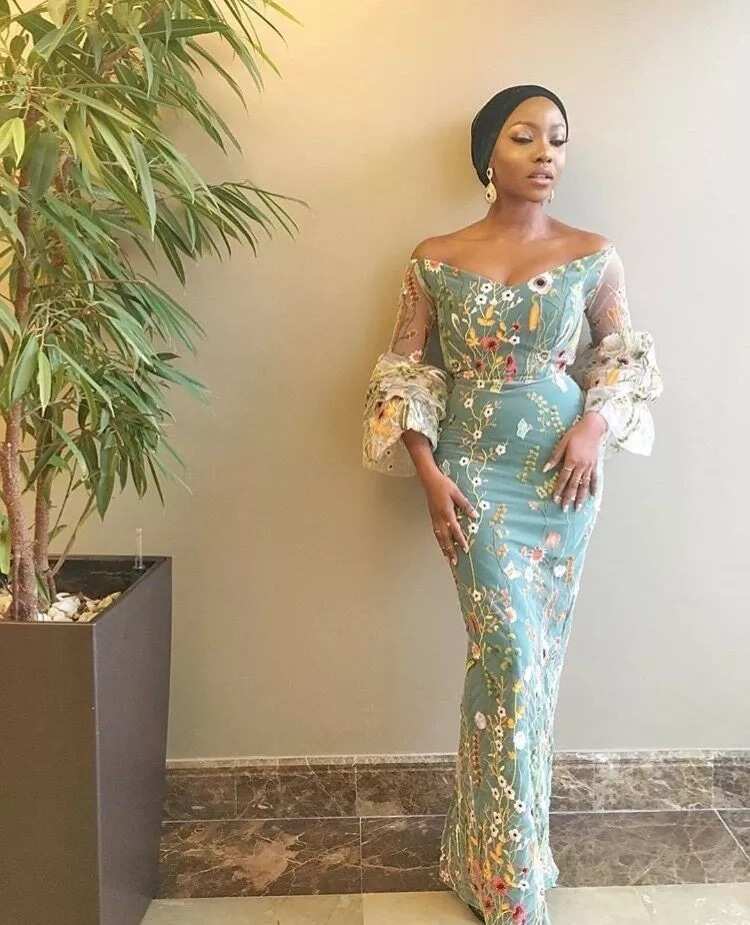 Trend №2: Sleeves with a pattern
The trend for transparent inserts has become one of the keys on catwalks of the whole Africa. In 2018, designers decided that sleeves should be the main element of the evening Ankara mixed dress. Such sleeves are turned into real works of art with the help of fine embroidery, appliqués, and 3D decor on transparent fabric.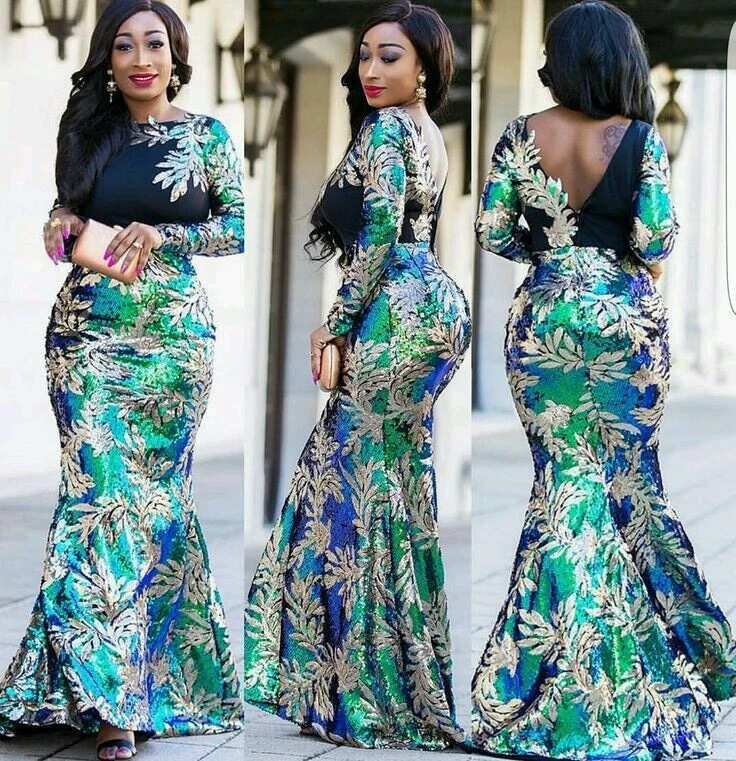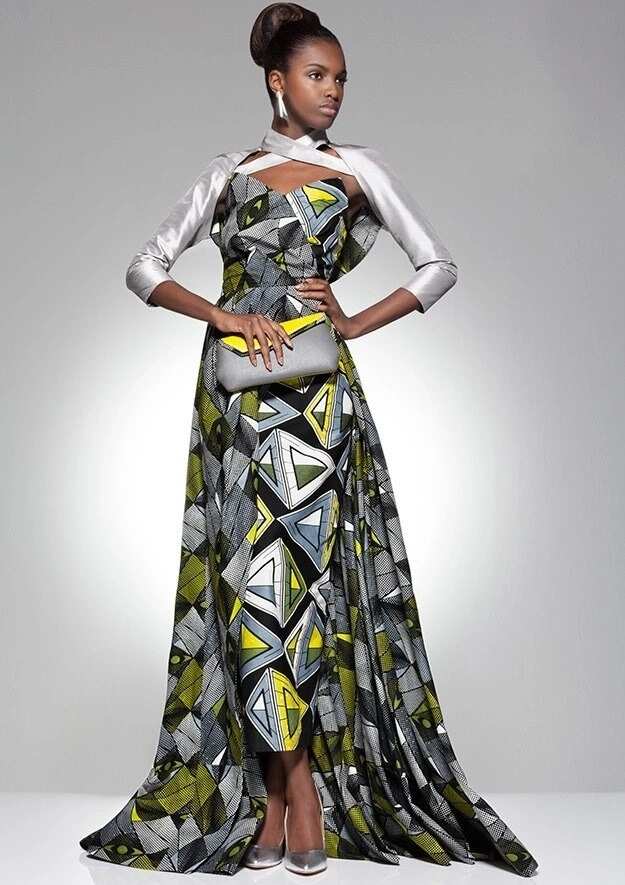 In 2018, the ball is ruled by Ankara evening dresses with long sleeves - unlike in past years, when designers preferred exclusively open dresses for events.
READ ALSO: Get chic in Ankara gowns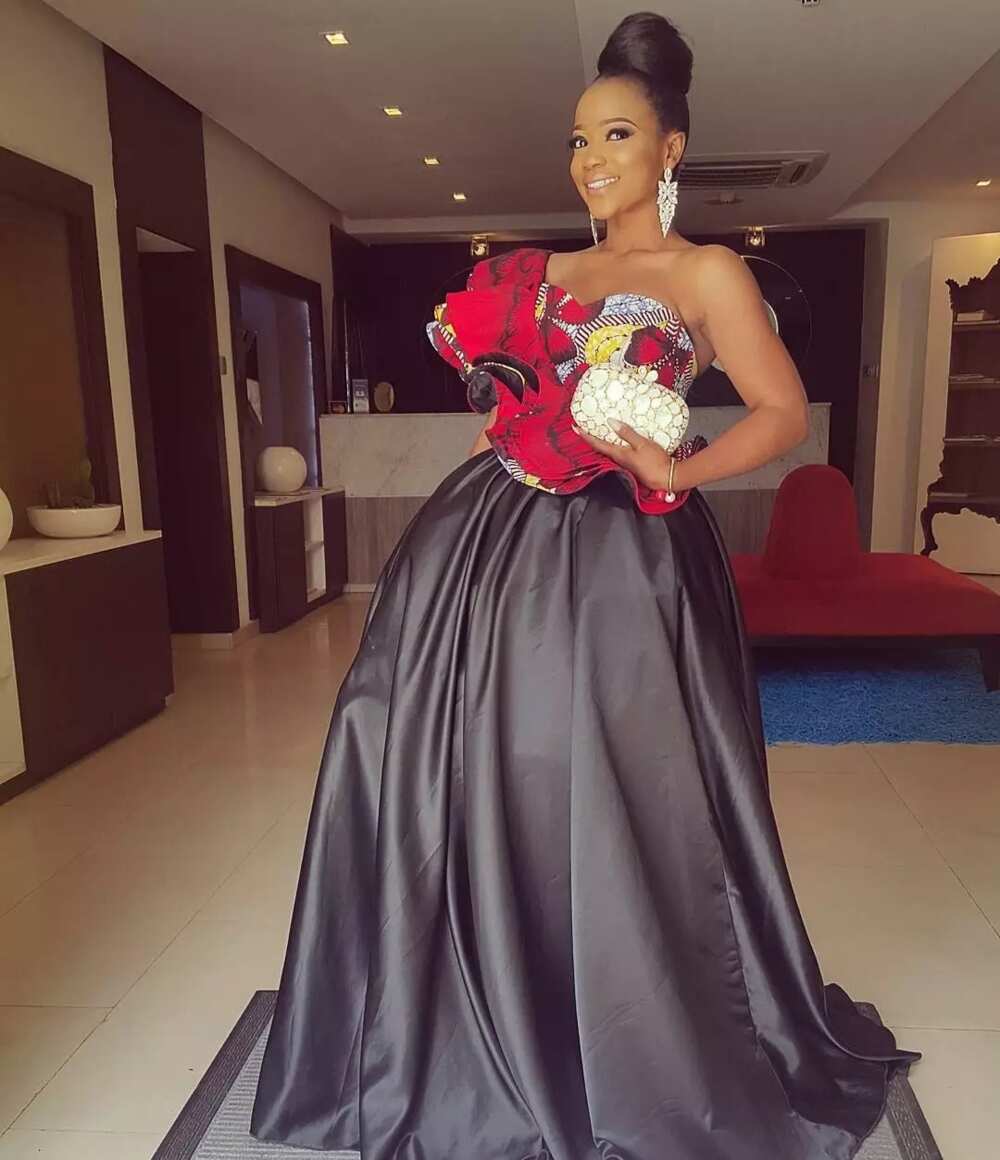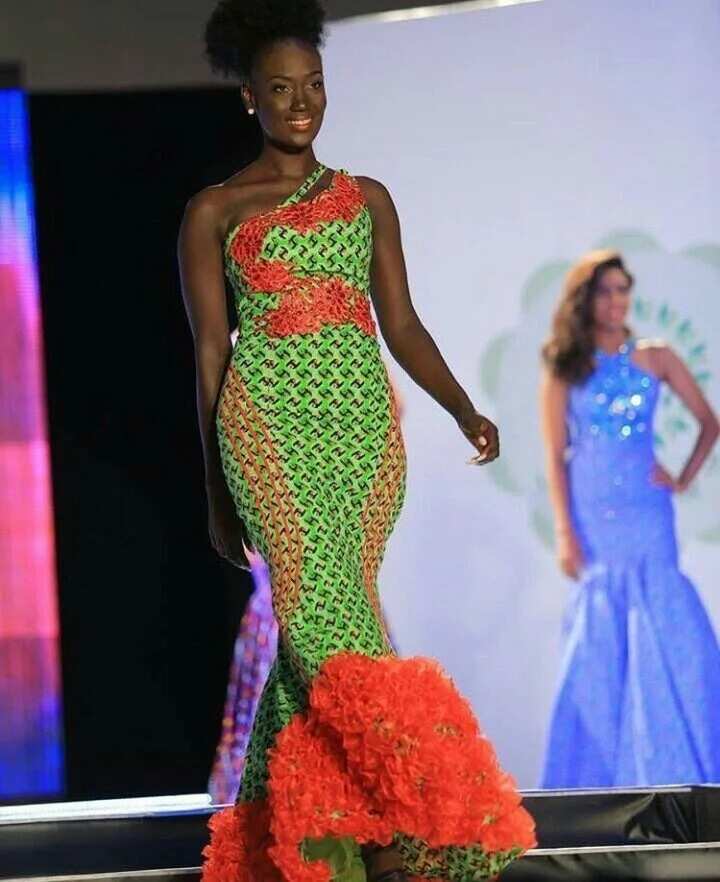 Trend № 3: One shoulder
Seductively bared shoulders, without a doubt, can be called one of the fashion favorites of 2018. The fashion industry gurus use open shoulders when sewing blouses, jumpsuits, and even shirts. Gown styles of the new fashion year are striking with the harmony of unusual and luxurious features.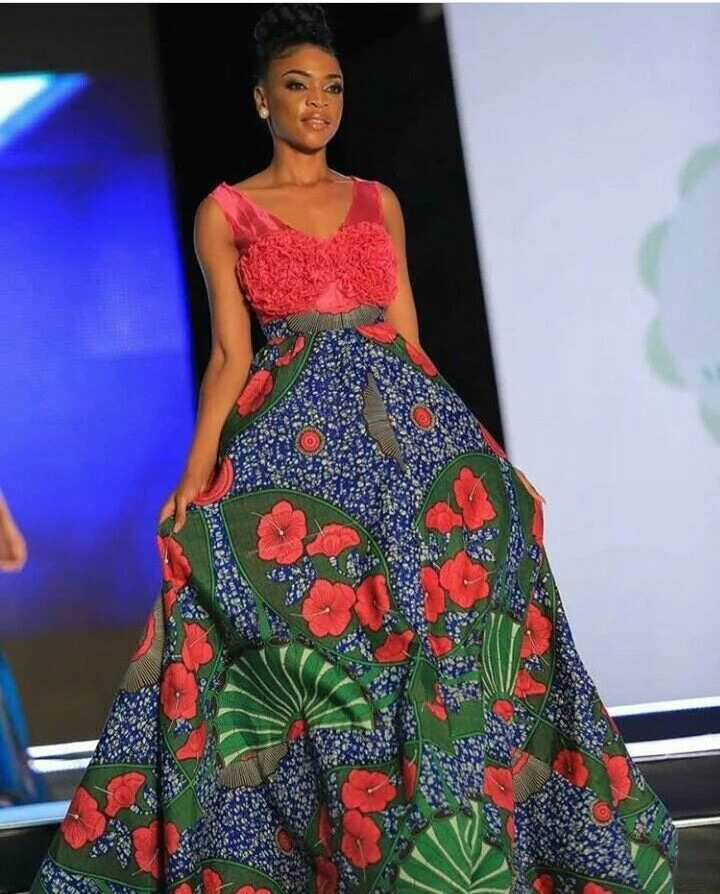 It seems that this segment of evening dresses was created under the influence of Ancient Greece. The gowns with an overstated waist and freely falling hem are graceful, elegant and even somewhat pompous. An open shoulder line in an actual dress is necessarily accompanied by an asymmetric tailoring and a maximum length.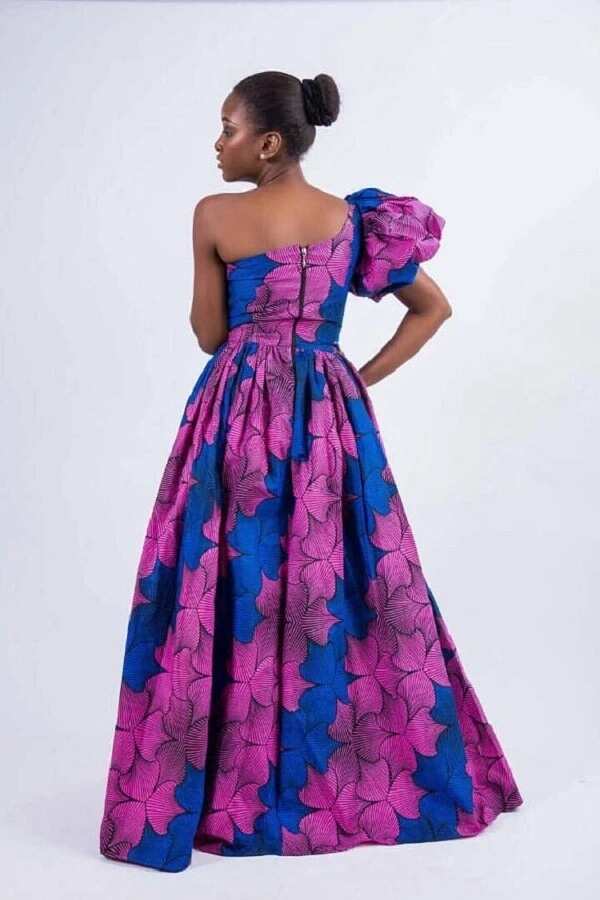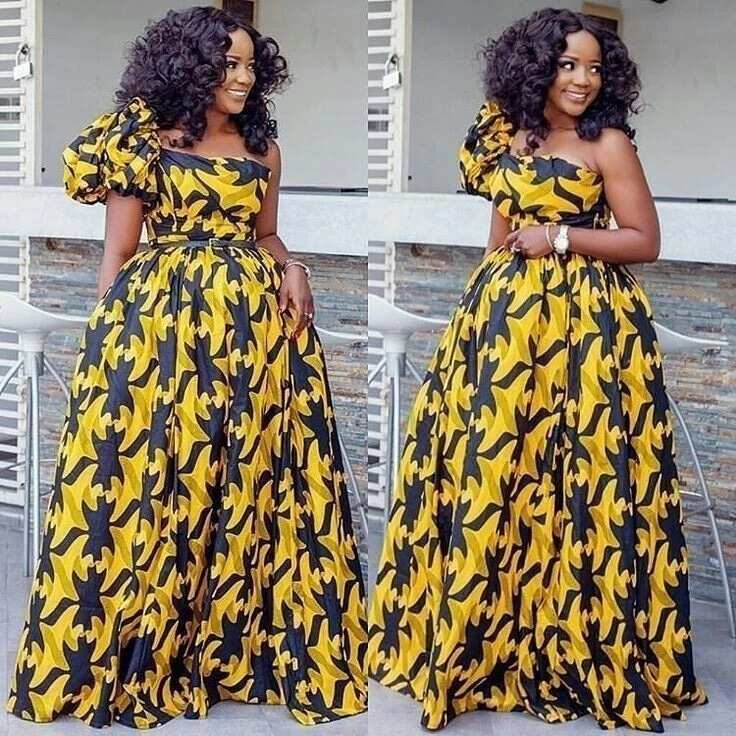 Ankara one shoulder dresses stay in trend from the last year, creating the illusion of playful indifference, attracting the attention of others.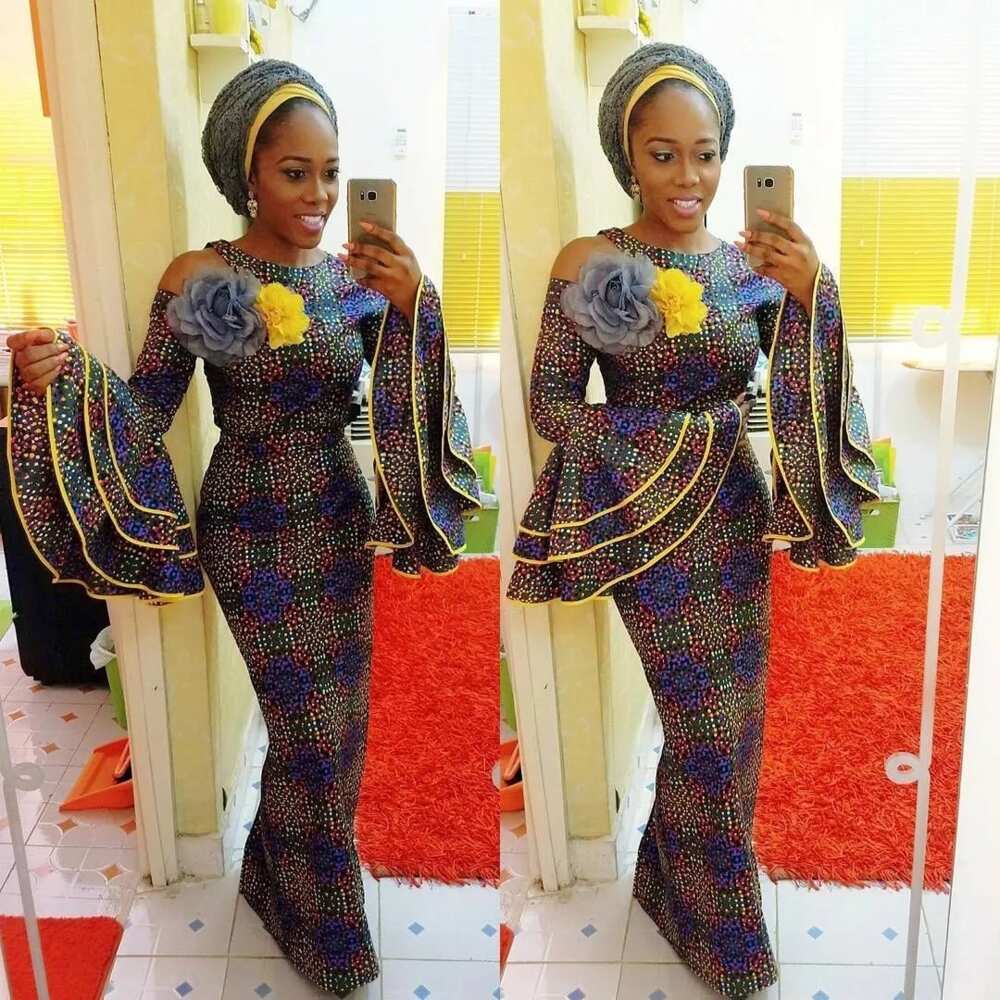 Trend № 4: Maxi case-dress
The gown of the case silhouette was invented back in 1928, and since then it appears invariably in every new collection of the most eminent designers. The vitality of this style can be explained without any difficulty. Such dresses are distinguished by exceptional femininity and successfully emphasize the curves of the woman figure, underlining the thin waist and rounded hips.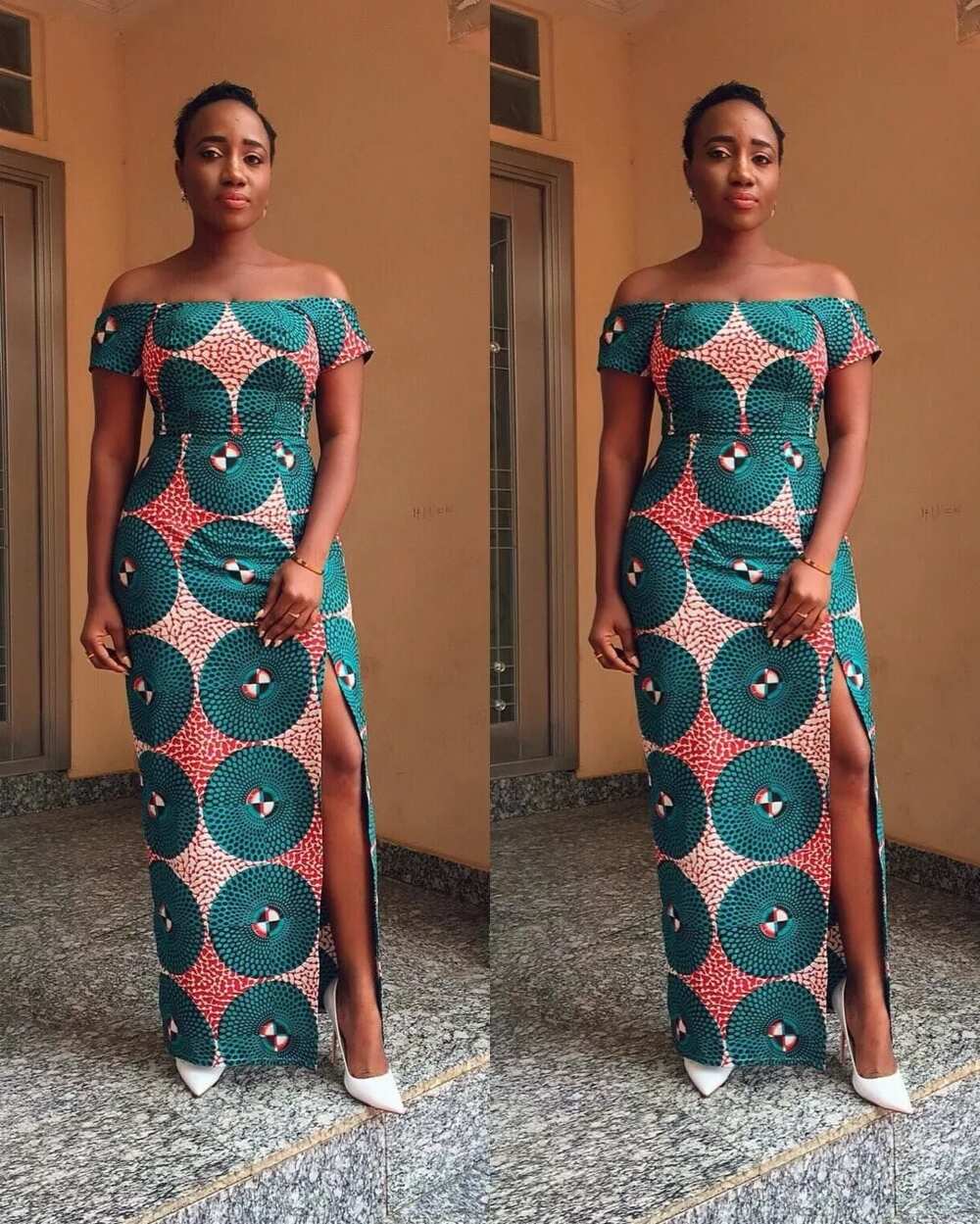 In 2018, this gown made with Ankara is a hit of the season. In trend, both classic silhouette like strict elongated outfits, and bustier gowns and case-dresses with long sleeves.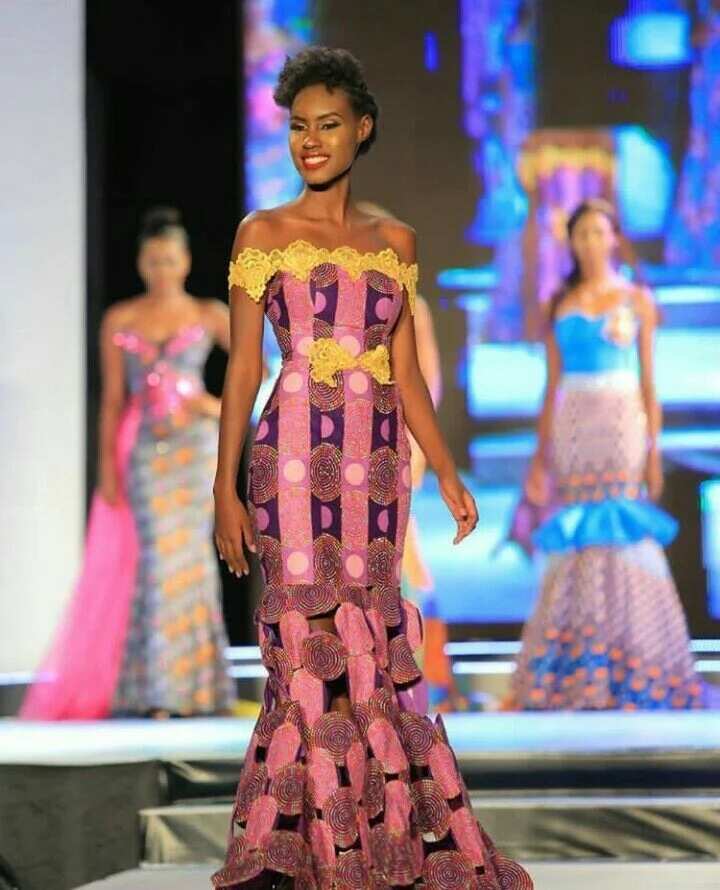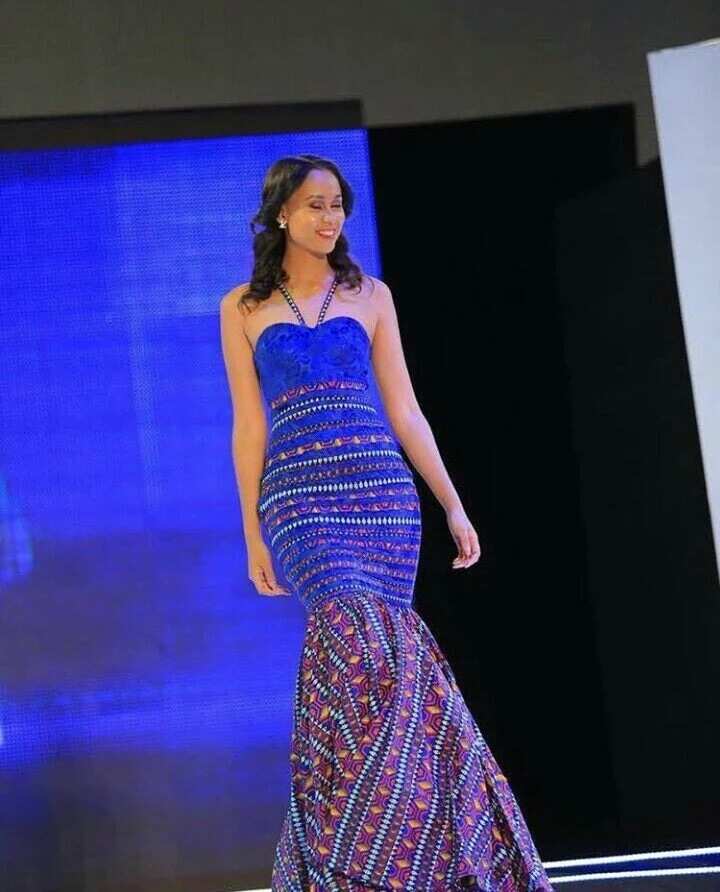 Trend № 5: Décolleté
Since the time of the Renaissance, the main method of attracting attention has been a décolleté. Many centuries have passed, but this technique remains popular in the segment of evening fashion. In 2018, fashion designers demonstrated that the décolleté is an absolute favorite in the hit parade of current trends. Moreover, the necklines are not just as deep as ever - sometimes they reach the waistline.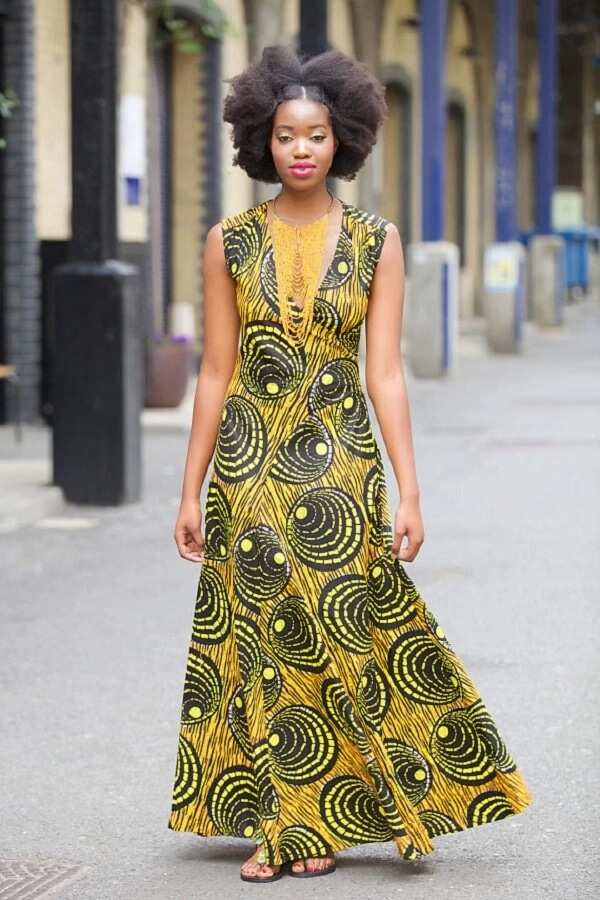 At the same time, the actual décolleté is devoid of any vulgarity - an exceptional depth is calmed with a pointed V-shape, leaving room for a note of enigma. The unthinkable push-up is finally recognized as bad taste. The chest in such décolletage should look natural and accurate because Ankara fabrics and luxurious decor of festive dresses 2018 don't welcome excessive frankness and obsessive provocation.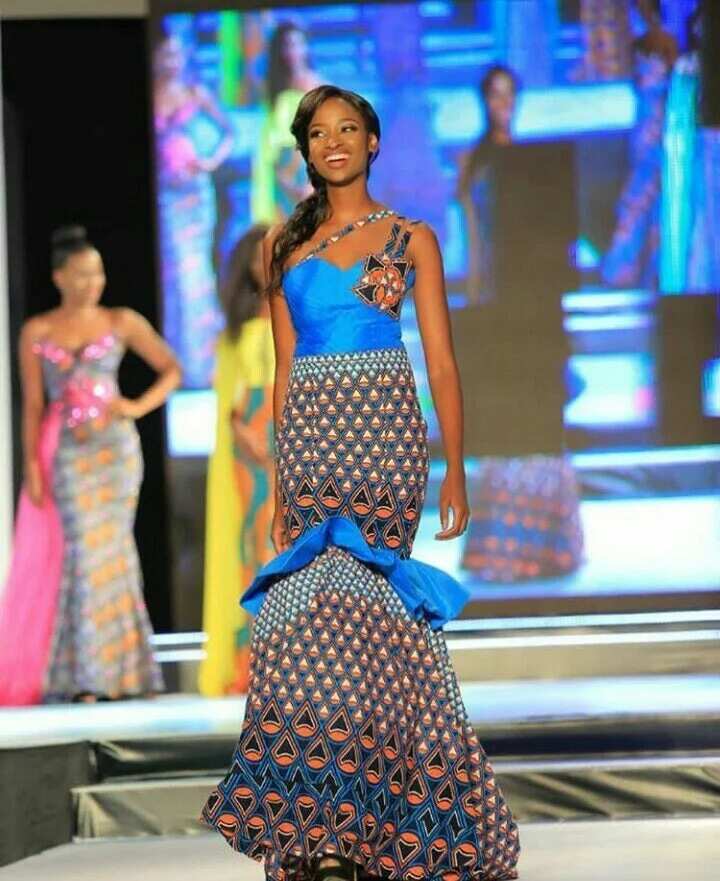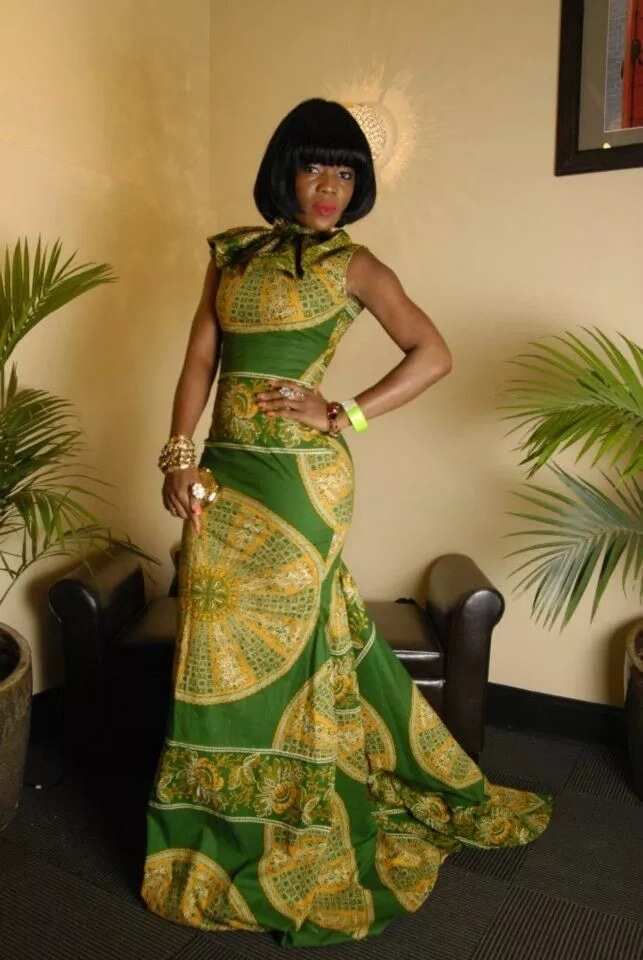 Trend №6: The Train
A train, veil, and a wrapped female cape have always been the attributes of the evening fashion. Such models help to embody the image with a special note of chic, pull out the silhouette and create a unique effect of royal dignity. In 2018, designers decided to return this exceptionally aristocratic trend in fashion.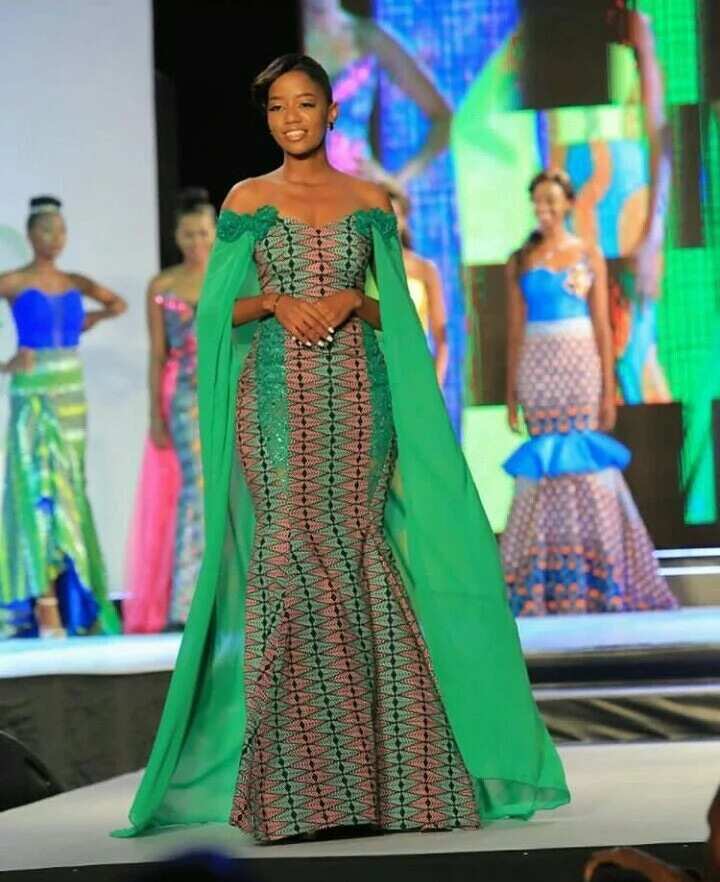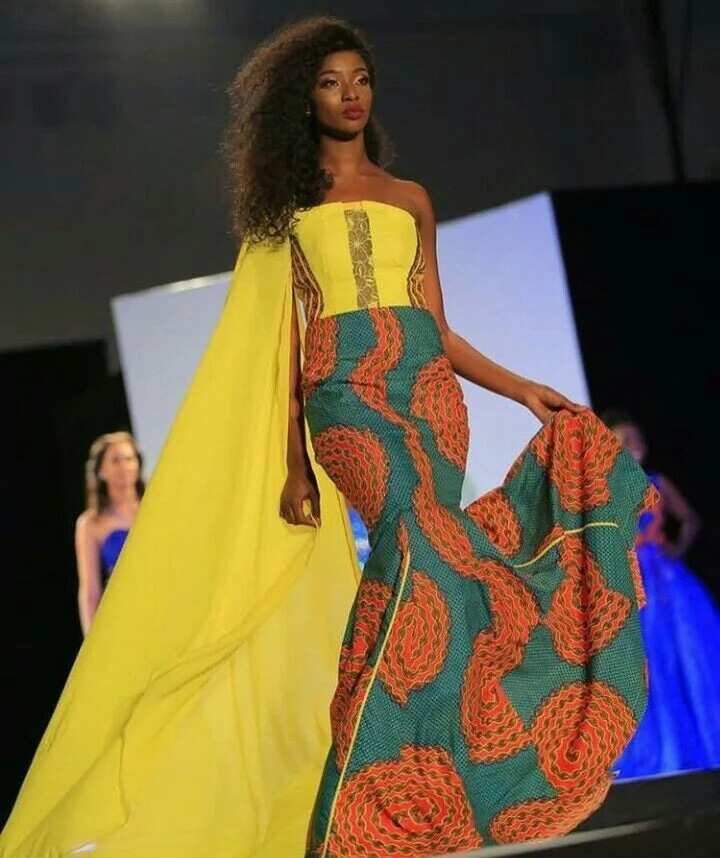 Latest Ankara long gown styles look great with plain chiffon or satin train or cape. We could see wonderful variants of such dresses on participants during Miss Africa 2017 contest. Their evening Ankara gowns with train were amazing.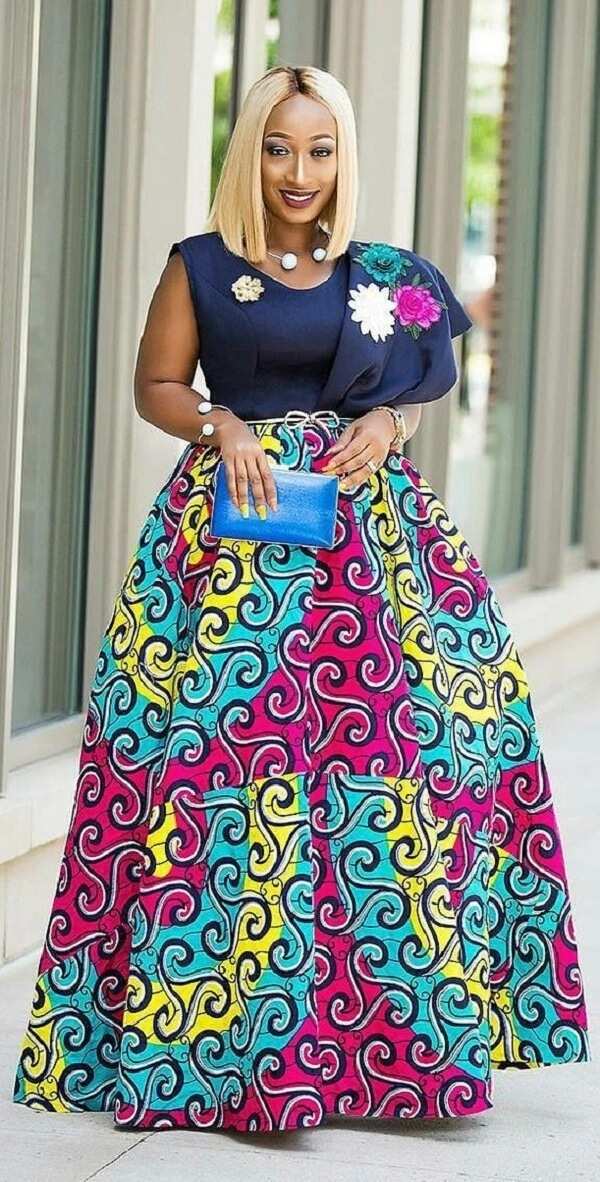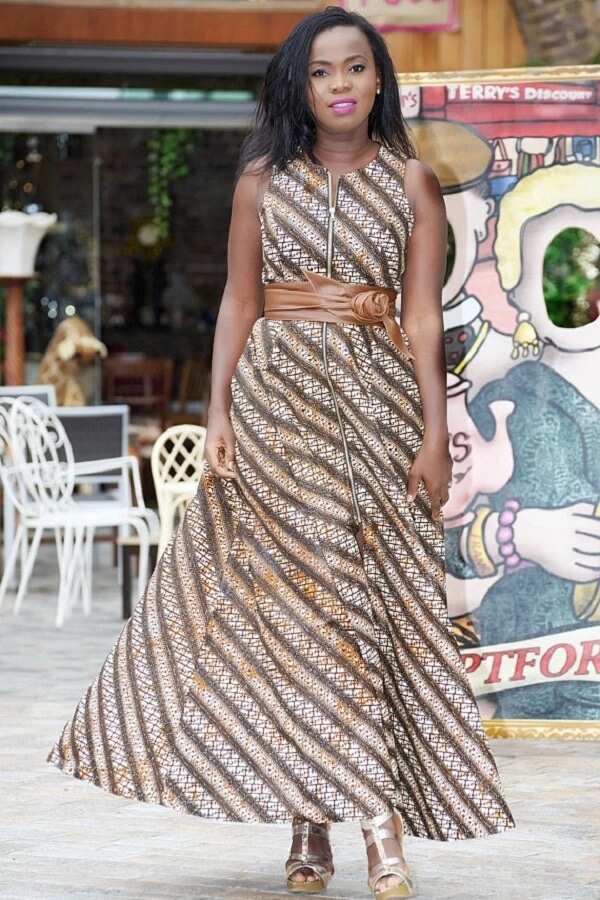 Trend № 7: Floral motifs
The latest shows of evening fashion are united by motives of lightness, playfulness, and freshness. It's achieved through the use of floral patterns, embroidery, and appliqué. In trend, there is a total flower look in the style of French Millefleur with small flowers, berries and leaves on the fabric for evening dresses. Flowers are also used to create decorative elements on the belt, shoulder or neckline.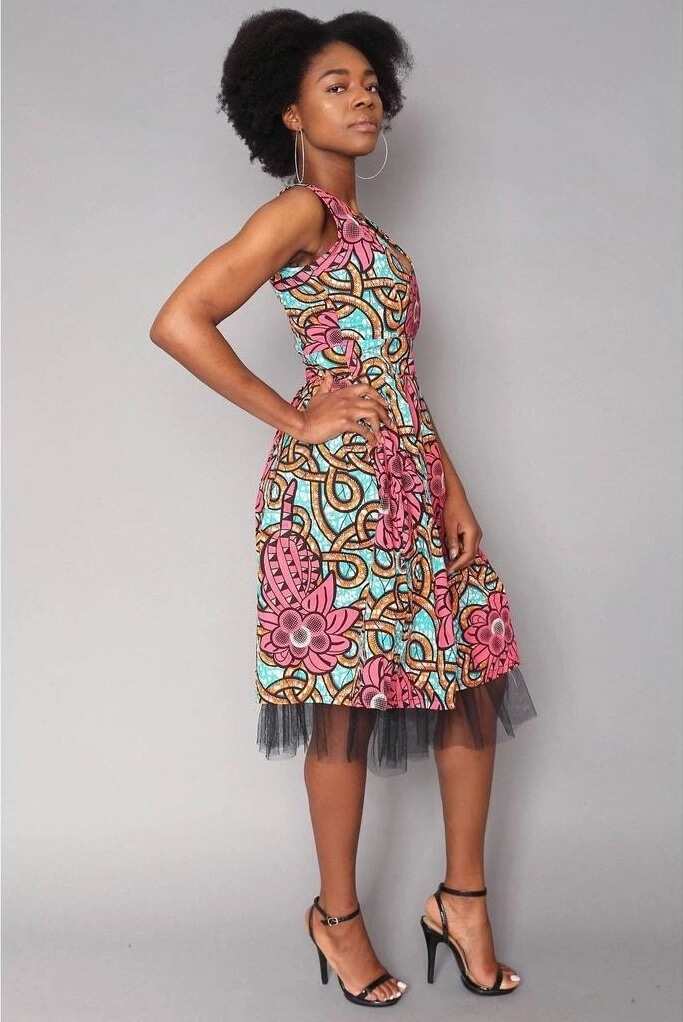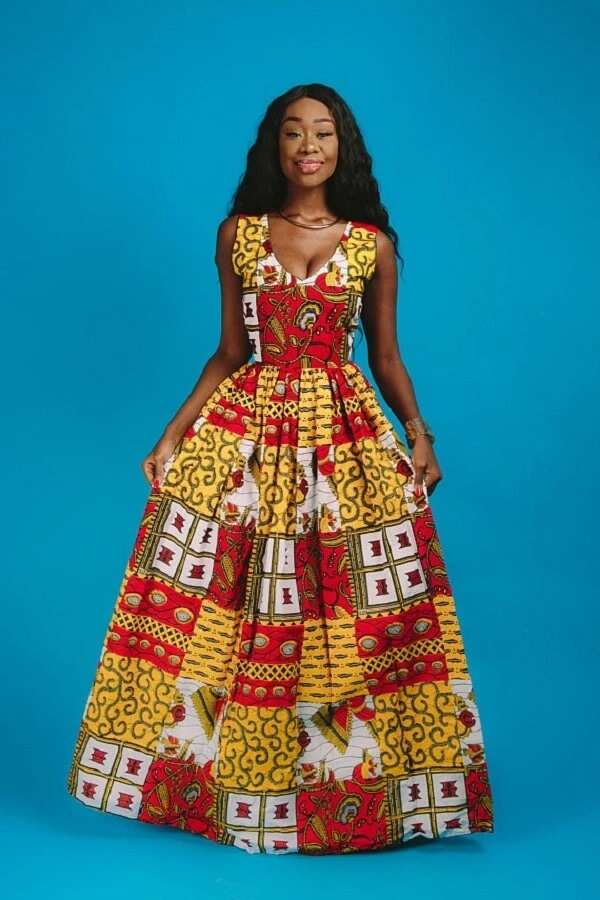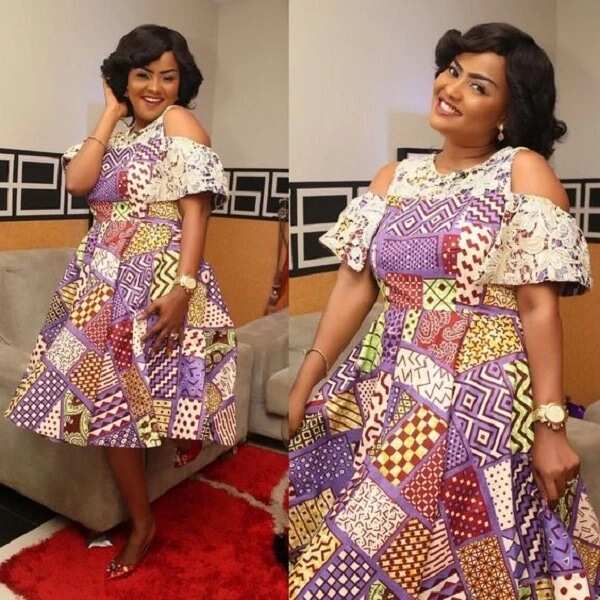 Beautiful maxi and midi dresses for events are made from Ankara fabrics in a patchwork style.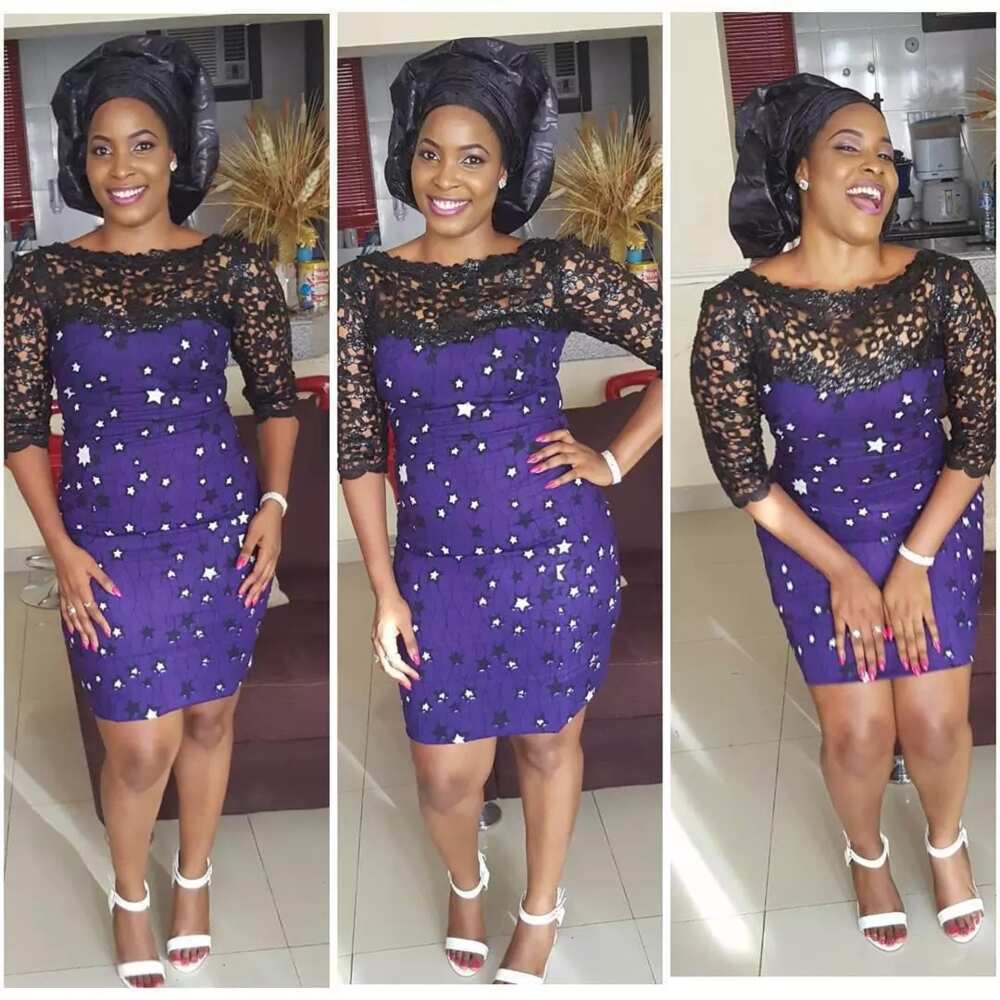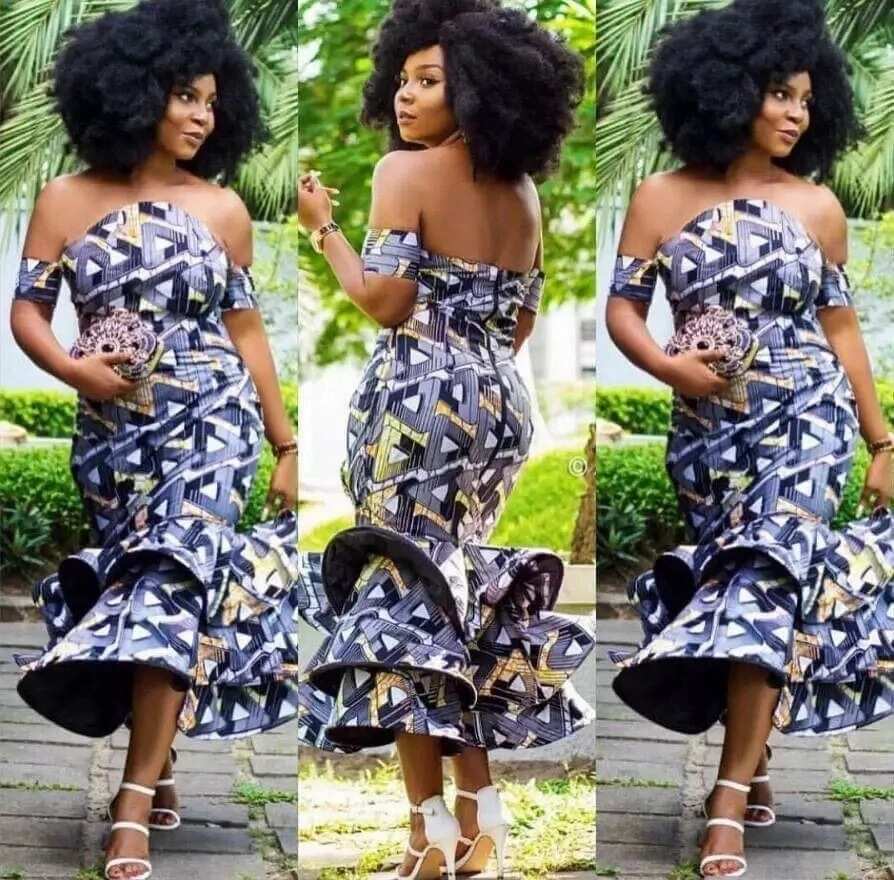 The classic version of Ankara outfit for special occasions is a maxi dress. Nevertheless, the original festive images can be made with Ankara gowns of medium length and slightly above the knee.
a bow;
a flower;
chiffon or lace inserts;
an embroidery with sequins or beads;
frills and flounces.
All these features are very relevant this season.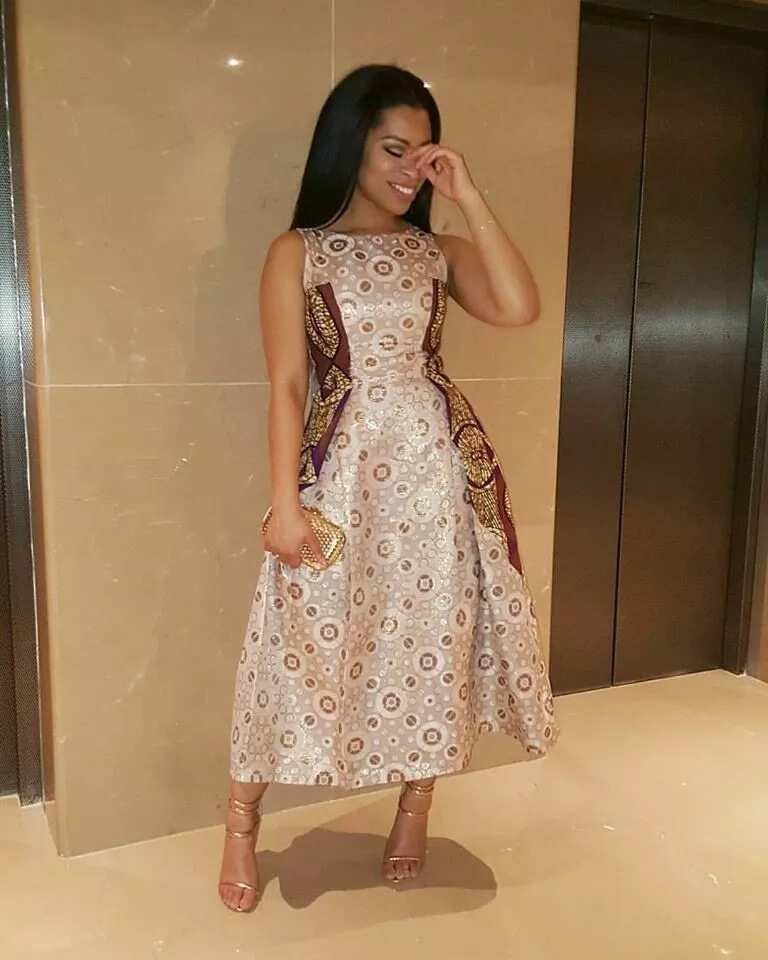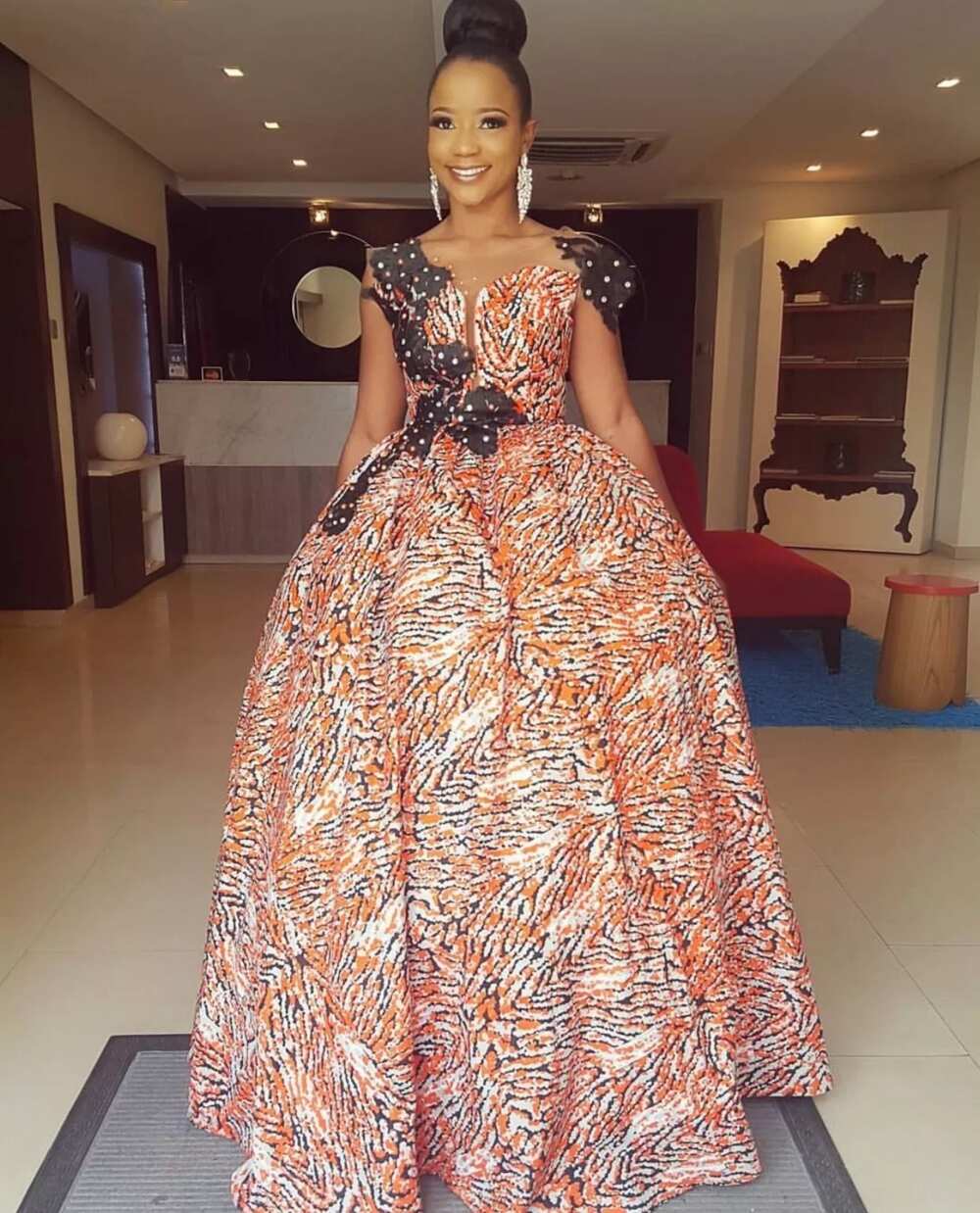 Using our selection of beautiful Ankara gowns, you can easily create a unique image for any occasion.
READ ALSO: Ankara dresses with lace that are popular this season
Source: Legit.ng