- A Facebook user identified as Romeo Oriogun recently got angered over the lynching of gay people
- The young poet shared a post revealing details of how a gay man and his lover were allegedly beaten to stupor in Imo state
- Oriogun's anger bordered on the fact that Nigerians have bigger problems than judging queer people over their lifestyle choices
In a society where people like Bobrisky are famous for being "different" and judged daily for living and loving unconventionally, a Facebook user named Romeo Oriogun recently shared details of the extremism practiced in some areas in the east.
In a recent post shared on Facebook, Oriogun expressed disappointment over how people were quick to attack two gay men who were caught in the act in Imo state. The said lovers were allegedly battered by self-appointed moral prefects who obviously believe such practice deserves callous beatings and even death.
The Facebook user outcry addressed some of the issues drowning Nigeria as a country, yet its people get belligerent over the loosely termed abominable act of homosexuality so much that it is considered alright to attack queer people.
READ ALSO: The rise and fall of the popular Igbo music group Oriental Brothers
Romeo's post reads: "He didn't steal, he didn't molest anyone, he didn't r*pe anybody, he didn't hurt anybody. He was lynched because he dared to love, because he dared to be himself. Fvck! It is 2018 and homosexuals are still treated as animals, are still treated as people without rights. Nigeria will break you till you forget you are human. Who gave people the right to lynch a human being? Damn! This is stupid, this is so stupid. Nobody deserves to go through this kind of hell.
Just imagine after lynching him and his partner, they were almost set ablaze before the police arrested them and they were only released to a lawyer because of their injuries. They looted their properties; phones, cash, motorcycle, everything. Nigeria is a sad excuse for a country.
Nigerians will blame Queer people for everything yet it is in this country that Catholic Priests and their parishioners were killed by herdsmen, it is in this country that politicians loot our treasury and walk freely as they are hailed, it is in this country that health care in rural areas is nothing to write home about, despite our many problems Nigerians are not bothered, they reserve their anger for Queer people because they are the cause of everything, because what they do with their bodies will make the economy crumble. Rubbish."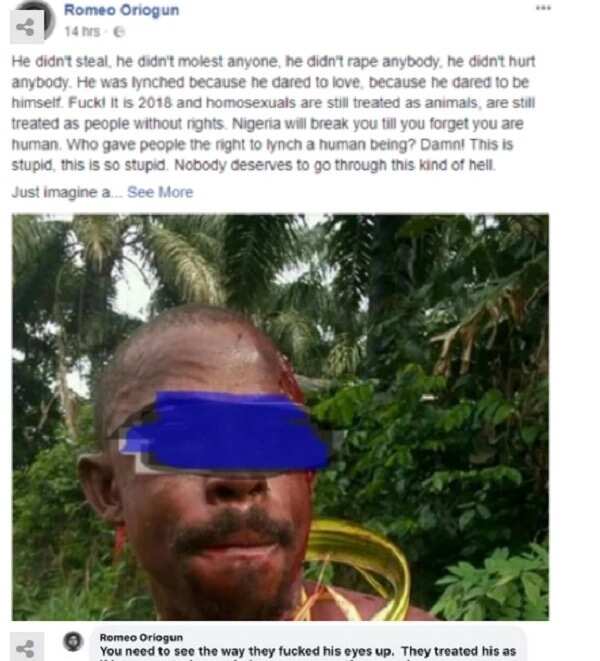 Meanwhile, a video of how Prophet T.B Joshua allegedly delivered two female gay partners in his church gave some internet users a filled day when it surfaced online.
PAY ATTENTION: Read best news on Nigeria's #1 news app
Nigerian youths reply to President Buhari over 'lazy' comment trailer on Legit.ng TV: