The catalogue of Ankara trends 2019 includes a lot of new styles that you will definitely love. The flexibility of Ankara designs and their diversity allow plenty of combinations and new ideas. Check them out here and choose whatever you like for everyday situations and special occasions like weddings, celebrations, and other parties.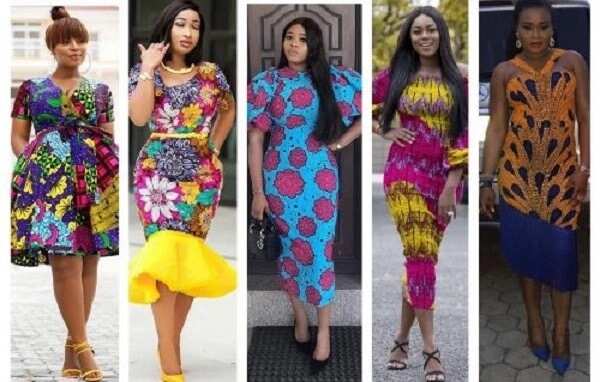 Some of the latest Ankara styles 2019
Ankara is one of the most popular (if not the most one) fabrics in Nigeria. It's natural and comfortable during hot days, it looks trendy and stylish, and it's bright, juicy and fresh. This is why it has become popular not only in Nigeria but also around the world. It's a trend in Western countries where celebrities even wear it for events like movie or music awards and so on.
READ ALSO: Native wears for guys 2018
The fashions and styles are multiple and it's pleasant to see young people wearing something so authentic. Now, you can see many people wearing lovely Ankara styles. These bright colors and patterns are especially popular with Nigerian women of all ages. It looks super cute when babies and toddlers are dressed in little copies of adult Ankara fashions, too.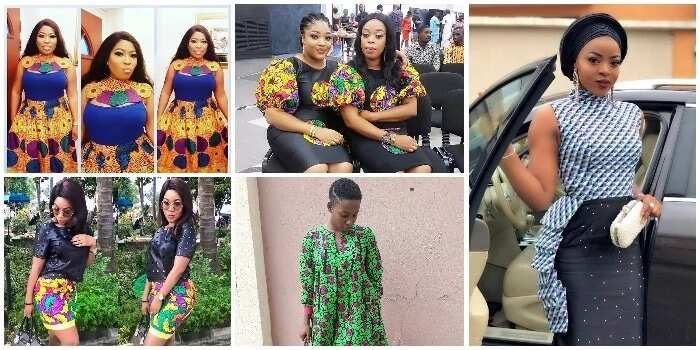 Now, let's check out, which styles are at the top of the Nigerian Ankara catalogue for modern women.
Long gowns are among the favorites of the 2019 Ankara season
You should feel free to choose whatever style you like. For instance, consider having a completely loose ankle-long dress that has no belt or anything. It just hangs along your body, creating the sense of freedom and comfort.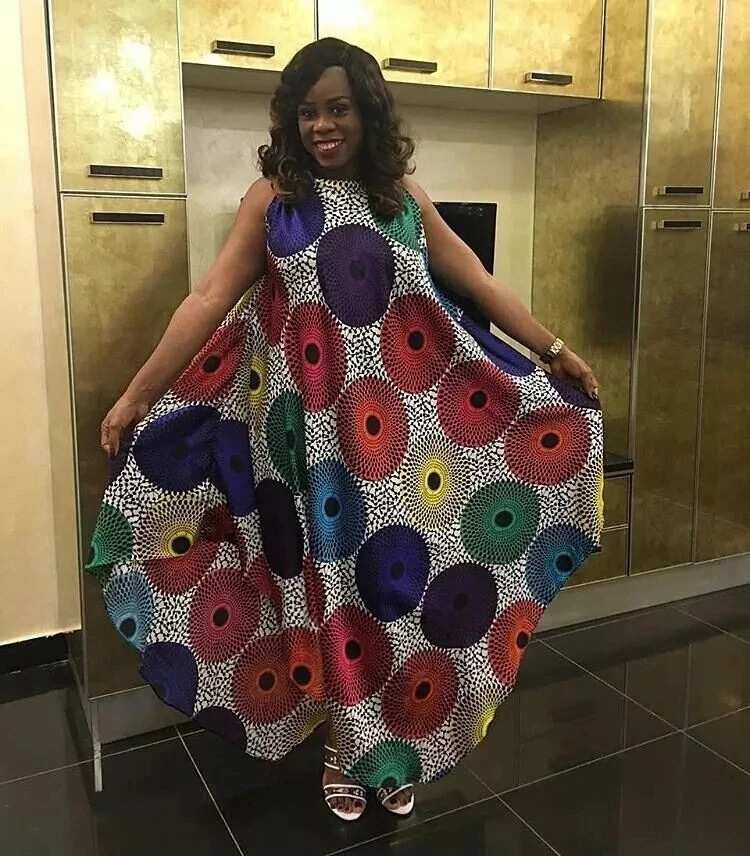 If you are, instead, into wearing something neat and trimmed to your body shape, try this tube fashion. A dress made out of a solid-colored material with bright Ankara decorations will give you a definite touch of elegance and make your figure look slender and full of gracefulness.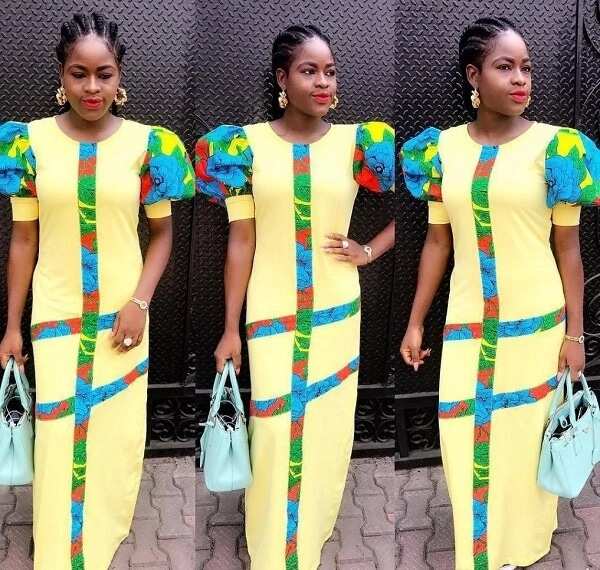 When it comes to elegance, here it is! A luxurious Ankara gown with lace decorations and asymmetric shoulders and sleeves is what you need for an evening party or a wedding ceremony. The dark color makes it look like a real evening dress and the brightness of the pattern adds liveliness.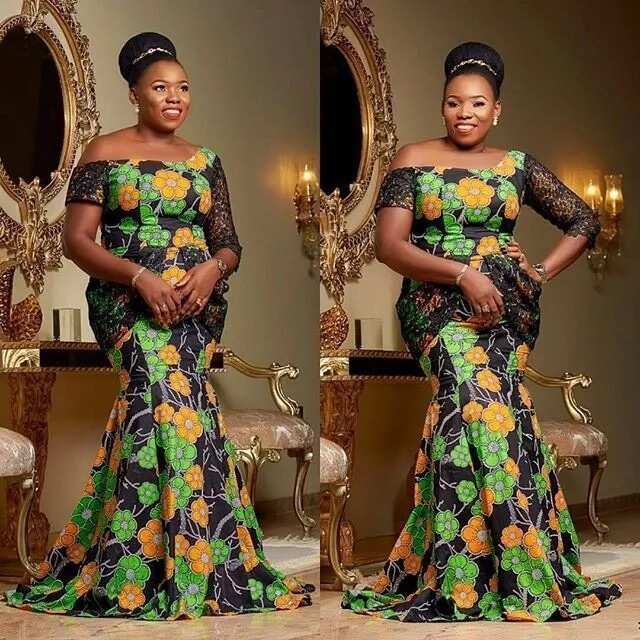 A bright Ankara dress that's great for both a special occasion and a romantic date looks exactly like this! Long and elegantly cut, it has these diagonal lines that accentuate the gracefulness of the body curves and the tight cut exposes all the bodily beauty in the most flattering light!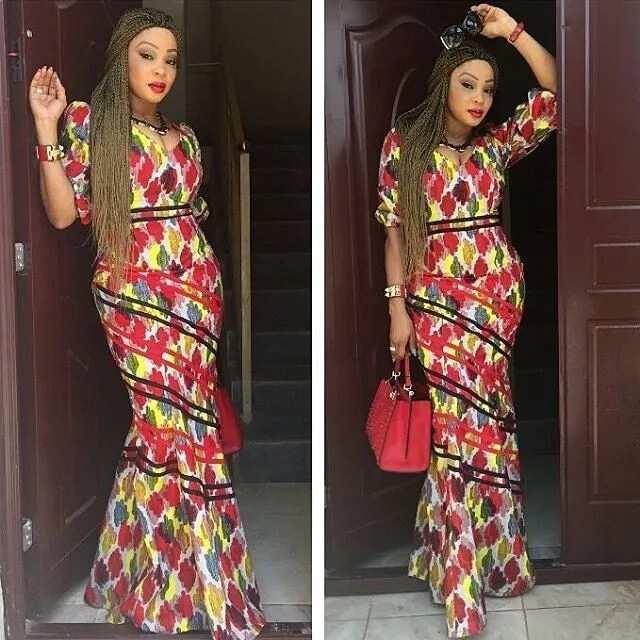 A bright and elegant dress with an artistic print and interesting sleeves is a great choice for a stroll with a friend or an evening in a restaurant. Though quite tight on the figure, it's wide and comfortable in the bottom part and doesn't restrict movements.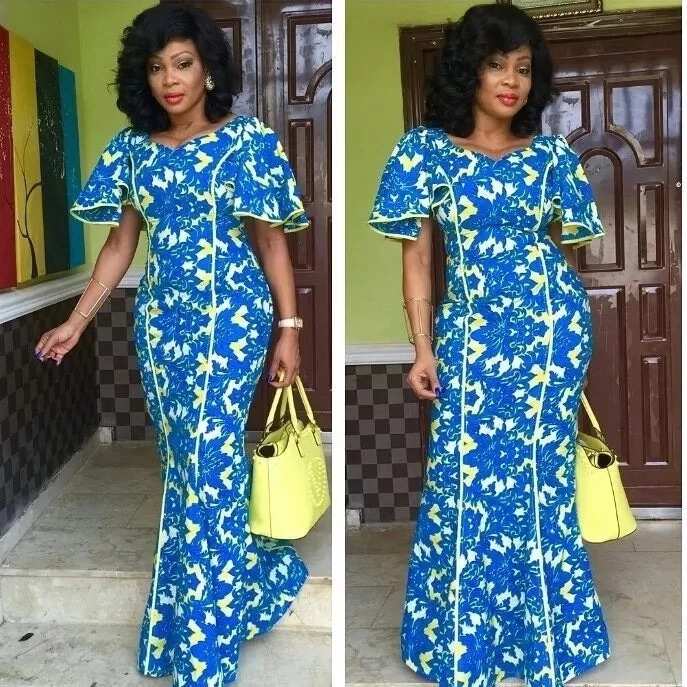 Short Ankara gowns are a great choice for young ladies
Just take a look at this loose gown with attractive wing sleeves that look totally fabulous! The blue color gives extra freshness to any complexion tone and can be combined with other bright colors and patterns. Such a dress is a wonderful option for everyday wear.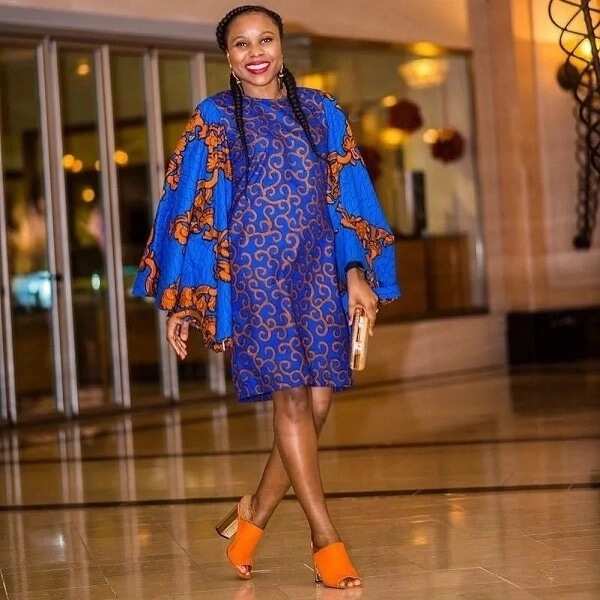 This dress is a total fab! With all those decorations along the bottom edge of the skirt and on the sleeves, it's a perfect outfit for a best friend's wedding or a birthday party. In such a dress, you will hardly stay unnoticed.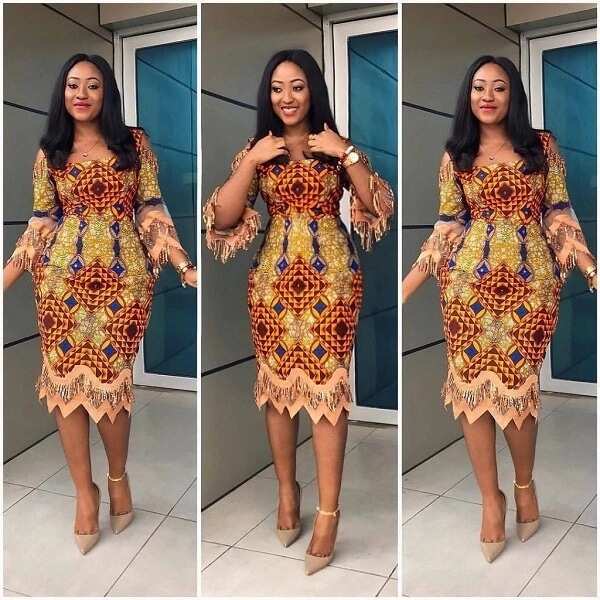 It's a nuisance that curvy ladies may not wear short dresses. Look how fabulous this bodycon Ankara gown looks on a plus-size lady! If you have always been afraid of exposing your curves with the help of a tight dress, just give this style a try! Your body beauty deserves it!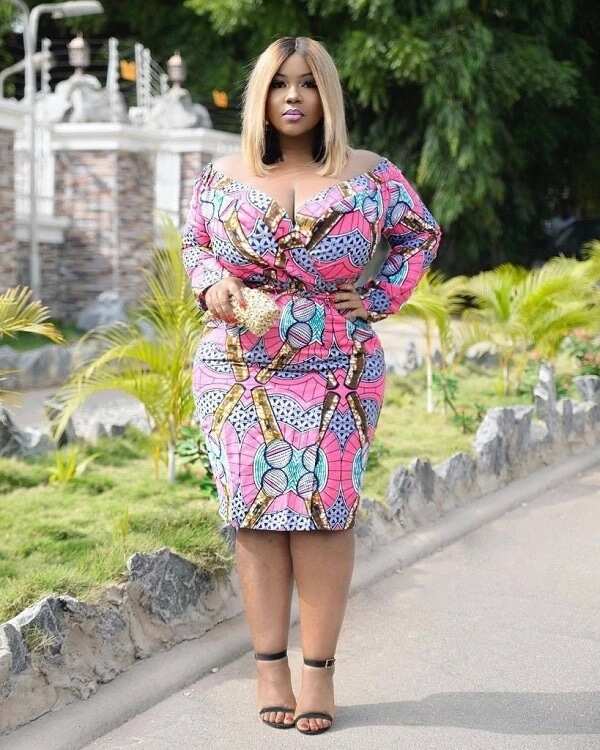 What a cute gown! With those roses at the bottom, it looks completely fairy-tale. Open shoulders and a voluminous skirt are everything you need to create this princess look in a simple Ankara dress. An up-do hairstyle will complete the look!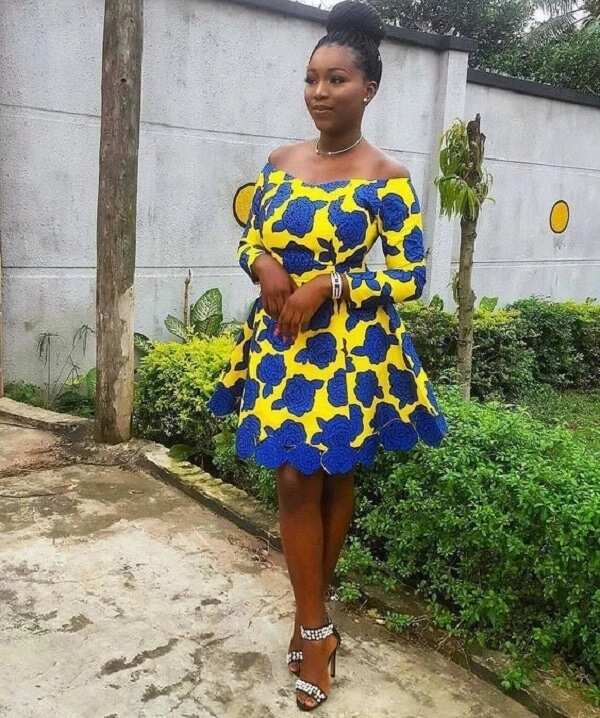 A little bit old-fashioned but how lovely! This short Ankara dress is great for wearing on its own for a fancy look and over a plain white blouse for formal situations. A comfortable cut with pockets and a very convenient length makes this dress a favorite of any girl.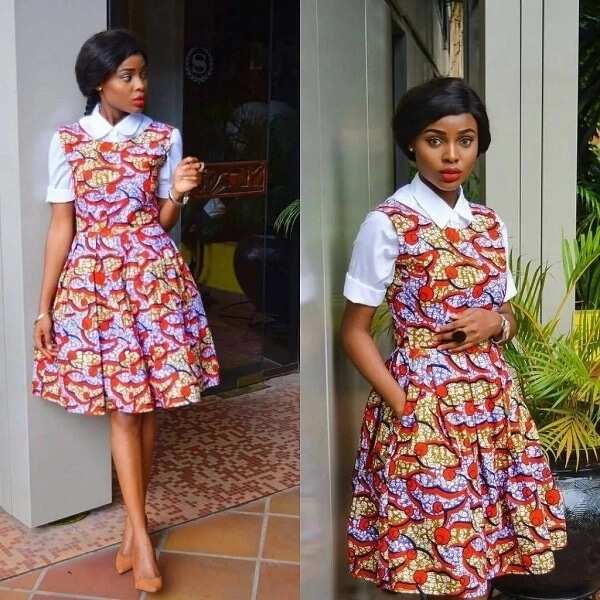 Ankara blouses and skirts are a comfortable combination
If you are bold enough to adopt Western styles, at once give a try to crop tops and long skirts. It's a comfortable combination because a top gives freedom and coolness and a long skirt offers plenty of comfort in any situation. In addition to this, such a combination is very attractive for men!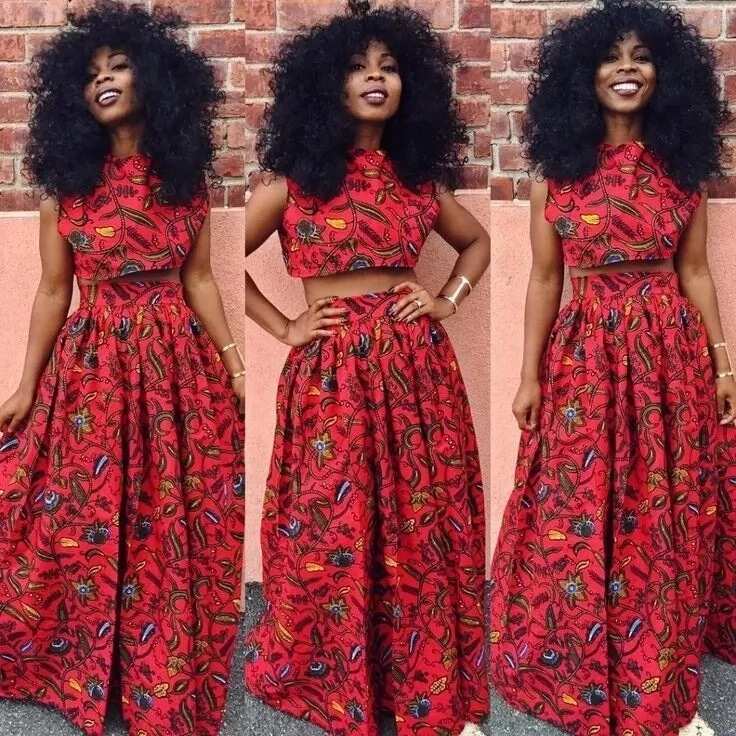 Traditional peplum styles are often chosen by older women and those who are going to a Nigerian wedding. The peplum style is still very popular for Ankara aso ebi gowns and seems to remain this way for many long years more.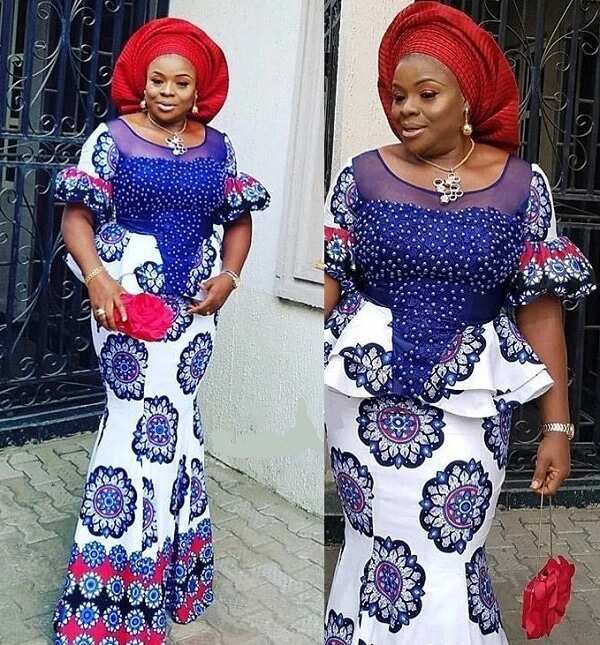 Here, the traditional peplum style is slightly remastered. It's cut so that the skirt doesn't cover the knees and the blouse exposes shoulders. In addition to the frill that's characteristic to this style, the top and the skirt are decorated with a fringe and it looks totally charming!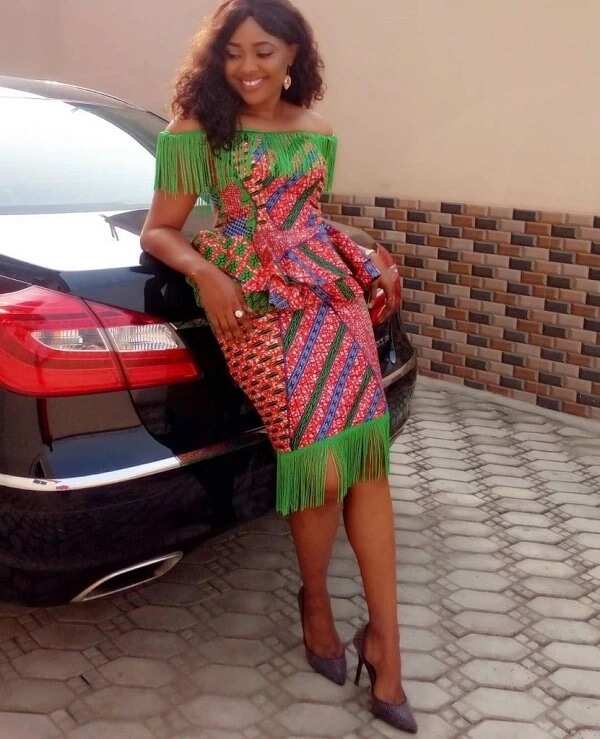 Combinations of an Ankara skirt with a blouse of a solid color and vice versa have become very popular when women had understood their attractiveness and practical side. Wearing different skirts with the same top can provide you with a fresh outfit each time you create a new combination.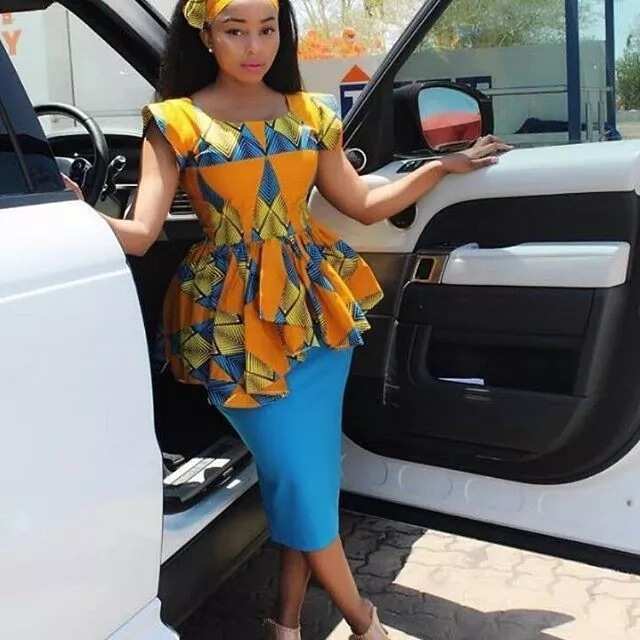 New Ankara styles for wedding look absolutely delicious
The traditional aso ebi stays in place but receives new astounding details. For instance, this dress decorated with gorgeous sleeves impresses the imagination. It looks traditional and modern at the same time, with all its details and the matching accessories.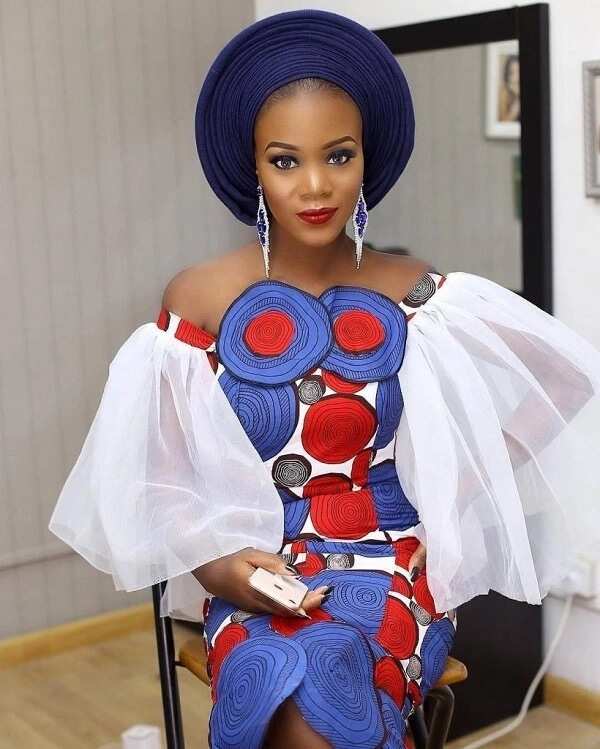 It's not necessary, however, to attach sleeves made out of another fabric. Your dress will be astonishing with the sleeves made out of the same fabric. The open-shoulder style combined with traditional aso ebi lines looks attractive and elegant.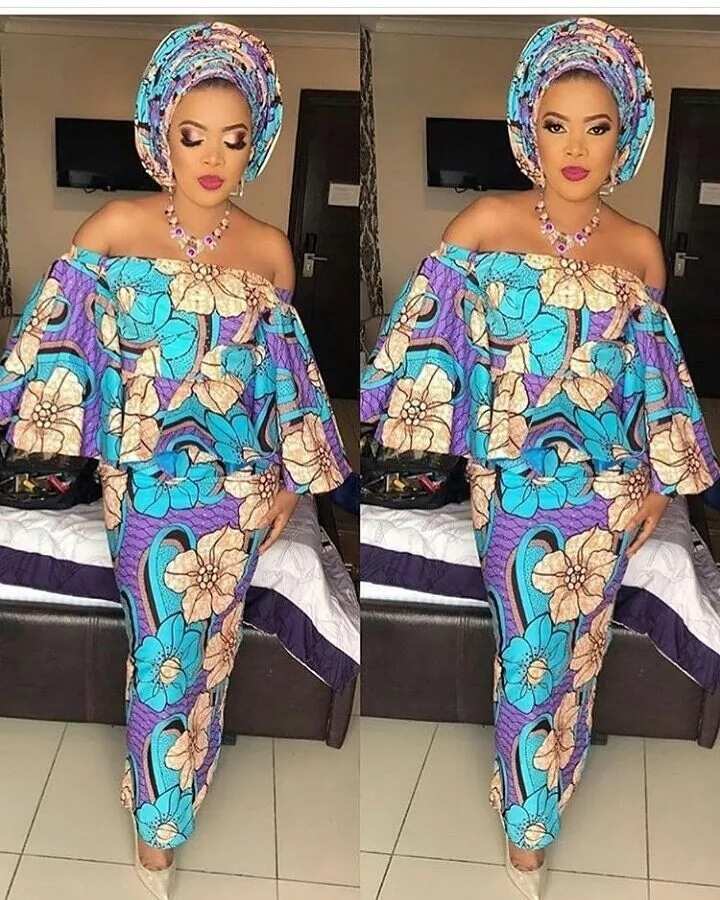 If you choose delicate Ankara fabrics with light patterns, you will look no less fantastic than the bride herself. The frills and decorations make this dress absolutely unique and eye-catching.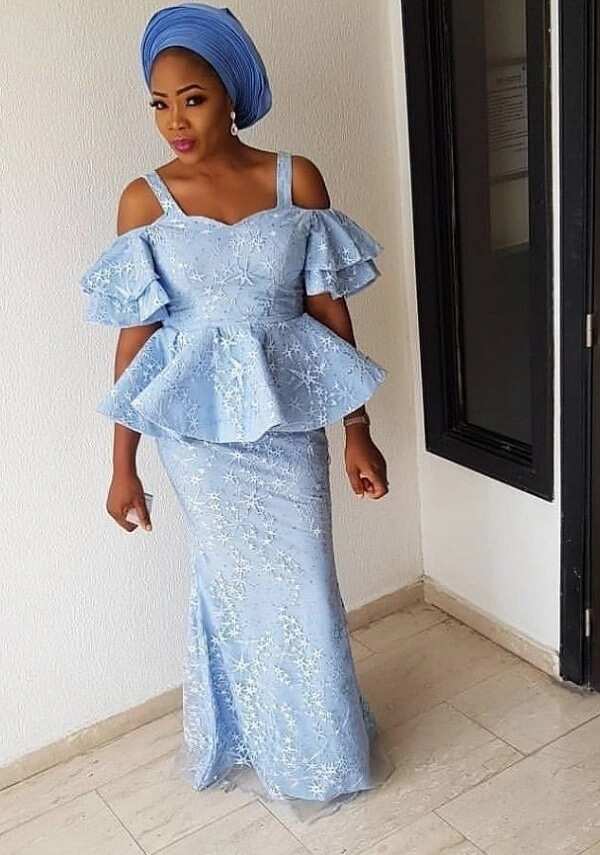 Amazing Ankara skirts among the trendy Ankara styles 2019
This almost floor-length skirt is absolutely unique with its complicated cut and two frills of a different size at the bottom. The deep black lines make the item look finished and very elegant. In such a skirt that flatters your bodily beauty, you will attract every glance wherever you are.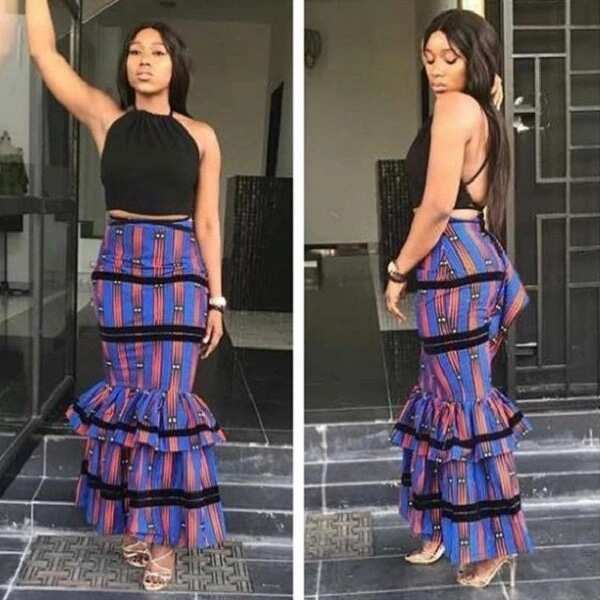 A midi skirt with a fringe at the bottom is a style to rock in 2019! See how lovely it looks with a fresh white top and white stilettoes? Just give this design a try and see how gorgeous it is!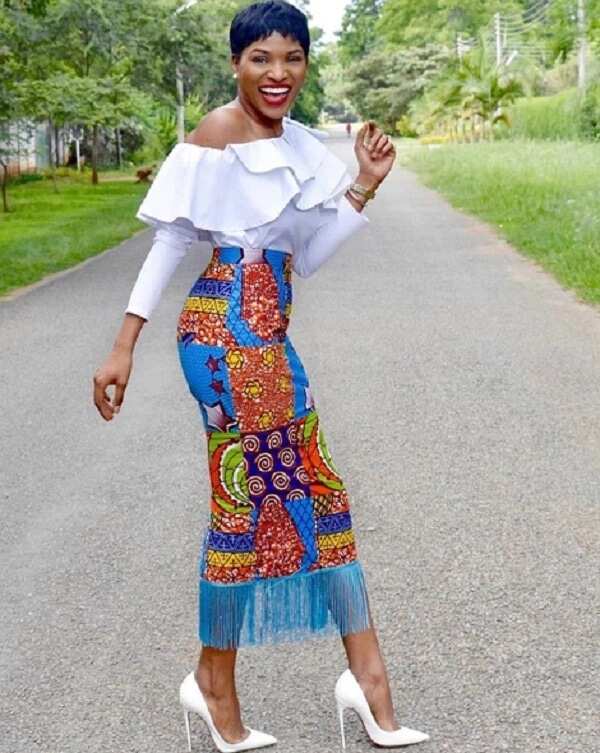 An Ankara skirt can be a great option for a formal outfit. Just try wearing a white formal shirt with such a lovely skirt decorated with black lace. Your working place is a place where you can be beautiful, too.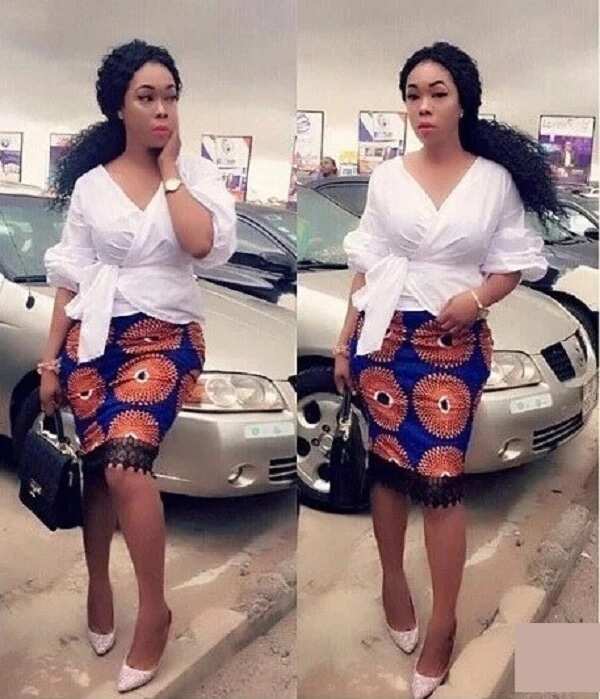 Rocking the latest Nigerian Ankara styles
Ankara is a perfect material for just anything. Jackets and blouses, dresses and even pants are made out of this bright and sunny fabric. Don't be afraid of the brightness, just give several Ankara fashions a try. You will definitely love it and appreciate the feeling of simple comfort such clothes provide.
READ ALSO: Get chic in Ankara gowns