- Senators have been denied access to see Dino Melaye who is currently on admission in Abuja Hospital
- Dino Melaye who had allegedly jumped out of a moving police vehicle
- The senators arrived at 1:29pm in three buses shortly after suspending plenary for the same purpose
Senate president, Bukola Saraki has led his colleagues to the national hospital to visit their colleague, Dino Melaye, who was hospitalised on Tuesday, April 24, after jumping out of a moving police vehicle in bid to escape from the police who was conveying him to Lokoja to face trial.
The senator was accused of supplying weapons to criminals.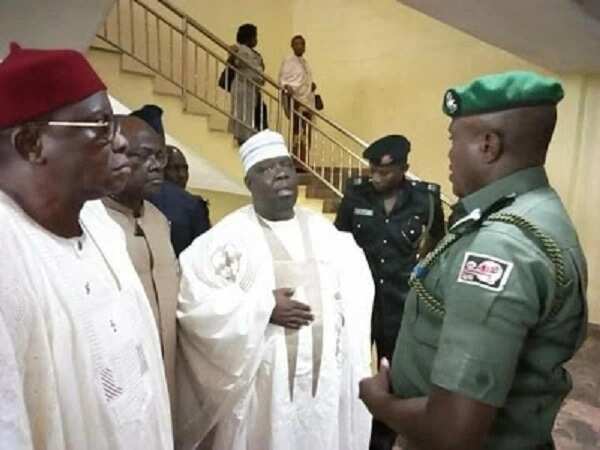 Premium Times reports that the senators arrived st 1: 29pm in three buses shortly after suspending plenary for the same purpose.
READ ALSO: House of Reps summons President Buhari
Meanwhile, Saraki said that he had already sent the deputy leader of the Senate to go and visit Melaye at the National Hospital Abuja.
"We as leadership are very concerned, deputy leader and others have been sent to look for Dino Melaye. But it has gone beyond that and I can appreciate the emotions that have passed.
"The IGP should brief us tomorrow.
"I want to thank those who contributed. At times like this it is difficult to speak the truth because this is a violation on one, a violation on all of us, a violation on the institution and a violation on democracy.
"This action is a threat to the democracy we are all fighting for.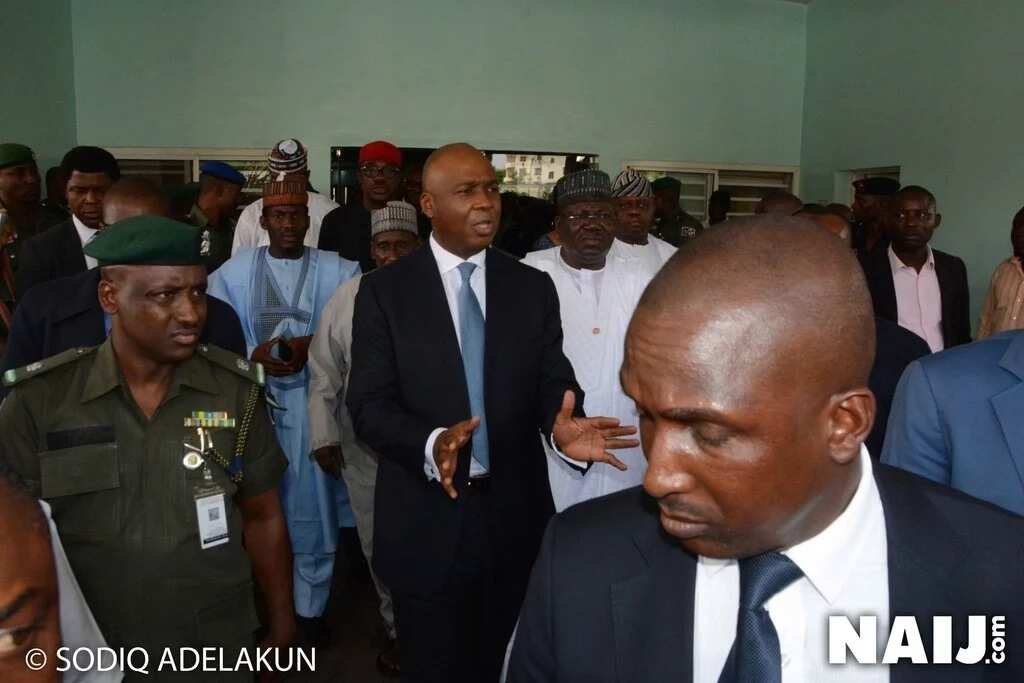 "We are about to go into an election period, and if these are the kind of excesses we will see from those responsible to protect us, then it is a cause for concern.
"We must all condemn this action, we should not be spending our energy on things like this," he said.
Saraki added that since the incidence, he had been trying to reach the police IGP to no avail, adding that is smirks of disrespect to him and to the institution of the Senate.
"I have not been able to reach the IGP and that is a disrespect, not only to me as an individual but to the institution of the Senate.
"This must stop. There are procedures and there are ways.
"We will go and ascertain Dino's state of mind and find a solution to this problem," he said.
Senate deputy majority leader, Ibn Na'Allah, reportedly told his colleagues after leading a delegation in a futile effort to see Melaye that they could not see him.
"We went to the National Hospital this morning where Senator Dino was alleged to have been kept from yesterday and we confirmed that he was brought yesterday at about 11 pm.
"We spoke to the doctor who is in charge of the ICU and they assured us that they are doing everything humanly possible to stabilise him but he is in the intensive care unit. We tried as much as possible to see him but we were refused access. The instruction that was left by the police is that only Senator Abu Ibrahim and Senator Kaka are permitted to see him.
"As at the time we were leaving the hospital, an issue that the feeding of Dino has become an issue because the police are not willing to feed him because of the situation. They are afraid. The hospital has equally expressed reservations about feeding Senator Dino.
"A medical personnel from the police who is working together with the trauma surgeon handling Dino told us that whoever is bringing the food for Dino must taste it. There is also a report that Dino has asthma so a chest surgeon was the one seeing him while we were leaving.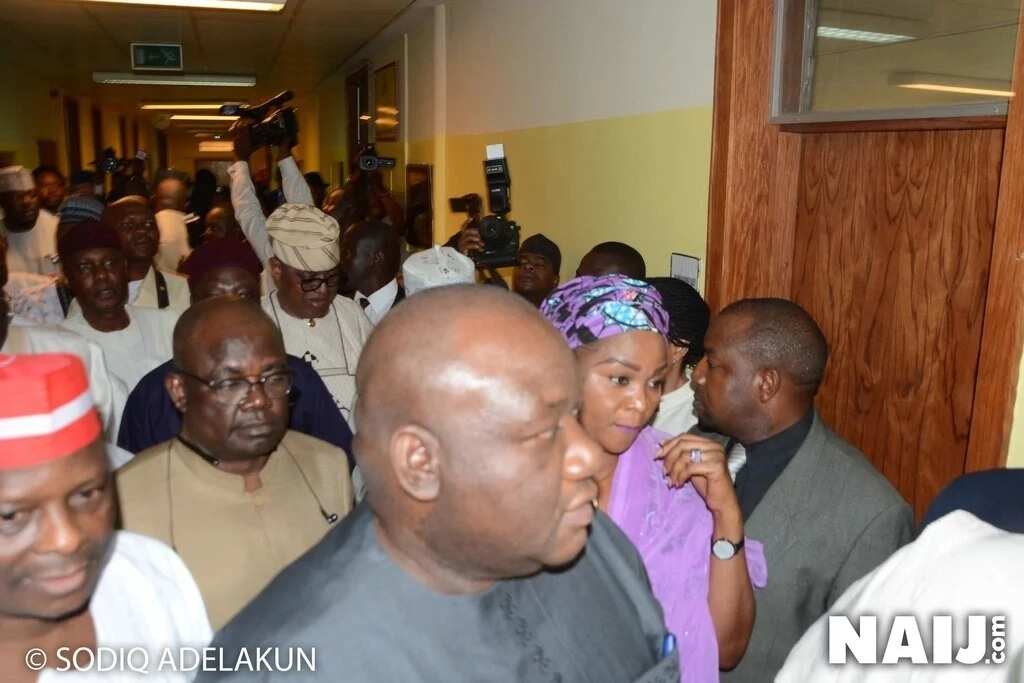 "Lastly, there was an insistence to remove him from the National hospital but the management told them that an undertaking must be signed that whatever happens will be on them. That is what is keeping Dino at the National Hospital till date because nobody is willing to sign," he said.
Premium Times also reports that a member of the delegation, Francis Alimikhena, said there was difficulty in feeding the senator as police were exercising caution in giving him food.
Legit.ng had earlier reported that the Senate on Wednesday, April 25, ended its plenary session early to enable lawmakers to visit their colleague, Senator Dino Melaye.
PAY ATTENTION: Install our latest app for Android, read best news on Nigeria's #1 news app
Legit.ng gathered that the lawmakers, took turns at the plenary to condemn the police for what they termed as inhuman treatment of Melaye by security operatives.
Oluremi Tinubu while deliberating on the incident moved a motion that the Senate adjourn plenary to immediately go in search of the Kogi state senator.
Tinubu's suggestion follows several accounts of earlier speakers that they were turned back while attempting to visit Melaye at the hospital.
Kogi West senatorial district to recall senator Dino Melaye from the Nigerian Senate - on Legit.ng TV: