- YIAGA Africa is organising town hall meetings to stimulate and amplify the discussion on youth inclusion in governance
- In November 2017, 34 young organisers were trained on campaigns, advocacy and movement building
- Young people have suffered from failure of leadership and need not isolate themselves from politics and governance, a commissioner for sports and youth development in Delta said
Nigerian youths across all 36 states in Nigeria are mobilising and engaging on promoting inclusive governance for development.
The initiative is the brain child of YIAGA Africa, a youth-based non-governmental organization.
The organisation with support from the Ford Foundation under the Promoting Inclusive Governance for Development (PIG-D) project trained 34 young organisers on campaigns, advocacy and movement building back in November 2017 in Abuja.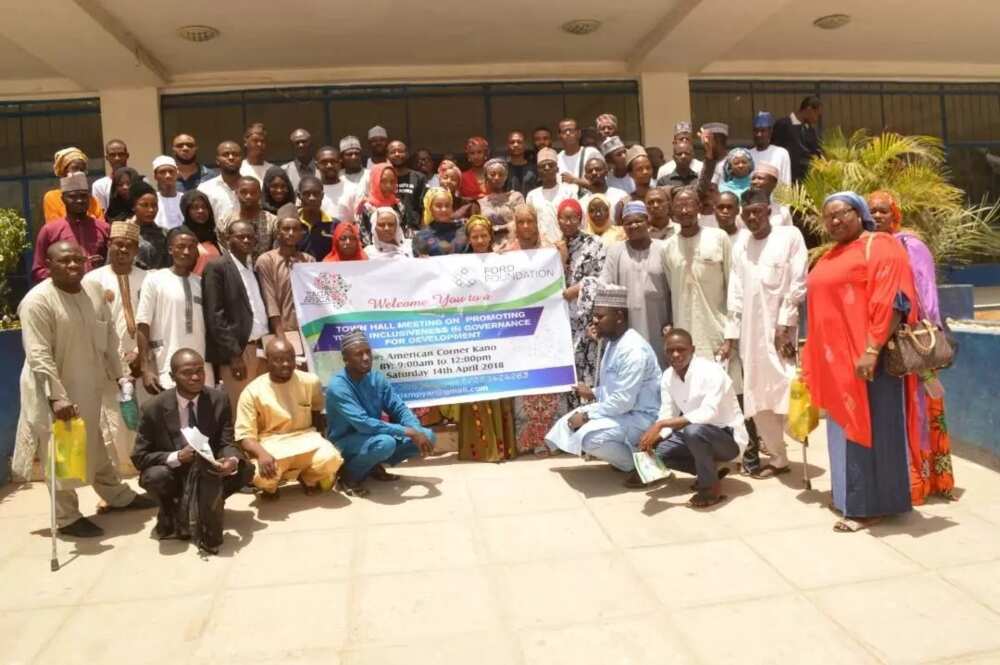 The organisers have in turn been organising campaigns, leading advocacy efforts and building movements around issues of youth inclusion putting in practice skills learnt at the training.
The PIG-D underscores the importance of inclusive governance to democratic development. It is premised on the need to expand the civic space for youth political participation as a vehicle for fostering good governance, social justice and public accountability.
READ ALSO: Osun West senatorial district: Close to two decades of unfair treatment by Akintunde Adeyemo (Opinion)
In April 2018, young men and women in 10 states across the various geo-political zones namely Kaduna, Taraba, Nasarawa, Imo, Ekiti, Delta, Borno, Edo, Oyo and Benue states have hosted town hall meetings with young men and women including persons with disabilities to stimulate and amplify the discussion on youth inclusion in governance.
At the town hall meeting organized in Delta state, the commissioner for sports and youth development, Oghenekaro Ilolo emphasised that, political participation revolves around every sphere of life.
The commissioner who was represented by an assistant director in the ministry admitted that young people have suffered from failure of leadership and need not isolate themselves from politics and governance.
Similarly, a senior lecturer at the College of Education, Delta state stressed that the youths of today are the product of faulty foundation while also admonishing the participants not to gravitate in the past error but correct it by showing capacity to follow the lead.
Speaking at the Kaduna state town hall meeting, a chairmanship candidate for Kajuru local government area promised to regularly hold similar meetings if elected into office. While in Kano state one of the speakers stated that; 'A united Nigerian youth are formidable enough to decide the future of the country.'
READ ALSO: Flashback: How Dino Melaye was arrested '14 times' by Jonathan's administration
During the town hall meeting in Kano, a Kano-based politician, Comrade Yahaya Shehu Wudil, urged youths to get involved in active politics.
"Nobody can include the youth in governance except themselves; they should start from the grassroots politics and join political parties. It will be hard to do away with godfatherism in Nigeria politics," he said.
Additionally, freelance journalist, Malam Mustapha Muhammad, tasked youths to be more prepared for nation building, by becoming more proactive in politics vis-a-vis governance. He also charged youths to do away with politics of godfatherism.
Also speaking at the Kano state town hall meeting, Barrister Maryam Abubakar advised youths to show more action rather than lamenting on issues affecting the nation.
"A united Nigerian youth are formidable enough to decide the future of the country," she added.
The Kano state coordinator of YIAGA Africa, Comrade Idris Mohammed, who also supervised the meeting, said all points raised at the meeting will be meaningless if youths failed to join political parties of their choice in their respective local governments.
To ensure that all resolutions are worked out, participants at the event who were mostly youths set up a committee to be chaired by Abubakar Lele while Barrister Maryam Ahmad was appointed as secretary.
Other members of the committee include Komolafe Ogunaye, Ado Sanusi Sabongida (representing PWDs), Rabiu Shamma, Aisha Tofa and Idris Mohammed.
PAY ATTENTION: Read the news on Nigeria's #1 news app
Legit.ng gathered that the town hall meetings have provided a platform for young people to speak about issues relating to democracy and civic participation and a unique avenue to enlighten citizens on promoting inclusive governance for sustainable development in Nigeria.
The inter-generational dialogue between youth and older citizens has also elevated the discourse in various states on youth inclusion in democratic processes.
The meetings currently is ongoing in 36 states of the federation as young men and women continue to use the knowledge gained at the training for organizing campaigns, leading advocacy and building movements.
Election-2019: (Don't) mark your calendar - on Legit.ng TV