- An elderly Liverpool fan was attacked by AS Roma fans before the side Champions League meeting
- Though the aggressive fans were later arrested by the police on suspicion of attempted murder after a Liverpool fan was left in a critical condition
- Liverpool released a statement to condemn the action of the fans
Liverpool might have completed an emphatic 5 - 2 victory Champions League semi-final opponent AS Roma but sadly a fan of the club as to pay for the victory with his 'blood' as two away fans attacked him.
Though the aggressive fans were later arrested by the police on suspicion of attempted murder after the Liverpool fan was left in a critical condition.
The Red supporter, 53, was left fighting for life after being attacked near a popular pub just before the Champions League semi-final on Tuesday night April 24.
Trouble started an hour before kick-off as Roma fans, reportedly wielding hammers, batons and belts, attacked the home crowd.
The victim, believed to be from Ireland, is being treated for serious head injuries at Walton Neurological Centre after being knocked unconscious.
Merseyside Police have arrested two Roma fans, aged 25 and 26, but in total nine arrests were made for offences including affray, assault, possession of offensive weapons, possession of druggs, criminal damage and being drunk and disorderly.
Chief Superintendent Dave Charnock, while speaking about the disgraceful incident said: "A 53-year-old man, believed to be a Liverpool fan, was assaulted near to the ground during what is believed to have been an altercation between Roma and Liverpool fans.
"He is currently being treated for his injuries at Walton Neurological Centre, where his condition is described as critical.
"Two men, aged 25 and 26 years from Rome, have been arrested on suspicion of attempted murder and have been taken to a police station where they will be interviewed by detectives."
He added: "Detectives are also investigating the use of flares outside Anfield stadium on Arkles Lane prior to the game.
"We will be reviewing CCTV footage, our own body worn camera footage and working with the club to identify those involved in any of these incidents so we can put them before the courts.
"And I would appeal to anyone who has any information, or mobile phone footage, in relation to any of these incidents to contact us."
Footage emerged online showing home fans chasing a bunch of hooded Roma supporters down the street after the attack.
Liverpool released a statement saying they were "shocked and appalled" by the incident outside the stadium.
It read: "Our thoughts, in the first instance, are with the victim and his family at this very traumatic time. We will be offering them our full support.
"The club has been liaising with the emergency services since the incident occurred and will continue to do so.
"Liverpool FC directs supporters and those in attendance at the game to Merseyside Police's appeal for information."
Daily Star reporter Jeremy Cross tweeted: "Hearing reports of a serious incident behind the Kop end following clashes between rival fans."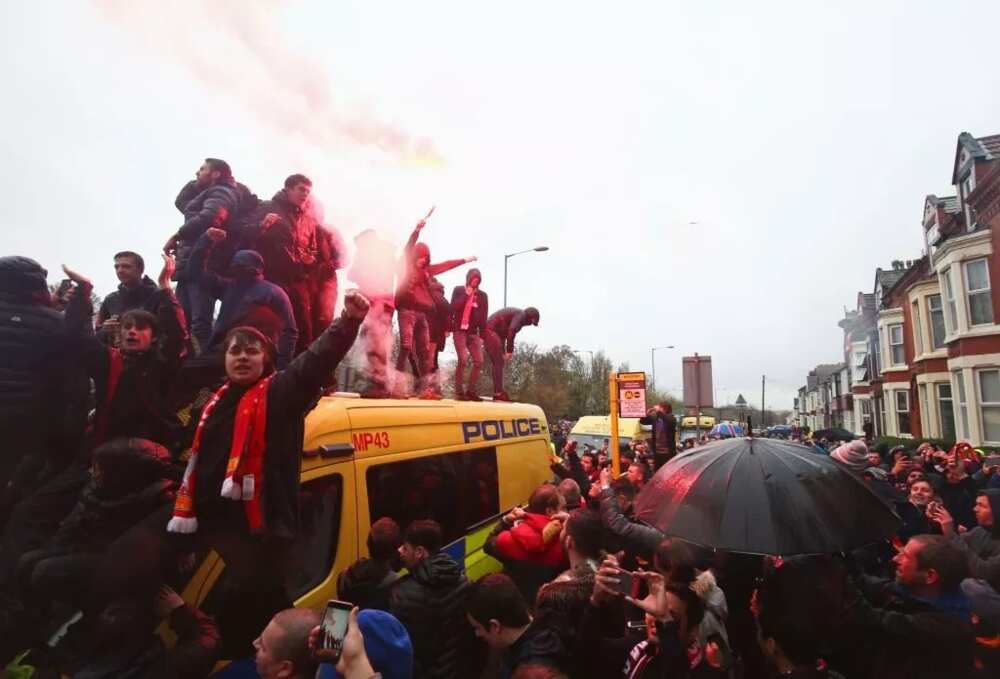 "Paramedics treating the stabbing victim."
Tonight's match saw a heavy security presence on Merseyside in reaction to the shocking scenes that preceded the Reds' quarter-final clash against Manchester City.
Liverpool fans threw bottles and other objects including flares at City's team bus, smashing the front window.
Anfield boss Jurgen Klopp urged fans before kick off: "This is an outstanding club known for its fantastic atmosphere.
"We don't need to throw things."
Legit.ng previously reported that Liverpool fan has been reported stabbed few minutes before their Champions League semi final clash against AS Roma at Anfield Stadium on Tuesday, April 24.
According to police report, the incident occurred near the Albert pub a little before kick-off, but he is currently being attended to by paramedics.
Who will win the champions league? - on Legit.ng TV