Kids braided hairstyles with beads
If you are used to gathering your daughter, sister or niece's hair into one or two braids, this might seem the best way to you. But in fact, there are a lot of creative and interesting braided hairstyles, which you can do with natural braids. Here is the best list of kids braided hairstyles with beads, and we know some of them will definitely capture your attention.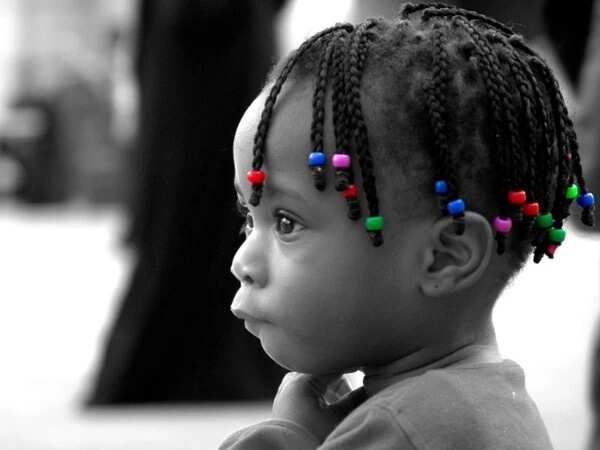 Black kids hairstyles with beads
Children want to look on top no less than adults, and there are a lot of hairstyles for kids that can help them to develop their own style. In case of black girls with natural hair, they have a whole world of opportunities open in front of them, because the variety of African hairstyles is so wide and exciting. You'll see some of the best children hairstyles for young girls who love braids and beads.
Beads are loved by many African ladies, both young and adult. Basically, every natural hairstyle can be decorated with lovely beads. In case of children, beads are even more suitable, because they can be played and experimented with. See which braided hairstyles can be used with cute beads.
1. Natural pigtails
This stunning hairdo is absolutely perfect for every young girl – it will make her look cute, innocent and playful. The spunky pigtails can be decorated with many different interesting elements – ribbons, extension streaks, and of course beads. With this hairstyle, your girl will become the sunshine of every friend group.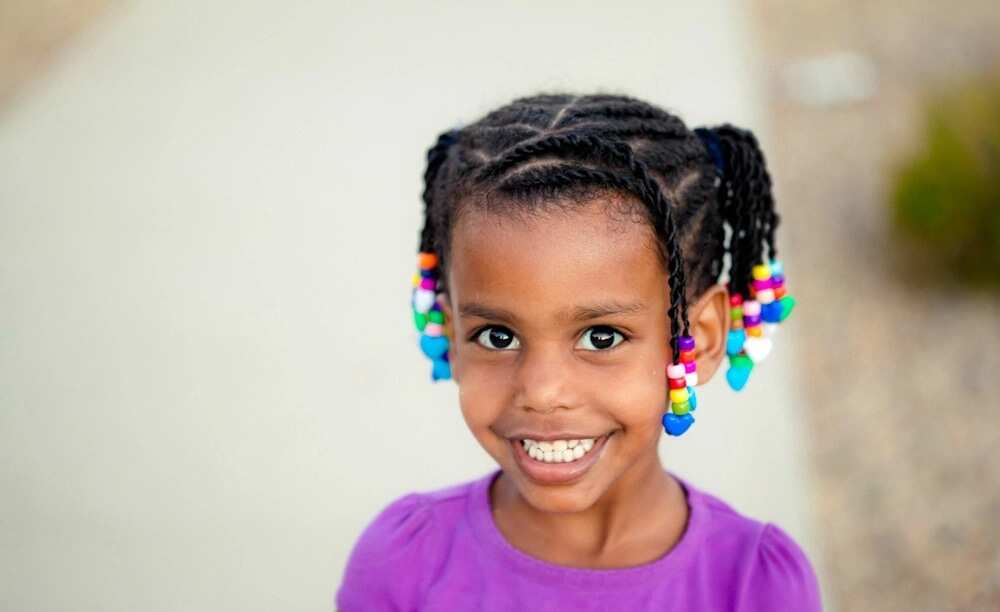 2. Ghana braids
If you are in love with thick braids and also like using beads to emphasize on their beauty and volume, Ghana cornrows are just the right option for you. They are not only the eternal trend for adult ladies, but also for young girls. Ghana cornrow braids will make the girl look serious and determined, but the colorful beads in-between her braids will indicate that she is still a fun-loving child.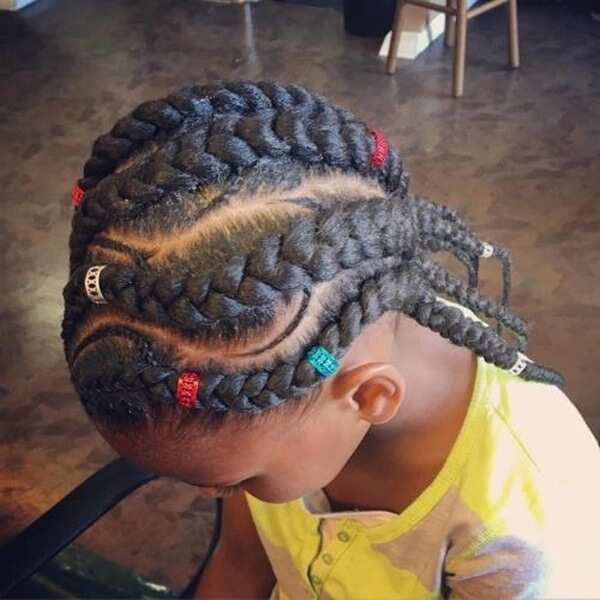 3. Crisscross Mohawk
With this hairstyle, every girl will look unique and fascinating! This is more suitable for teenage girls as opposed to really young ones, but nevertheless, the hairstyle can be definitely called amazing. The criss-cross designs are always original and eye-capturing, and the beads will only make an additional accent on the creativity and dimension of this hairstyle. The beads look perfectly with any outfit, no matter if it is casual or formal. Besides, if you add more beads, they will give some sort of the ombre effect.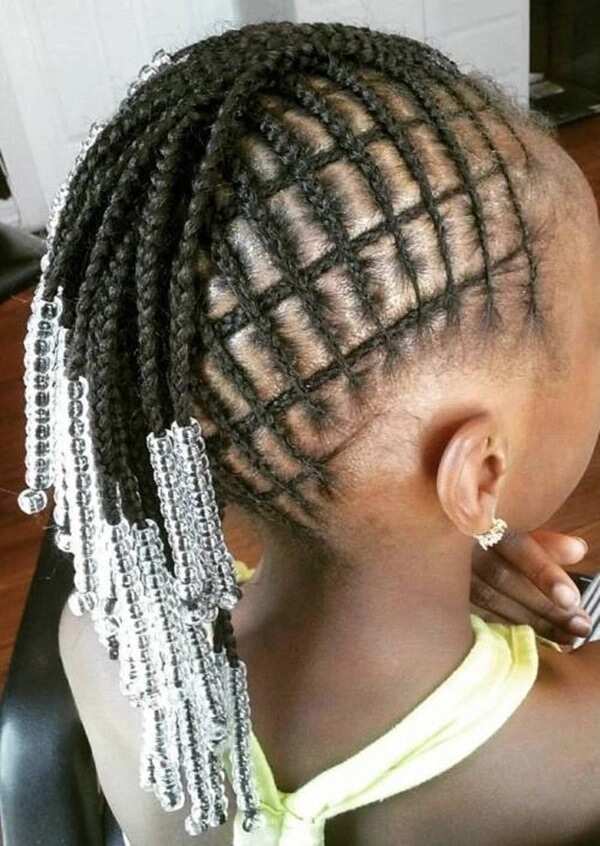 4. Short box braids
When it comes to the hairstyles for young African girls, versatility and difference is the main thing. If your girl recently has been wearing the large updo styles, you can try some light, relaxed braids together with her. This will allow her hair to rest from more complicated hairstyles, and she will be able to decorate her hair with many colorful and vibrant beads. You can choose any color combination when it comes to adding beads to the youngster's hair – most importantly, she has to like it.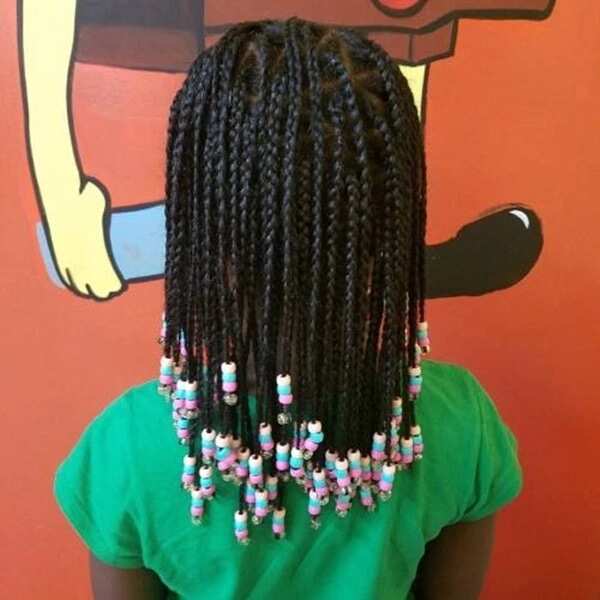 5. Curved cornrows with the beaded ends
Another simple hairstyle without anything excessive is the cornrow style. If they are not straight, but curvy, it can add some charming effect to the hairstyle. Also, many girls like adding beads to the ends of their cornrow braids. This will add some personality and individuality to the hairdo, making it truly yours and no one else's.
READ ALSO: Ombre braids styles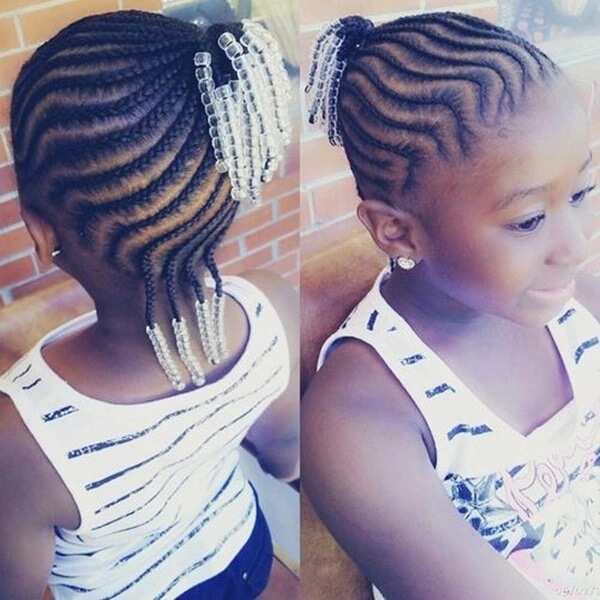 6. Beaded pigtails
Thin braids gathered into pigtails are a pretty common hairstyle among young Nigerian girls. But why not add some beads? When you are going to some special event or doing a memorable photoshoot, you should opt for adding lovely sophisticated beads to your young fashionista's hair. She will thank you for your choice when she sees the amazing photos of her rocking her new hairstyle.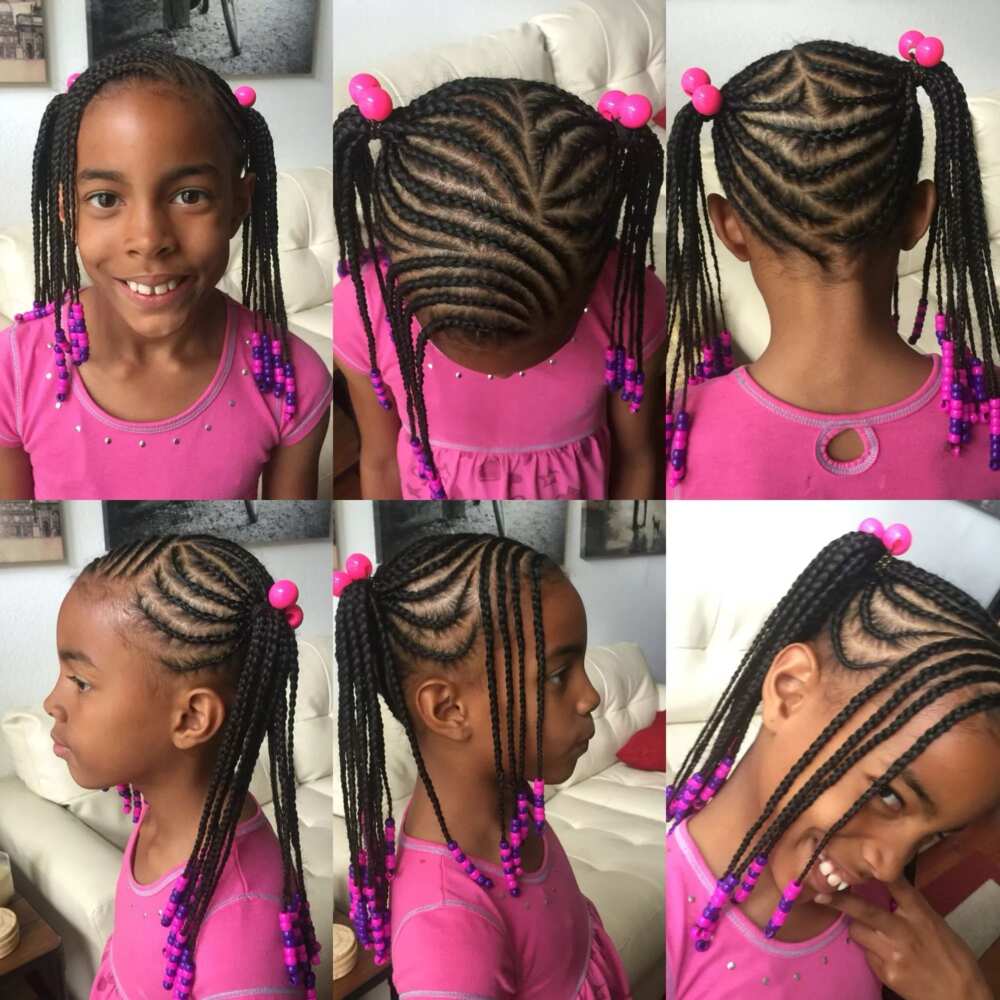 7. Heart-shaped braids
The latest trend for young children is the variety of curious designs and shapes. The heart shape is probably one of the most popular and loved ones because everyone has good associations with the heart, and if you see it on the young girl, you will be certain that she has a lovable personality. So, when you have given your little lady this beautiful hairstyle, you should not forget to decorate it with some multicolored beads to add the final touch.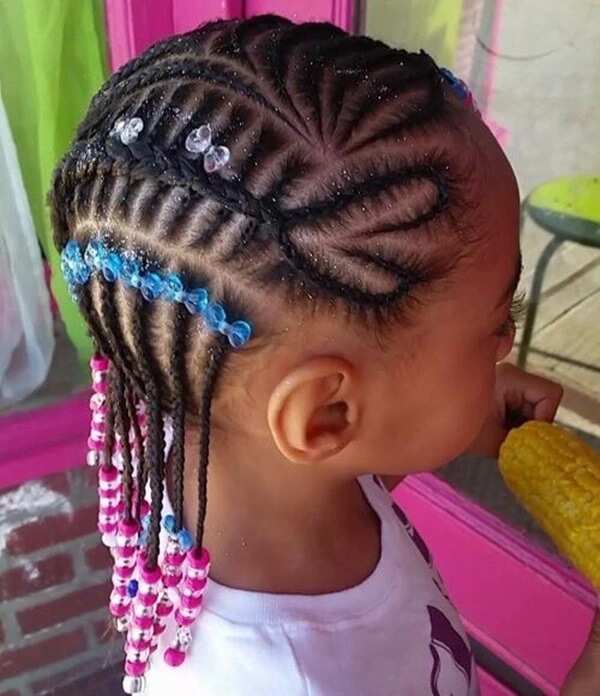 8. Twisted ponytail
Twists are really good for the young girl's hair because it is not only cute but also protective and great for health. If she wants to have a strong hair for her entire life and be able to try many different hairstyles, she should start from the young age. This is why sometimes you can opt for simple twists, which can be gathered in a lovely high ponytail and decorated with the golden and silver beads.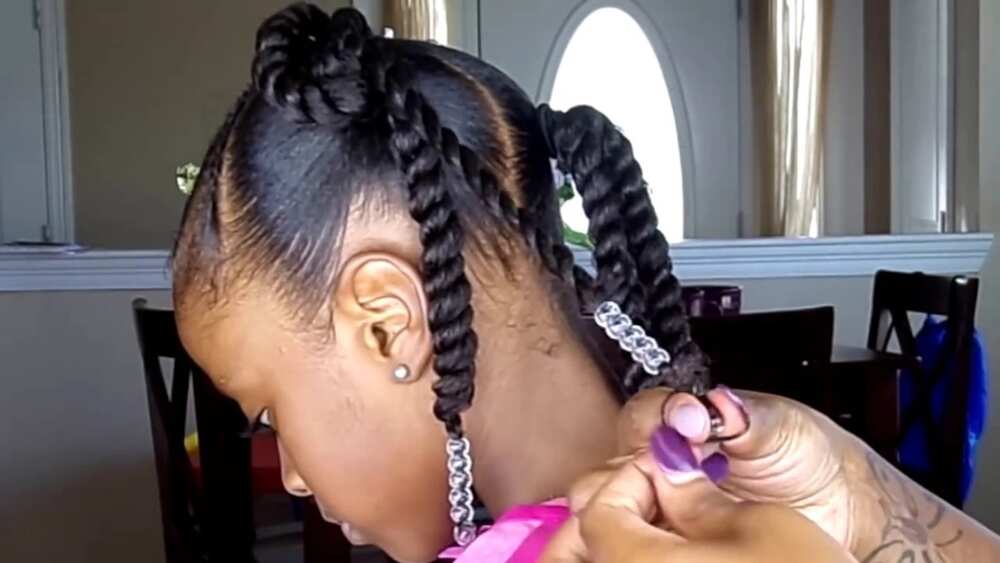 9. Diagonal braids
As we already mentioned, braids can have a variety of designs, and the diagonal braid design is quickly gaining popularity among adults and children. This hairdo really expresses the depth of African culture and spirit. The diagonal braid ends can be beautified with accessories like beads.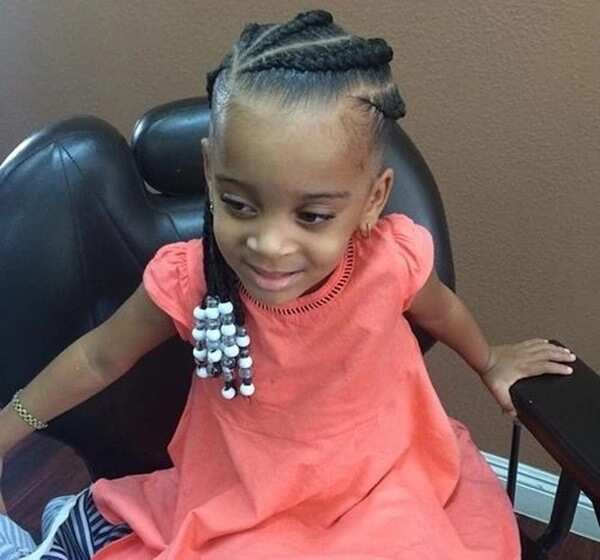 10. Geometric hair
The number of patterns that you can "draw" on your head is endless. Of course, kids also want something unique, because like no one else, they want to stand out from the crowd. This is why you can help your little girl with designing geometric patterns on her head. It is quite easy and quick because braiding straight lines takes less time than curvy ones. To add to this, the playful beads can be attached to the ends of her braids.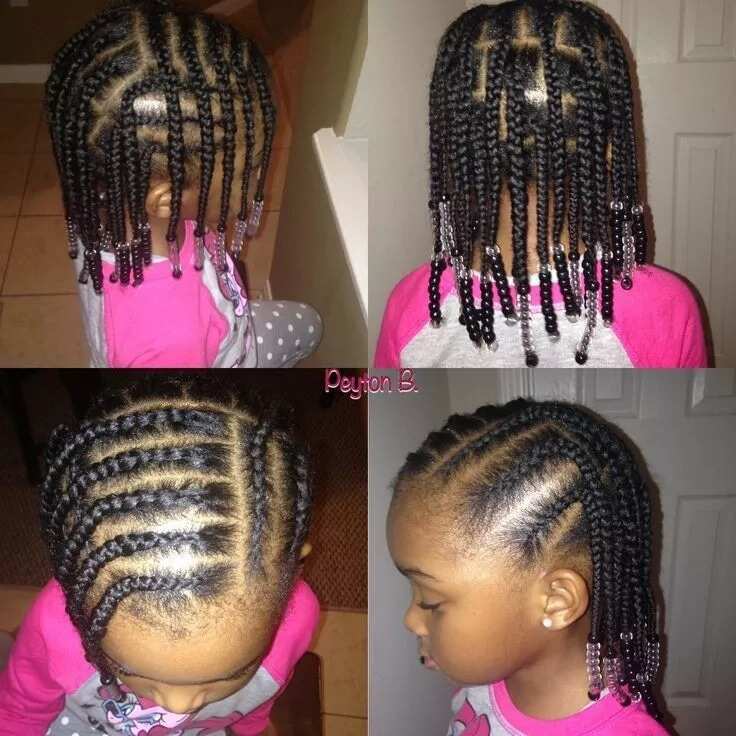 11. Chunky braided crown
Every little girl wants to belong to royalty, and the braided crown will make your little lady a princess or a queen. You can style thick cornrows to make a circle around her head, and leave out a few small strands. Adding beads to them would be the best decision.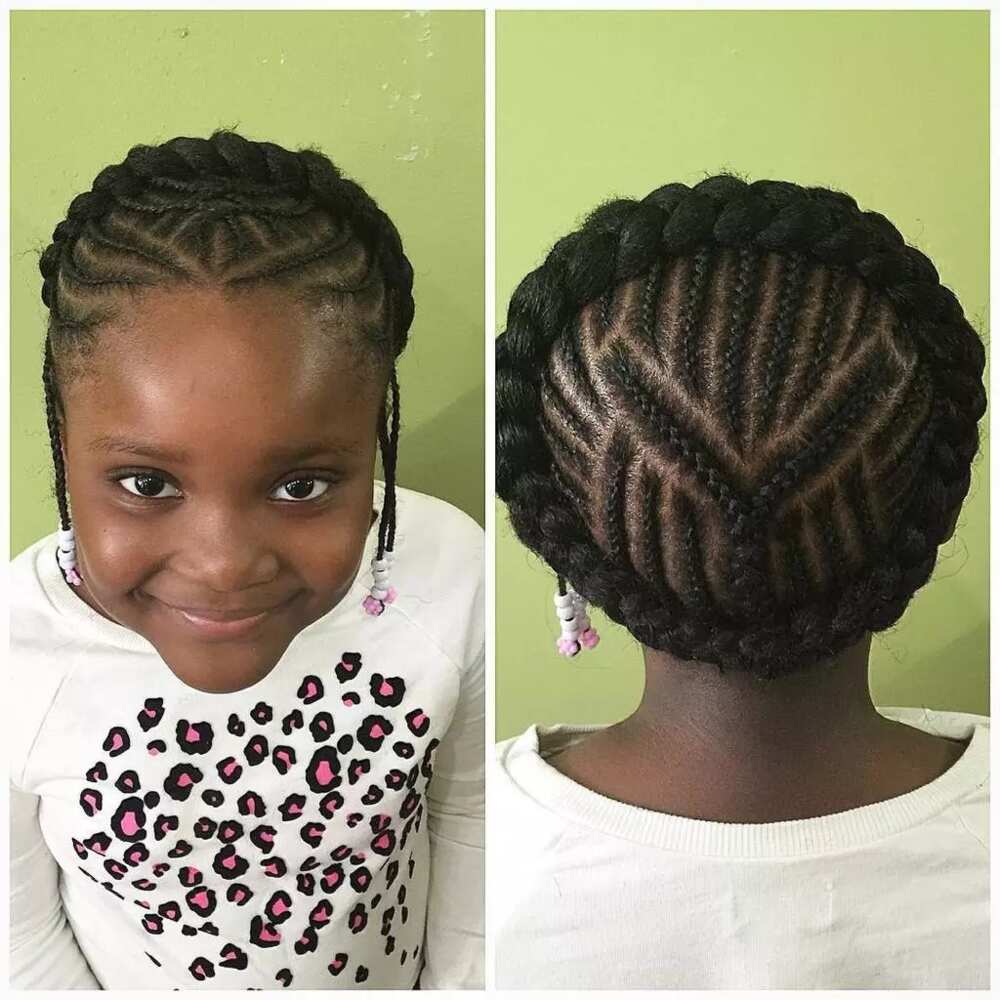 You can add beads to any natural hairstyle. All you need is some creativity and thinking outside the box.
Most importantly, every girl is a young woman, who likes dressing up and looking beautiful no less than adults. The ability to develop their taste could become crucial for them in the future when they grow up. So, when you and your little girl are looking for a perfect hairstyle, you should not only give her advice but also listen to her own wishes.
READ ALSO: Protective hairstyles for short natural hair
Source: Legit.ng