- The special presidential investigation panel on the recovery of public property sues the House of Representatives
- The panel says it is illegal for the House of Representatives to set up a committee to probe its operations
- The panel and its chairman, Okoi Obono-Obla, argue that the ad-hoc committee was established through the powers vested on President Muhammadu Buhari
The special presidential investigation panel on the recovery of public property has taken the House of Representatives before a Federal High Court sitting in Abuja asking that the legislative house be stopped from investigating its mode of operations.
In the suit filed by Festus Keyamo, on behalf of the panel and its chairman, Okoi Obono-Obla, the plaintiffs, though Festus Keyamo and others as their counsels, joined the ad-hoc committee of the House on activities of the panel, asking the court to declare that the recent resolution of the House on March 22, is tantamount to exercise of executive/supervisory power over it.
READ ALSO: 50-year-old man faces police after molesting, impregnating his 21-year-old daughter
The resolution was for the setting up of a committee to look into the activities of the presidential panel and its modus operandi.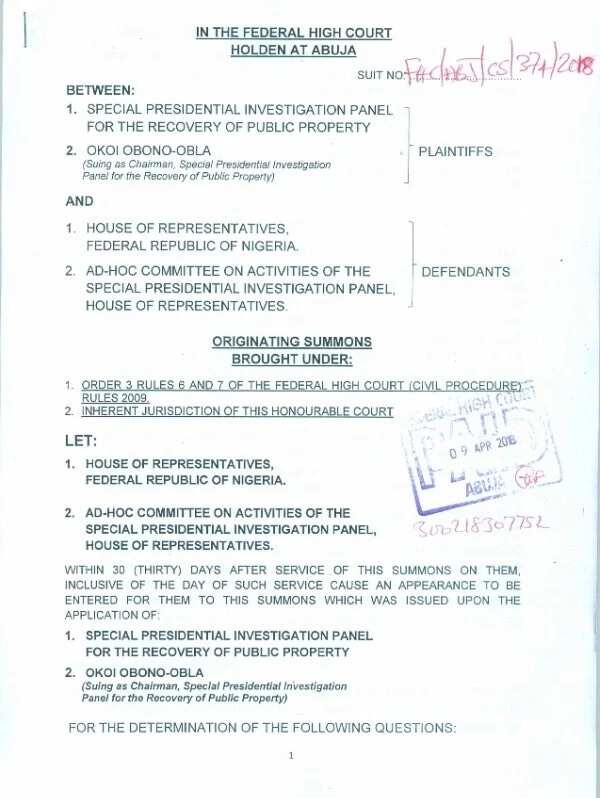 In the suit, the plaintiffs are asking the court to declare that by provisions of section 88 of the 1999 constitution did not empower the House nor the committee to exercise judicial powers over it and its chairman.
In an affidavit attached to the suit and deposed to by Yohanna Shankuk, a litigation clerk in Keyamo's chambers, the plaitiffs argue that the panel was set up by President Muhammadu Buhari.
According to the affidavit, the constitution of the panel is pursuant to the powers vested on the president by section 1 of the recovery of public property (special provisions) act adding that the law had not been repealed.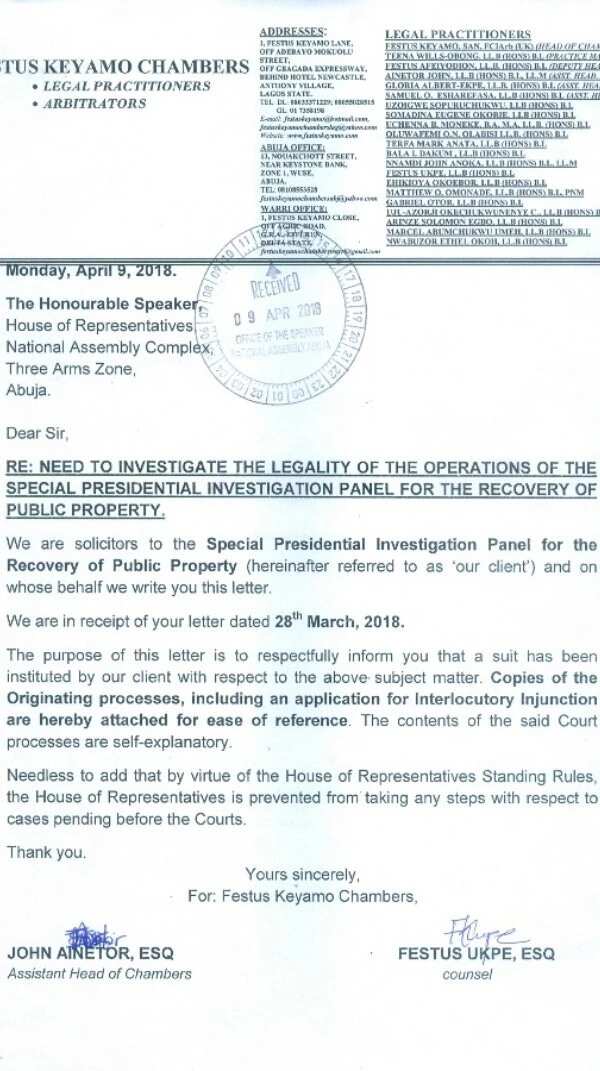 PAY ATTENTION: Read the news on Nigeria's #1 news app
Legit.ng earlier reported that the newly appointed special investigator to the special presidential panel for the recovery of public property, Evangelist Victor Uwajeh, has assured the government and Nigerians that all the looted funds and property, no matter where they are hidden will be recovered to better the country.
He, however, asked for the cooperation of the National Assembly and the judiciary in carrying out his assignment.
What does Nigeria need right now? (Nigerian Street Interview) | Legit.ng TV