- The Peoples Democratic Party (PDP) has been accused by a civil society group of unnecessarily heating up the polity
- This was in reaction to a recent claim by the PDP that INEC was plotting to rig the upcoming 2019 elections
- The group described the tactics of trying to cry wolf and raise unnecessary alarm in an attempt to box INEC into a corner as mischievous
A civil society group, Centre for Public Accountability, has described the claims by the PDP that INEC is creating additional 30,000 polling units in a bid to rig the 2019 elections as not only unfortunate but mischievous.
In a statement sent to Legit.ng by its national coordinator, Abdul Kazeem, the group described the PDP's claims as irresponsible, with a tendency of unnecessarily heating up the polity.
Kazeem urged the PDP to take seriously its responsibility of mobilising its members to go out and get their Permanent Voters Cards (PVCs) rather than trying to cast aspersions on the credibility of the electoral umpire.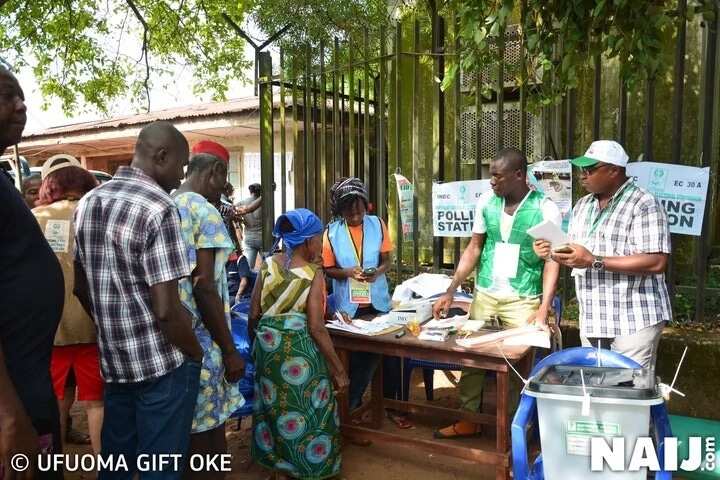 READ ALSO: Leave INEC alone, focus on governance, Group tells Wike
He stated that though INEC is yet to create any additional polling units as claimed by the PDP, it is within the powers of the commission to do so while stressing that additional polling units neither increases the number of voters in a polling unit nor the number of votes.
Besides, Kazeem explained that since 2011 during the voter registration in January 2011, and given the long queues noticed at registration centres, INEC had to provide special interventions of registration equipment in most cities across the country in order for people to register.
According to him, additional polling units will address congestion, security, staffing, and related concerns during elections. He said the current polling units were created in 1996 when the population of Nigeria was about 111million (estimate), adding that today, it is estimated that the population has risen to over 180million.
"This tactics of trying to cry wolf and raise unnecessary alarm in an attempt to box INEC into a corner is mischievous. Politicians and political parties should not heat up the polity.
"We know the antecedents of the PDP. Perhaps the ghost of its past misdeed against Nigerians is coming back to haunt it. But we have to remind the party that this INEC is different from the one a top PDP member recently confessed to have used to rig elections in the past," Kazeem said.
PAY ATTENTION: Read the news on Nigeria's #1 news app
Meanwhile, an election observer group, the Independent Service Delivery Monitoring Group (ISDMG) has faulted the failure of political parties in the country to participate in the process of cleaning up of voters register since 2011.
Addressing journalists in Abuja, ISDMG executive director, Dr Chima Amadi, said following an FOI inquiry to tNEC, it discovered that even though the commission has been complying with the provision of the Electoral Act and making voters register available to political parties, none of the political parties or individuals have bothered to verify it.
According to him, the Electoral Act 2010 (as amended) in Section 10 (3) provided that the commission shall, within 60 days after each year, make available to every political party the names and addresses of each person registered during the year.
Legit.ng special report on Anambra governorship election on Legit.ng TV
Source: Legit.ng