- A recent comment by President Muhammadu Buhari suggesting Nigerian youths are lazy is still generating reactions
- The All Progressives Grand Alliance (APGA), has chided the president for the comment
- The party accused the president of consistently de-marketing Nigeria outside the country
The All Progressives Grand Alliance (APGA) has reacted to a recent comment by President Muhammadu Buhari suggesting Nigerian youths are lazy.
In a series of posts on Twitter, APGA described the president's comments as "cringe worthy, vacuous and in bad faith."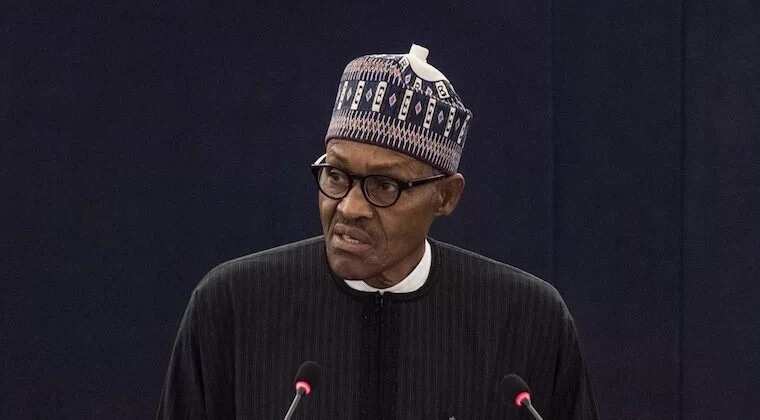 PAY ATTENTION: Install our latest app for Android, read best news on Nigeria's #1 news app
President Buhari on Wednesday, April 18 during a panel discussion at the Commonwealth Business Forum in Westminster, London said:
"A lot of Nigerian youths have not been to school and they are claiming that Nigeria has been an oil producing country and therefore they should sit and do nothing and get housing, healthcare and education free."
The comments of the president sparked outrage on social media as Nigerians condemned the president for deriding the younger generation on an international stage.
APGA said: "We consider President Buhari's comments to be cringe worthy, vacuous and in bad faith. Contrary to President Buhari's assertion, Nigerian youths are ingenious, brilliant, innovative, hardworking and vibrant. They are not lazy.
"Many young people in Nigeria have to daily deal with the challenge of living and surviving in a country that has no well articulated plan for them and constantly tries to make life hard, yet they excel and try to break through.
"Nigerian youths have distinguished themselves in every sphere of human endeavour from education to entrepreneurship, music, drama, sports, etc
"We find it quite perplexing that a president who is supposed to be the number one image maker of the country has consistently denigrated the image of our great country and her people especially the youths."
READ ALSO: Group replies President Buhari on jobless youths comment
Meanwhile, the deputy national publicity secretary of the ruling All Progressives Congress (APC), Comrade Timi Frank, has asked President Muhammadu Buhari to apologise to Nigerian youths over his comments.
In a statement sent to Legit.ng on Thursday, April 19, the APC chieftain said the president's comment cannot be justified because the government has not given the youth opportunity to serve, hence there was no need to demarket them at an international event like Commonwealth Business Forum.
Nigerian youths reply to President Buhari over 'lazy' comment on Legit.ng TV
Source: Legit.ng