- Participants of National Defence University Pakistan are on a study tour of Nigeria
- The Nigerian Air Force (NAF) played host to the delegation on Thursday
- The NAF and the Pakistan military have had a long-standing relationship
The Nigerian Air Force (NAF), on Thursday, April 19, played host to participants from the National Defence University (NDU), Pakistan, who were on a study tour of Nigeria.
Legit.ng gathered that the team, which was made up of three directing staff and 15 participants, chose the NAF as one of the establishments to visit because of the long-standing relationship between the NAF and the Pakistan military.
The leader of the delegate, Air Commodore Tariq Usman Abbas, expressed the appreciation of the people and government of Pakistan for the continuous cooperation it had enjoyed from the NAF and the entire Nigerian Armed Forces. He also lauded the NAF for its commitment to the security of Nigeria.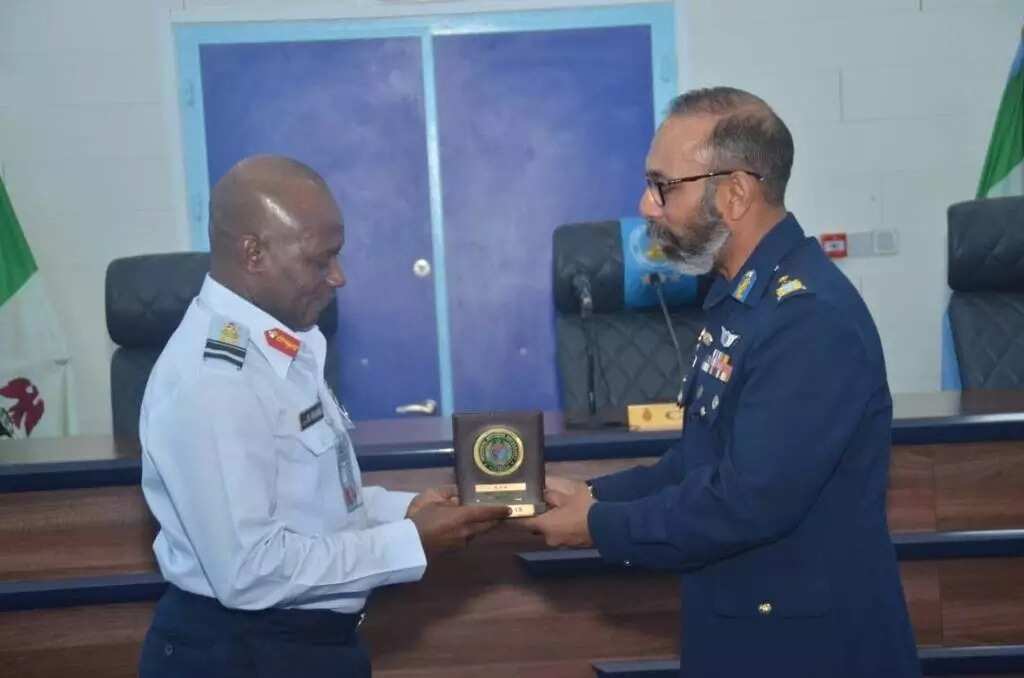 READ ALSO: NAF commences medical outreach for IDPs in Rann, over 3,350 to benefit
The Chief of the Air Staff, Air Marshal Sadique Abubakar, who was represented by the Chief of Policy and Plans, Air Vice Marshal Muhammadu Muhammed, stated that the strong collaboration between Nigeria and Pakistan facilitated the delivery of 10 Super Mushshak trainer aircraft on schedule.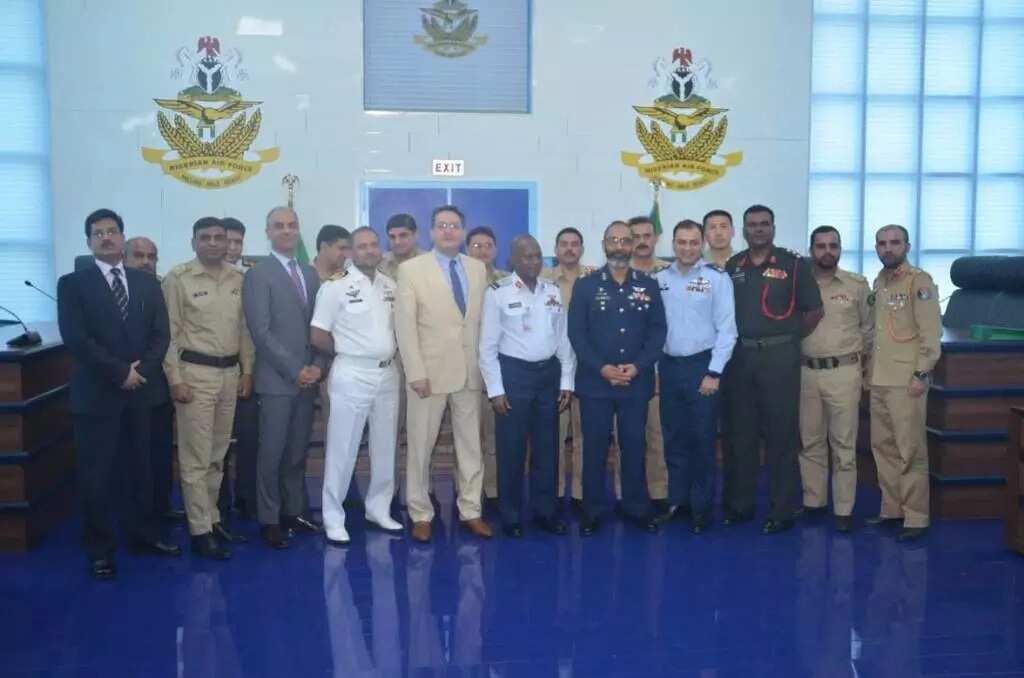 He described both countries as 'twin brothers' and urged the participants to take advantage of the visit to learn more about Nigeria as they were potential strategic thinkers in whose hands the security of the world would revolve in the nearest future.
READ ALSO: NAF's MI-35M helicopter destroys Boko Haram terrorists vehicles in Lake Chad region
Meanwhile, as part of the NAF's strategic foreign relationships, Flight Lieutenants Varney Sirleaf and Jerreck Dwanah from Liberia were among the 14 officers winged on Monday, April 16, at the Nigerian Air Force Headquarters.
The officers who completed their training from the International Aviation College, Ilorin were decorated with their pilot wings by the permanent secretary of the ministry of defence, Nuratu Batagarawa and Liberia's minister of national defence, Major-General Daniel Ziankaln (Jnr).
Nigerian Air Force wings 2 Liberian and 12 Nigerian pilots in Abuja on Legit.ng TV
Source: Legit.ng