- Cuba's Raúl Castro has handed over the presidency to Díaz-Canel
- Díaz-Canel is expected to hold power until 2031
- The new president is expected to continue with the Cuban political tradition as he is known as a strong supporter of the ex-president
Miguel Díaz-Canel has been sworn in as Cuba's new president, replacing Raúl Castro who took over from his ailing brother Fidel in 2006.
BBC reports that it is the first time since the revolution in 1959 that a Castro is not at the helm of the government.
Legit.ng gathered that Díaz-Canel had been serving as first vice-president for the past five years.
READ ALSO: What Omo-Agege did by sitting inside Senate chamber was the height of impunity - Lawmaker gives more details on mace theft
Díaz-Canel, who though was born after the revolution, is not expected to make any radical changes as he is known as a staunch ally of Raúl Castro.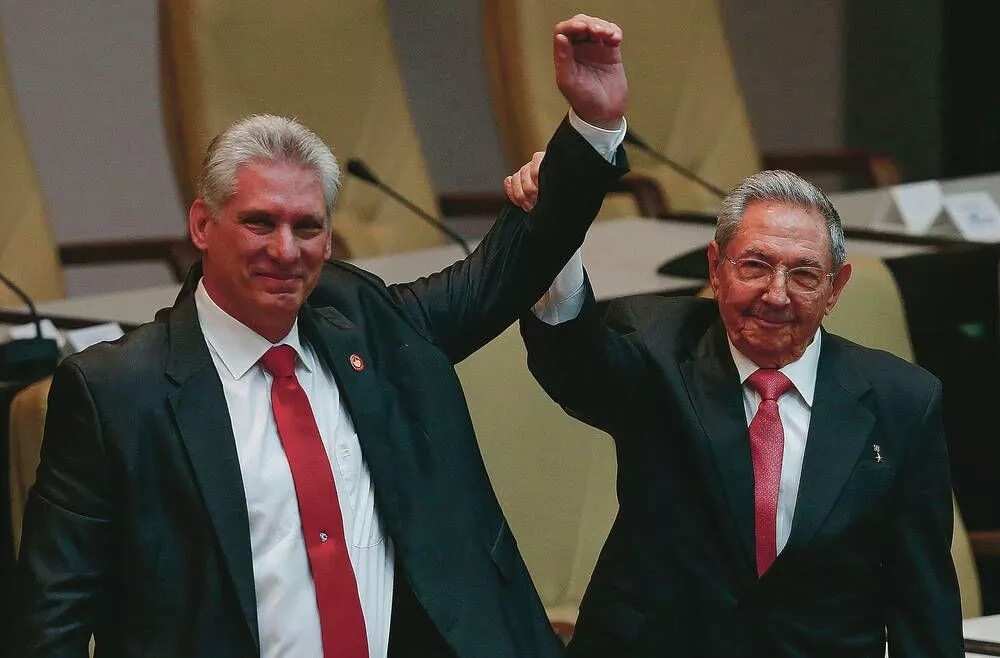 There was "no room in Cuba for those who strive for the restoration of capitalism, " he was quoted to have said in his inaugural address.
In his inaugural speech on Thursday, April 19, Díaz-Canel said that his mandate was "to ensure the continuity of the Cuban revolution at a key historic moment" and assured the members of the National Assembly that "the revolution continues its course".
He said that Cuba's foreign policy would remain "unaltered" and that any "necessary changes" would be decided by the Cuban people.
Any changes Díaz-Canel will bring in are likely to be gradual, slow-paced and in keeping with the reforms Raúl Castro introduced since he first took over power from his brother, Fidel.
Díaz-Canel was elected by the members of the National Assembly, all 605 of whom were voted in in March after standing unopposed.
The assembly also approved another six vice presidents of the Council of State, Cuba's highest government body.
The new leader will have to consider how to overcome the problems caused by the economic collapse of Cuba's ally, Venezuela, and what kind of relationship the Caribbean island wants with the US under Donald Trump.
The outgoing president, Raúl Castro, is expected to continue wielding considerable political influence in his role as the leader of Cuba's ruling Communist Party.
PAY ATTENTION: Install our latest app for Android, read best news on Nigeria's #1 news app
Castro, handing over Cuba's presidency to Díaz-Canel, said the new president would hold power until 2031.
Legit.ng previously reported that Fidel Ángel Castro Díaz-Balart, the 68-year-old son of Cuba's former leader, Fidel Castro, took his own life.
Castro Díaz-Balart popularly called Fidelito was found dead on the morning of Thursday, January 1. He was said to have suffered from depression.
The first-born son of the late president who was a nuclear physicist had been treated by a group of doctors for several months due to deep depression.
It was learnt that he had been receiving medical treatment as an outpatient in recent months, following a hospital stay.
Castro Díaz-Balart was a scientific adviser for the Cuban Council of State and he served as vice president of Cuba's Academy of Sciences.
Buhari to Contest for Presidency in 2019! Legit.ng TV
Source: Legit.ng