- Mohammed Jabateh, a Liberian war criminal living in US, has been convicted
- He was sentenced to 30 years in prison
- Jabateh is reportedly the first person to be prosecuted and convicted in connection with the atrocities committed during Liberia's first civil war
Mohammed Jabateh, a Delaware County man convicted of hiding his past as the murderous Liberian warlord "Jungle Jabbah" was sentenced to 30 years in federal prison on Thursday, April 19.
The historic punishment was considered by prosecutors as one of the longest ever given to an accused war criminal convicted of immigration fraud in the United States, the Inquirer reports.
At his trial last year in Philadelphia, Jabateh, became the first person found guilty of crimes connected to the numerous documented atrocities during Liberia's first protracted civil war, which ravaged the West African nation between 1989 and 1997.
READ ALSO: What Omo-Agege did by sitting inside Senate chamber was the height of impunity - Lawmaker gives more details on mace theft
With the Thursday sentence, Jabateh reportedly became the first person to be prosecuted in connection with the conflict that left more than 250,000 dead and a generation of survivors both in Liberia and Philadelphia's sizable expat community clamouring for justice.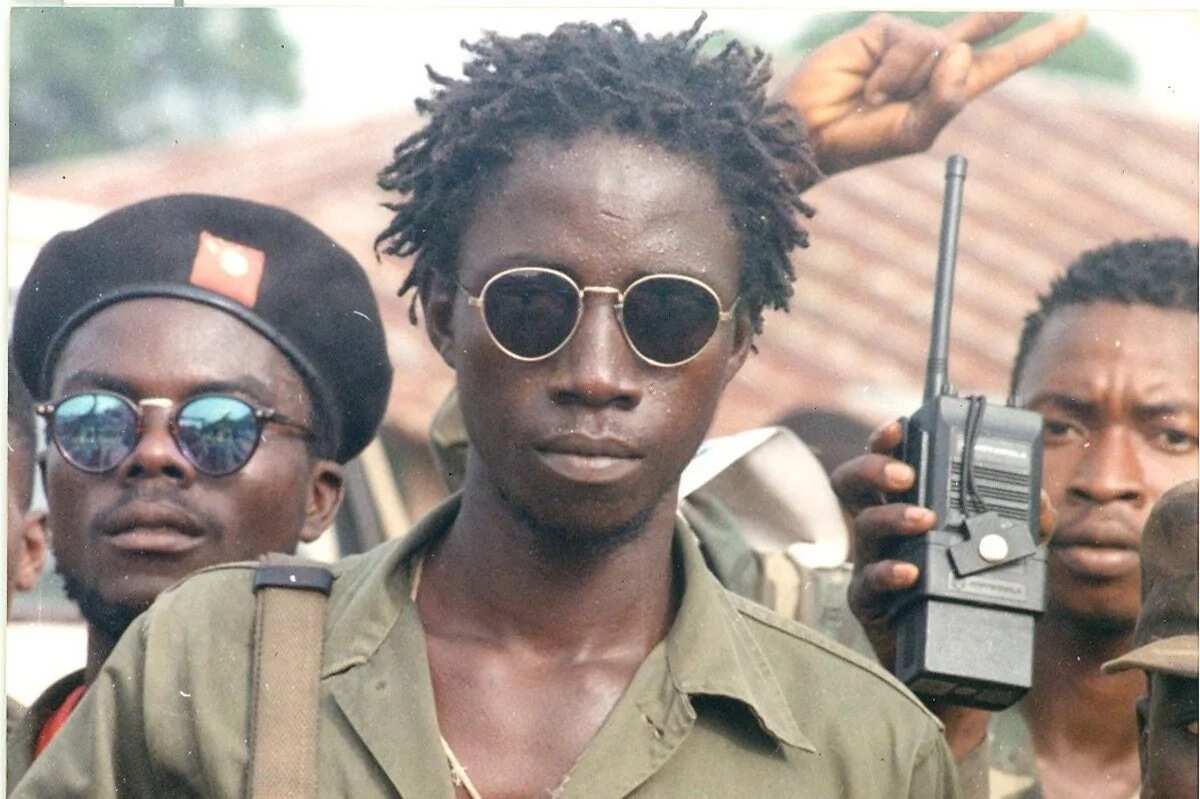 Although Jabateh's sentence was not specifically tied to any of the dozens of acts of murder, rape, enslavement, and cannibalism that prosecutors attributed to him, the US District Judge Paul S. Diamond said those deeds factored heavily into his decision to dramatically depart from the traditional federal sentencing guidelines for perjury and immigration fraud, the charges on which Jabateh was convicted last year.
Delivering the sentence, Diamond described the prison term suggested by those guidelines – 15 to 21 months – as not only "unreasonable but outrageously offensive" in light of Jabateh's wartime conduct.
Diamond, however, cautioned: "I want to be clear. I am departing not based on the horror of the atrocities the defendant committed abroad. Rather, I am departing based on the egregiousness of his lies … and their effect on our asylum laws and immigration system."
Surprisingly, Jabateh, the owner of an international shipping business and the father of 13 children in the United States and Africa, said nothing throughout the hearing, staring blankly ahead as Diamond ticked off a list of his offenses.
When it came time to address the judge, he leaned forward slightly and spoke softly into the microphone: "Your Honour, sir, I have nothing to say."
Reactions after the historic conviction
Shortly after his removal from the courtroom in handcuffs, a torrent of reactions poured in from the Philadelphia region and Liberia.
Speaking at a news conference in Philadelphia after the sentencing of Jabateh, US Attorney William M. McSwain said: "The atrocities committed by Mohammed Jabateh are so horrific that they are almost beyond belief.
"For his surviving victims and the family members of those he brutally murdered, we hope this sentence offers some measure of comfort."
In Liberia's capital, Monrovia, Hassan Bility, director of the Monrovia-based nonprofit Global Justice and Research Project, echoed a sentiment similar to that of the US Attorney's.
In a statement, Bility said: "Liberian victims have been waiting for more than 15 years to see their perpetrators held accountable."
He described Jabateh's conviction and sentence "a testament to the unwavering commitment and resilience of the victims who are making their voices heard not only within Liberia but also globally."
Legit.ng gathered though none of the 17 Liberians whom the US Justice Department flew in from Africa to testify against Jabateh last fall attended Thursday's proceedings, their presence was keenly felt.
When asked at trial to identify the man responsible for their torment, each offered the same answer, identifying Jabateh by his nom de guerre, "Jungle Jabbah."
One woman testified she had been captured and turned into a sex slave at 13, being raped daily for weeks until she managed to escape.
A farmer from Liberia's northwest mining country detailed how he had been forced into slavery and ordered to dig for diamonds on the threat of death, to fund Jabateh's war effort.
And in perhaps the most wrenching testimony of the trial, the wife of a village chieftain alleged that Jabateh's soldiers killed her husband and then delivered his heart to her on a platter with orders to cook it for Jabateh and his men.
Assistant US Attorney Nelson S.T. Thayer said in court on Thursday: "When one tries to describe the atrocities – the horror and the terror and the brutality — committed by Mohammed Jabateh, it's tempting, almost unavoidable, to resort to phrases like indescribable.
"But we know that [those] shocking atrocities can be described. We heard them because of the incredible courage of those Liberian witnesses."
Recall that Liberia's former president, Charles Taylor, was also convicted of war crimes by an international court in 2012, but for actions tied to a civil war in neighbouring Sierra Leone.
A US court also sentenced his son, known as "Chuckie" Taylor, to prison in 2009 for his own barbaric behaviour in a second civil war that roiled Liberia between 1999 and 2003.
How Mohammed Jabateh landed in US court
Jabateh had claimed that he, too, was a victim of Taylor's autocratic regime and fled to the US in 1998. He obtained political asylum, claiming he had been imprisoned and tortured by the president's forces.
It was in filling out forms for that immigration process that Jabateh told the lies about his wartime past that ultimately landed him in court.
His lawyer, Greg Pagano, argued that even though a jury convicted Jabateh for that deception, the judge should not conclude that the panel was necessarily convinced that he had committed all of the atrocities of which he was accused.
But Linwood C. Wright Jr., Thayer's co-counsel, said that no matter what the jurors intended, their verdict meant much to those who suffered at Jabateh's hands.
PAY ATTENTION: Install our latest app for Android, read best news on Nigeria's #1 news app
Wright said: "It's true that he was sentenced for the crimes that he committed in this country, but it's not lost on (his victims) that accountability is accountability."
Meanwhile, Legit.ng previously reported that Liberian President George Weah said on Monday, January 29, he would seek to remove a "racist" clause in the country's constitution that restricts citizenship to black people, and promised to cut his salary as the economic situation of the nation demands.
In 1847, Liberia was founded by freed slaves from the United States, who effected the requirement into the constitution to create "a refuge and a haven for freed men of colour."
Weah noted in his first address to the nation that he believed this restriction was unnecessary, racist, and inappropriate for the place that Liberia occupies today in the comity of nations.
He said that such restriction was unfit for Liberia's economic growth.
Evans the kidnapper lands in Kirikiri prison after first appearance in court - on Legit.ng TV
Source: Legit.ng