- The recent looters list released by the federal government has been criticised by Bayelsa state governor, Seriake Dickson
- The governor described the list as childish
- He said the cluelessness and insensitivity of the ruling All Progressives Congress (APC) has left the country divided more than ever before
Governor Seriake Dickson of Bayelsa state has condemned the recent looters list released by the federal government.
According to a statement by the Chief Press Secretary to the governor, Francis Ottah Agbo, Dickson condemned the list during a live media interview in his office in Yenagoa, the state capital.
The governor who reiterated his belief in the existence of two dominant parties in the country, however, regretted that the ruling APC is grossly fragmented, a development he noted has made the party disorganised.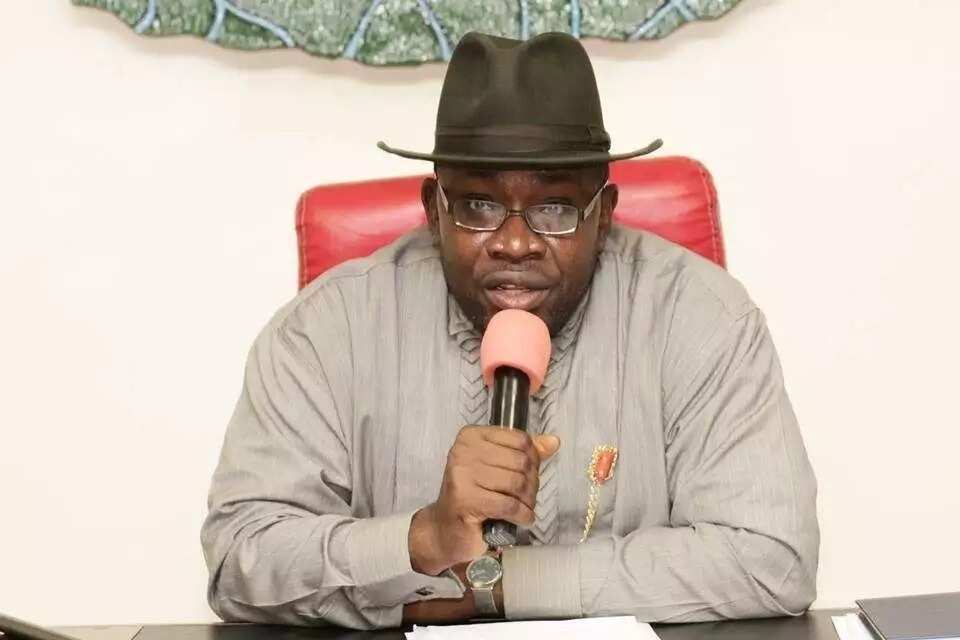 He opined that the cluelessness and insensitivity of the APC has left the country divided more than ever before and called on President Muhammadu Buhari to urgently unite Nigeria.
READ ALSO: Looters' list: PDP chairman, Secondus sues Lai Mohammed
The governor also condemned what he called "the constant demonization of the Peoples' Democratic Party (PDP) by the APC," describing it as childish and uncalled for.
While noting that the looters lists were a distraction on the polity, the governor advised the federal government to deliver on their promise to Nigerians.
He lamented the spate of senseless killings in Nigeria and urged the APC-led federal government to focus on tackling insecurity and economic recession instead of distracting Nigerians with the so called looters lists.
His words: "This country needs two strong political parties. A united not fragmented party in government and a cohesive and clear-headed opposition party. The constant demonization of the PDP by the APC, for me, is childish and uncalled for.
"I have the feeling that the APC, though in power, still behaves like a party in the opposition and on a campaign mode. I believe the APC has failed on its promise to Nigerians, they have failed to secure the country, the country is on a precipice. I think they should have done better than they are doing right now.
"The PDP made its mistakes but it achieved a lot for our democracy and our country. There is too much division in the country right now, and the Federal Government has to unify the country. They should look at the wanton killings in the country not only by Boko Haram but by the herdsmen and arrest the ugly situation."
PAY ATTENTION: Read the news on Nigeria's #1 news app
Meanwhile, there are strong indications that the federal government is compiling fresh names of people alleged to have looted the nation's treasury.
The fresh lists may also include names of former governors, ministers and even bankers, who have not been arraigned in court in the past.
The EFCC stage a walk against corruption - on Legit.ng TV
Source: Legit.ng