Nigerian women love cord lace blouses because they make them look elegant and gorgeous. They can also be worn with various accessories and combined with other types of clothes. Check out the trendiest cord lace styles in 2018!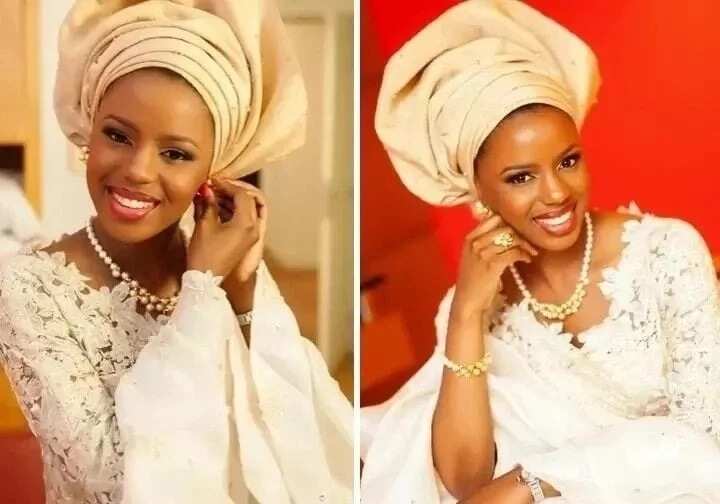 Cord lace blouse styles
Among all Nigerian blouses, cord lace blouse is a widely popular and loved design. Not only the lovely lace material makes every woman look on top, but the colors are always bright and make interesting combinations. Some women prefer pastel colors, while some give their heart to the vibrant ones. The different types of accessories go perfectly with the lace blouse. Every fashionista in Nigeria needs to pay attention to the cord lace designs and choose the most stylish ones.
The 2018 fashion trends are definitely going to include cord lace blouses. In the previous years, the more conservative options were in trend, but this year offers the fashion lovers more casual and relaxed options.
In this guide to cord lace fashion, we will show you some of the most interesting choices of 2018. Hop on the cord lace train and see what the fashion experts suggest you wear this year!
Vibrant cord lace blouse with a circle skirt
First of all, green and yellow go incredibly well together, because this color combination usually reminds of sunny spring days. Wearing a lace blouse together with the nice circle skirt can be a really winning choice. If you add some accessories to it, like a headscarf of matching colors, you are ready to go to a big event and showcase your feeling of style. And do not forget a smile on your face!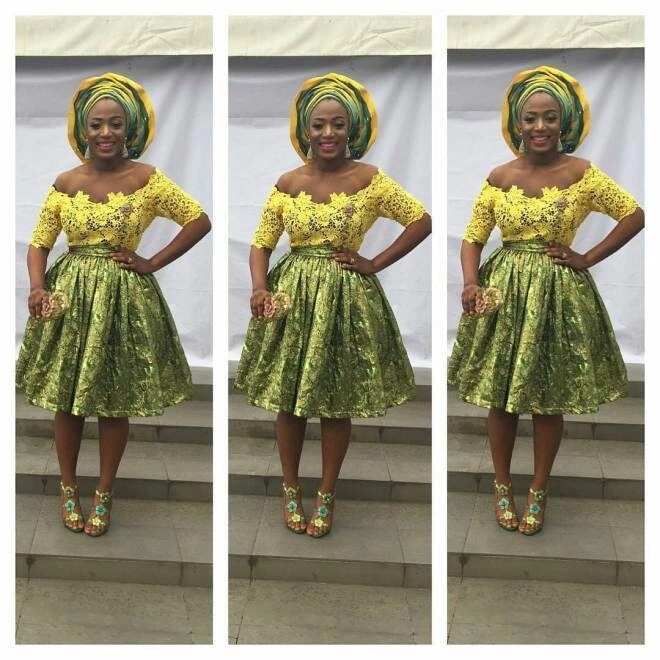 Flamingo pink cord lace iro and buba
You can find yourself a matching lace blouse and wrapper, to wear them together. The lovely flamingo color would be a great option because it is gentle, graceful, and aesthetically pleasing. Usually, when the lace has too many holes, you can put on a simple short-sleeved shirt underneath. The bracelet or watch would be a really creative addition to the style. All types of accessories would suit it, no matter if they are classic or casual. To complete the image, do your nails, style your hair, and go out in high spirits.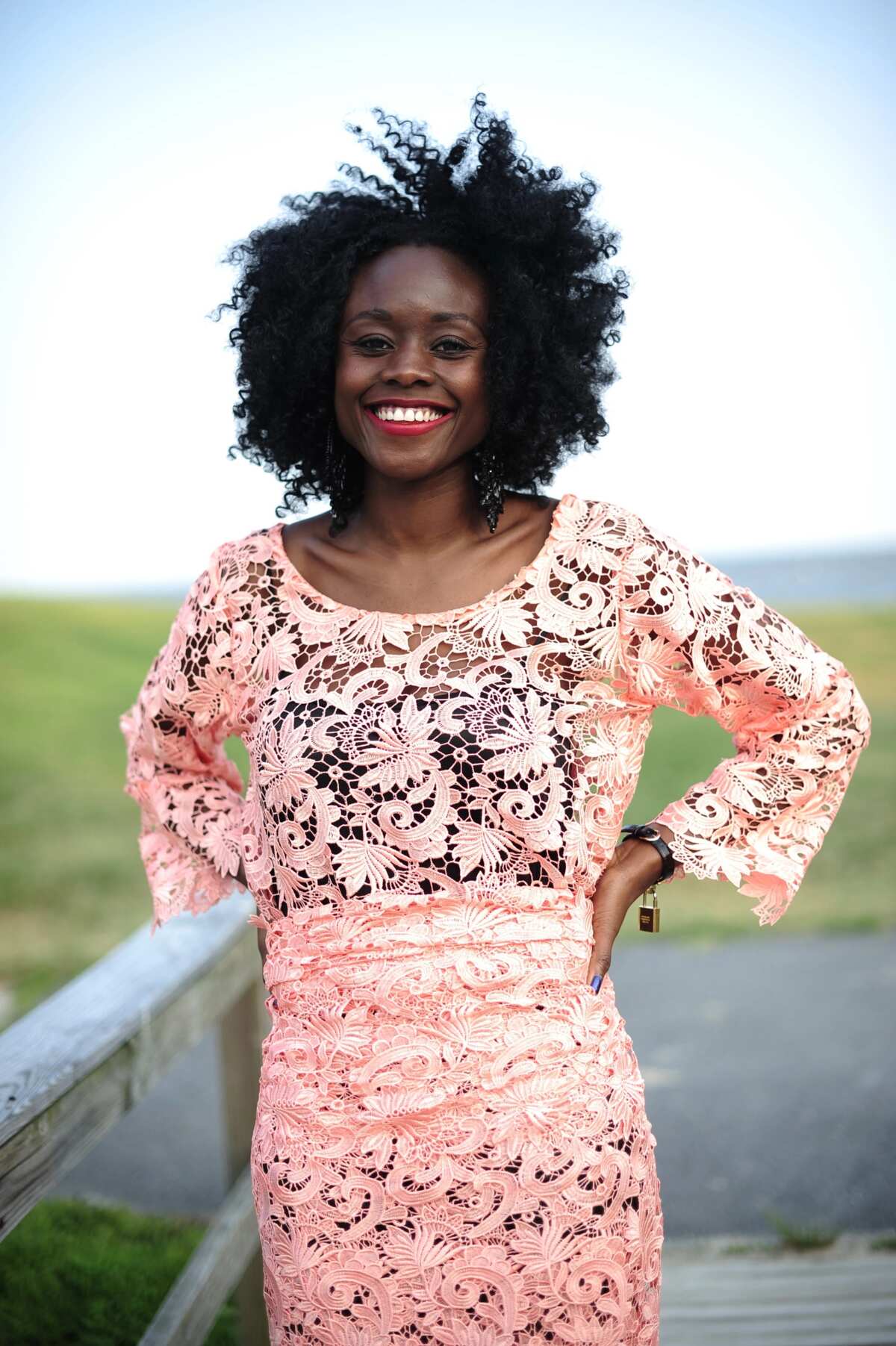 Classic white cord lace blouse with a long mermaid skirt
Here is another perfect combination of blouse and skirt that you might be interested in. The white and blue will remind everyone of sea waves and magnificent pearls. In this outfit, you will look like a treasure from the ocean. For completing the look, you might want to wear a stylish head wrap of neutral coloring and add some simplistic accessories. Also, this is a good chance to do a festive makeup!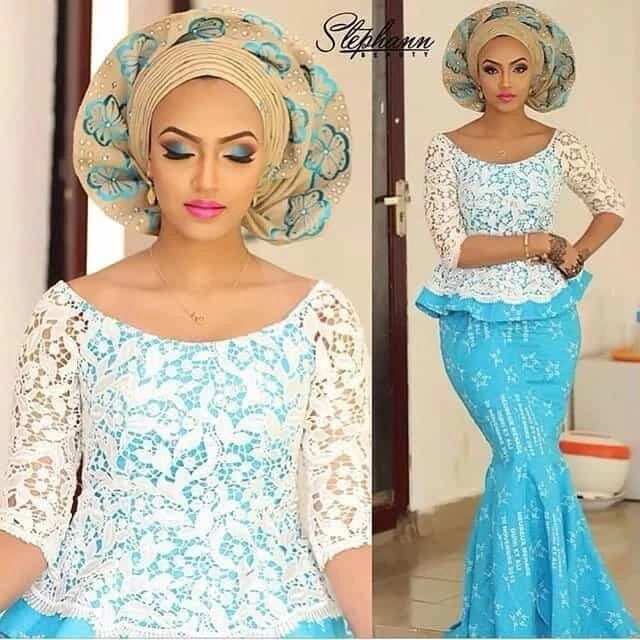 Cord lace peplum blouse with a narrow skirt
Peplum is still in trend, and together with the skirt that will emphasize your elegance, it will create an unforgettable look! If you are insecure about your waistline, peplum blouse will help you to cover all the flaws and make you look slim. On the contrary, if you have small hips, the peplum blouse will visibly make your hips seem bigger. So, a woman with every body shape would benefit from wearing this type of blouse.
You should listen to your own preferences while choosing the right coloring. For Nigerian women, any color would look beautiful with the gorgeous dark skin. However, light blue is the latest fashion trend that has been adopted by many stylish ladies because this color is really refined and will please everyone's eye. The adorable bow on the belt will add some mystery and playfulness to the look. Also, you might like to wear a traditional necklace of a bright shade that will contrast the light blouse color.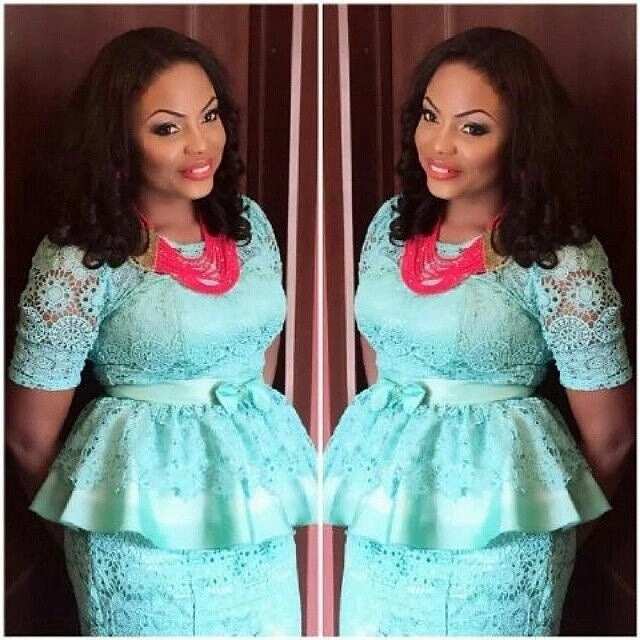 Cord lace blouse with long Ankara skirt
Are you a fan of striking Ankara fabrics that are known for the most memorable and colourful patterns? If you thought you could not combine it with lace blouses, you were wrong – nowadays you can combine everything! The short cord lace blouse that will show your shoulders together with the long patterned skirt will make an impression on everyone around you. You can choose the coloring according to your preferences – the more creative you are, the more interesting and captivating is your style. As for the accessories, you might go for a classic watch and big noticeable earrings, even though the lovely minimalist necklace would suit here as well.
READ ALSO: George wrapper and blouse styles in 2017-2018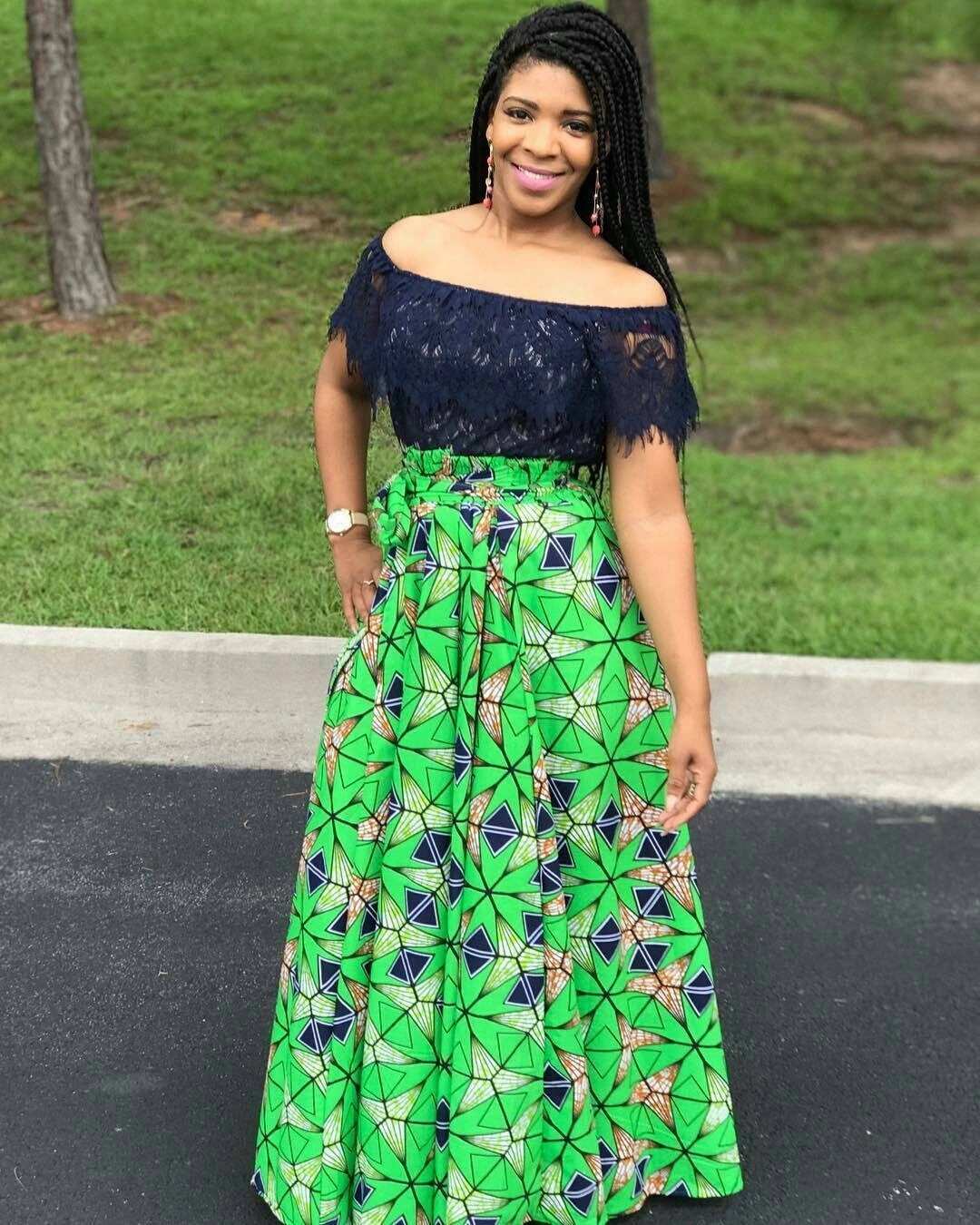 Short-sleeved blouse and long narrow skirt
This style will remind everyone of Snow White, and make you look like a magical princess. The vibrant dark blue card lace blouse and the star-patterned yellow skirt make a really cute tandem. You can add a lovely glowing purse bag and some silver accessories, pull back your hair and be ready to make a stunning impression on everyone who you meet at the party.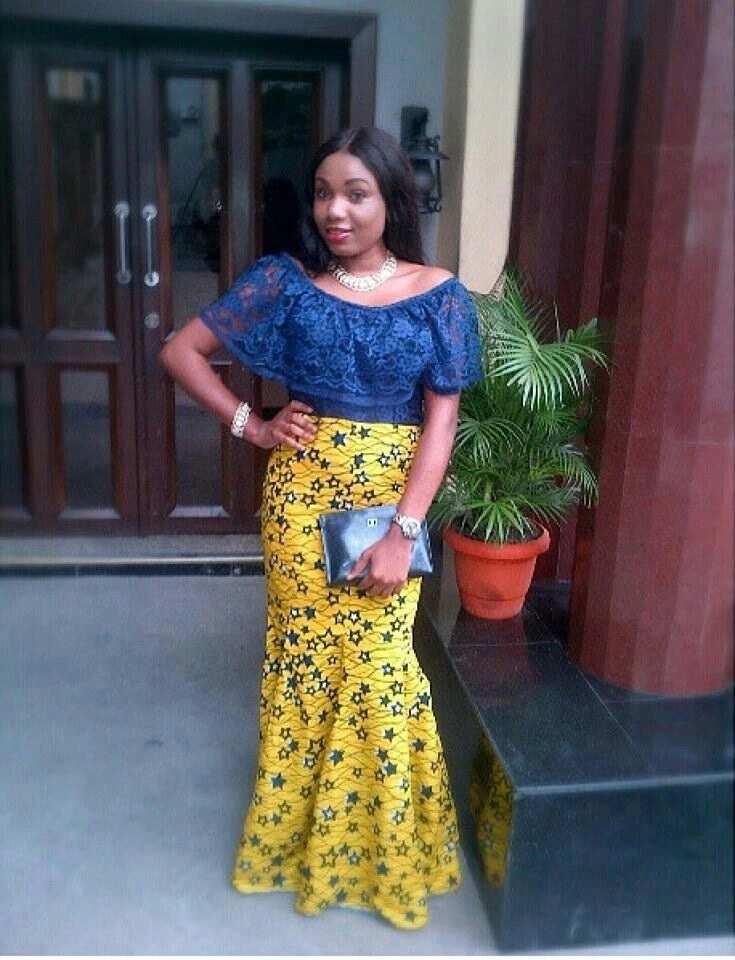 Black, white and red
Surely, black and white together with some incorporation of red creates a beautiful look, which is worth the Queen from the fairy tales. This look is for women who are strong and not afraid of any hardships and difficulties. The classic white lace blouse together with the sophisticated black skirt will create an absolutely enchanting image. If you add some red twists, like the headscarf, jewelry and handbag in red colors, the look will be complete. In general, you can wear not only red but other bright colors with black and white – there is always enough room for creativity.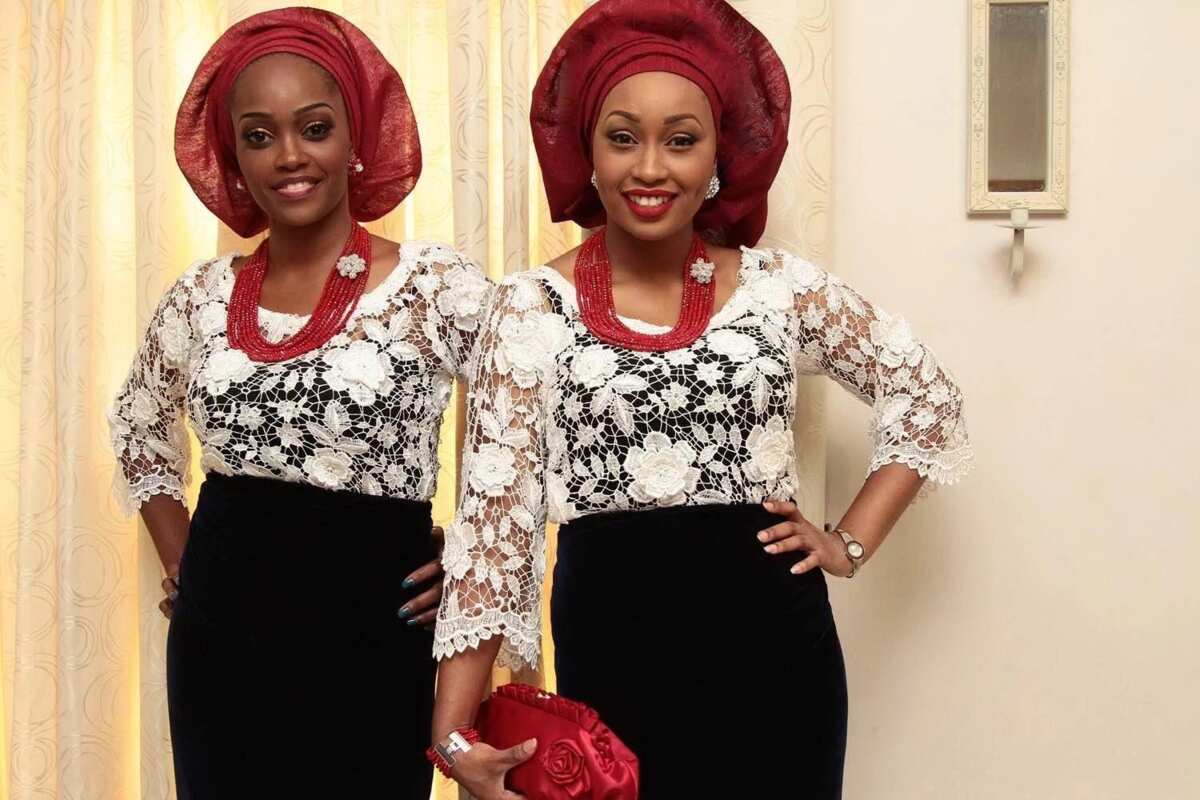 Modern futuristic look
If you thought the innovative geometrical patterns were not suitable together with elegant cord lace, then the modern Nigerian designers disagree with you! Even these seemingly incompatible designs can create something amazing. Wearing clothes made of different fabrics really stands a chance of impressing people. You can buy a similar set in any fashion store. To add some charm, you can wrap a head scarf in the same colors, and complement your image with some accessories.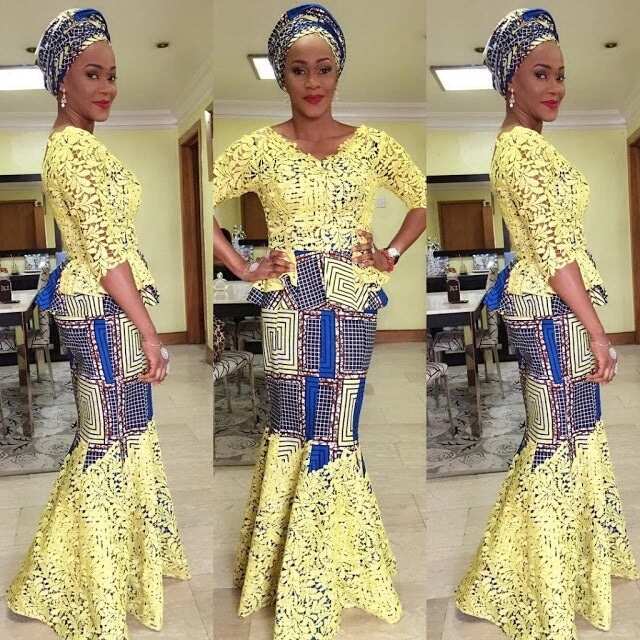 Asymmetrical lace blouse with peplum top and skirt
Who said asymmetry was not beautiful? With this charming lace blouse, you will definitely be a center of attention at every event. Wearing the Ankara suit of peplum top and skirt is already good, but adding the asymmetrical cord lace blouse twist to it is even better. This style is for bold and confident women. The gentle-colored head wrap and beautiful makeup would add to this look, as well as a lovely watch on your wrist.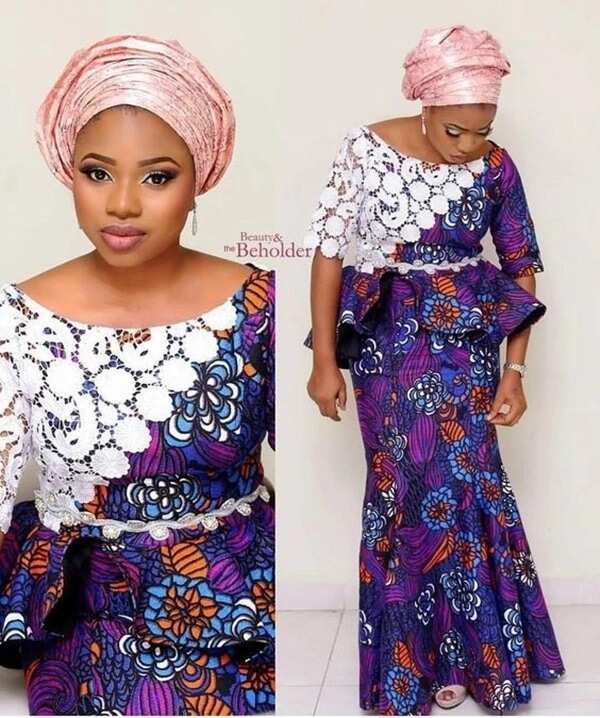 Different shades of pink
As we know, pink goes incredibly well with the dark skin. So, you can opt for this tasteful look and add some pink to your wardrobe. You can mix this color with silver by adding some silver accessories. If you choose this image, you are guaranteed the ultimate attention from your friends and acquaintances!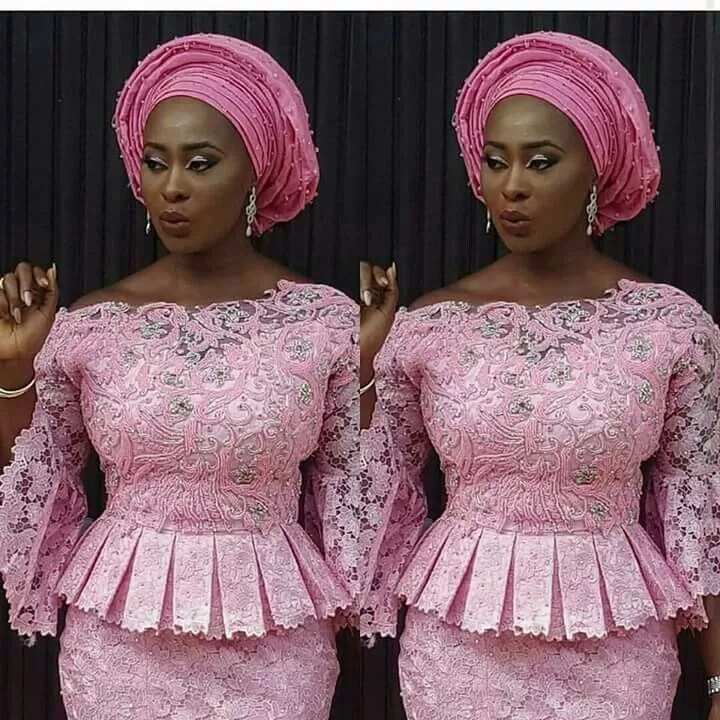 These were the trendiest cord lace looks of 2018. Of course, these are just suggestions – we encourage you to get inspiration from them and create your own style. Always be in touch with the latest fashion!
READ ALSO: Ankara crop top and skirt styles
Source: Legit.ng