DIY: Birthday party decoration ideas
Birthday party decorations ideas DIY (Do It Yourself) in last few years have become more popular. So you got the question: why it is so? The answer is just on edge – it is very cheap and easy to do, but everyone could do the unique one. If you decide to celebrate the holiday at home, the decoration for the birthday will play big a role. After all, when guests just get into the house, they will plunge into a magical atmosphere, and you are quite able to create it with your own hands.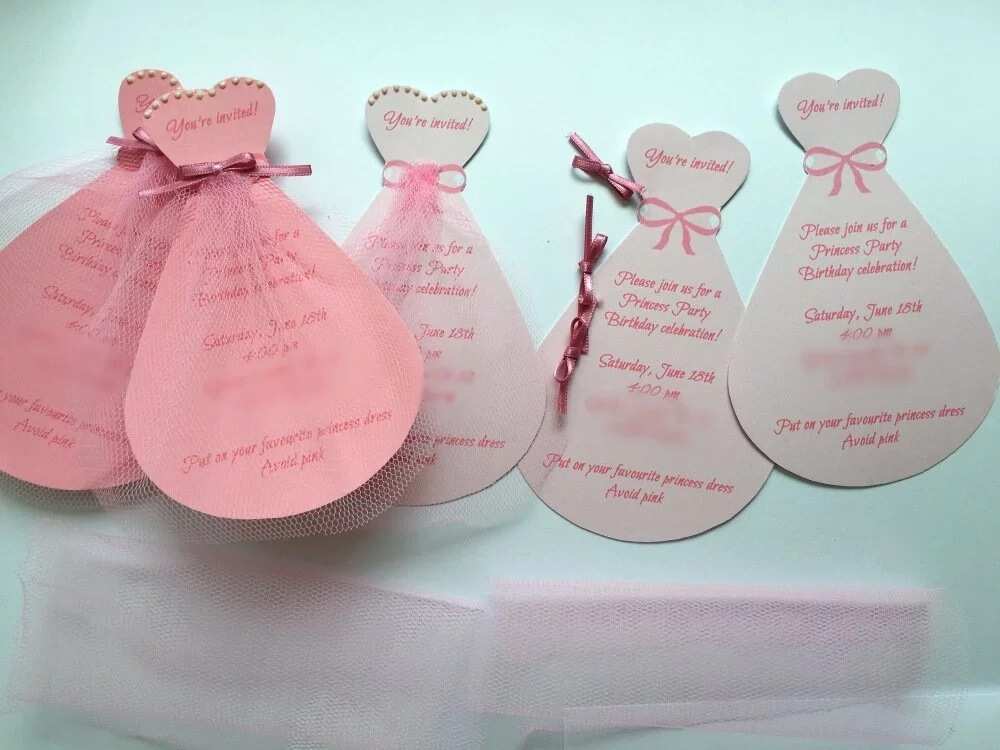 Cheap event decoration ideas: invitations, surprises and others
Is the guest list ready? It's time to think about invitations. I think your guests will be pleased to officially receive a beautiful message. They can be bought in the store or made by yourself, give freedom to your fantasy.
This is one of variants invitations could look like. It is not difficult to do them. Draw a dress, add text and print an invitation on a pink paper. You also can buy tulle and make a "skirt" for it. The lovely request is ready. You can create your unbelievable design just in 10 minutes!
Baloons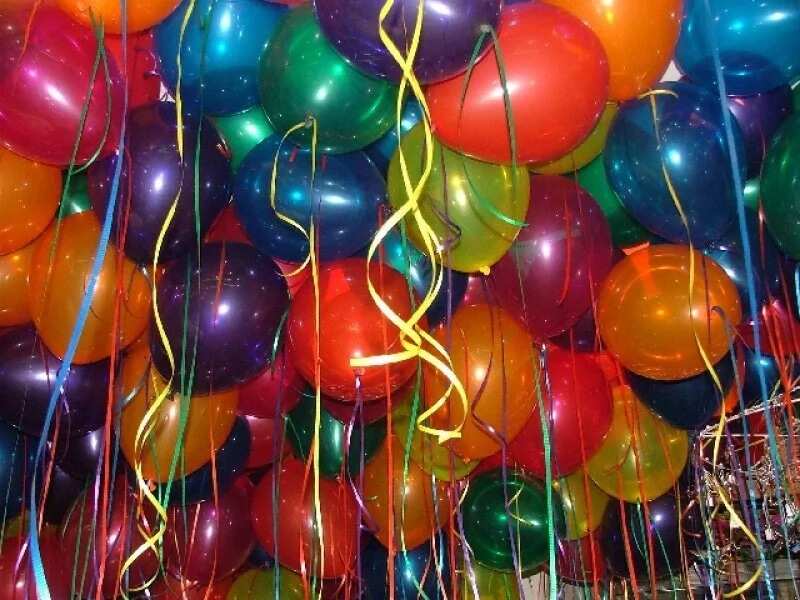 READ ALSO: 5 best birthday presents for your loved ones
Balloons The most indispensable and fashionable accessory for the birthday – balloons. From latex or foil, with or without helium, the luminous, with pictures, all the colors of the rainbow - the choice is yours!
The design of the birthday can be supplemented with an original design, called "ball-surprise." This is a giant ball up to a meter and a half, attached to the ceiling, which may contain:
candy;
confetti;
serpentine;
rose petals;
small balls;
small toys;
magic predictions;
lottery tickets;
and everything you can imagine.
If there are very young children on holiday, remember that they should not be afraid of loud sound when the surprise balloon bursts.
Garlands
Garlands: paper or textile. One of the most accessible and simple solutions. You can make a garland by yourself with a child. This is a fascinating process, the result of which will not only please its creators but will also revitalize the interior of the room.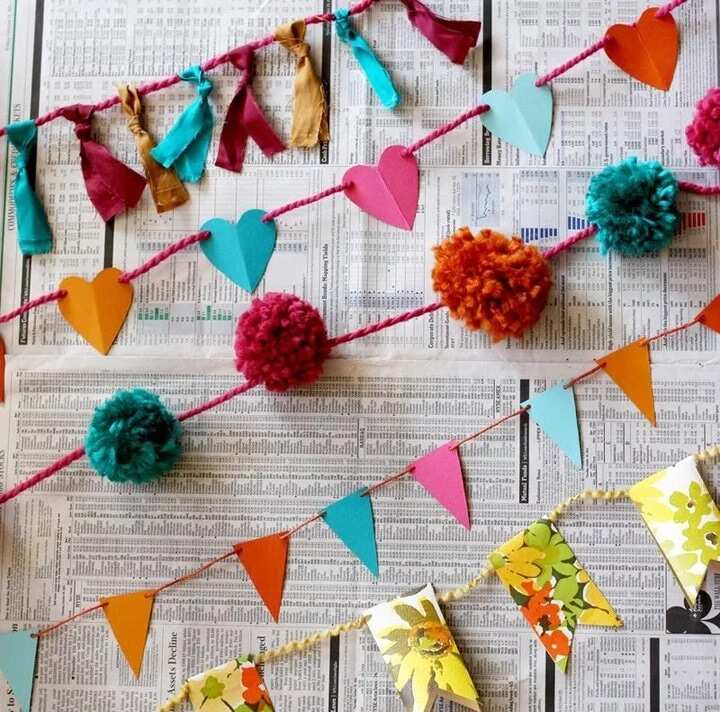 On the Internet presents all possible ways of creating garlands of different materials with detailed step-by-step instructions. For example, to make garlands of flowers, you will need:
a fabric of dense texture (for example, felt);
solid white paper or cardboard;
scissors;
glue;
satin ribbon;
needle and thread.
On paper, flowers of different sizes are drawn, neatly cut out along the contour and placed on the fabric. Tissue flowers should be glued or sewn to the satin ribbon. The garland is ready. Such decor decorates windows, doorways, arches or walls. And this not all decoration ideas for the event. We also need to talk about small details the tables.
Birthday table decorations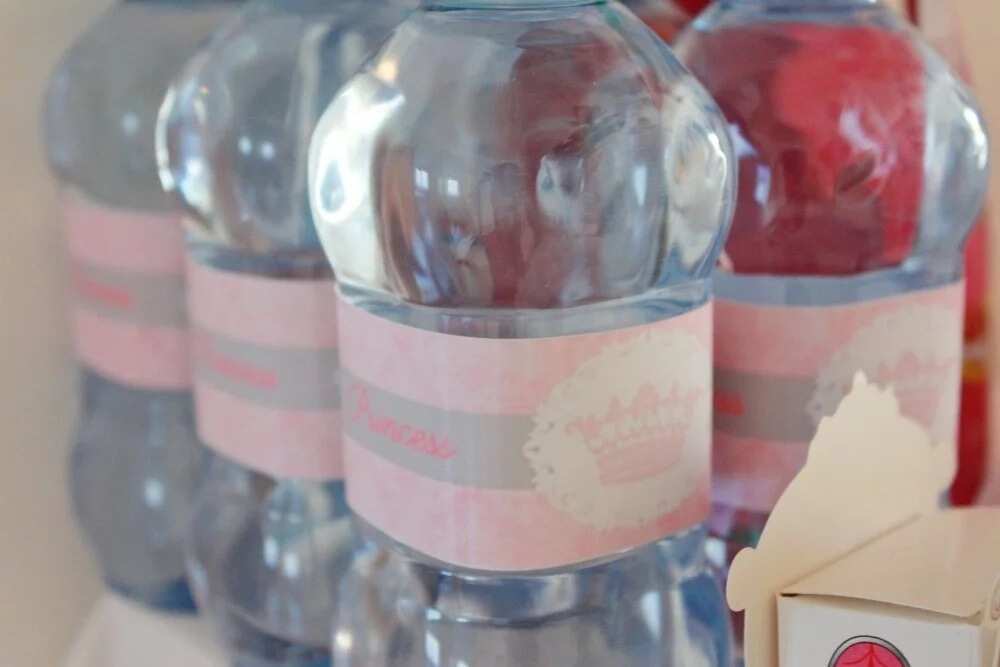 Ordinary bottles with water can be made festive, simply pasting on them beautiful labels. They can be drawn in Photoshop and printed.
The decoration for an ordinary bottle can be ribbons, figurines, glitters, or something to paint on them. By the way, if you wash them carefully, you can continue to use them after the holiday.
The candy tower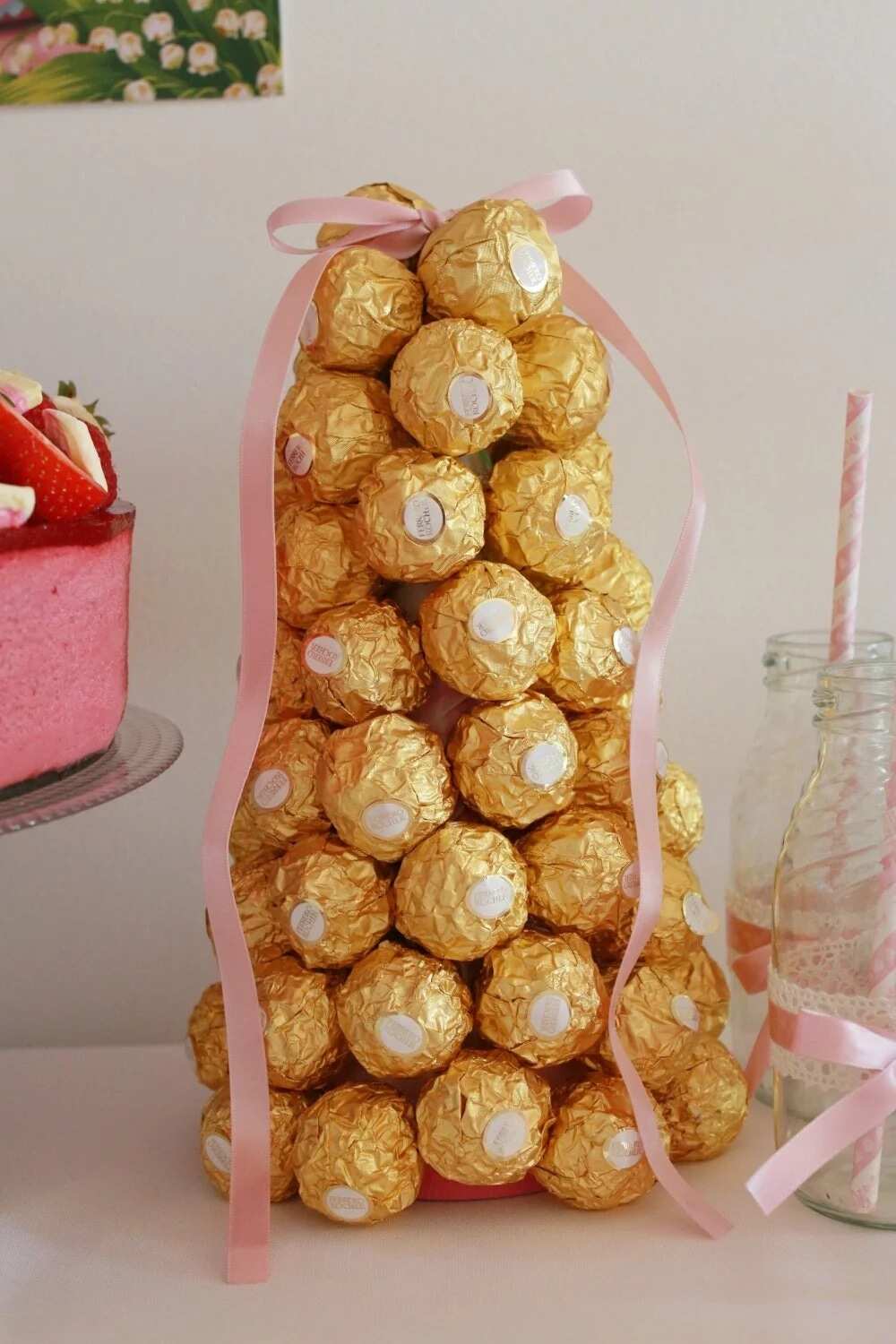 Such a tower of sweets will not only decorate the sweet table but will also brighten the festive interior. For the tower, we need a cone of cardboard, sweets and a device with hot glue. As an additional decor, you can add a ribbon or a figure to the top.
Light that creates atmosphere
A cozy atmosphere is created by candles of any shape and size. Complement them candlesticks. You can choose one tall exquisite candelabra or many small ones and arrange them around the table. Near the cutlery of each guest, you can put a little card with a personal greeting from the hosts. This will emphasize the non-standard approach to the cause of the birthday man and will raise all the mood.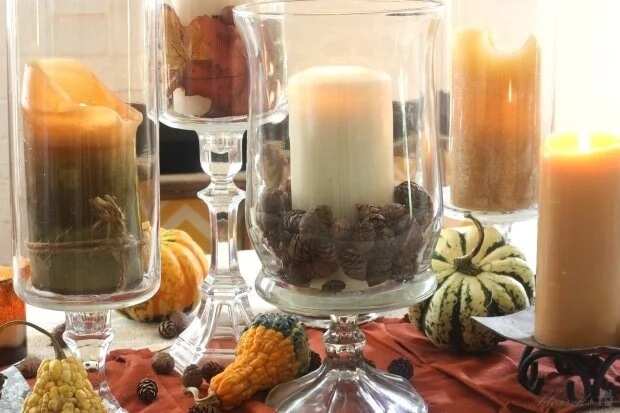 All these simple birthday event decoration ideas will make you and your guests feel cozy and special in your home. The main advantage of these methods is that they are cheap and could be done from materials you can find in your cupboard.
READ ALSO: Husband surprises his wife with a Lexus SUV worth N26m for her birthday (photos, video)
Source: Legit.ng