Snail farming is considered to be one of the most profitable agribusinesses in Nigeria. It is noteworthy that the launch of snail farming business plan does not require significant investment. However, this type of livestock is considered very profitable. Snail farming is an excellent type of business that is capable of making profit in the shortest possible time.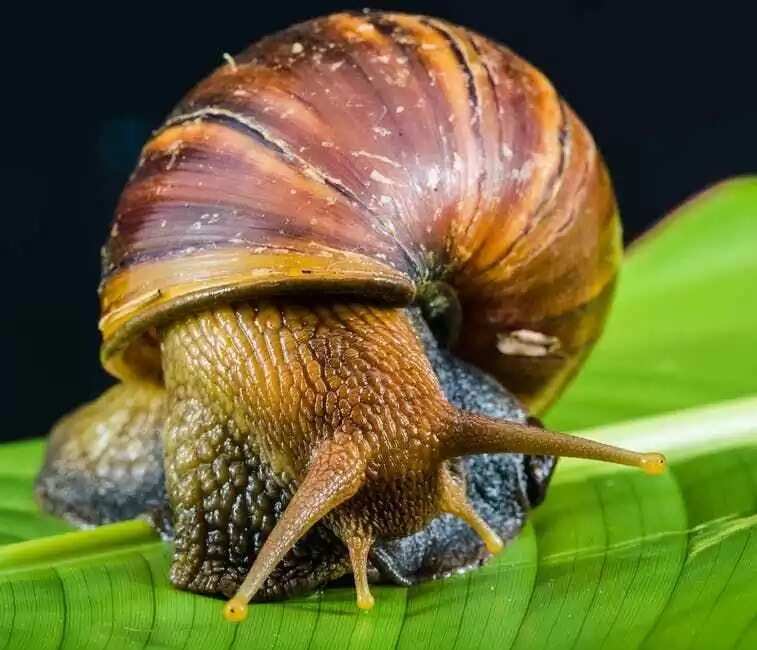 For example, in Australia or the US, the business of growing snails is an excellent form of entrepreneurship for farmers. Furthermore, in Europe, almost every supermarket has this type of product, so the product is very in demand.
Most of the population of Nigeria, as well as Ghana, still believes that snails can only be found in bushes and forests. This opinion appears due to the fact that for many years people have been extracting snails in this way - by collecting from shrubs and trees. Few can imagine that they can be purposefully grown on special farms. So let's try today to figure out what it will take to start this type of business and how much the cost of a medium-sized farm will be.
Business plan for snail farming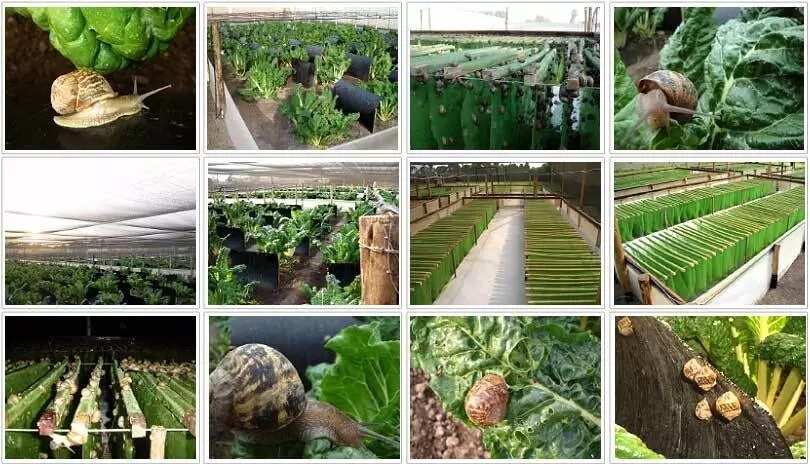 Suitable Environment for Snail Farming
Snails are very fond of moisture and reproduce in a humid environment. That is why without water they begin to lose moisture very quickly, which subsequently leads to a decrease in their size and drying out. It is also essential that snails are not affected by the wind since it also has a detrimental effect on the level of their humidity.
Low-rise, flat plot of land, covered with a certain level of trees, is ideal for growing snails.
Type of soil for snail farming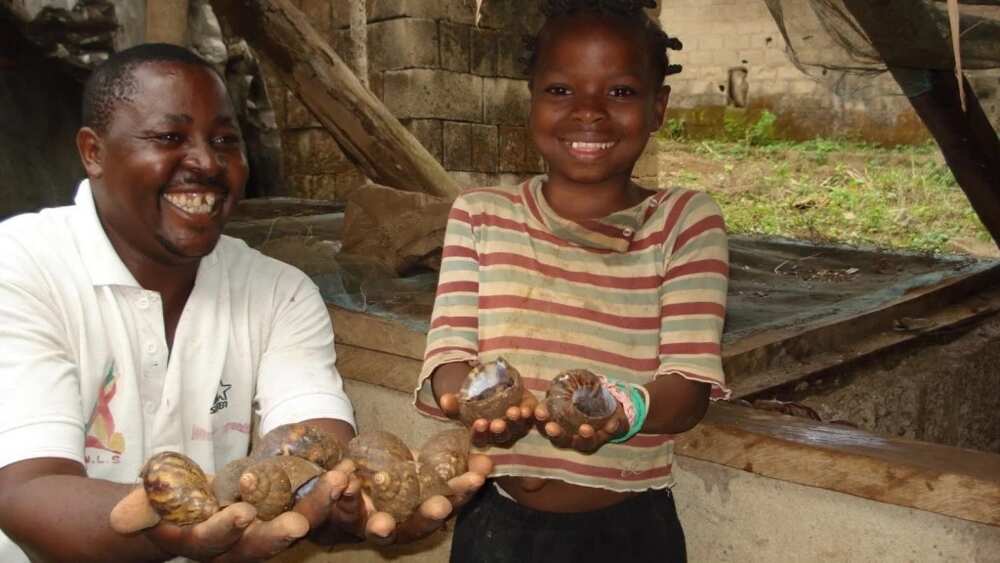 READ ALSO: How to start export business in Nigeria in 2018?
Keep in mind that in any business plan on snails farming the main thing is land. This is the place where the snails live; it is the soil that contains the necessary components and chemicals that are necessary for snail's life and reproduction. Nevertheless, it cannot be said that entirely any ground is suitable for snails.
Snail shell is made of calcium, and that is why the soil must contain a specific, natural level of calcium. It is important to note that snails also lay eggs of future offspring and drink water precisely from the soil. Therefore, it is necessary to take care in advance that the ground contains these components. The most suitable in this case is the sandy-loamy soil
Buying the right snails

To start a business of growing snails, you need to find snails that live precisely in the forest area. Since snails bought in market areas are usually quite dehydrated and exposed to excessive sunlight.
There is also an easy enough way to collect snails without searching each bush and tree. It is the following: clean small area with soil during the rainy season and sprinkle with spicy fruit (pineapple, papaya, plantain, banana, etc.). Doing this preferably in the evening, and in the morning after returning you can collect your snails. Repeat this procedure until you have enough snails.
Constructing the snail house
The size of the snail house depends on the site of the fenced land. The plot, as we wrote earlier, should be fenced off from the wind. If your starting budget does not allow you to build such a site, you can use an ordinary wooden box.
If you still want to use your plot of land, then, first of all, you will need to dig a deep trench and wall it with wire so that the snails do not crawl away. The main thing to remember is that snails reproduce quickly enough and their population can become uncontrollable.
Also, it's worth to know that snails like dark and cool places, but try not to make the moisture excess. For better regulation of humidity, you can use either any sizeable green plant leaves or just a large wet cloth.
Moreover, it is the wet cloth that serves as additional protection against rats and snakes, which can become a threat to the population of snails.
Snail food and feeding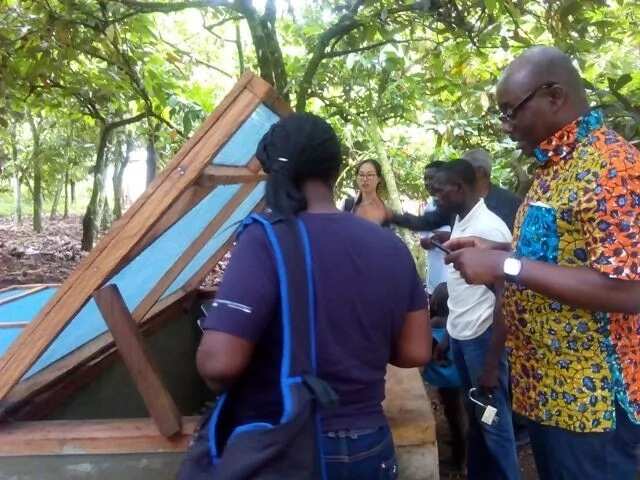 Often the snail diet is made up of green leaves and a variety of fruits. Also, there are ready-made store fodders, which can additionally be added to fruits and leaves.
Financial plan for small snail farm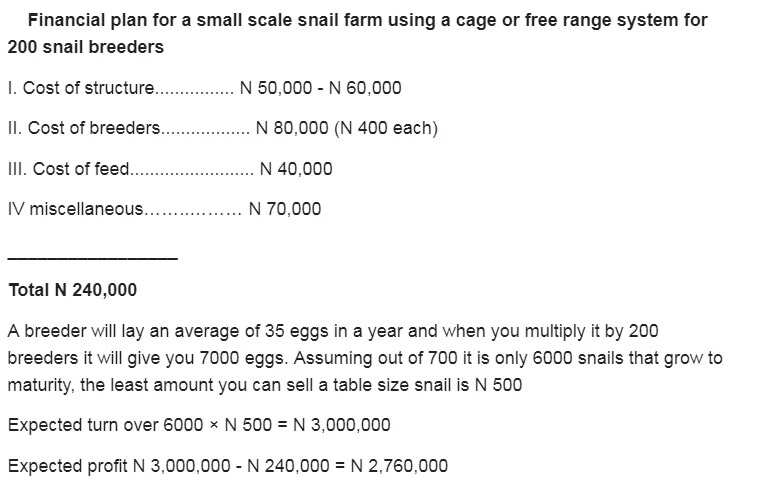 And finally, our advice on business plan for snail farming and development. Every business that plans expand beyond its local area, needs to use all available promotional tools.
READ ALSO: How to rear snails at home in Nigeria