- Some Boko Haram terrorists vehicles have been successfully destroyed by the Air Task Force of Operation Lafiya Dole
- The operation was carried out about 12 kilometers east of Arege, in the Lake Chad region
- A Boko Haram gun truck, with its entire occupants, was completely destroyed and engulfed in fire
The Air Task Force (ATF) of Operation Lafiya Dole, in the night of Friday, April 13, successfully destroyed some Boko Haram terrorists vehicles at a location, about 12 kilometers east of Arege, in the Lake Chad region.
Earlier on, a Nigerian Air Force (NAF) Intelligence, Surveillance and Reconnaissance (ISR) aircraft had discovered the terrorists activities, with some vehicles mounted with guns, moving within the location.
Accordingly, the ATF detailed NAF Mi-35M helicopter gunships to conduct air interdiction strikes to take out the targets.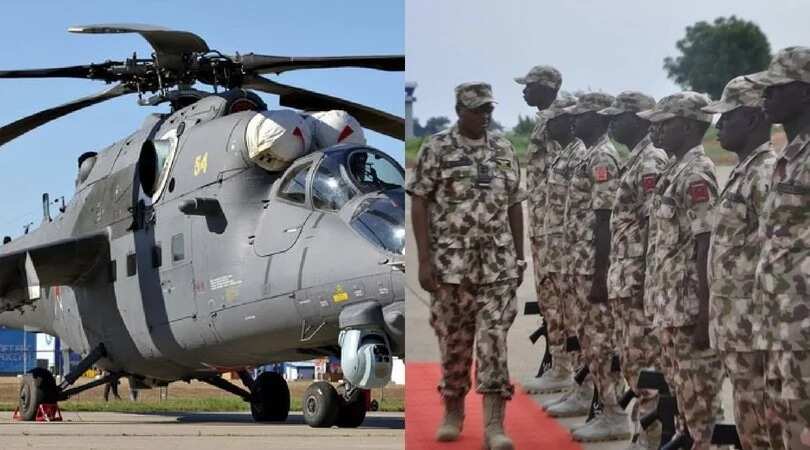 READ ALSO: Boko Haram: Nigerian Army rotates 3,000 troops in Operation Lafiya Dole
According to a statement sent to Legit.ng by NAF's spokesman, Air Vice Marshal Olatokunbo Adesanya, overhead the location, the attack platform acquired, interdicted and neutralised the targets with rockets and cannons.
"The subsequent Battle Damage Assessment (BDA) revealed that at the end of the attack, a Boko Haram gun truck, with its entire occupants, was completely destroyed and engulfed in fire.
"Another Boko Haram vehicle was damaged and immobilised as a result of the attack while several terroristss were killed in the process," the statement said.
The NAF has continued to provide adequate air support, through the ATF of Operation Lafiya Dole, by conducting a range of air operations to create the necessary environment for ground operations to continue apace.
Watch the video of the successful operation below:
READ ALSO: Nigerian Air Force special forces foil bombing attempt at UNIMAID
Meanwhile, NAF on Tuesday, April 10, commenced a 3-day medical and surgical outreach for Internally Displaced Persons (IDPs) in Rann IDP camp, Borno state.
Legit.ng gathered that the medical outreach, which would last till Friday, April 13, was initiated by the NAF leadership to avoid humanitarian catastrophe due to the recent withdrawal of humanitarian services by Non-Governmental Organisations from Rann, following the recent attack by remnants of Boko Haram terrorists.
The outreach which is at the instance of the Chief of the Air Staff, would provide free primary healthcare and curative services, medicated glasses, mass deworming as well as general and eye surgeries.
Nigerian Air Force operations against Boko Haram on Legit.ng TV
Source: Legit.ng