President Muhammadu Buhari left Nigeria on Monday, April 9 on an official visit to Britain where he is billed to attend the Commonwealth Head of Governments meeting (CHOGM) scheduled for 18th to 20th April 2018.
Ahead of the CHOGM, President Buhari, on Monday, April 16, held talk on Nigeria–British relations with Prime Minister, Theresa May, at 10, Downing Street, London.
Legit.ng highlights seven major things President Buhari told Prime Minister Theresa May during their meeting.
READ ALSO: Nobody gives me credit for conducting the freest election in Nigeria - Babangida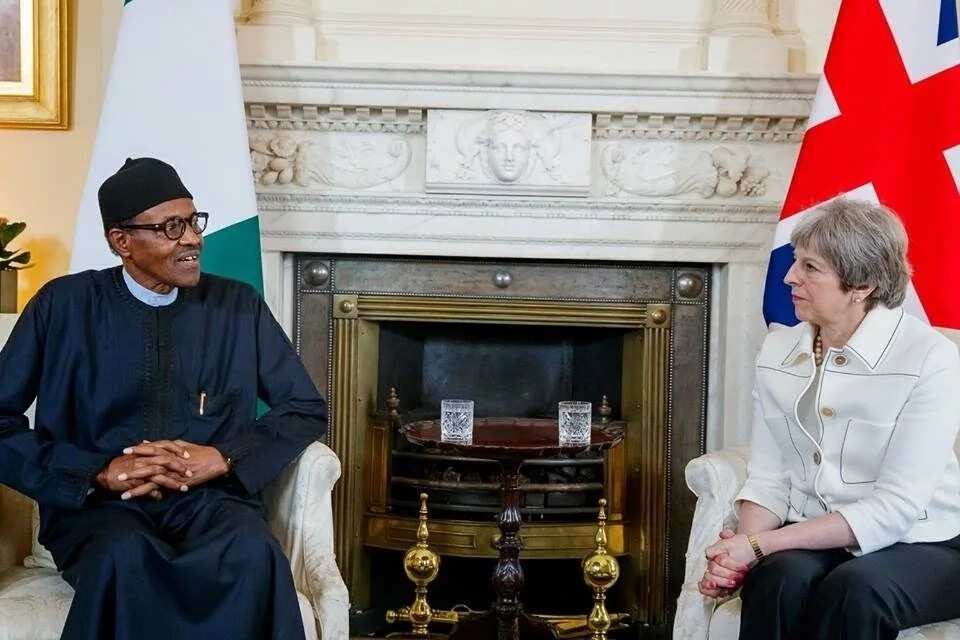 1. His campaign promise
President Buhari talked about his cardinal campaign promises: to secure the country, revive the economy and fight corruption. He reiterated that he is focused on how to successfully deliver these promises.
2. Re-introduction of history as a subject in Nigeria's education curriculum
The president also talked about the importance of history as an academic subject. He recalled that Nigeria and Britain have a long history of cooperation on several fronts which many young people do not know as a result of lack of knowledge of history.
President Buhari stated: "People ought to know how they arrived where they are, if they would move forward. It was a mistake for us to have stopped the teaching of history as a subject in schools, but we are returning it to the curriculum now."
3. Request for more investments
The president also commended major British companies in Nigeria like Unilever, Cadbury, and many others, "who have stood with Nigeria through thick and thin. Even when we fought a Civil War, they never left."
President Buhari further used the opportunity to solicit for more investments in the Nigerian economy by British companies.
He expressed readiness to continue to work with the British government on trade and investment.
4. Commendation of British's support in Nigeria's war against insurgency
President Buhari thanked the British government for their support in Nigeria's war against the deadly Boko Haram insurgents. He said: "We appreciate the support you have given in training and equipping our military, particularly in the war against insurgency…"
5. Nigeria's agricultural development
The president also used the opportunity to talk about the achievements of his administration in the development of the agricultural sector which he said has put Nigeria firmly on the road to food self-sufficiency.
He said: "I am very pleased with the successes in agriculture. We have cut rice importation by about 90%, made lots of savings of foreign exchange, and generated employment. People had rushed to the cities to get oil money, at the expense of farming. But luckily, they are now going back to the farms. Even professionals are going back to the land. We are making steady progress on the road to food security."
6. Education
President Buhari also talked about his administration's interest in the development of the education sector. He said his administration is investing more in education because if people are educated, they will be able to take care of themselves.
He added through proper education, Nigeria will have "well-staffed and well-equipped institutions to move into the next generation."
7. Climate change and environmental issues
Talking about climate change and environmental issues, President Buhari brought up the necessity of inter-basin water transfer from Congo Basin to Lake Chad. He highlighted the importance of the development of Lake Chad in curbing the rampant illegal migration.
His words: "The Lake Chad is now about 10% of its original size, and it is perhaps one of the reasons our youths dare both the Sahara Desert and the Mediterranean, to get to Europe. But if there is inter-basin water transfer, about 40 million people in Nigeria, Niger, Cameroon, Chad, and other countries stand to benefit.
PAY ATTENTION: Read the news on Nigeria's #1 news app
"I made the case during the Climate Change Summit in France. If Lake Chad is recharged, it will reduce the number of youths coming to Europe to increase social problems. We brought back about 4,000 people from Libya recently. Almost all of them were below 30, and Libya was not their final destination. They were headed to Europe."
Legit.ng previously reported that President Buhari said that he is more focused on the economy and the security of the country and delivery the dividend of democracy to Nigerians.
The president made this comment during his bilateral meeting with British Prime Minister, Theresa May.
In a statement by Femi Adesina, the special adviser to the president on media and publicity, President Buhari said while other politicians are focused on the 2019 elections, his focus is on the promises he made to Nigerians and achieving them.
Buhari to Contest for Presidency in 2019! Legit.ng TV
Source: Legit.ng