Honour, prize for 16-year old who broke college records with 343 JAMB score
- Ibrahim Ajibade, a 16-year old, broke the record of a Lagos college by scoring 343 during the recently conducted 2018 JAMB exam
- He was handsomely rewarded with a cash prize of N100,000
- Ibrahim was honoured alongside three other students of the college who also had impressive JAMB scores
Ibrahim Ajibade, a 16-year old student who scored a whopping 343 during the recently conducted Joint Admission and Matriculation Board (JAMB) examination, has been handsomely rewarded with a cash prize of N100,000.
According to the Nation, the first time Ibrahim Ajibade scored 299 when he sat for the same exam in 2017, at the age of 15.
He went on to write the University of Lagos, Post Unified Tertiary Matriculation Examination (Post UTME) and got one of the highest scores. He was however refused admission on age ground. Only 16-year-olds and above can be admitted into universities in Nigerian.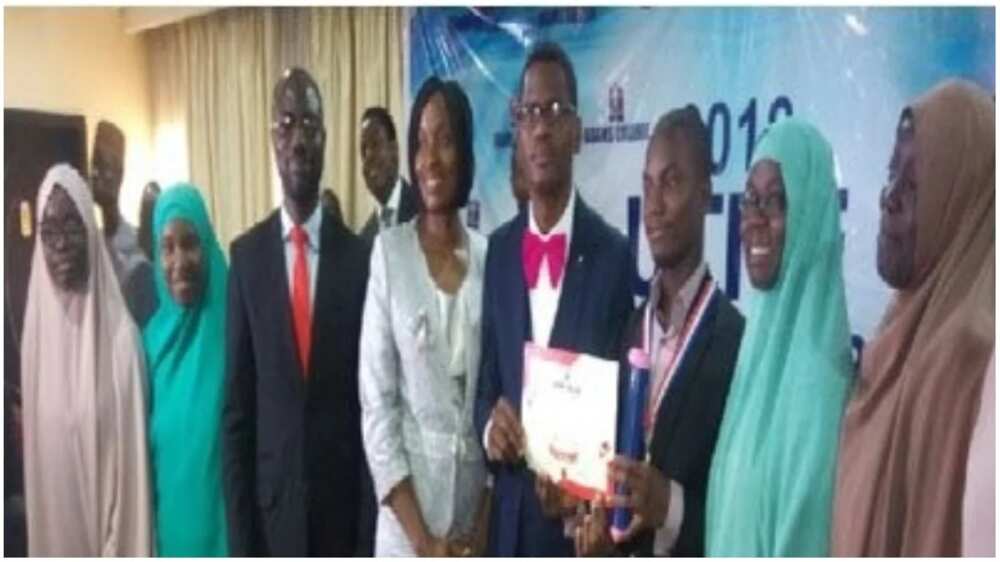 READ ALSO: Update: Gunmen attack police team in Benue, 4 officers killed, several missing
Undeterred, Ibrahim studied harder, added a year and sat again for the examination in 2018. Reinvigorated, he surpassed last year's scores by miles, returning with an amazing score of 343.
Scoring 343, he became the first ever student to score that high in the 24-year history of his tutorial centre, Adams College, Oshodi, where he took classes for the examination.
In recognition of the feat, Ibrahim was honoured alongside 80 others including another 16-year-old, Edgar Onyemuche, who scored 341 and 19-year-old Adekanbi Iyanuoluwa, who scored 342.
Legit.ng gathered that Ibrahim, who attended Vanguards Academy, Ijebu Ode wants to study Electrical and Electronic Engineering at the University of Lagos because of his passion and love for electronics.
Asked to share the secrets of his success, Ibrahim said he reads but not much. He, however, said: "What I read, I don't forget."
He also said this year's exam was "very easy," adding that he knew he would do well right from the moment he cliqued submit in his centre, although he wasn't sure of what he would score.
Surprisingly, Ibrahim declared: "I was not the best in my class at Vanguards Academy. We were 34 and I wasn't among the first 20. I was only good in Mathematics and average in other subjects. But when I came to Adams College, Mr Adams by himself transformed my Physics and Chemistry, which helped me a lot."
For his brilliance and hard work, Ibrahim got a reward of N100,000 from a parent, Adekunle Fatai.
Engineer Abdulafeez Ajibade, Ibrahim's father, described his son as a fighter, who, if given little guidance will always do well. He, however, said he never in anyway teleguided him to follow in his footsteps but said he supported and will keep supporting him in his endeavour.
His mother, Sherifat Yusuf Ajibade on her part says Ibrahim plays a lot but has always been very intelligent.
As a mother, she said all she does is encourage him, "especially when I found out that with encouragement and motivation, he does very marvellous things."
19-year-old Adekanbi Iyanuoluwa, who scored 342 from the same centre intends to study Medicine and Surgery at the University of Lagos.
Iyanuoluwa who has written JAMB 3 times and scored 247, 202 and 274 respectively said she kept rewriting the exam because she needed a higher score to study her choice course, Medicine and Surgery.
On her study routine, she said she usually studies after a nap until she feels tired and sleepy. She also hinted that Adams College brought out the potentials in her.
On his part, Edgar Onyemuche, 16, who scored 341 said he also first wrote JAMB at 15 and scored 278.
He said he chose to study Mechanical Engineering in UNILAG because he feels it is one of the best universities in the country.
Edgar said: "When I saw my score, it was unbelievable because I wasn't expecting it. It was like a dream. JAMB released other results before mine so when it came, I couldn't believe it."
Founder of Adams College, Adams Adebola, expressed joy during the awards ceremony, saying he feels happy seeing young boys and girls who have distinguished themselves and embraced hard work.
PAY ATTENTION: Read the news on Nigeria's #1 new app
His words: "At Adams College, we always embrace hard work; for example, before they wrote their JAMB examination, we did six monthly examinations which we call MOCK. This is done to be able to know their challenges and we encourage them by giving gifts to the best five students in all the faculties.
"Also, if in a school students know that you don't embrace malpractices, they know they have to read to pass."
"We also let them know that if they continue with the culture of hard work, there are scholarship opportunities opened to them which is why many of our students are on scholarship in top universities in Nigeria.
"We lay a good foundation for them and we teach them how to read which they can apply when they are in the university. If you are used to our reading lifestyle, it will work for you anywhere," he said.
Speaking on Ibrahim's performance, Adams said he didn't expect anyone in the college to score as high. He, however, said Ibrahim always surprised him during the mock examinations.
"He scored 98 out of 100 in Physics which has never happened in the college. We have also never recorded 343 in our college. Our students used to score 300 and above but never 343," he said with pride.
Legit.ng previously reported that 15-year-old Ajibola Oluwatosin Olumayowa emerged as the best candidate so far in the 2018 UTME, following the release of results.
It was initially believed that a Corona Secondary School student, Ibukun Oduntan, had the highest score, as he earned 344 marks.
Olumayowa's school, Taidob College, Asero Estate, Abeokuta, Ogun state, however, disclosed to newsmen on Wednesday, March 21, that their student had emerged with the highest score of 349.
Nigerians express mixed feelings as JAMB reduces admission cut-off to 120 - on Legit.ng TV:
Source: Legit.ng