Born on May 13, 1993, Manchester United striker Romelu Lukaku is today one of the richest footballers in the world considering what the Belgian earn on a weekly basis at his Premier League club.
But the 24-year-old never knew that he would soar to the zenith of his football career considering the pains and difficulties he went through when he was growing up in Belgium.
His family hit the skids after professional footballer and dad Roger was forced to retire, while mother Adolphine had to take a series of cleaning jobs despite being seriously ill.
Lukaku on the other hand was roaming around the streets of Antwerp looking for means of survival to help his then struggling family.
But today, Romelu Lukaku has been blessed by God through football as he drives the cars he never thought he would drive when he was young, and also lives in the mansion he never dreamed of.
Legit.ng will be looking at 7 facts about Romelu Lukaku who is expected to lead Belgium to the 2018 FIFA World Cup in Russia.
1. Lukaku speaks five languages
Apart from his superb display on the field of play, Romelu Lukaku is regarded as the most multilingual player as he speaks Dutch, French, Spanish, Portuguese, English and also understands German.
2. Lukaku scored more goals than anyone when he was 23
Romelu Lukaku is currently a 24-year-old player, but when the Belgian was 23, he scored 125 goals in his career in which no player on earth has done before.
At the same age of 23, Ronaldo had scored 110, Luis Suarez 107, Wayne Rooney 100 and Zlatan Ibrahimovic 65.
3. He scored his first Premier League goal against Liverpool
Today, Lukaku is among the players who has scored more than 100 Premier League goals in their career, but many football lovers may not know that he scored his first Premier League goal against Liverpool.
On August 18, 2012, Romelu Lukaku came on as a substitute in the 77th minute and scored for his then club West Brom who hammered Liverpool 3-0.
4. He has a girlfriend named Sarah Mens
Unlike Ronaldo, Neymar and many other football stars who always have superb chemistry with their wags in public, Lukaku seems not to be in that category, but the Belgian has a girlfriend named Sarah Mens.
Lukaku and Sarah Mens reportedly met in the United States last year, and the feelings they have for each other till today is top notched.
She is said to be one of TV host Harry Mens' five daughters who works in Sarah's native Holland.
5. Football runs in Lukaku's family
Lukaku's father Roger Menama Lukaku is a former Belgian/Congolese football player while his younger brother Jordan also plays left-back at Italian club Lazio. His cousin Boli Bolingoli-Mbombo plays for Club Brugge. Romelu and Jordan Lukaku are both Belgium internationals.
PAY ATTENTION: Become a member of the leading sports Facebook group 'Naija Football Fan Zone'
6. Lukaku is a 'Next 20' ambassador for Kick It Out
In May 2014, Lukaku visited the academy to help a group of 13 to 14-year-old with their French-speaking skills, and as an ambassador, the striker's job is to help students become bilingual and understand more about different cultures.
7. Lukaku has featured in a documentary of his school
Lukaku featured in a 2010 documentary about his school 'De School Van Lukaku', an account of the day-to-day lives of students inside the campus. He is a famous alumni of one of Belgium's most respected and advanced Saint-Guido Institute in Brussels.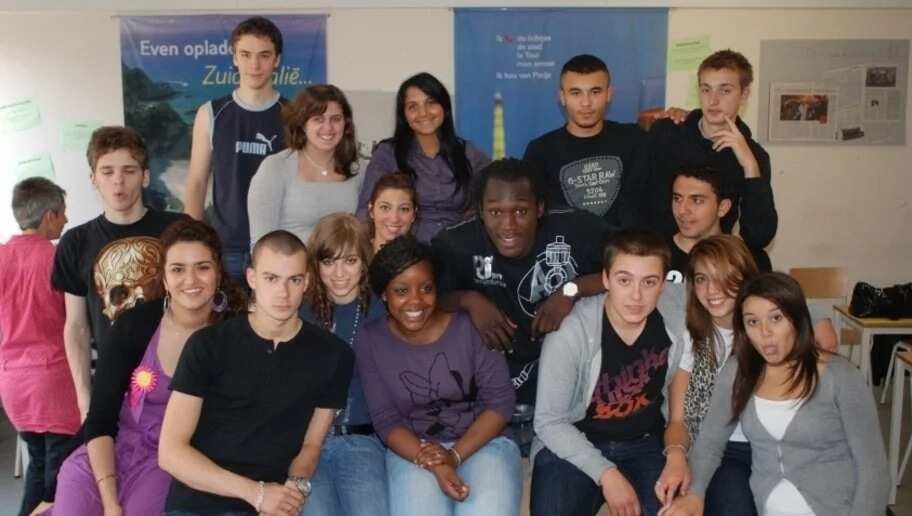 The school has an incorporated 'Purple Talent' training programme in association with R.S.C. Anderlecht which is one of the biggest football clubs in the country. The Belgian got through the ranks at Anderlecht via the programme before landing his first professional contract with the club at the age of 16.
Nigeria can get to the quarterfinal of World Cup - Ex-Super Eagles star Etim Esin. On NAIJ TV
Source: Legit.ng