- President of the Senate, Abubakar Bukola Saraki, has expressed his concerns about Leah Sharibu, the Dapchi school girl still in Boko Haram's captivity
- He also raised concerns about the remaining 112 Chibok girls still in the terrorists camp
- Saraki urged all Nigerians who can help to come to the aid of government and the security agencies on how to rescue the girls
Senate president, Dr. Bukola Saraki, has called for concerted efforts by governments, security agencies, religious and community leaders, to rescue the remaining 112 Chibok girls and the Dapchi school girl, Leah Sharibu, from Boko Haram's captivity.
Saraki in a statement to Legit.ng by his special adviser, media and publicity, Yusuph Olaniyonu, in Abuja, said even though four years have elapsed since the sad incident of the Chibok girls' kidnap, it must not dampen efforts being made to see the girls rescued and reunited with their families and loved ones.
He noted with sadness the plight of the Chibok parents whose girls are not back and the anxiety they have had to endure all these while.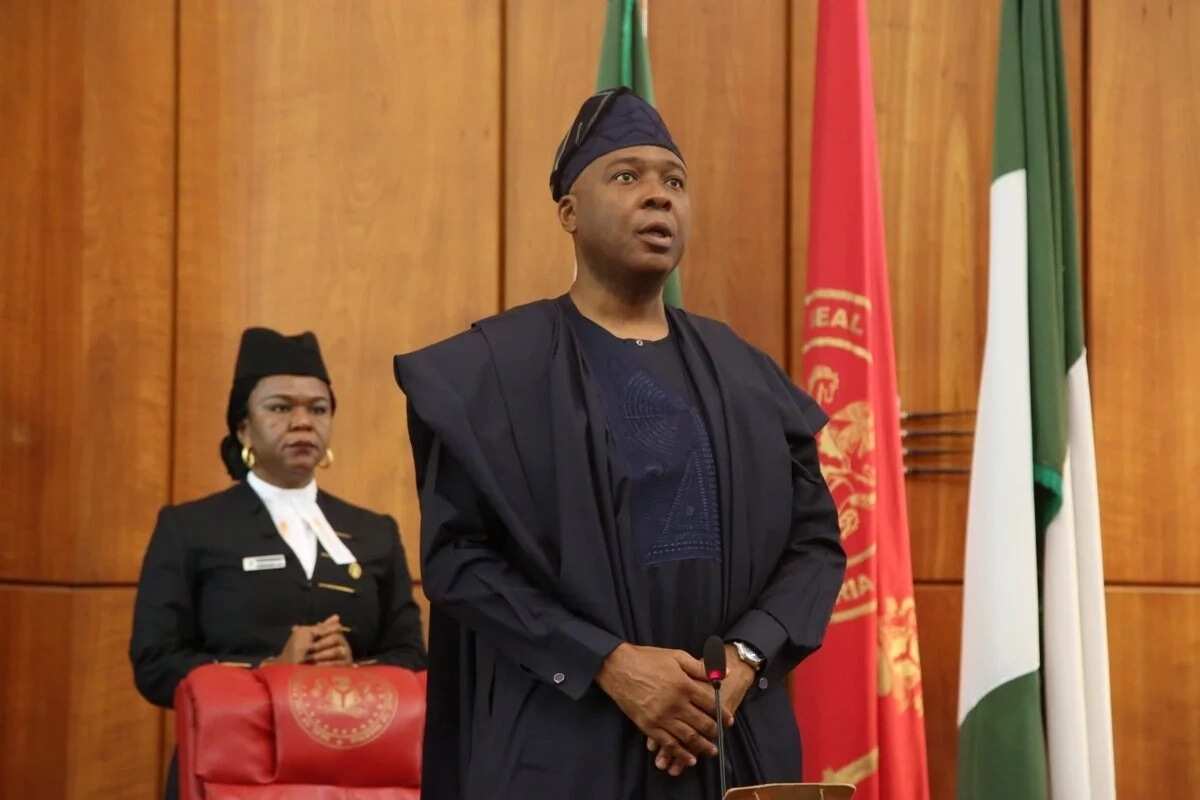 READ ALSO: Why local government autonomy is imperative, says Saraki
He called on the parents to remain steadfast as government will never relent in efforts to see their daughters back home safely.
Saraki said: "As a parent, I feel the pains of these unfortunate young girls from Chibok and the latest one - Leah Sharibu - from Dapchi, their parents and the people and governments of Borno and Yobe states over these harrowing experiences.
"However, all hope is not lost. We are all involved in this. Their return will give us joy while their continued stay in captivity will inflict us with perpetual torment of failure.
"This is no time for blame game or passing the buck. We must all gear up and work together to see these girls rescued within the shortest possible time. I believe that the last four years has given us ample time to reflect on the calamity, review our modus operandi - politically and militarily - and resolve to ensure that all Nigerians are adequately protected.
"Let's fine tune the strategies that have won us successes and discard those that have failed us. The goal and focus must be clear - to rescue our girls and all those in forced captivity in any part of the country, and ultimately, to restore our pride as a sovereign entity.
"This is the time for all stakeholders to retool and re-strategize to ensure that all these girls are not only rescued but do all in our power to put a closure to all cases of kidnapping and insurgency in this land."
The Senate president called on all Nigerians who can help to come to the aid of government and the security agencies on how to rescue the girls. He also urged security agencies to keep people abreast of developments about the issue to avoid the speculations and talks like the one insinuating that many of the girls may have died.
READ ALSO: 2019: Saraki vows to work for increased participation of women in politics
Meanwhile, Saraki has explained why the Nigerian Senate suspended Senator Ovie Omo-Agege for 90 days.
Omo-Agege, an All Progressives Congress member representing Delta Central senatorial district, had openly opposed the red chamber's elections reordering bill and subsequently instituted a case against the Senate in court to avoid being punished for his actions.
Giving his thoughts on the decision of the Senate, Saraki emphasised on the need for serving senators to respect and preserve the integrity of the Senate.
2019: Ahmed Buhari tells Nigerians he is the best option for president. Legit.ng TV
Source: Legit.ng