- 50-year-old Monica Stover shares her emotional story on how her daughter was abducted 4 years ago
- The mother of five sends an emotional message to her daughter praying to be reunited with her
- according to the Bring Back Our Girls (BBOG) movement, Monica's husband is also among the 19 parents of abducted girls who have died from shock
Monica Stover, a 50-year-old mother, who is still expecting the return of her daughter that was abducted by Boko Haram insurgents writing her final high school exams at the Government Girls Secondary School in Borno state shares her story.
On April 14, 2014, when Boko Haram insurgents attacked Chibok, a town in Borno state, north-east Nigeria, and abducted 276 girls, Saraya, Monica's daughter, was of them.
So far a total of 103 were released (two years after) through negotiation, while 112 girls are missing up till now.
READ ALSO: Why north will still vote for Buhari in 2019 - Bishop Kukah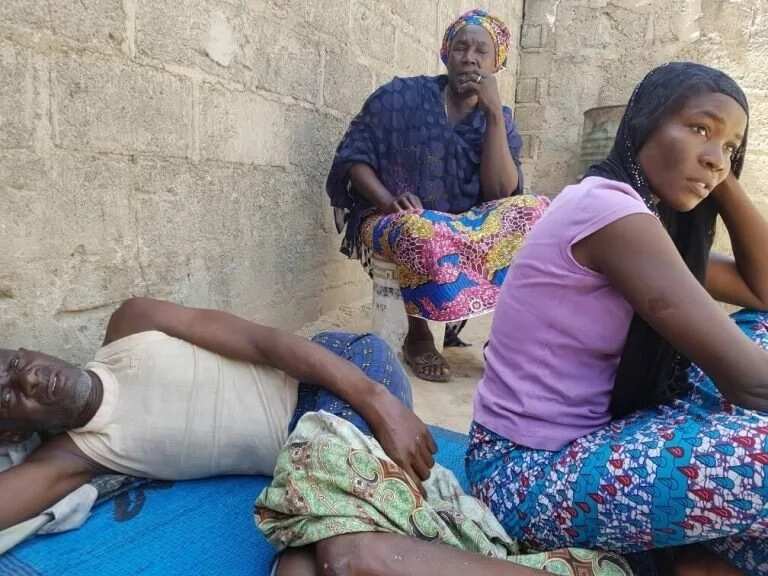 Owing to this singular incident four years ago, Monica lost a husband, a livelihood, a home and self-esteem.
Speaking to The Cable in Chibok, Monica, a farmer, mother of five, recounts how it all happened.
"When they told me Boko Haram took my Saraya, I did not believe it because I know my daughter is strong and would find her way out. I know she won't allow herself to be taken by anybody. I was disappointed to be told she was taken."
"I did not still believe it, so I followed their footsteps to the bush hoping that she was part of those who jumped out of the truck but I was shocked they took her away. It was later that one of the girls who jumped out of the truck on that day told me that Saraya attempted to escape but was captured by Boko Haram."
"My husband died. He always used to say what he is feeling might not allow him to witness the return of his daughter."
"After his death, the house we were living in was set ablaze. There was nowhere to go, I had to struggle with my remaining four children to sleep outside. Life became worse for us as there was nothing to lean on. Feeding myself and my children was a big problem."
In the face of the daunting challenges, she had to move to Mbalala, a village in the Chibok district, few kilometres from where Boko Haram had attacked, but she sent her children to Maiduguri.
"Eventually, I asked Thabita (my first daughter) to go to the CAN (Christian Association of Nigeria) center, an internally displaced persons (IDP) camp which is a walkable distance from Sir Kashim College of Education, where she is currently studying in Maiduguri," she said.
When asked if she benefited from the government assistance to parents of abducted Chibok girls, she said no. This is coupled with her trauma, displacement and having she to care for her two sick children.
She concluded by sharing these words of undying love for her daughter: "Dear Saraya, wherever you are if you are still alive, just know that your mother is hoping to see you soon. I am always praying for you and I urge you to be strong, resilient and patient as one day you shall be rescued and be reunited with us. I love you."
PAY ATTENTION: Read the news on Nigeria's #1 news app
Legit.ng previously reported that Yakubu Nkeke, one of the parents of the recently released Chibok girls, could not hide his joy after seeing his daughter for the first time since her capture in 2014.
The girls preparing for an examination in their dormitories in Chibok, Borno state, were abducted by Boko Haram insurgents and since kept in the forests.
According to the British Broadcasting Corporation (BBC), Nkeke spoke after he was briefly united with his daughter during a visit to Abuja, Nigeria's capital where the girls are being cared for.
Mother of Chibok girl laments on Legit.ng TV.
Source: Legit.ng