Editor's note: Don Mefor, a financial expert based in the United Kingdom writes on the currently level of financial accountability in the Nigerian Army.
Mefor, in this piece, commends the chief of Army staff, Tukur Buratai, and his style of leadership towards a Nigerian Army focused on serving the nation.
A most cardinal policy and principle of the President Muhammedu Buhari-led government right from inception is hinged on ensuring transparency and accountability in public governance. The idea was anchored on the concept of e-governance and domesticated by the Federal Ministry of Finance.
All government MDAs were directed to take immediate steps in the implementation of all the nuances of this new policy.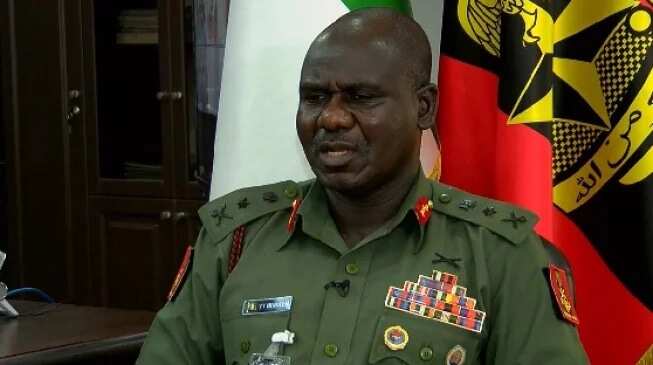 Nigeria's Chief of Army Staff (COAS) Lieutenant. General Tukur Yusufu Buratai, a nationally acclaimed pacesetter, instantaneously keyed into this policy. He directed the Nigerian Army Finance Corps to initiate actions in this direction.
As a new policy, it took time and resources for training of officers, whose official brief was to implement this new policy, through specialized courses, workshops and seminars.
But while preparations by the Nigerian Army to adopt these financial reforms lasted, Gen. Buratai embarked on cleansing reforms and innovations.
They were crafted to place the institution on a better stead to serve the Army and Nigerians better generally. His main focus was on transparency, accountability and probity.
READ ALSO: Why north will still vote for Buhari in 2019 - Bishop Kukah
The Army chief kick-started this gradual process a long time ago and monitored its progress closely.
The actualization of electronic Nigerian Army Personnel Payroll System [e-NAPPS ] today is just part of the many fiscal policy measures and reforms Gen. Buratai's leadership of Africa's largest Army has groomed from the scratch under the supervision of Major Gen. J E Jakko, who has done a faultless job.
Much earlier, the Army chief laid the foundation, by getting the institution to initiate and adopt other reforms like domesticating the Single Treasury Account (TSA) policy and Government Integrated Financial Management Information Systems, as obtained at the federal level.
The months of planning, training and commitment to these novel financial reforms have finally berthed with the launch of the Nigerian Army electronic payment system (e-payment) for its officers and personnel, dubbed as e-NAPS, the gateway to the Integrated Personnel payment System (IPPS).
The public launch of e-NAPPS at the first quarterly COAS Conference 2018 in Abuja is yet another milestone in the celebration of one of the most professionalized institution in the country. Gen. Buratai has again made a bold statement as a consummate soldier, leader and administrator per excellence, who sets targets, which hardly evades him.
The Nigerian Army's chief of Accounts and Budget, Major Gen. Jakko endearingly buttressed the imperative of the new system as springboard for the re-evaluation of the Nigerian Army personnel records, most of which are understandably outdated.
With e-NAPPS, the officers and personnel of the Army are proud operators of a database; linked to the IPPIS of the central government.
Gen. Jakko summed up the benefits of the new system thus: "The e-NAPPS is designed as a star topology in a centrally managed server-client model that links the data center at the headquarters of the Nigerian Army Finance Corps at Apapa, with the NA, 8 divisions, Guards Brigade, Army Headquarters Garrison, APPO and TRADOC finance offices for administration of troops' pay and allowances".
READ ALSO: Why I threatened not to support my husband for second term - Aisha Buhari
e-NAPPS is undoubtedly a new dawn in the transparent and accountable management of financial operations of the NA for payroll administration, accurate periodic reviews and updates of the database to guarantee financial security.
It can also secure integrity, reliability, enhanced planning for personnel and the management of contractual obligations as well as budgetary votes in consonance with the transparency in public governance of the Buhari Presidency.
As tedious as the adoption of e-NAPPS appears, the COAS devoted his time, energy and resources to ensure it comes to fruition. This again buttressed his love for audit and fiscal policies which he sings like a song to the officers and men and even his family too not left out. His overwhelming attention to e-NAPPS sprouts from the mindset of a leader who is innately and inextricably tied to concerns of the welfare of officers and personnel.
And it has several other pluses. Aside improving the financial literacy of personnel of the Nigerian Army Finance Corps, Gen. Buratai is one leader who believes a workman deserves his wages and promptly. It is both a Biblical and Koranic injunctions, he hates to violate under normal or avoidable circumstances. And his simple reason is that it is a silent, but potent tool in boasting the morale of troops. The e-NAPPS is a sure proof in this regard.
Today, he has placed the Nigerian Army on the fast lane of e-transactions, and officers and personnel would now begin to enjoy or reap from his hard work and that of his team, with the removal and purging of the Army from analogue financial operations. It is a sure bet that complaints can be easily addressed and remedies provided within the shortest possible time.
A very generous and amiable gentleman, General Buratai is a man with deep love for accountability and transparency in governance.
READ ALSO: Presidency reveals when Buhari will unveil his running mate ahead of 2019 elections
It is what makes Gen. Buratai a special breed and a different leader within the contemporary context of Nigeria. Quite disappointingly, welfare of subordinates is not one of the priorities or quick-wins of many leaders in the country. But the Army boss has proven to be exceptional.
Within Army circles, many have admitted that the e-NAPPS was a project close to Gen. Buratai's heart and he regularly requested for briefs on progress. And when he finally succeeded by unveiling it, while addressing this year's COAS quarterly conference in Abuja, a rapturous ovation greeted the hall.
Soldiers were quite excited at the reality of more ease of financial transactions being witnessed, as all monetary operations would henceforth be conducted through the same procedure to consolidate Gen. Buratai's focus on accountability and transparency. And soldiers, especially those in the battlefront, whose families depend on salaries for survival, would now have such grace extended to them much more quickly than it has ever been possible.
Some arm-chair and bald-headed critics of the NA, under Gen. Buratai can ply their trade, after all, in democracy, freedom of expression is unimpeded. But this new Sheriff in town is leaving nothing to chance in the complete reformation of the Nigerian Army as manifest in the results of the extraordinary and far- reaching reforms and innovations.
Those still in doubt can flash back to 2015 when President Buhari appointed Gen. Buratai as the Army boss. He instantly embarked on massive reforms across all the directorates of the Nigerian Army to ensure effectiveness and deliver to Nigerians a result-oriented safeguard.
PAY ATTENTION: Install our latest app for Android, read best news on Nigeria's #1 news app
He neither spared any effort nor dreaded anyone in his avowal to reposition the entire landscape into a professionally responsive and responsible Army capable of delivering on its constitutional mandates.
Today, the entire country is reaping the fruits of his labour and hard work either through troops performance in the battle field or corporate social responsibilities at the disposal of countless communities around Nigeria.
It is therefore not shocking that under Gen. Buratai the institution has metamorphosed from its despicable and ignoble global status to a truly respected Army among its counterparts in the world. And the reason is not far-fetched; it is Gen. Buratai's ingenuity and dedication to his duties in the service of the nation.
Nigerians and the world now see, perceive and feel a pragmatic leadership of the Army, exuding honour and dignity, in conduct and actions under the current leadership. It is the secret behind the delivering of resounding, rare and irrevocable victories against Nigeria's war on terrorism. Again, kudos to the Nigerian Army.
The views and opinions expressed here are those of the author and do not necessarily reflect the official policy or position of Legit.ng.
Your own opinion articles are welcome at info@corp.legit.ng— drop an email telling us what you want to write about and why. More details in Legit.ng's step-by-step guide for guest contributors.
We're ready to trade your news for our money: submit news and photo reports from your area using our Citizen Journalism App.
Contact us if you have any feedback, suggestions, complaints or compliments. We are also available on Twitter.
Boko Haram abducted my husband and the Gov't forgot about him - on Legit.ng TV
Source: Legit.ng